A New Chapter: Saline Rains 3s on Bedford to Improve to 4-0
Image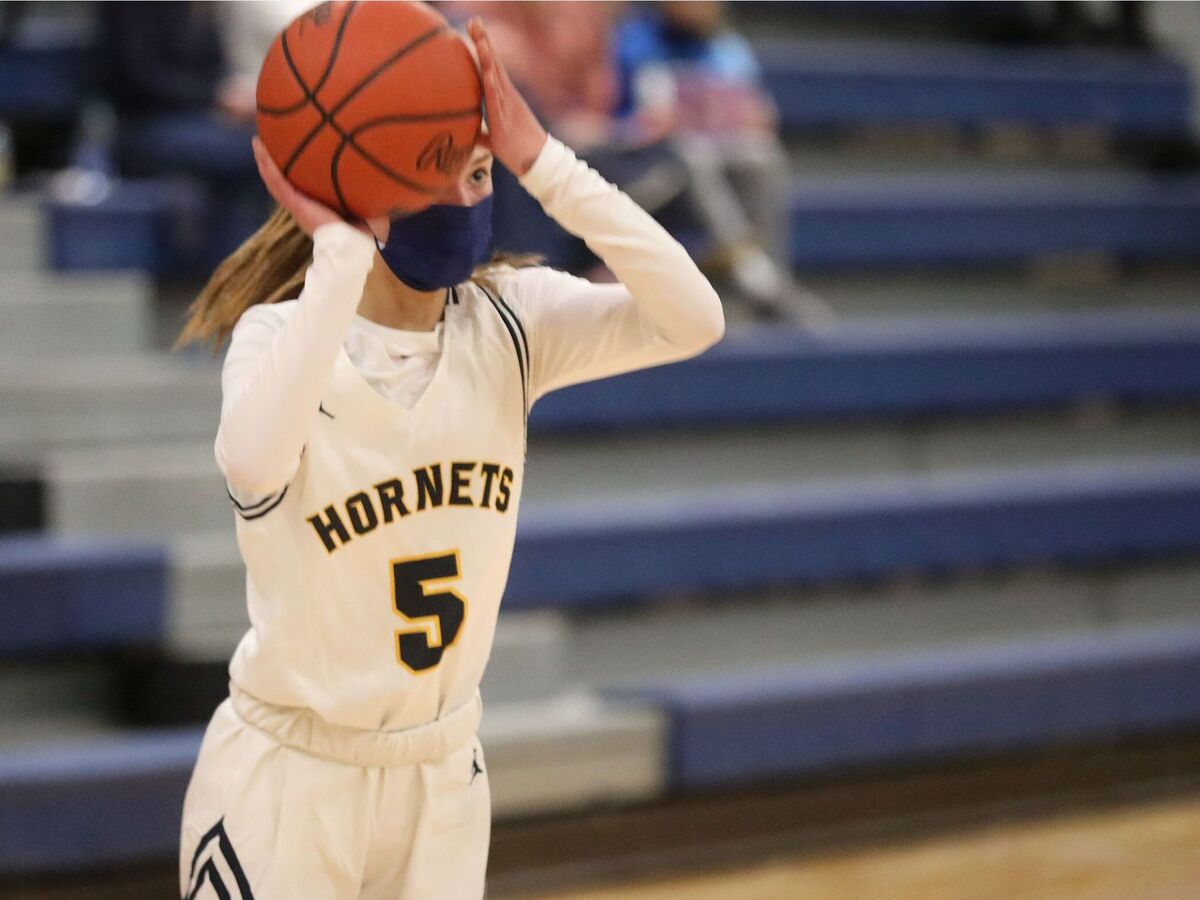 It's tough to lose when you reply to every two-point basket with a three-pointer.
Saline hit 9 three-pointers in the game's first 19 minutes to build a comfortable lead on their way to beating Bedford, 49-32, in SEC Red girls varsity basketball action Friday at Saline High School.
The Hornets, who advanced to the regional final before the COVID-19 pandemic shut everything down last spring, are picking up right where last year's story concluded - but with a new group of authors telling the tale.
Before the game, Coach Leigh Ann Roehm talked to her team about authoring their own chapters in Saline girls' basketball history. Roehm said the team spends a lot of time talking about last year's historic team - and they should, because they learned a lot about winning from that team.
"I told them today that now is the time to write your own legend. It's not about them anymore. Who are you?" Roehm said. "I felt like they really took that to heart and stepped up and said 'I'm a shooter.' They stepped up. Multiple people made big buckets."
The Hornets were ridiculous from three-point range.
Senior Ella Stemmer four three-pointers - three of them in the second quarter when Saline turned a two-point advantage into a nine-point lead. Sophie Canen hit two. Kate Stemmer, Emily Wilczynski and Natalie Sweetland each hit one.
Wilczynski, a senior with three years on the varsity team, has played a lot of tough games against Bedford. The Hornets have won a few and lost some heartbreakers. So it was nice to win so convincingly, with so many girls contributing to the offense.
"It was amazing. We've never had a game like this against Bedford, ever. It was nice to get the ball moving, have our shots fall," Wilczynski said. "We've been doing a lot of shooting drills at practice. We go up against each other. We've been working on our shots, during quarantine as well. We've really worked on our shots and that's helped us in games."
Roehm also credited the defense.
"Our defensive credit was incredible. They did outsize us, but I thought that our extra effort and the way we rotated truly, we truly played team defense tonight," Roehm said. "We had people banging in the post but our guards rotated in and helped. And we had someone helping the helper. And when it came time, we switched back. It was a team defensive effort, and it all game from grit and toughness. They bared their souls, defensively. Especially in that first half."
Ella Stemmer led the charge with 20 points, 10 rebounds, 5 steals and 3 assists. Canen scored 16 points, had three rebounds and two blocks. Kate Stemmer added five points, five rebounds, two steals and three assists. Sweetland scored three points and grabbed 10 rebounds, to go with two steals and two assists. Beth Ann Ford had two points and five rebounds. Brielle Eugenie had two rebounds and two steals. Taylor Kangas had an assist.
Grace Ryan paced the Mules with 10 points.
Saline started a little slow. Bedford took a 4-0 lead before Canen made a basket in the paint. Bedford led 6-2 when Stemmer hit the first of her four threes. Bedford led 8-5 when Ford scored to make it one-point game. Canen then hit a three to give Saline a 10-8 advantage - the Hornets first lead of the game.
After Bedford tied the game at 10, Wilcyznski and Stemmer dropped back-to-back 3-bombs. After a Mule's basket, Stemmer hit another three to make it 19-12. Kate Stemmer followed with a lay-up to give Saline a 21-12 lead.
Canen sank a 12-footer and Stemmer hit another three to make it 26-14. Bedford added a three from Ryan to make it 26-17 before the half.
The third quarter started with Canen and Sweetland dropping back-to-back threes to give Saline a 32-19 lead. After a couple Bedford points from the line,  Kate Stemmer hit a three to make it 35-21. Canen made a lay-up and Stemmer scored two from the stripe (Saline only had two free throw attempts all night). Saline took a 39-24 lead into the fourth.
Stemmer started the fourth with a layup. Pudlowski replied with a three-pointer. Saline went on an eight-point run to put Bedford away. Stemmer and Canen each had two baskets during the run.
Saline plays Pioneer Tuesday.