Saline Spring Craft Show Baskets Raised Money and Goods for Saline Area Social Service
Image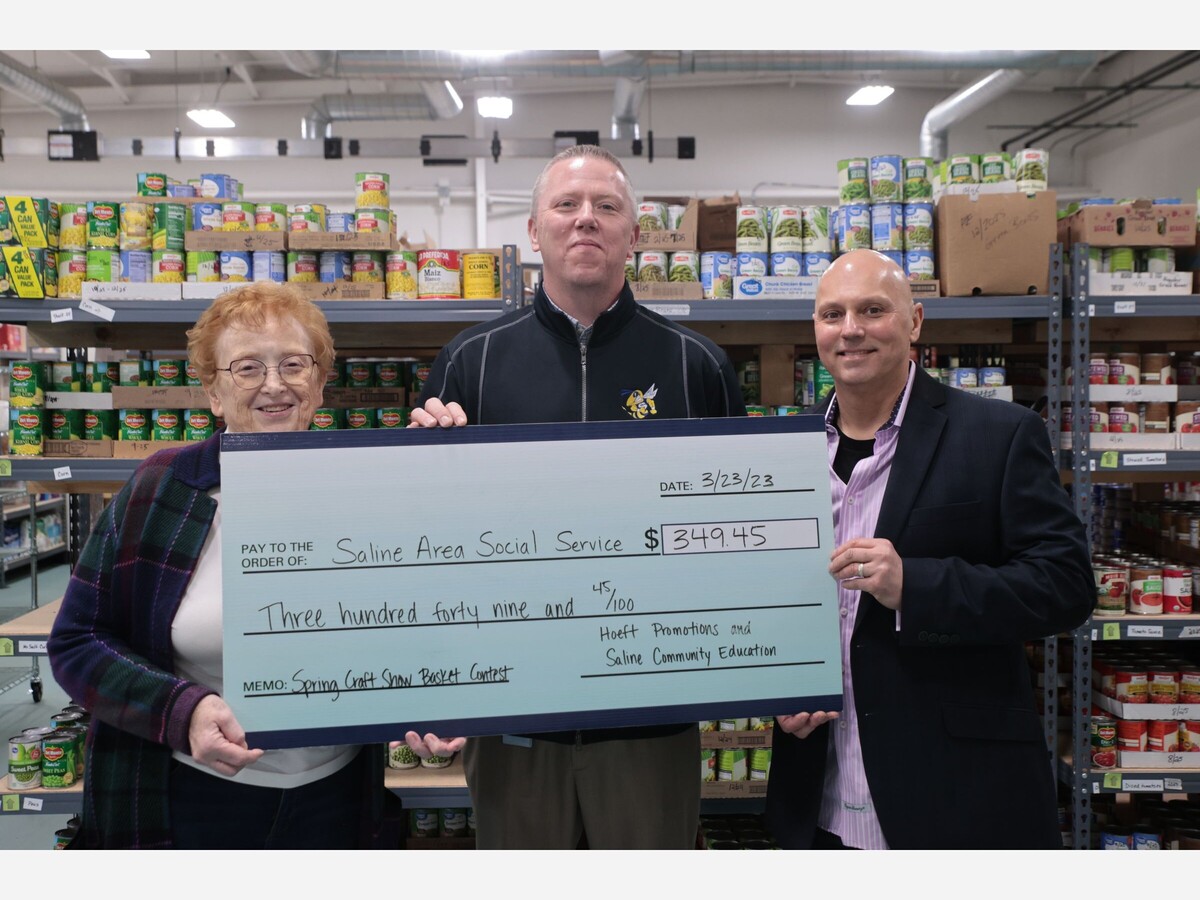 The annual Saline Spring Craft Show is about more than shopping with friends and family and enjoying the offerings of crafters from around the Midwest.
Among those who benefit from the show are the clients of Saline Area Social Service, a local non-profit organization that provides a food bank and other services for people with financial struggles.
This year, 21 organizations, businesses, individuals and families participated in the gift basket program. They stuffed the baskets with donations with everything from Girl Scout cookies, to canned goods to gift cards. Some went the extra mile, using decorations to put the final touch on their entries.
Then, the baskets were placed in the middle school cafeteria, where people were invited to vote on their favorite baskets. Craft show patrons voted with dollar bills and coins. The collection was also donated to Saline Area Social Service.
Ultimately, the contest raised $349 for Saline Area Social Service.
That $349 total pales in comparison to the value of the goods in the baskets, including tech and devices donated by Saline Area Schools employees.
Jamail Aikens is the executive director of Saline Area Social Service.
"It's a fantastic program and we've had a great partnership with the Saline Craft Show for many years," Aikens said.
He said the money would go to a mini-fundraiser being conducted with Saline Middle School. The goal is to raise $4,000 for shelving in its new home on Industrial Drive.
Cheryl Hoeft is the founder of the Saline Craft Shows.  She said people have been participating in the donation basket program for almost 20 years.
"It's not just a craft show. We're trying to involve the community in many ways. We have the children's activities, Peter Cottontail, the caricaturist, and we involved student groups who make money staffing the show," Hoeft said.
The contest winners were: Girl Scout Troop 40177,  the Saline boys' water polo team, Alex Warden, Gwen Frederickson, Bemis Farms and Liberty Club. Second-place finishers included Saline Singularity, Saline Leadership Institute and Woodland Meadows Elementary School.