SOCCER: Wearing Masks, Saline Finally Opens the Season and Wins 3-0
Image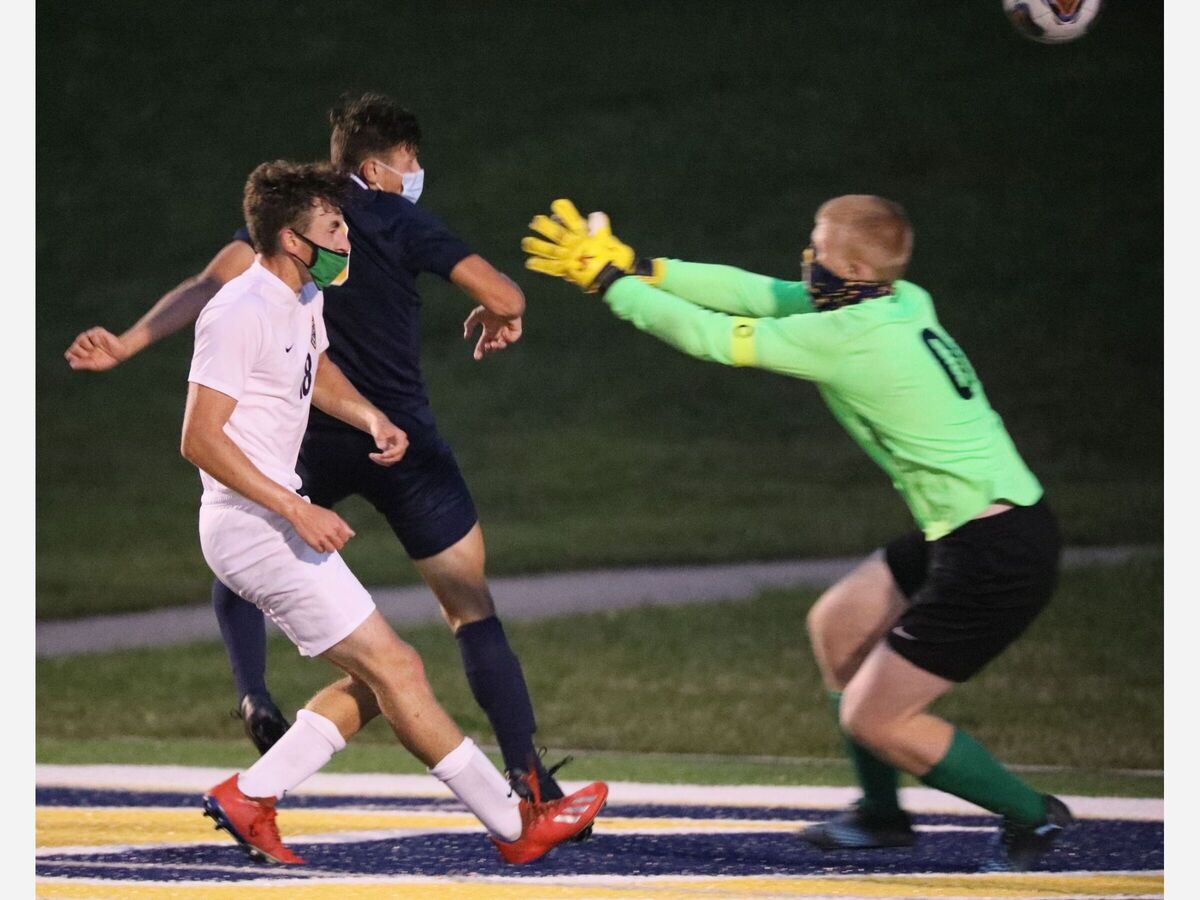 At long last, the Saline varsity boys soccer team kick off the 2020 season.    
It wasn't what the team expected. The season started several weeks late due to COVID-19 restrictions. Tuesday's contest was originally set to be a hot SEC Red contest against their rivals from Pioneer. And the boys' certainly weren't expecting to wear masks.
But in the end, when Saline defeated DeWitt, 3-0, on opening night, the Hornets were a happy bunch.
CLICK HERE FOR THE PHOTO GALLERY.
Christian Rossi scored two goals to lead the Hornet attack.
"It's a really big deal. We've been looking forward to this since tryouts," Rossi said. "It's a great step for our team to win our first game and we're all really excited about it."
Eli Routt opened the scoring two minutes into the second half.
"It means a lot to start the season with a win. DeWitt's a strong Division 2 team. To come out and start as strong as we did and win 3-0 pushes us forward for the rest of the season," said Routt.
So many things normally taken for granted are uncertain in 2020. During a Labor Day practice with the team, Coach Ryan Williams reminded the team to treat every game as an opportunity.
"Our message was, 'Hey, tomorrow potentially could be your only game, so give it your all,'" Williams said. "We're taking it one day at a time, one game at a time. I've been incredibly proud of the effort (the team) put in."
The team recently received word they were required to wear masks while playing. Routt said they had one practice with masks on - but it didn't quite prepare them for the game.
"This was totally different. The mask got sweaty and it was hard to breathe. But you just had to adjust," Routt said.
Coach Williams thought the team handled it well.
"We practiced with the masks yesterday. It's definitely challenging. But we understand if that's what it's going to take in order for us to play, we're going to do it. We're not going to complain about anything," Williams said. "I thought our kids adjusted well."
The masks might have contributed to more fatigue than normal. Williams subbed more than usual. Williams also saw that on-field communication was also more difficult.
Saline had several great chances in the first half. An apparent goal was called back on an offside. Jaden Pickett just missed trying to pick the corner from a prime scoring location.
The Hornets attacked with great speed in the first half - but it wasn't always focused.
Meanwhile, a strong DeWitt team did manage a couple of dangerous shots on goal turned aside by senior Ben Sundquist.
Saline came out in the second half with the same speed but a little more control.
"We played fast but we made better choices with the ball and it resulted in goals," Williams said.
The first goal came from Eli Routt, a senior who proved to be a big part of the offense in his junior year. He picked up where he left off.
"I got an amazing ball in and the defender read it wrong. I was making a run, back post, and I put to the other side and the goalie couldn't get to it," Routt said.
The second half was not even two minutes old when Routt scored. It took just a few minutes to strike again, on a beautiful goal by Rossi.
"Jackson Ford made a great run down the line and played a perfect ball and I just headed it in," Rossi said.
Rossi was running full speed with a man in hot pursuit and the keeper charging out toward him when he headed the ball into the goal.
DeWitt seemed to slant the field toward the Hornet goal for the next 15 minutes.
Rossi made it 3-0 later in the contest when he broke alone from the left and placed a low shot past the keeper.
Saline had several more opportunities, including a hard shot from Brayden Stavros the bounced off the goal post.