BASKETBALL: Saline Defeats Walled Lake Central at Little Caesars Arena
Image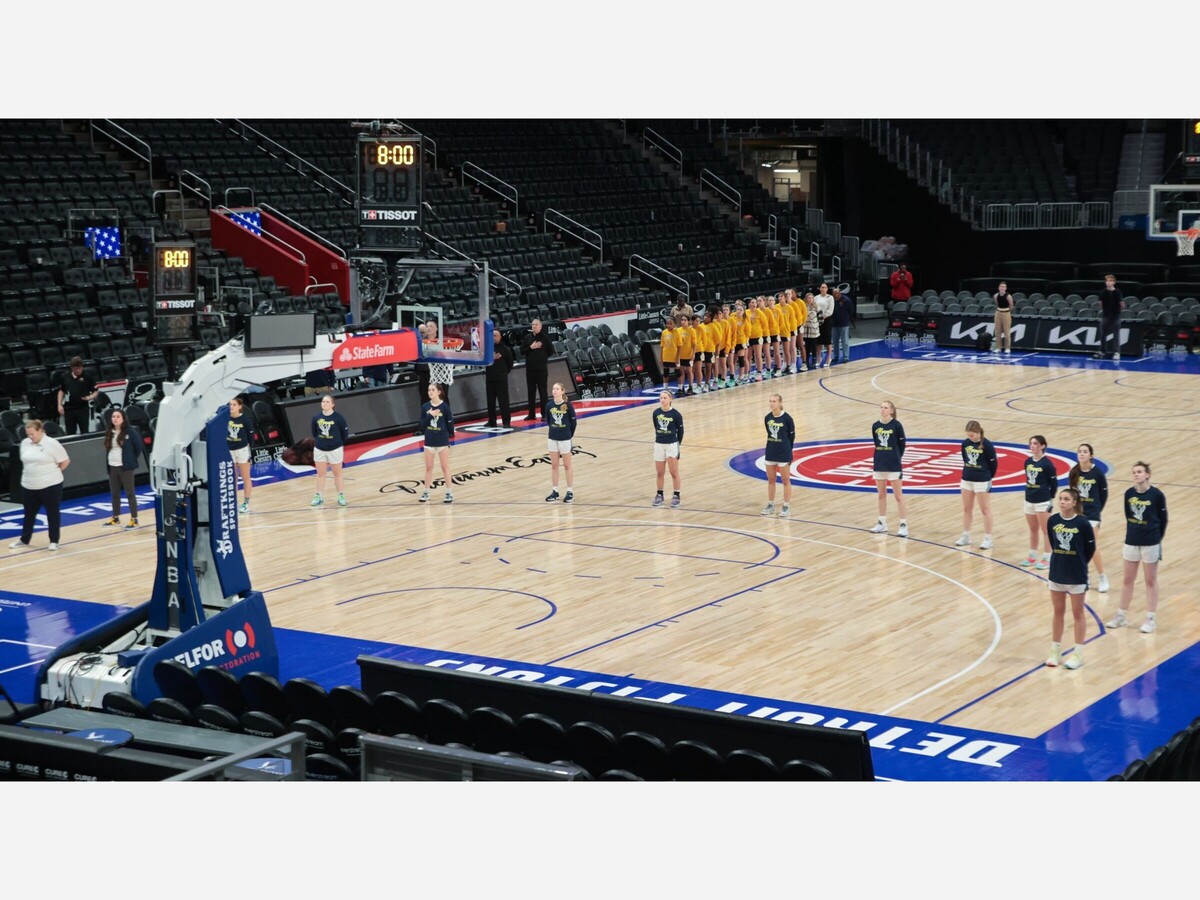 DETROIT - Saline's offensive engine was firing in the Motor City as the Hornets beat Walled Lake Central, 56-35, at Little Caesars Arena in Detroit Sunday.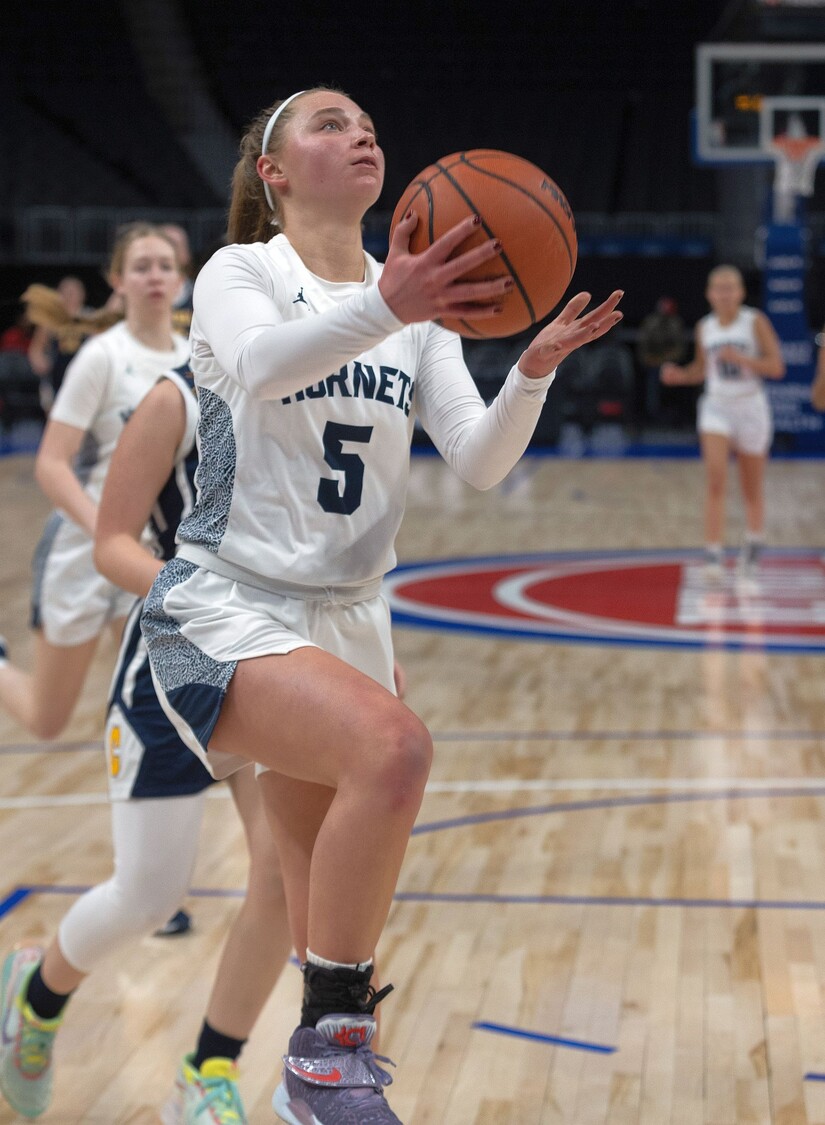 The Hornets' convincing victory came after the team watched the Detroit Piston play on their home court only minutes earlier.
Saline improved to 7-1.
"We had an amazing experience tonight playing on the floor of Little Caesars Arena. Looking around that iconic arena under the big lights, we really created a memory that will last forever," coach Leigh Ann Roehm said.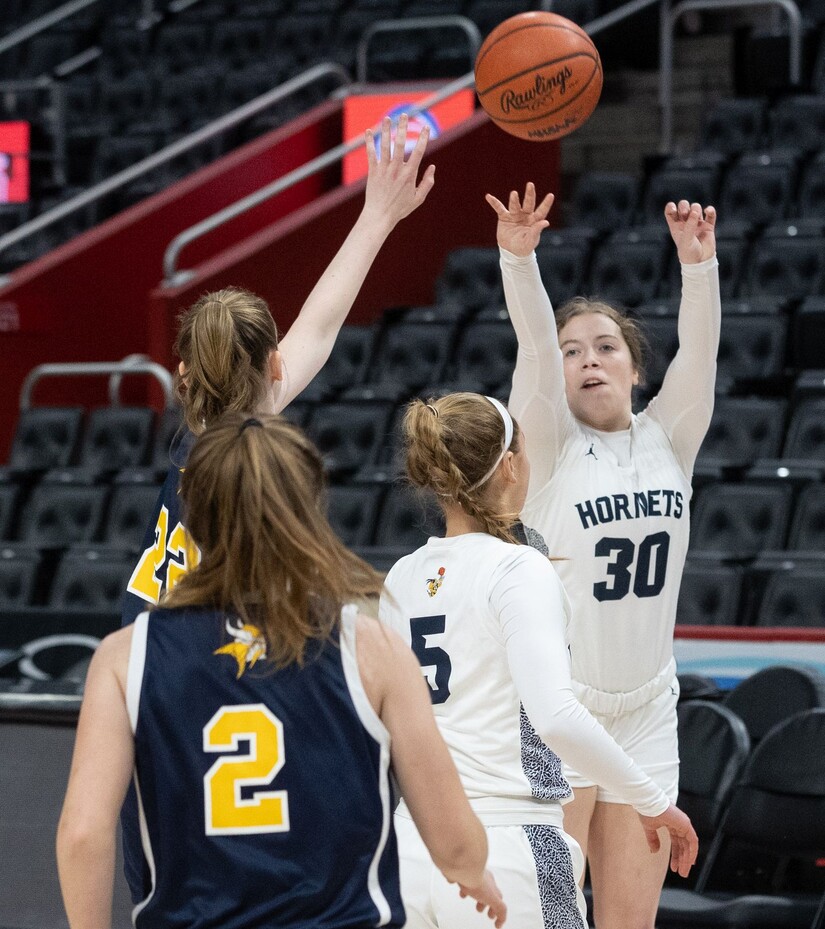 Early in the contest, Saline displayed that there would not be much room for doubt in the outcome of the contest. Saline stormed to a 14-0 lead.  The victory came on the heels of the Hornets' first loss of the season last week to Toledo Rogers.
Nine different Hornets made the scorebook Sunday.
Keira Roehm 13 points, 5 rebounds, 2 assists
Kate Stemmer 11 points, 5 steals, 3 assists
Taylor Kangas 8 points, 5 rebounds, 2 steals, 2 assists
Payton Maloney 8 points
Anna Hesse 6 points, 10 rebounds, 2 blocks
Bailey Burt 4 points 
Beth Ann Ford 2 points, 3 rebounds, 3 assists
Kadyn Maida 2 points, 4 rebounds
Aislinn McPeek 2 points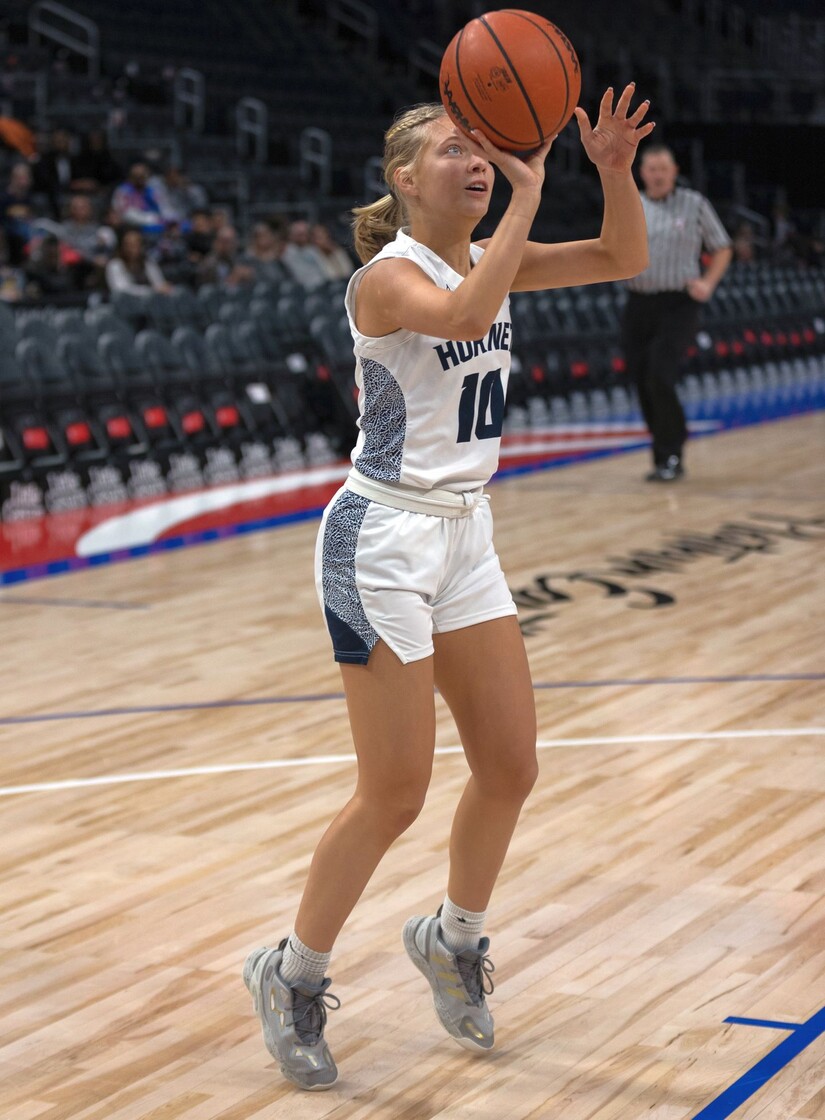 Senior Payton Maloney had one of her best outings of the season. Midway through the first quarter, Saline led 7-0 when Maloney came off the game. She made a long jumpshot from just inside the arc. She then took a pass from Maida and scored from just outside the arc. She completed her individual seven-point run with a three-pointer that gave Saline a 14-0 lead.
"Payton Maloney really stepped up tonight and gave us a big boost in the first half. She made her first 3 shots and really energized our team in the first quarter," Roehm said. "Heading into the thick of the SEC schedule, it is a huge addition to have her bringing so much."
Keira Roehm opened the scoring with a three - one of three she hit on the game.
Saline went up 5-0 on a basket by Kangas.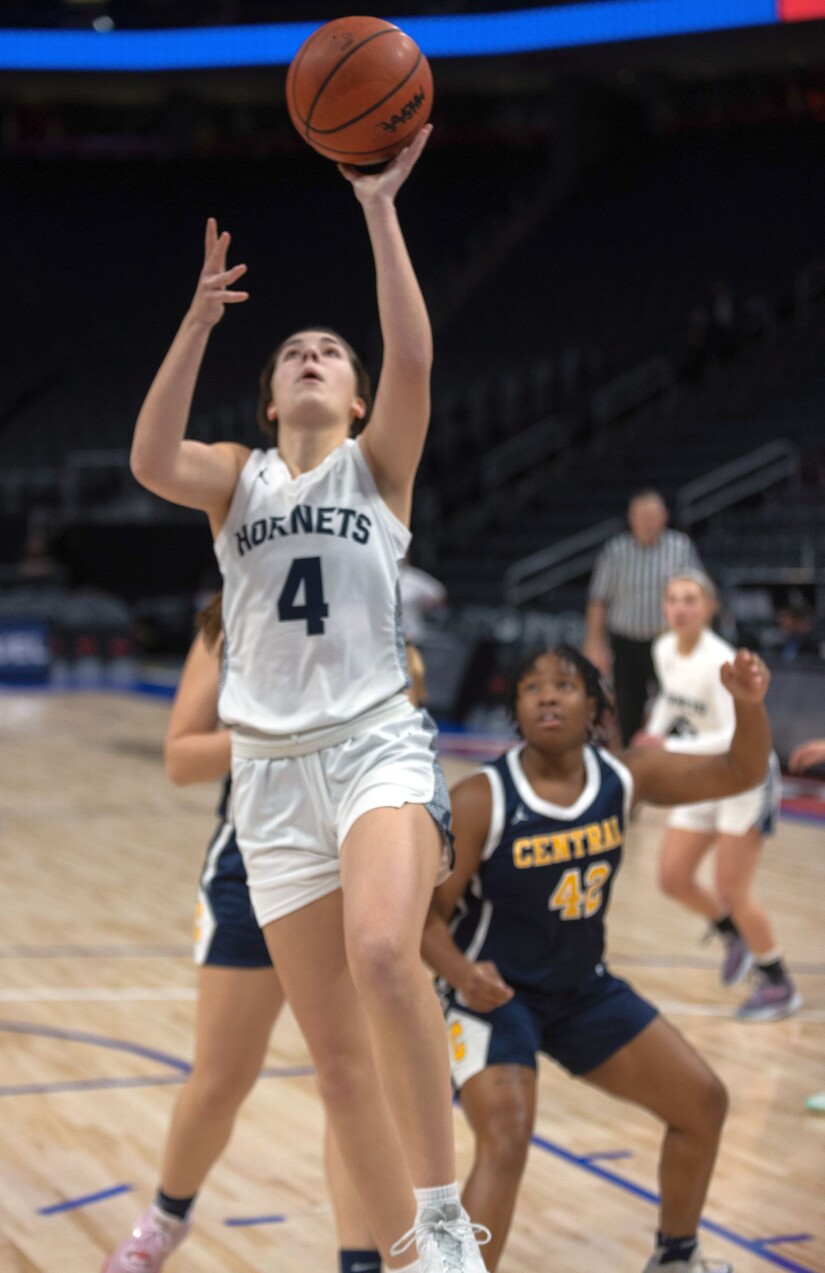 Beth Ann Ford made it 7-0 by putting back a shot by Stemmer.
That's when Maloney took over.
Saline led 14-2 after the first quarter.
Walled Lake opened the scoring in the second quarter, which was more evenly played.
Hesse took a pass from Roehm and scored to make it 16-4.
Maloney added one point from the free throw line. Stemmer followed with a three from the top of the arc.
Roehm added another three before the half to give Saline a 23-10 lead.
The Hornets put three-point plays to work in the third quarter.
Stemmer opened with a three.
Then Roehm made a three.
Then Taylor Kangas went to the hoop, made her basket while getting fouled and then made her free throw.
Kangas stole a ball at midcourt and set up Hesse for two.
And then Stemmer completed the three-point play - making the basket and the free throw.
Moments later, Stemmer scored again for a 39-19 lead.
Kangas made it 42-19 when she dropped a three from the corner.
After a layup by Hesse, junior Bailey Burt joined the fun by hitting a three-pointer. Saline led 47-25.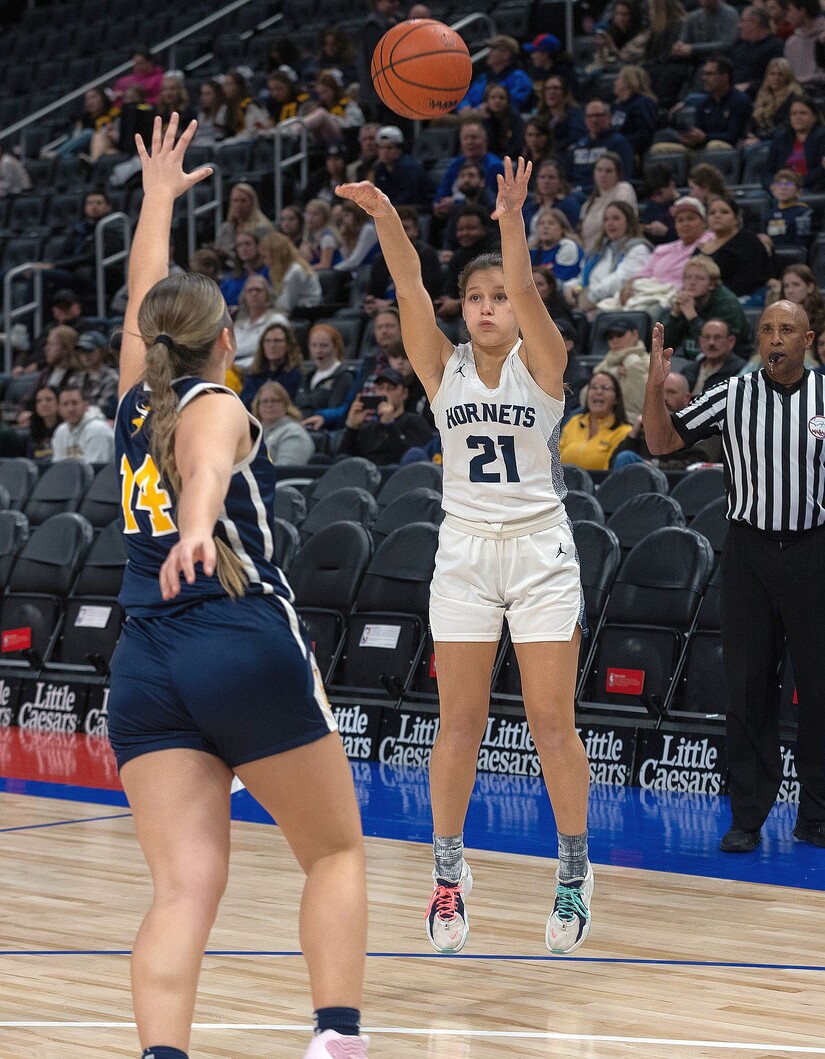 The fourth quarter began with Saline up 47-27. Roehm opened the scoring with a nice hesitation before driving the baseline.
Roehm followed with another three for a 51-28 lead.
Burt hit a free throw and then Aislinn McPeek hit two from the free throw line for a 54-31 lead.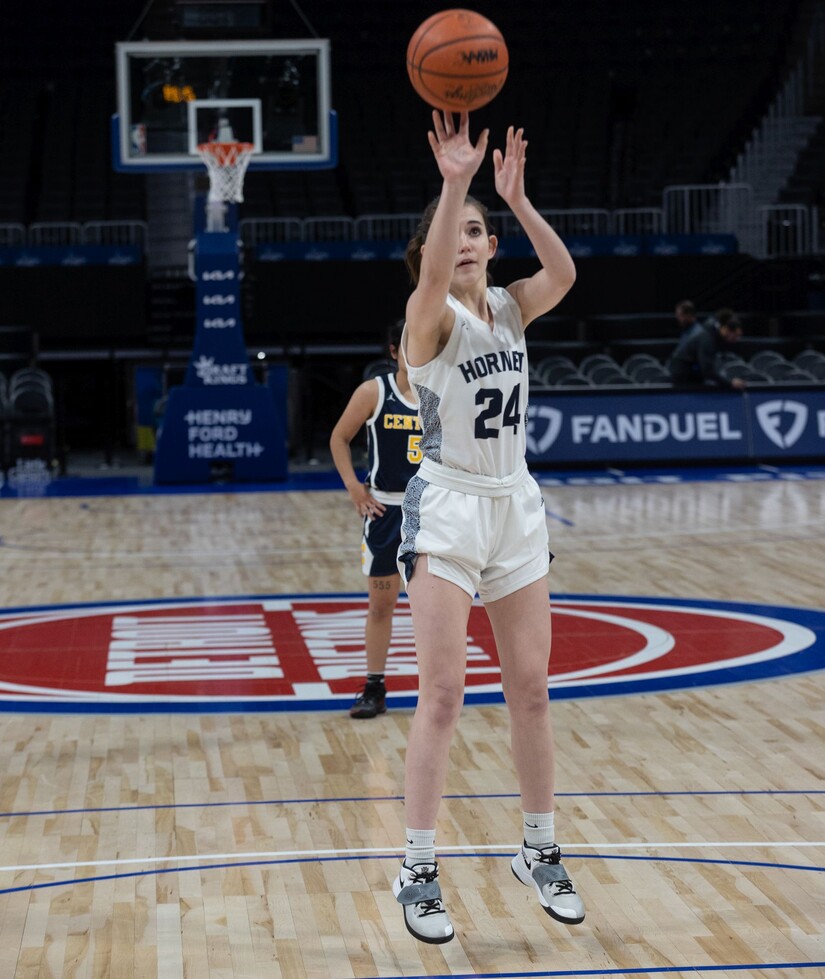 Kadyn Maida finished the scoring for the Hornets.
"Keira and Kate kept us going offensively throughout the game, knocking down 3's and getting to the rim and out in transition. Taylor and Anna also made big impacts, especially in our big 3rd quarter run," Roehm said. "Tonight was a really special experience for everyone involved. We created some special memories that will last a lifetime."
Saline returns to action Tuesday at home to Dexter in the biggest game of the young season.

PHOTO GALLERY HERE