BASKETBALL: Sanderson Shines as Saline Upends Chelsea to Win 4th Straight
Image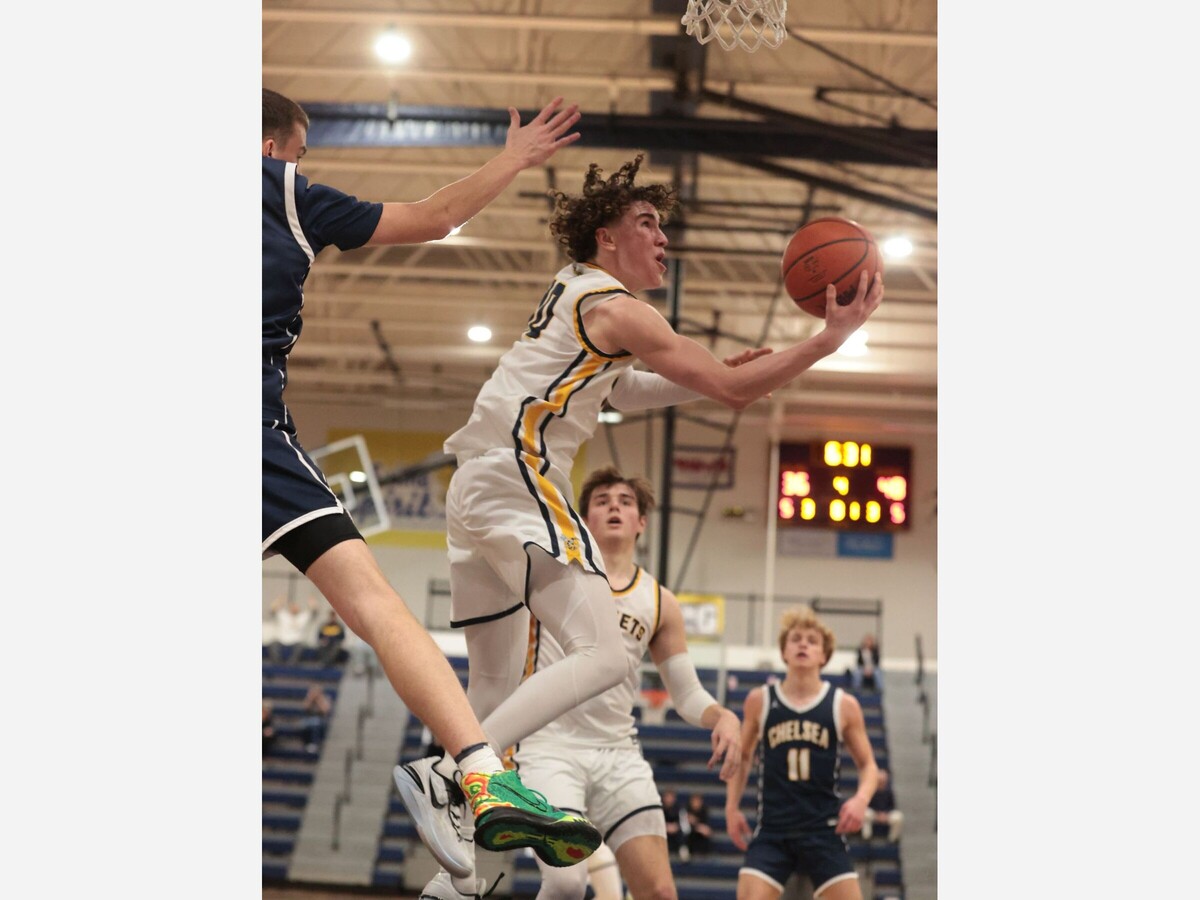 Saline's 62-60 win over Chelsea was momentous. Let's quickly list the ways:
Saline won its fourth straight game and is 4-0 in 2023 and improved to 7-3 overall.
Saline came back from deficits of 6-0, 22-13, and 50-38 to win.
Freshman Jonathan Sanderson shook the SHS gym with a thunderous 39 points.
Chelsea was undefeated coming into the game and considered by some as the top team in Washtenaw County.
The Hornets are 4-0 at home and they've just kicked off a crucial seven-game home stand. The next six games are against SEC Red opponents, starting with Ypsilanti-Lincon on Friday.
All five starting Hornets - Sanderson, Zach Fidh, Dylan Mesman, Harrison Rogers and Garrett Baldwin - scored in the fourth quarter comeback.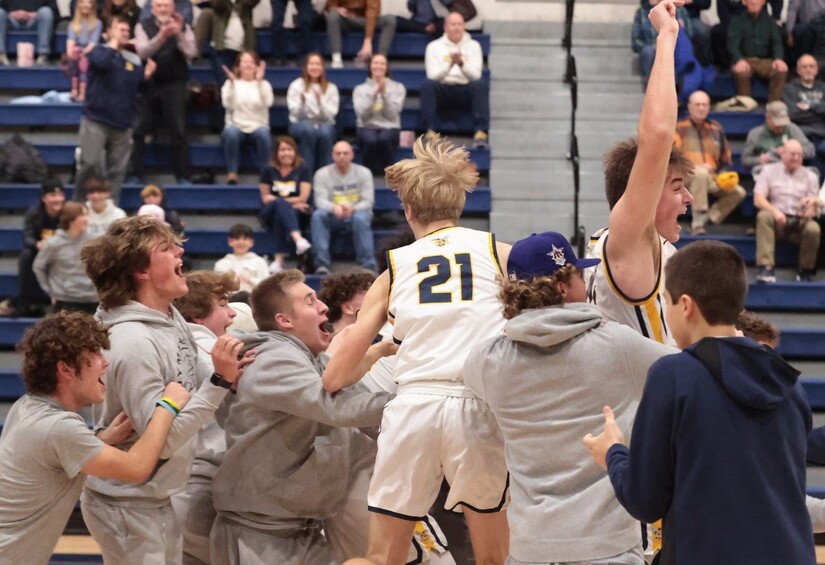 "This is huge. I told the team that good teams compete, great teams win and championship teams go on runs - runs in the game, runs in the schedule. We've won four in a row. We're 7-3. And we look to continue to keep that run going," Saline varsity coach Mike Marek said. "This was a swing game. I thought it could go either way and our kids stepped up to the challenge and now I think this momentum is going to carry us over."
Saline spent most of the game playing catchup to the Bulldogs. They'd catch the Bulldogs - or maybe even push ahead by a point - but the Bulldogs always seemed to regain momentum and start pulling away again.
Two minutes into the third quarter, Mesman went 1-for-2 from the stripe to tie the game at 31. Outside of one bucket by Sanderson, the Hornets were shut out the rest of the third quarter and Chelsea took a 43-33 lead early in the fourth quarter. Marek said the defense held the Hornets in the game until Saline started making the shots fall.
"We were stuck at 33 for a while. We were getting good looks but they didn't fall.  Then we started trading baskets. And when we finally started getting those stops, that gave us the momentum and we came down and hit some big shots," Marek said.
The story of the game, of course, was freshman Jonathan Sanderson. Every time Saline needed a basket, he led the charge. He hit from distance with seven threes. He fought his way through the paint for seven more baskets. And down the stretch he put Saline up for good by going 4-for-4 from the free throw line.
"He just makes shots. The shots he's making are D1 caliber shots. To go full speed, stop, square up the shoulders and make those shots is just unbelievable," Marek said. "He's a matchup nightmare. I've never seen a freshman do this. We kind of knew this would be a tough matchup for Chelsea. I didn't think they could shut him down and it showed tonight."
Sanderson is the son of Jon Sanderson, strength coach for the University of Michigan men's basketball team. The son of the man behind "Camp Sanderson" does not look like your typical high school freshman. He's listed at 6'2 - and he's got the strength and explosiveness not expected from a freshman.
"He's been working with me since I was a little kid. I've been lifting since I was eight. That's helped me a lot. He's helped me a lot," Sanderson said. "I love him. I'm grateful for him."
That strength allows Sanderson to thrive - even when the game gets more physical.
"I love it when people try to get in my skin. I love it, because then I can go right back at them," Sanderson said. "When it gets physical, it gets physical and I bring it."
Sanderson also handles hecklers with ease. A few Chelsea fans were heckling Sanderson as he lined up to inbound a pass. Sanderson looked at them and gave them a big smile. Then he inbounded the ball, ran out to the arc, and seemed to take the pass and launch the three in one motion.
"Why pay attention to that when you can just go get buckets?" Sanderson asked.
Senior Garrett Baldwin and the Hornets don't see Sanderson as a freshman.
"I see him as a senior to be honest. It's big-time for a freshman to come in and lead the team. 40 points he had tonight? That's crazy," Baldwin said.
Sanderson's game seems historic by freshman standards. A couple of old-timers at the game said they've seen a freshman put up these kinds of numbers before.
Coach Marek also praised the work of his reserves - most of whom never left the bench Tuesday.
"I want to give a shout out to the six guys who didn't make it into the game today. Those six guys yesterday in practice gave us a look of what Chelsea does. The switched like Chelsea does. They pushed the ball up on fast breaks," Marek said. "They were stars in their roles. I know they didn't see time on the floor but they helped us win this game tonight."
Marek was talking about Wynter Burnett, Joe Fairman, John Hayes, Brad Lewenthal, Rex Schreck and Brehma Sissoko.
In the first quarter, Chelsea started out to a 6-0 lead. Marek called timeout.
Sanderson got the Hornets on the board. He followed that up with a three-pointer. 
Mesman gave Saline a 7-6 lead with a putback. 
After a Chelsea basket, Sanderson hit his second three of the quarter to make it 10-8. He added another bomb moments later to make it 13-12 Saline. Chelsea finished the quarter strong and led 19-13 after one.
The Bulldogs opened the second quarter with a three to make it 22-13.
Mesman got two of those points back on a feed from Baldwin.
The Bulldogs scored and Sanderson replied with a drive through the paint for two. Saline was down 24-17.
Sanderson got Saline to within four with his fourth three-pointer of the half.
Mesman and Sanderson then each made baskets to the game at 24.
Chelsea regained a three-point lead but Mesman and Fidh had baskets to tie the game at 28 going into halftime.
Chelsea opened the third quarter with a three-pointer. 
Sanderson replied with a basket and then Mesman tied the game going 1-for-2 from the stripe.  Chelsea scored the the next four points to take the lead.
Again, it was Sanderson with an answer.
Going into the fourth, Saline was down 41-33.
Sanderson had 22 of Saline's 33 points. He was just getting started. He went on to score 17 more for Saline in the fourth quarter.  
The cavalry arrived too. Up to this point, outside of Sanderson, Mesman was the only Hornet with more than two points.
That all changed in the fourth quarter. But not right away. Chelsea scored first, to make it 43-33. 
Sanderson replied to make it an eight-point game. Then Mesman went 1-for-2 again from the line to make it a seven-point game. 
Then it looked like things might spin away from Saline. The Hornets were assessed a technical foul. Chelsea made both free throws. Then the Hornets turned over the ball and Chelsea hit a three.  Chelsea led 48-36 with a little more than six minutes to play.
Once again, Sanderson spearheaded the Hornet attack. First he cut the lead to 10 with a brilliant slice through the defense along the baseline. 
Then after a Chelsea basket, Sanderson hit another three. Saline was down, 50-41. It sparked a remarkable run during which Saline answered Chelsea points with three-pointers five straight times.
After a Chelsea basket, Rogers drained a three. Saline was within eight.
Again, Chelsea scored. But again, Saline responded with a three-pointer. This time, it was Fidh. Saline was down 54-47.
After Chelsea went 1-for-2, Baldwin hit a three. Saline was down, 55-50. 
Once more, Chelsea scored. Again, Sanderson replied with a three. Saline was down 57-53.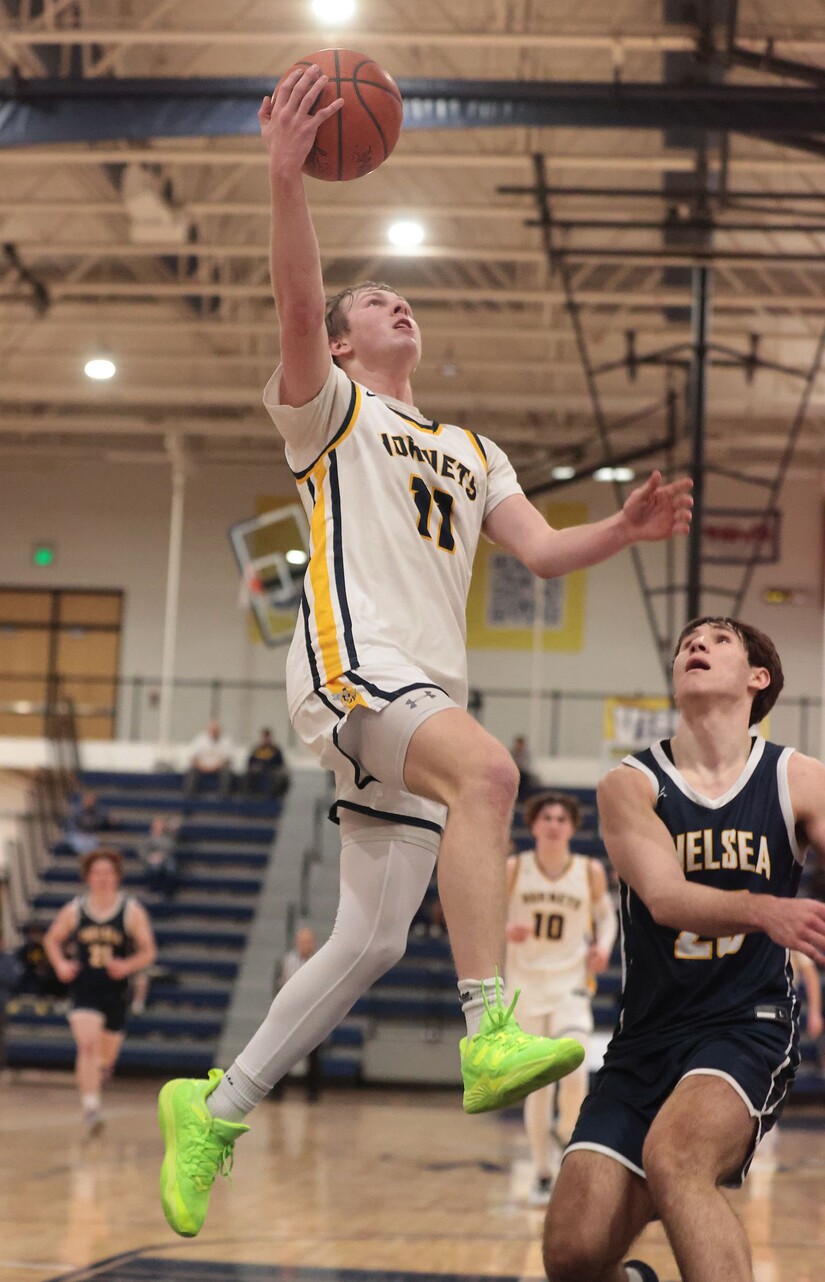 Saline came up with a steal and Baldwin scored. Saline was within 2.
The defense came up with the stop and then Sanderson hit yet another three-pointer, this time from the top of the arc. Saline led for the first time since the first quarter.
Chelsea replied with a basket to regain a one-point advantage.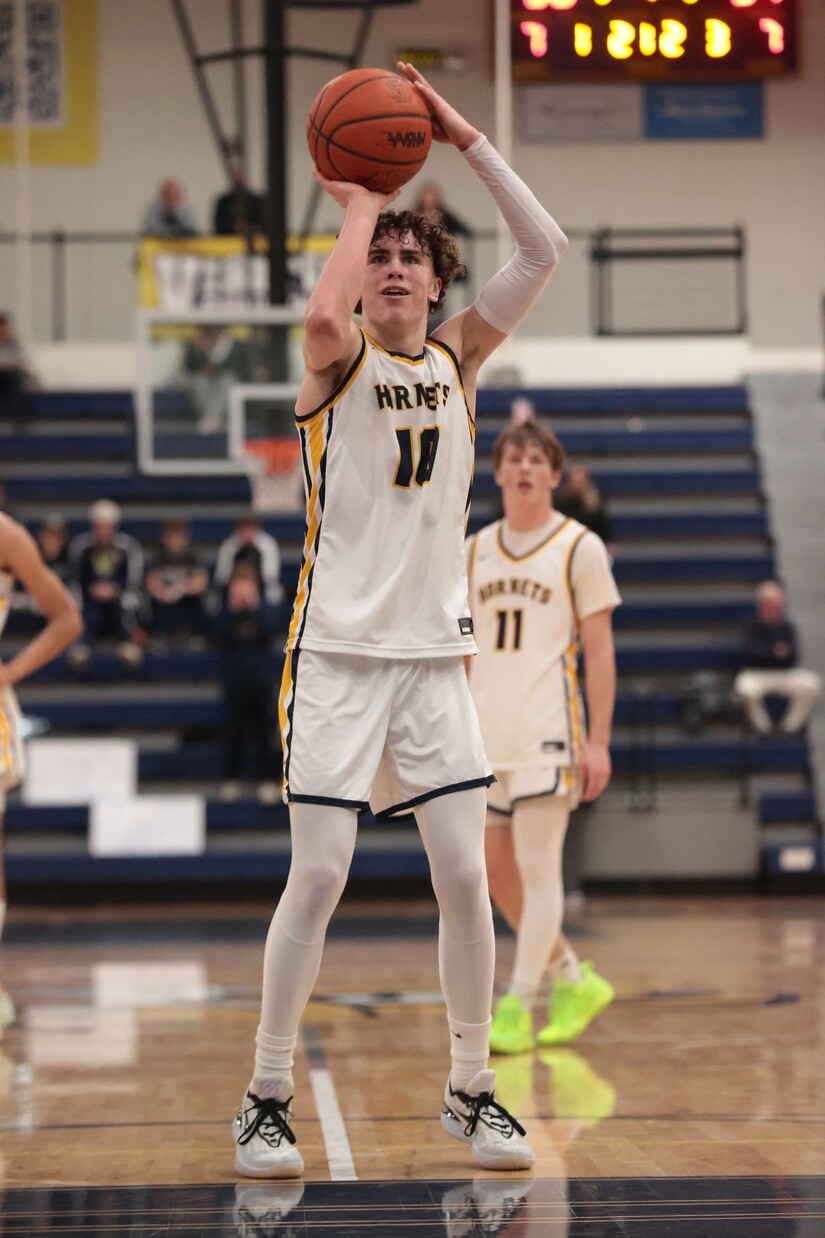 With 1:47 remaining, Sanderson was fouled and made both ends of a 1-and-1.  Saline led 60-59.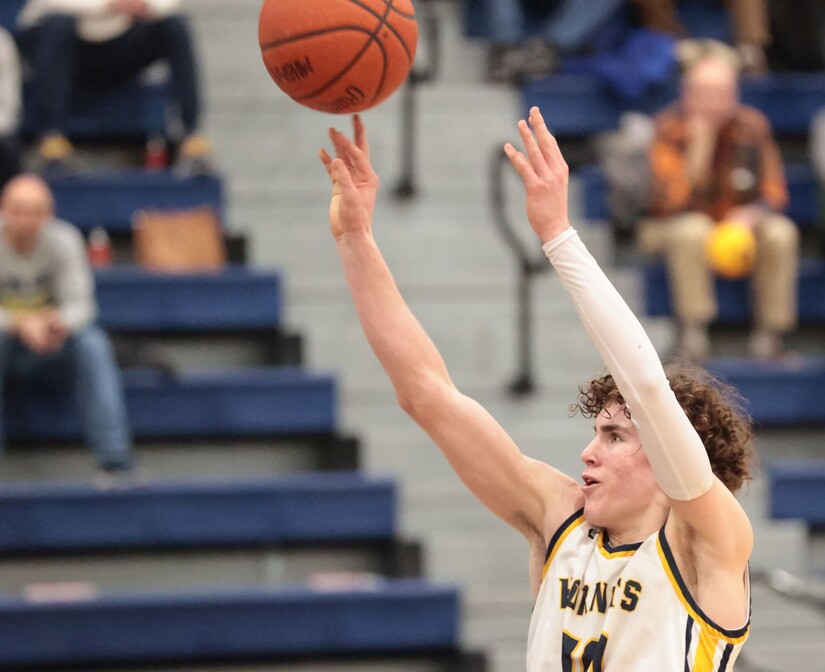 After a defensive stop, Sanderson was fouled again and he made both free throws for a 62-59 lead.
With only seconds left on the clock, the Hornets fouled a Chelsea shooter. He went 1-for-3 from the line to cut the lead to 62-60. The Bulldogs' last-second desperation shot was off the mark and Saline won.
The Hornet student section stormed the court to help the players celebrate the victory.