BASKETBALL: Saline Girls Basketball Team Takes SEC Red Crown
Image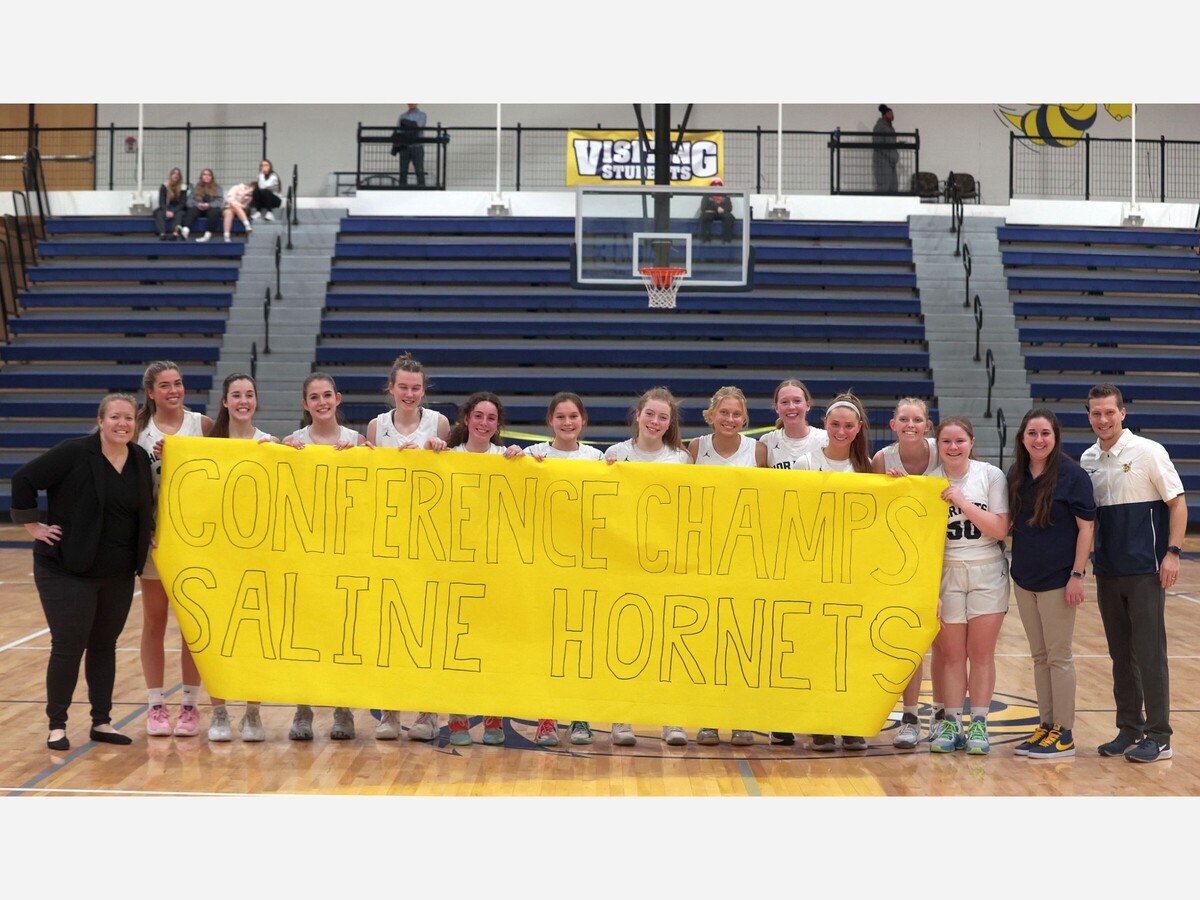 If the Saline girls' basketball team was even slightly fazed by the pressure of needing to beat Pioneer to maintain a share of the SEC Red crown, it didn't show.
Saline, which needed a buzzer-beater to defeat the Pioneers in their first meeting of the season, left no doubts in a 51-17 victory at Saline High School Tuesday.
The win advanced Saline's conference record to 13-1. Assuming Bedford defeat Lincoln Tuesday, Saline and Bedford finished the season with identical records and shared the SEC Red crown.
Winning the conference title marks reaching a major goal.
"This was a total team effort tonight. In a game with so much pressure on the line, it could be easy to play not to lose instead of playing to win. Instead of folding under the pressure, we really played to win tonight. We stepped up on the glass and at the defensive end. To hold a team with a variety of weapons to 17 total points says so much about how we are defending right now," coach Leigh Ann Roehm said.
The Hornets finished the season with a 19-3 record - setting a new program mark for wins in a season.
It's also the second SEC Red title in three years - the first time that's been done in decades, Roehm said.
Saline hit 10 threes - three each for Hadley Griffin and Kate Stemmer - to raise the season total to 171 - putting the Hornets on the MHSAA's all-time season record page.
Griffin, who's been remarkably hot from three-point territory in recent weeks, said the Hornets' willingness to be patient and find the open shot is paying dividends. It's led to a balanced attack that has kept the team at a high level even after graduating two of highest scoring players in program history over the last two years.
"We have a really good distribution of scoring. We have a couple of people who can have really big games and a lot of people contributing," said Griffin, one of 10 Hornets to score Tuesday. 
Roehm said one of the goals - not yet reached - is to set the team record for assists this season.
"We take it really seriously. One of the main things we think about when we're playing is 'one more pass.' Even if we're a little open, there's another person who is more open - so we're feeding them the ball and getting the right shot," Griffin said.
Here are the stats from Tuesday's game:
Kate Stemmer 13 points, 3 assists
Hadley Griffin 9 points
Taylor Kangas 7 points, 5 rebounds, 5 steals, 3 blocks, 5 assists
Anna Hesse 7 points, 5 rebounds, 2 steals, 3 blocks
Keira Roehm 3 points, 4 rebounds, 3 assists
Kadyn Maida 3 points, 2 rebounds, 2 steals
Bailey Burt 3 points
Beth Ann Ford 2 points, 5 rebounds
Payton Maloney 2 points, 2 rebounds
Leigh Ann Farrell 2 points
Tuesday's victory was just the latest celebration for a program that's had a lot to celebrate - including Coach Roehm's 100th win and senior night.
The Hornets hope they'll finish next week celebrating  at Belleville and earn a return trip to the Saline High School gym.
Saline plays Ypsilanti (8-12) at 5:30 p.m., March 1. With a victory, Saline will play the winner of the Belleville (17-5)/Lincoln (6-13) game in the district championship at 7 p.m., March 3.
The winner of the district advances to the next week's Region 5 tournament in Saline, which will also include winners from the Northville, Skyline and Canton districts.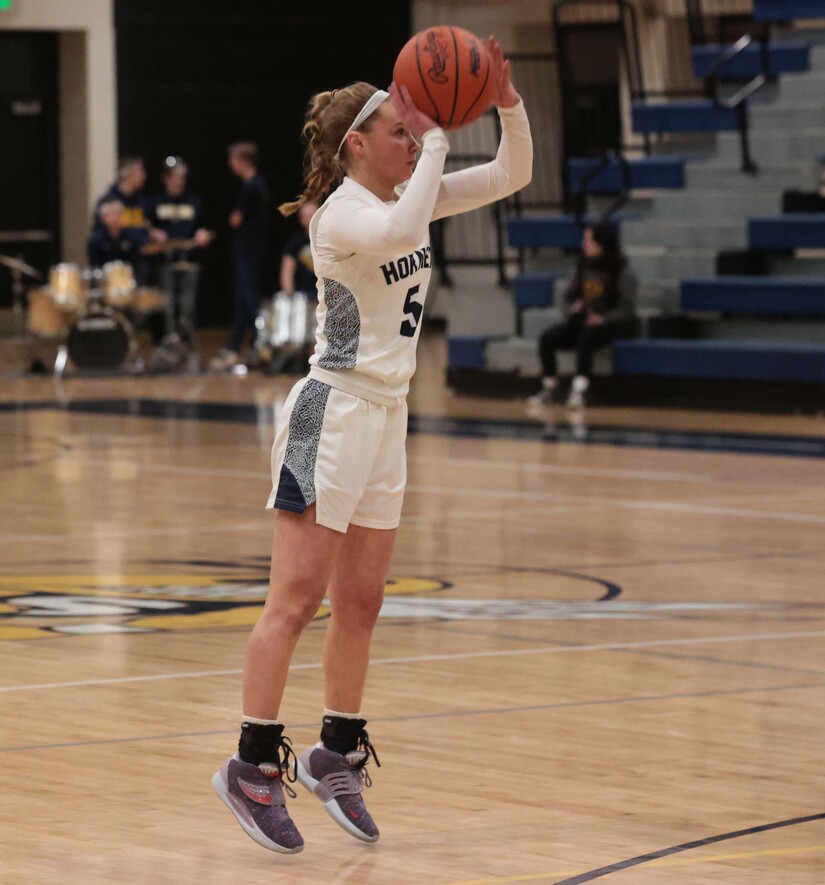 Saline opened the scoring with a three from Keira Roehm, a jumper from Beth Ann Ford and then a three from Stemmer. Saline led 8-7 after the first quarter.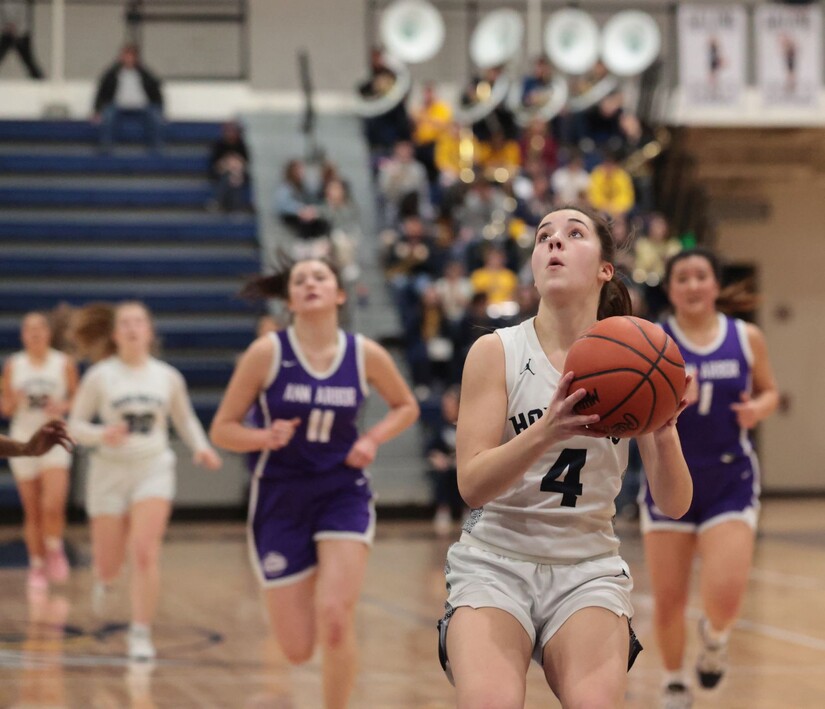 Senior Taylor Kangas led the charge in the second quarter. She got the steal and two to open the scoring and then sunk a triple from the top of the key to make it 13-7.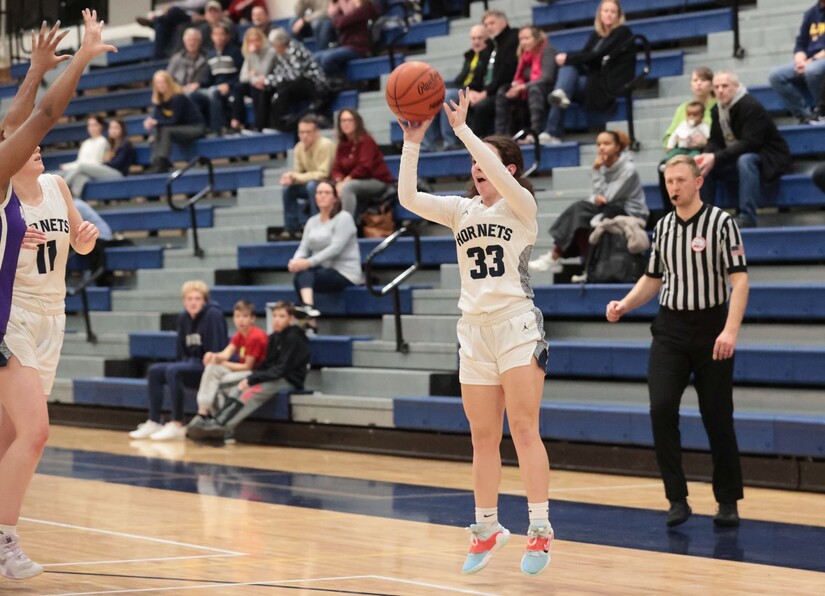 Hadley Griffin hit two triples and and Kadyn Maida made a highlight reel dive through the paint for two later in the quarter. Saline led 21-11 at halftime.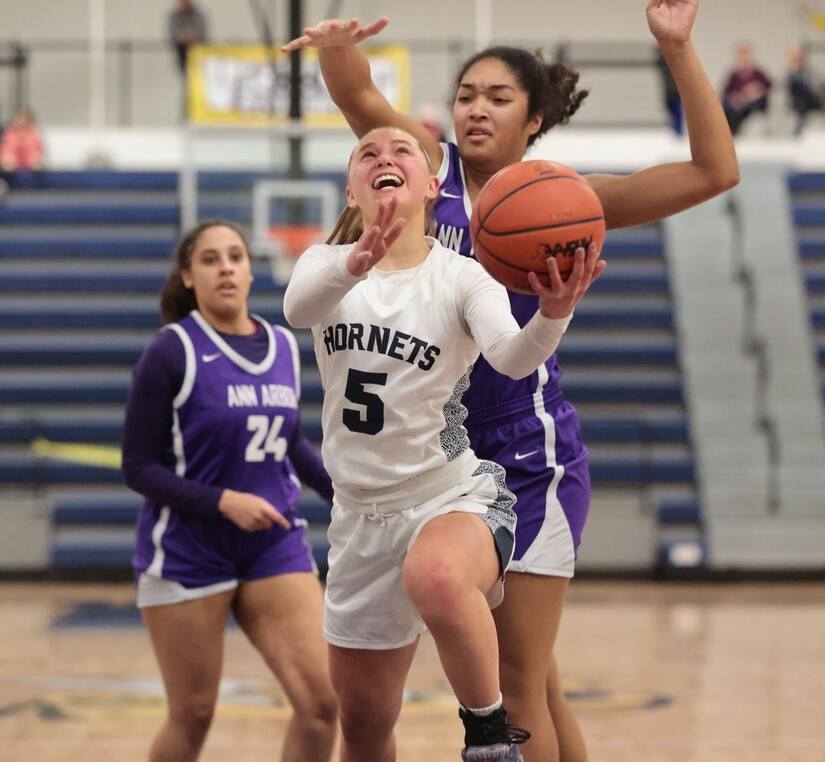 Like Kangas spearheaded the second quarter, Stemmer led the charge in the third. First, she powered her way through the paint for two. Then she knocked down a three. Saline led 26-15.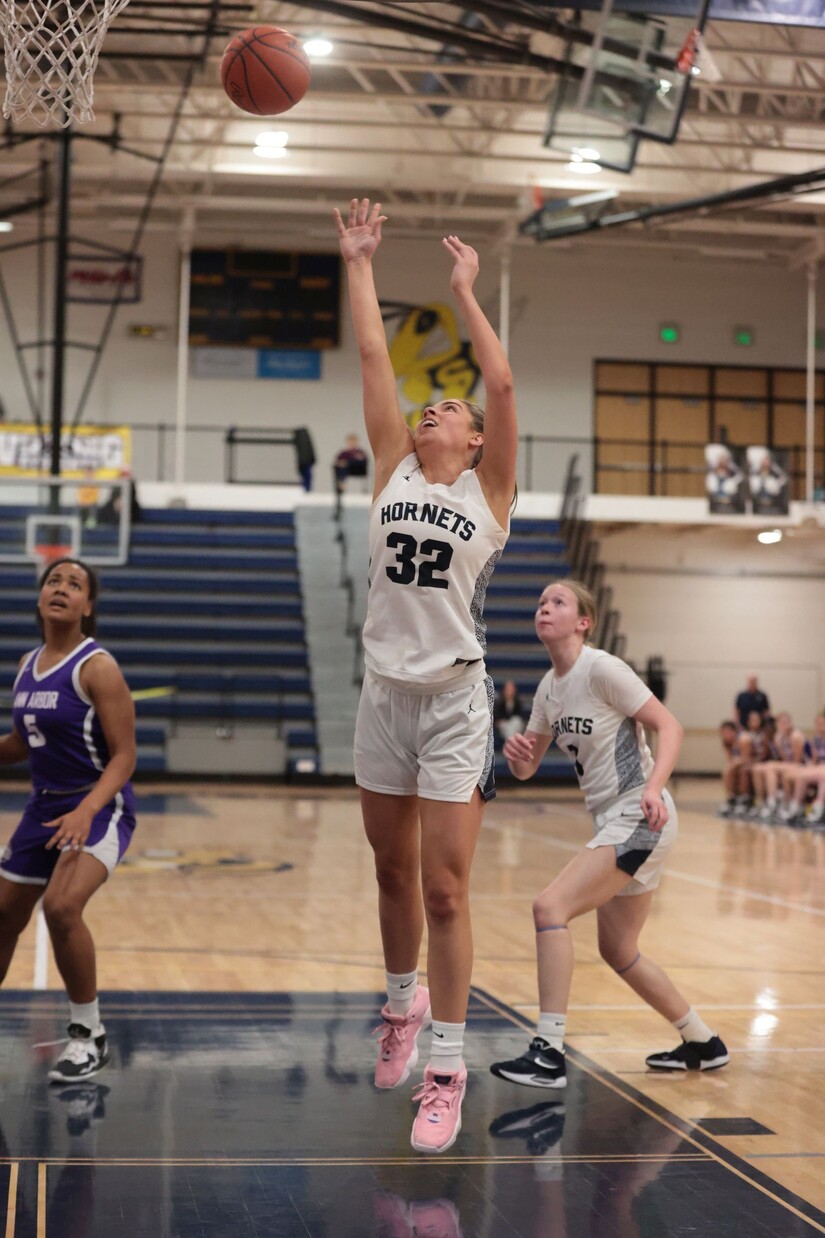 Stemmer's triple set off a 16-point run that didn't end until the fourth quarter. Along the way, Anna Hesse had a put back, Stemmer made two free throws, Kangas shot through the lane for two, Griffin hit another three and Hesse put another rebound back.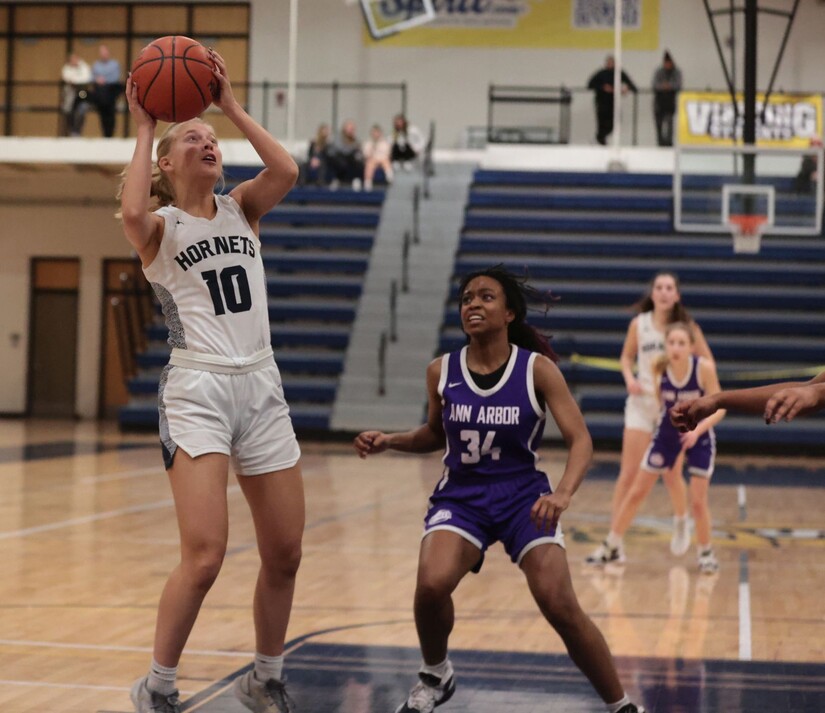 Saline was just as dominant in the fourth. Payton Maloney opened the scoring. Then Hesse, Stemmer and Bailey Burt had consecutive threes to make it 48-17.
Maida made a free throw and then Leigh Ann Farrell finished the game with a  breakaway bucket.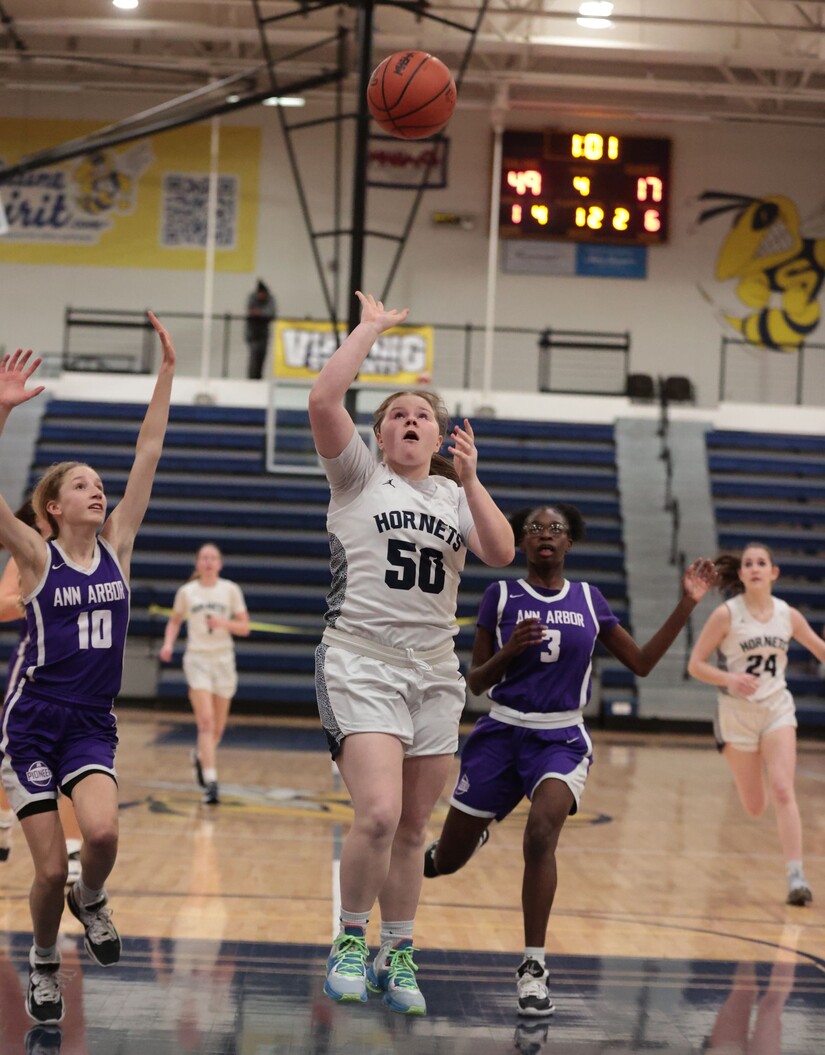 Farrell's basket drew the loudest cheer of the game from the Hornet bench.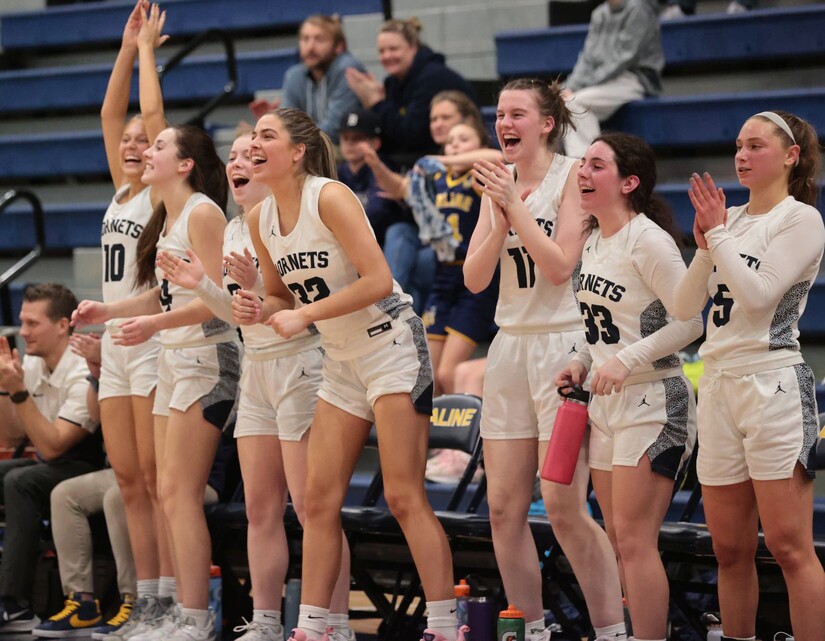 PHOTO GALLERIES.
Saline 4th Grade Basketballers Play at Halftime
INTERVIEWS