Checking for Vehicle Recalls is Free and Easy
Image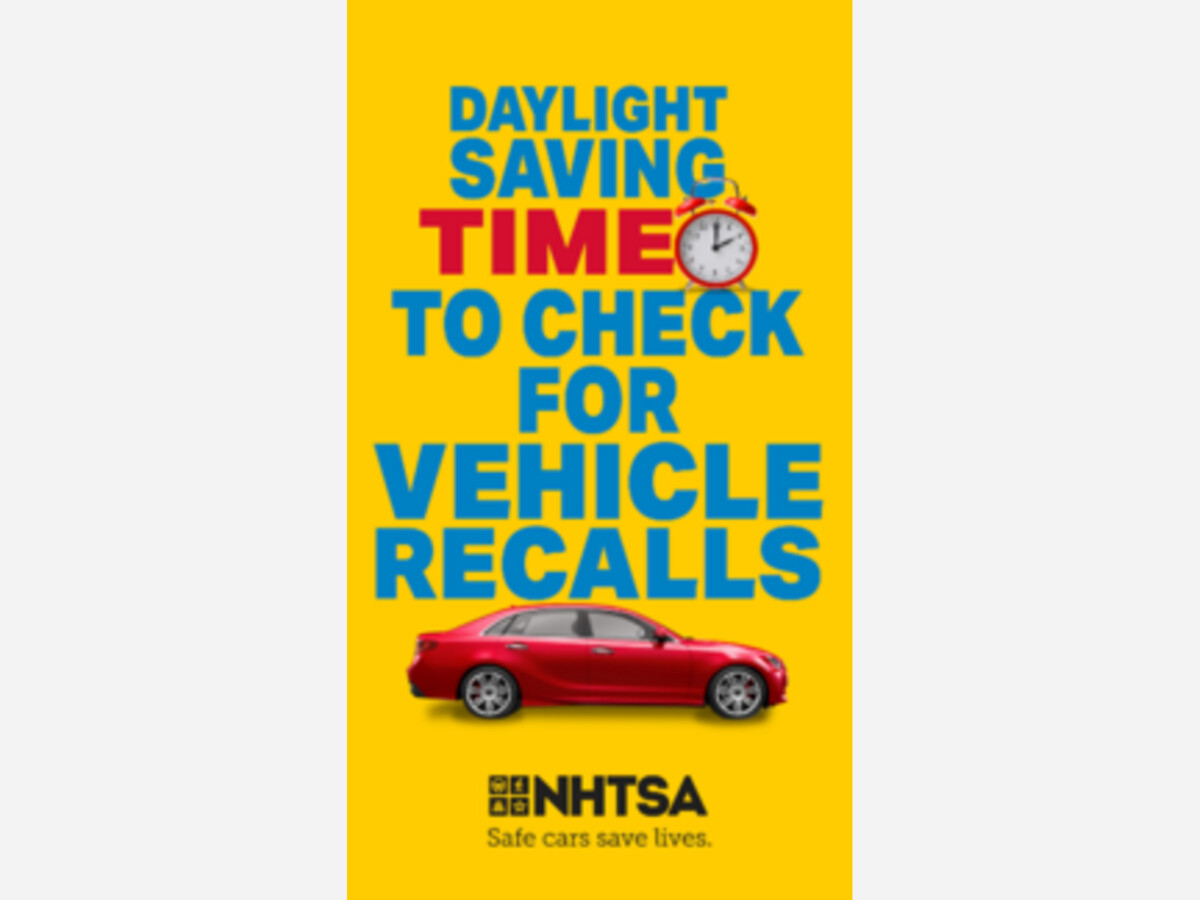 To help keep Americans safe inside and outside the vehicle, the U.S. Department of Transportation's National Highway Traffic Safety Administration (NHTSA) is reminding drivers to check their vehicles for open safety recalls.
Spring Daylight Saving Time is a perfect time of year to remember to check your vehicle for safety recalls. NHTSA is hosting a Vehicle Safety Recalls Week March 6–12, 2023, to coincide with the beginning of Daylight Saving Time on March 12. NHTSA urges drivers to check for recalls twice yearly. Drivers are encouraged to add "check for safety recalls" to that vital springtime to-do list, which may also include checking smoke detector batteries.
Checking for safety recalls is free and easy. Visit NHTSA.gov/recalls and enter your vehicle's 17-digit VIN. In seconds, you'll know if your vehicle is subject to an open safety recall. While you're there, sign up for Recall Alerts. If your vehicle is included in a future recall, you'll receive an email letting you know.
NHTSA's free web recalls tool will provide details on any unrepaired recall in your vehicle — for at least the past 15 calendar years. It will also provide details on unrepaired safety recalls from major automakers, motorcycle manufacturers, and some medium/heavy truck manufacturers.
NHTSA's SaferCar app can also help keep you informed about your vehicle. Download the app and enter your vehicle's VIN, as well as your car seats, tires, or any other automotive equipment information, and NHTSA will send you an alert if a safety recall is issued on them. The app is available for iOS and Android.
Why the SaferCar app? With SaferCar you get crucial information in real time. Download the app and set up your virtual garage, then add your vehicles, as well as related equipment like tires, trailers, and car seats. The app notifies you of all related recalls and points you to local dealerships handling vehicle repairs. The app helps you quickly make an appointment and get it fixed for free.
During Vehicle Safety Recalls Week, NHTSA is asking you to:
Increase awareness of the urgency of safety recalls;
Encourage drivers to check for open safety recalls on their vehicles; and
Get those open safety recalls repaired for free as soon as possible.
If your vehicle is affected by a safety recall, contact your nearest dealer to schedule a recall repair as soon as possible. Remember: Every recall is fixed FOR FREE.
Every vehicle has a unique VIN. Enter a VIN to learn if a specific vehicle needs to be repaired as part of a recall.
Where's my VIN?
Look on the lower left of your car's windshield for your 17-character Vehicle Identification Number. Your VIN is also located on your car's registration card, and it may be shown on your insurance card.
What this VIN search tool will show
An unrepaired vehicle affected by a vehicle safety recall in the past 15 calendar years
Vehicle safety recalls from major light auto automakers, motorcycle manufacturers and some medium/heavy truck manufacturers
What this VIN search tool will not show:
A vehicle with a repaired safety recall. If your vehicle has no unrepaired recalls, you will see the message: "0 Unrepaired recalls associated with this VIN".
Manufacturer customer service or other non-safety recall campaign
International vehicles.
There may be a delay with very recently announced safety recalls for which not all VINs have been identified. VINs are added continuously so please check regularly.
Safety recalls that are more than 15 years old (except where a manufacturer offers more coverage).
Safety recalls conducted by small vehicle manufacturers, including some ultra-luxury brands and specialty applications.
More News from Saline