Stully Recaps Community Ed Basketball Action and Makes Playoff Predictions
Image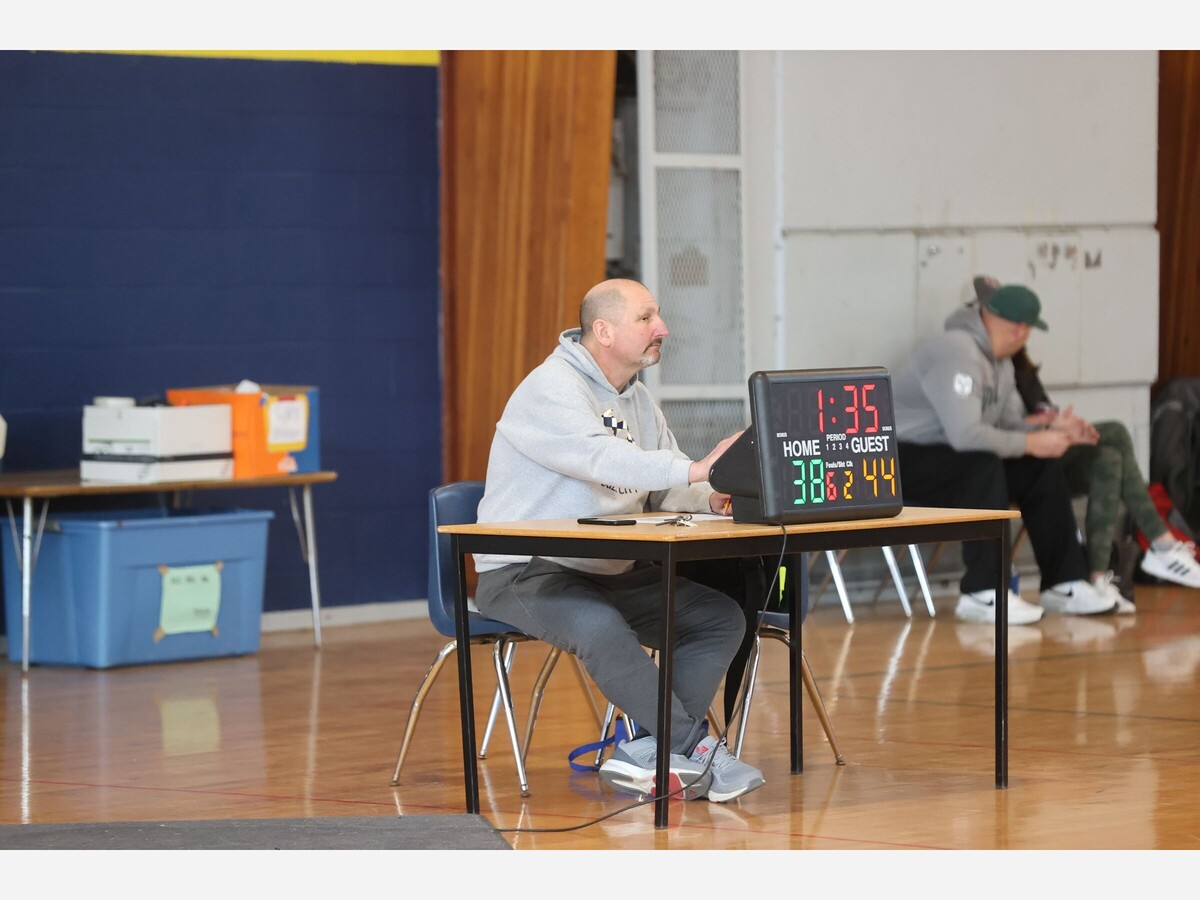 Welcome to Stully's CE BB Recap:
Recap of the March 4 - March Madness Edition
The Fades-43 V Bricklayers-33
Bad prediction here as an undermanned Bricklayer team hung with The Fades in the first half, but got exposed on the full court press as they lacked two key ball handlers in half #2. Fades, kudos to you for extending the floor on the press in the second half leading to many points off turnovers. Jackson Muir's 27 points led The Fades offense, while Ryan Terris and Luke Allen added 9 and 8 points, respectively. Bricklayers were led offensively by Noah Reeves(12) and Brady Wilson(9).
O's-50 V Girl Ballers-0
Girl Ballers "No Show" led to a forfeit win for the O's.
Saline Wild Wings-54 V Lil' Steppas-46
Saline Wild Wings overcame a halftime deficit, putting the clamps on defense by limiting Lil' Steppas to 12 second half points en route to a convincing victory over the #2 team. Wild Wings offense was a little sluggish in the first half(although Tate Bezeau's 2 three's kept them close), while Lil' Steppas were hitting three's at will. The second half proved to be a different story as Lil' Steppas went cold shooting and Saline Wild Wings ran the floor and attacked the rim to not only take the lead, but take over the game. Cade Tousa's monster breakout game paced SWW offense with 26 points, while Roman Laurio scored 18 and Tate Bezeau added 11. Khaden Ballard was the lone Steppa to hit double figures with 23 points(7 three's).
Prestige Worldwide-48 V Yodieland Buckets-37
Prestige Worldwide survived a second half surge from the Yodie's before pulling away at the end to win by double digits. In the first half neither team could pull away, but Prestige used some balanced scoring(9 of 10 players scored) and stifling defense to keep the Yodie's from scoring buckets. Yodies were led on offense by Zach Miller(11), Derek Nishioka(8) and Ian Theisen(7). Raphael Morozowski was the only Prestige player in double figures with 11 points, followed by Luke Sundquist(9) and Caid Fox(8).
Powerade "Play of the Day"
Saline Wild Wings Jackson Conley's "nothin' but net" three was the "dagger" in a huge comeback win over #2 Lil' Steppas! Congrats Jackson!!
Famous Amos Cookies "Team of the Week"
Saline Wild Wings posted their best performance of the season coming back from a halftime deficit to beat #2 Lil'Steppas by 20+ points. Congrats to Saline Wild Wings!!
Standings: Record Pt. Differential
Saline Wild Wings 7-0 +222
Lil' Steppas 6-1 +98
Prestige Worldwide 5-2 +97
O's 4-3 +56
Yodieland Buckets 2-5 +47
The Fades 2-5 -42
Bricklayers 2-5 -74
Girl Ballers 0-7 -390
Top Scorers:
Jackson Muir-27
Cade Tousa-26
Khaden Ballard-23
Roman Laurio-18
Raphael Morozowski-13
Noah Reeves-12
Zach Miller-11
Tate Bezeau-11
Predictions for 3/11
Quarter Finals:
8AM
O's V Yodieland Buckets
When these teams played during the regular season it was an exciting buzzer beating finish to give O's the win. This game could have a similar outcome. Yodieland Buckets will need to play defense without fouling and force the O's to settle for three's. O's will need to pressure Yodies ball handlers and recognize their shooters and who can get to the rim. On offense, Yodies will need to make some shots and crash the boards on misses. O's will need to blend the outside game and getting to the rim. I see O's advancing in a close game, 5 points or less.
9AM
Lil' Steppas V Bricklayers
Lil' Steppas are coming off a poor second half performance last week and will be hungry for a win. Bricklayers are coming off a loss where their lack of ball handling was exposed. With both teams at full strength, I have the Steppas winning easily. BUT, both teams may be missing players due to other obligations. Ultimately, this will come down to execution and coaching, where Lil' Steppas have the advantage. I am taking Lil' Steppas to win this game by about 6 points.
10AM
Saline Wild Wings V Girl Ballers
Saline Wild Wings played their best game of the season last week versus #2, and they were short some key players. They had players step up on both ends of the floor. Girl Ballers were a no show, and will probably only have 4 players, if they show at all. Wings win!!
11AM
Prestige Worldwide V The Fades
Prestige Worldwide won last week, but so did The Fades. In their in season meeting, Fades jumped out to an early lead, only to see Prestige come back to take the victory. Prestige will need to execute defensively, and find ways to score(pick-n-roll or pop/baskets cuts/give and go/etc…). The Fades may have found something defensively last week, pressure!!! If The Fades can pressure and get points off turnovers, they win. If Prestige contains Muir and breaks the pressure leading to points, they win. I think this is going to come down to the wire, Prestige by 2 or less.
Semi Finals(Given my predictions are correct!!))
Noon
Saline Wild Wings
V O's
The first semi final of the day features a Saline Wild Wings team that defeated O's during the season by 15 points, but it took a second half Wing comeback and ice cold shooting by O's. If O's learned anything here, they cannot afford to live and die by the three, so they will need to get to the rim and finish or dish for easy lay ups. Defensively, they need to limit transition points and make the Wild Wings execute in the half court. Wild Wings, you may be a second half team, but you will need a better start offensively and defensively in the post season to win a title. Get out and run, drive to the hoop, be patient and hitting open shos will be the offensive recipe for success. Defensively, clamp down on their shooters and be in help when Lucca/Matt B. drive. Wild Wings win by single digits.
1PM
Lil Steppas V Prestige Worldwide
This will be a great matchup, #2 V #3 trying to punch their ticket to the finals. Lil Steppas has been a little of a surprise to me as they have improved weekly and understand basketball concepts. Prestige has been a little of a disappointment with their inconsistent play. With everything on the line, Lil Steppas will have to be at their best as they may be missing key pieces to their team. If last week is an indication, they may be in some trouble. Prestige should be close to full strength, roster wise, while Steppas will not. With that in mind, I feel Prestige can play defense and defend the three's of Ballard and Folk. If they defend the three and don't get beat to the hoop, they have enough offense to win. If Steppas can swing the ball for open shots and hit them, they play well enough defensively to win. This could be a low scoring game, and if it is, Prestige wins a close one. I am going with Prestige in this semi final by a bucket.
Finals
2PM
Saline Wild Wings
V Prestige Worldwide
Earlier in the season, Saline Wild Wings destroyed Prestige Worldwide. BUT, this is the finals, March Madness and time to make a statement. Do the up and coming Juniors of Prestige upset #1, OR do the Senior laden Wild Wings avenge last season's disappointment to claim the title. I don't have to tell either team what they need to do offensively or defensively, at this point, to win. It is simple, score more points!! This will be a great game no matter who plays in it. If my predictions are correct, Saline Wild Wings will be champions!!!
Predictions are based on a full squad showing up! Injury report/No shows can affect the predictions!!
Winner
Stully's Prediction %(SPP)
Last Week 3-1 .750 Overall 25-3 .893
POWER RANKINGS:
Saline Wild Wings
Lil' Steppas
O's
Prestige Worldwide
The Fades
Bricklayers
Yodieland Buckets
Girl Baller
SHOUTOUT!!!
A quick shoutout to some of the teams coaches this season:
Girl Ballers: Anna Hesse
Lil' Steppas: Peyton Widen
Prestige Worldwide: Dylan Mesman/Joe Fairman
O's: Bradley Leventhal/John Hayes
The Fades: Zach Fidh/Wynter Burnett
Thank you for your time, it is truly appreciated!!:)
More News from Saline