Saline Celtic Festival to host Seven Pipe & Drum Bands
Image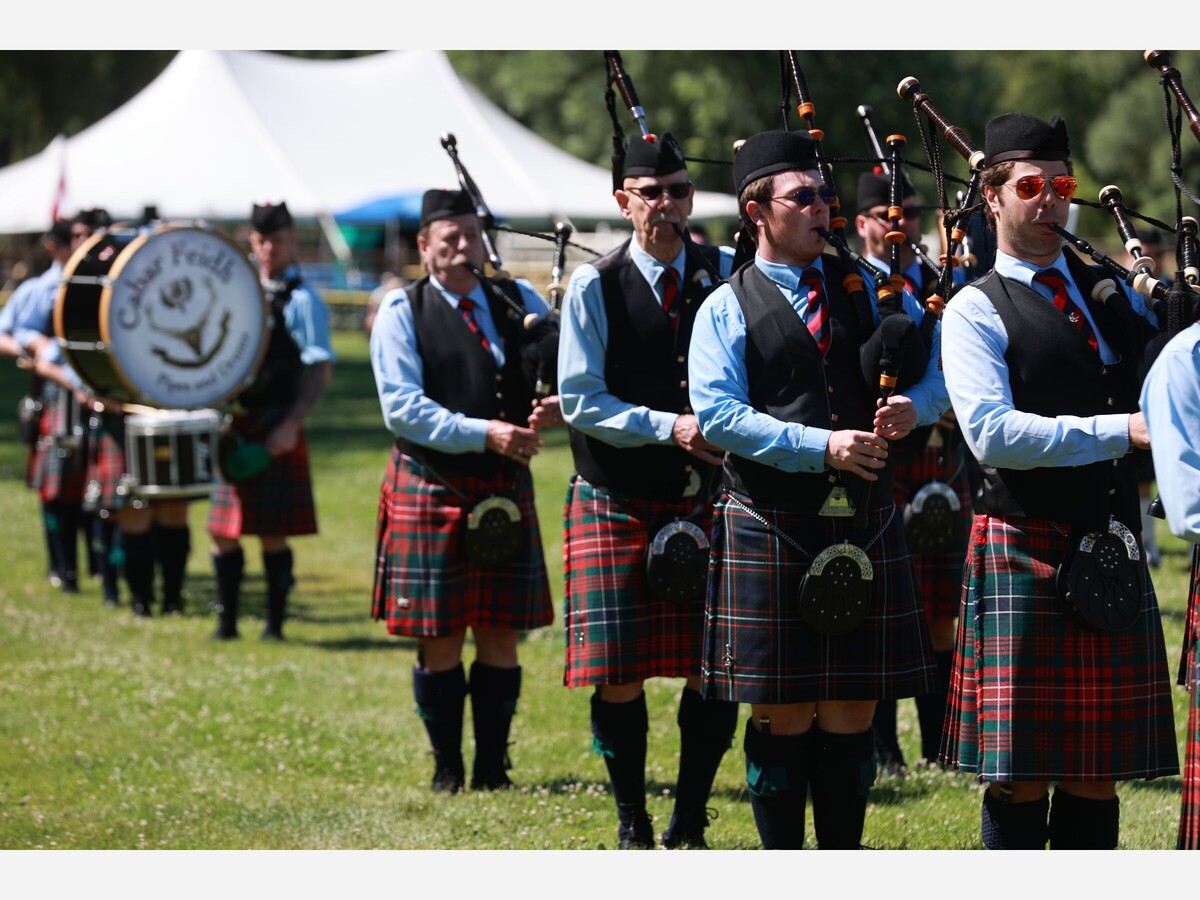 The Saline Celtic Festival—July 7 and 8 at the Washtenaw Farm Council Grounds—will host seven bands on the Saturday—the most it has had in many years, and to be led by Drum Major Kerry Lewis.
Returning favorites are Cabar Feidh Pipe Band, Flint Scottish Pipe Band, Glen Erin Pipe Band, and Grand Rapids and District Pipe Band; while new faces include Detroit Highlanders, Fort Wayne Scottish Pipes and Drums, and Montcalm County Honor Guard Pipe & Drum Band.
"This allows us to have pipe music continuously throughout the Saturday afternoon," says organizer Tom Todd. "This is going to be an exciting year in our new venue!"
"Our usual corps of bands returns each year as welcome friends of the Festival," he adds. "Cabar Feidh Pipe Band, especially, has become a very solid competition band in recent years and has repeatedly placed well in Michigan and Canadian exhibitions.
"Fort Wayne Scottish Pipes & Drums has wanted to join us for some time, and were even scheduled for 2020, although the Covid pandemic compromised the Festival that year. We're excited to finally include them in our Festival.
"The Detroit Highlanders Pipe Band is one of the oldest pipe bands in the region forming originally in the 1920s. It's primarily virtual these days and consists of accomplished pipers and drummers from the region, many of whom are also members of other bands.
"The Montcalm County Honor Guard Pipe Band from west Michigan is a relatively new group that we welcome as an addition to our family of bands."
According to the Royal Scottish Pipe Band Association, Army pipe bands have their origin in the 19th
century, with Scottish regiments in the British Army. Regimental pipers and drummers would play on long marches to keep a steady tempo and maintain troop morale.
The bands will perform a variety of traditional and non-traditional Scottish tunes. One of the tunes festivalgoers may hear is "Detroit Highlanders" written in the 1920s by a famous blind piper in Glasgow to honor Scottish traditions in Detroit.
The bands will perform in Saturday's 11 a.m. opening ceremony and every half hour from 1 to 4 p.m., in the Pipers Circle, with a final massed bands performance at 5 pm.
The piper or pipers for the Wee Folks Parade at 4:30 p.m. will be selected the day of the Festival, generally from amongst the youngest of the pipers.
FAST FESTIVAL FACTS
New location: Washtenaw Farm Council Grounds, 5055 Ann Arbor-Saline Rd.
Friday July 7: 5 p.m.-midnight: adults $8, ages 6-17 $5, at the gate.
Saturday, July 8: 10 a.m.-midnight: $15 advance (advance sales end June 30), $18 at gate; ages 65+ $8 advance, $10 at gate; ages 6-17 $5; free age 5 and under, and active military; group packages available. Ample onsite free parking.
Visit salineceltic.org and also Facebook.
Inquiries, comments, email TheCelticFestival@gmail.com
Volunteers welcome (and get a free pass): Email salinecelticvolunteers@gmail.com.
More News from Saline