FOOTBALL: Saline Exacts Revenge On Dexter, Improves to 2-0
Image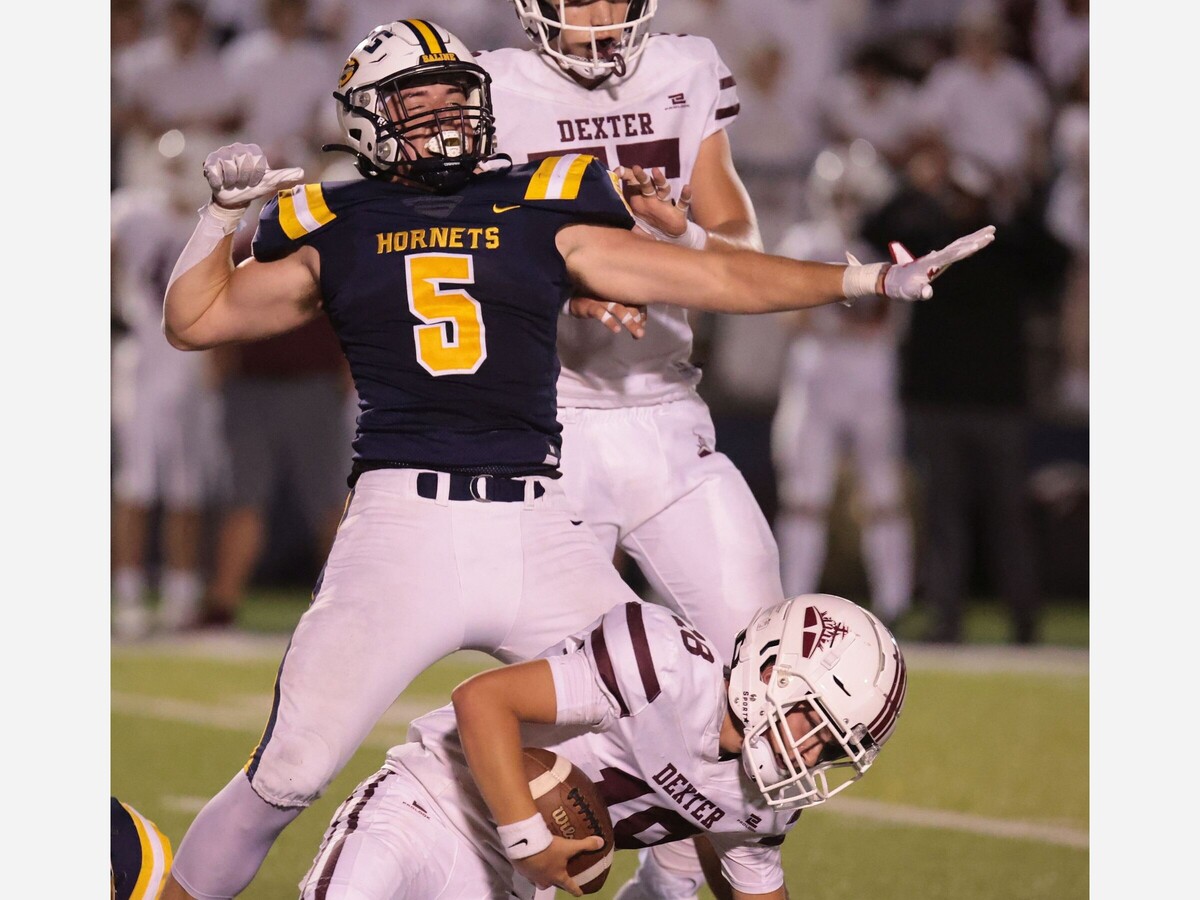 Saline senior Dylan Mesman said the Hornets had this game circled on the calendar all year. After all, last year, when Dexter defeated Saline 21-14, the Dreadnaughts ended the Hornets' eight-year rein atop the SEC Red.
Friday night, the Hornets exacted revenge. Saline defeated Dexter, 41-25, in an exciting home-opening game at Hornet Stadium.
"From day one we circled this game," said Mesman, the 6'5 TE who committed to play at Louisville next year. "We knew this game could decide the SEC Red this year. It really hurt when we lost the SEC Red streak but we knew we could build one right back up. We have the players. We have the skill. We're going to start strong and just keep going."
Star QB CJ Carr completed 16 of 23 pass attempts for 303 yards and two touchdowns. Carr also ran for two touchdowns. Receiver Caid Fox was the recipient of seven of those passes, piling up 171 receiving yards and scoring a touchdown. Dylan Mesman also caught four passes, including a touchdown reception. Running back James Rush ran 13 times for 101 yards and two touchdowns.
Defensively, Nolan Klein made eight tackles and had two interceptions. Coleman Ross made 10 tackles and had a sack. Peyton Widen had six tackles and a sack. Saline sacked Dexter QB Cooper Arendt six times and chased him around the backfield most of the game.
Saline coach Joe Palka said the Hornets have picked up two big wins to start the season.
"The front end of our schedule was very difficult. To be able to come back after beating Brighton and, in my opinion, be a week better and get a win against one of the better teams in our league, I thought it was huge," Palka said. "We played four quarters. We weren't perfect. But we just kept going and we pulled away a bit in the fourth quarter."
Saline stopped Dexter's first drive when Ryan Kavanaugh (4 tackles, one sack) brought down a Dexter runner around the 45. Dexter punted and Saline took over at its 20. For the second straight week, the Hornets came out strong, scoring on their first possession. Carr threw to Fox several times and to Mesman once as the Hornets moved up the field. 
The drive ended successfully with Carr throwing to Mesman for an 11-yard touchdown. Carr threw to Mesman along the Dexter sideline. Mesman then eluded the two Dexter defenders and dove into the corner of the end zone. Jacob Piniatoglou's kick gave Saline a 7-0 lead midway through the first quarter.
"We really set the tone. That's our goal, every time: First drive - set the tone. I saw a hitch and I knew that was a spot for me to take over and try to score and thankfully I did," Mesman said.
Dexter responded with a scoring drive that took up the remainder of the quarter. Mostly, Dexter did it on the ground with running back Ronny Johnson (222 yards, one TD) and a few quick short passes by QB Cooper Arendt. 
It was Arendt who completed the drive with a nine-yard scamper up the middle on the final play of the quarter. Saline was penalized on the point-after attempt and when officials moved the ball halfway to the goal line, Dexter elected to try a two-point play. The pass failed and Saline led 7-6 going into the second quarter.
It took Saline just two minutes to respond. Again, Carr's connection with Fox paid dividends, with three passing plays for first downs.
Saline had a first down at the Dexter 15. 
Carr handed off to James Rush who shook off two would-be tacklers on his 15-yard run and then smashed through a third who met him near the goal line.
Saline led 14-6.
Dexter seemed poised to score on the next drive, using a few short passes by Arendt and runs by Johnson to get down the field. But once Dexter got into the red zone, Saline's defense ratcheted up the pass rush. Under heavy attack, Arendt tried for the corner of the end zone for a receiver covered by Klein and Rush. The ball fell incomplete.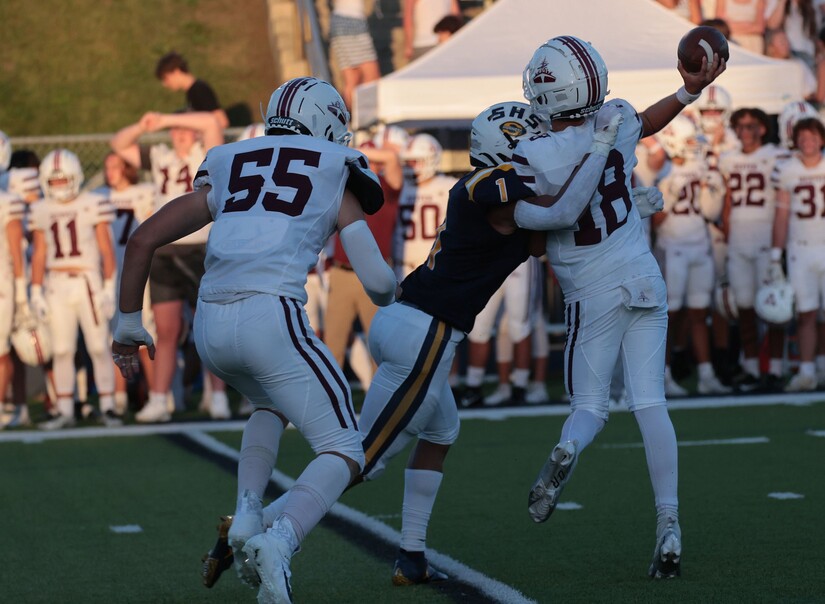 On third down, Harris hit Arendt just as he rushed a pass, setting up a fourth down. Dexter went for it. Once again, Harris pressured Arendt, chasing him to the sideline, where he threw another incomplete pass. Saline took over and moved the ball out to midfield, mostly on the ground, before a Carr pass was deflected and picked off. Dexter's drive didn't go far and the Dreadnaughts turned it over on downs. Saline took over with just a few seconds remaining in the half. Carr dropped back for a pass and found himself on the run. A long pass for Jaedyn Leonard was picked off around the 15.
Saline went into halftime with a 14-6 lead.
Saline began the third quarter with the ball at the 25 after the kickoff return. After a couple of runs and a pass to Mesman, Saline caught a bit of a break. 
Carr's pass for Fox was tipped into the air - but still had enough juice to get to Fox, who sped past one defender and then bounced off a would-be tackler en route to a 52-yard TD reception. Saline led 21-6 less than two minutes into the quarter.
Dexter began the next drive with a shorter field after the kickoff went out of bounds.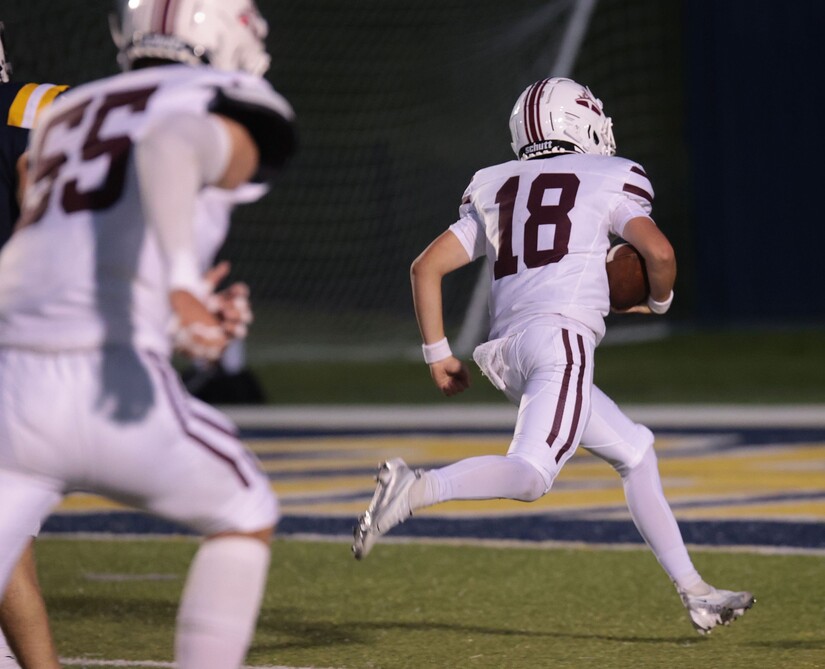 The Dreadnaughts made their way up the field with short passes and the running game, and a couple of Saline penalties, before they scored on Arendt's 18-yard keeper. Saline led 21-13.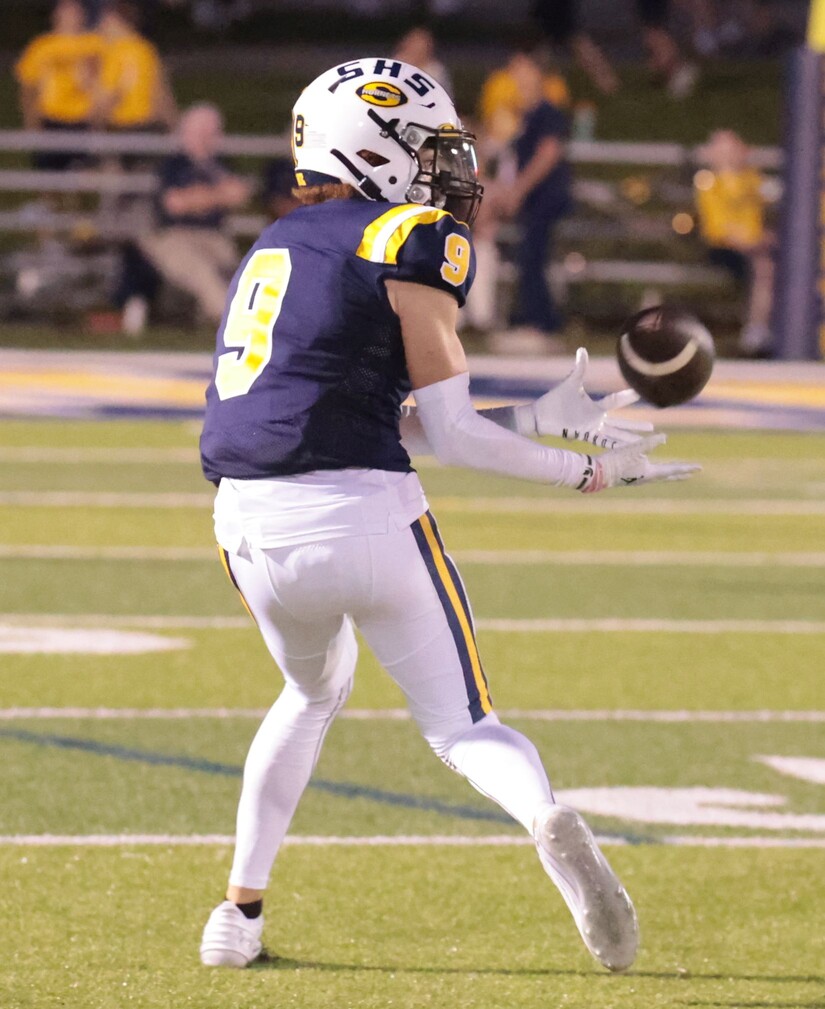 But Saline responded with a quick, lethal drive. Carr threw a long pass for Jarell Marshall for a play that went 62 yards before Marshall was pushed out of bounds. Soon after, Carr dropped back to throw and saw a wide-open whole. 
By the time the Dreadnaughts realized what he was up to, Carr was in the end zone, untouched on a four-yard run. Saline led 28-13.
Saline got the ball back in the third quarter when Isaiah Harris pressured Arendt and Klein made a diving catch for an interception around the Saline 12. A holding penalty stunted the Hornets' possession and Ian Furlong was called into punt from deep in Saline territory.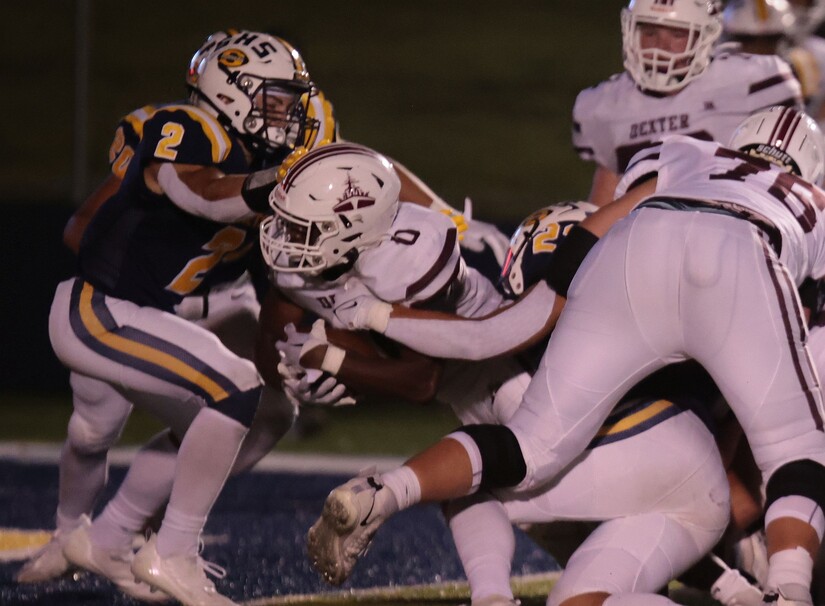 A roughing the passer penalty kept the drive going for the Dreadnaughts and early in the fourth quarter, Johnson pushed his way through the pile for a three-yard touchdown.
The two-point attempt failed with Camden Pawick sacked Arendt. Saline led 28-19.
Saline bounced right back, thanks in part to a good kickoff return by Ladainian Woods. Passes to Leonard and Mesman moved Saline into Dreadnaught territory. Then Carr passed to Leonard, who deflected the ball up as he jumped to catch it. The ball came right back down to Leonard, who caught the ball at the 10. 
After a short run by Rush, Carr scrambled in for his second touchdown of the game - an eight-yard run. Saline led 35-19.
Palka said teams are so fearful of Carr's passing game that they're leaving room for Carr to exploit on the ground.
"That's an element we're going to need. Dexter played us wide. They dared us to run the ball inside because they were so concerned about our perimeter passing game," Palka said.
Dexter's next drive came to a quick end on a fourth-down sack by Ryan Kavanaugh.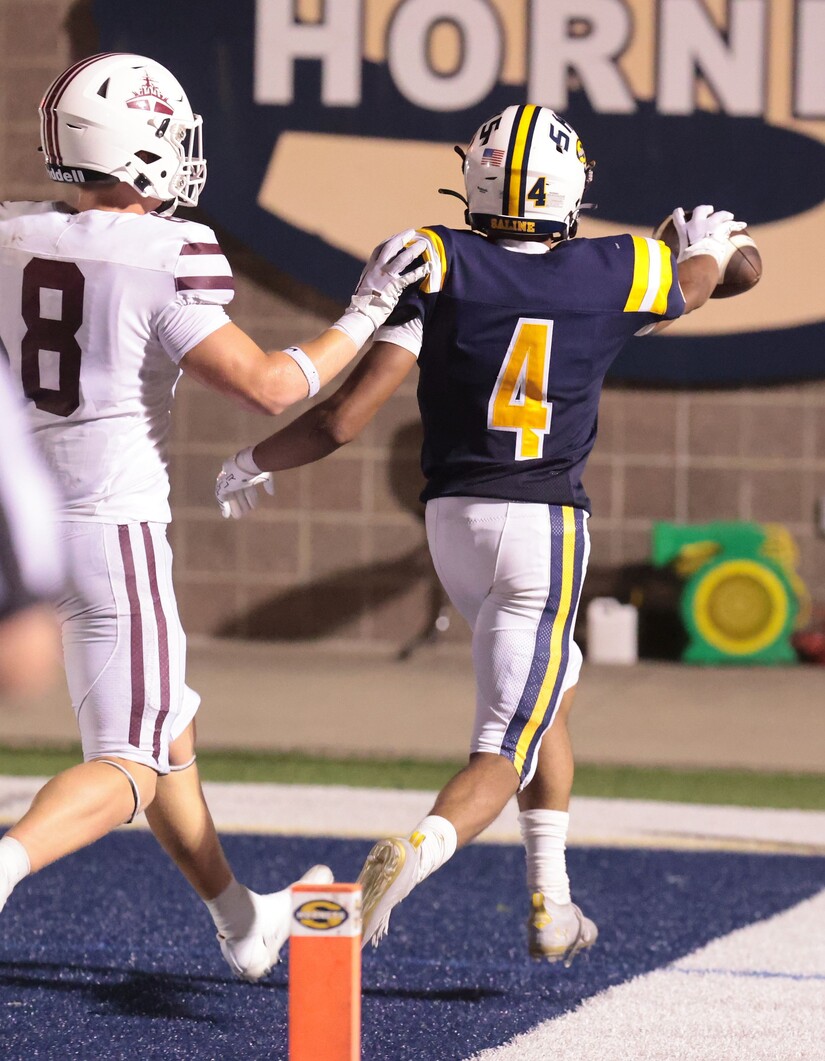 Saline made quick work of the short field and Rush scored on a 24-yard run. Saline led 41-19.
Carr credited the play of Rush, a sophomore in his first full season as running back.
"All credit to the line, but also, James Rush is probably the most electric player we have on the field. It's great to see him come into his own and gain that confidence because he's a special player," Carr said.
Dexter scored through the air as time expired. Saline had two sacks on the last possession and nearly had another. Arendt fumbled the ball away under pressure, but he picked it up and then threw it into the end zone to the receiver for the touchdown.
It was one of the most aggressive pass rushes Saline has employed in years.
"I challenged the defense in the off-season. I said, I don't want to give up 15-play drives and give up plays on 3rd-and-15 and gave teams eat the possession time on us. I want them to be aggressive. We're going to take some chances. I think it paid off tonight. We were aggressive all night long," Palka said.
Despite the win, there's obviously room for improvement.
Saline was penalized 13 times for 94 yards. Those penalties kept Saline's defense on the field and made life tough on the offense.
"There was a particular drive we should have been off the field twice. We gave them too many chances to get back in the game. Even when we stalled on offense, it was really because of a penalty," Palka said. "That's the stuff that's a little bit frustrating and we have to get that cleaned up."
Carr said Saline could have put up 60 points without the communication mistakes and penalties.
Nevertheless, Saline is 2-0 after a challenging schedule to open the season.
Saline hosts Pioneer next Friday. Pioneer is 1-1 after a 21-7 win over Lincoln Friday.
More News from Saline