SALES REPORT: Lafontaine Auto Dealership Property in Saline Sold To Genthe for $4.5 Million
Image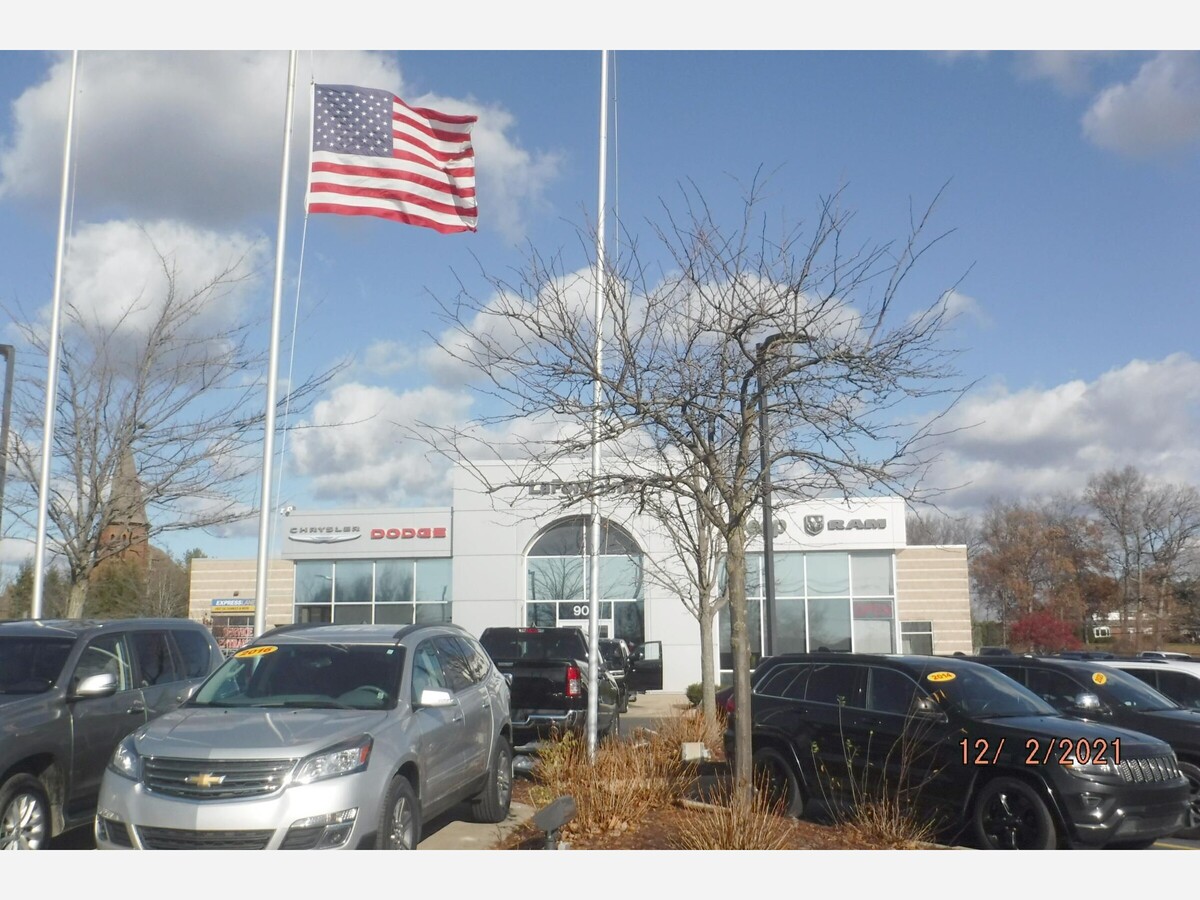 The Lafontaine Chrysler Dodge Jeep Ram auto dealership at 900 W. Michigan Ave. has been sold.
According to real estate records on the City of Saline website, the property on which the dealership sits was sold by CML Saline LLC to Genthe Automotive Eureka LLC on Aug. 1 for $4,525,000.
The dealership's Facebook Page is now known as Genthe Chrysler Dodge Jeep Ram. The dealership website can now be found at https://www.genthecdjr.com.
Another big sale in the city occurred at the end of July when the UAW Local 892 sold its hall on Woodland Drive to Switchback 1 LLC, which lists Bill Bullard, Jr., as its agent. The LLC's address is 5425 Whittaker Road, Ypsilanti - the same address as Comprehensive Dentistry, whose founder is Dr. Colleen Bullard.
Here are more real estate sales as found on the city's website.
| | | | | |
| --- | --- | --- | --- | --- |
| Sale Date | Sale Price | Address | Grantor | Grantee |
| 9/15/2023 | $315,000.00 | 559 SYCAMORE CIR | ROE IVA JEAN | PARKER RUTH M TRUST |
| 9/13/2023 | $650,740.00 | 723 RISDON TRAIL NORTH | PULTE HOMES OF MICHIGAN LLC | MOORE MELANIE S & JOSEPH A |
| 9/11/2023 | $265,000.00 | 587 PARK PL | FOGLE MARY ANN & SCHAFER JOLYNN | WUEST SHARON M TRUST |
| 9/5/2023 | $308,000.00 | 625 CANTERBURY DR | MCCLATCHEY TRACY | OLIVER CARLENE M & BEN J |
| 8/31/2023 | $225,000.00 | 163 ANNWOOD CT | HENDERSHOT PETER W | HENDERSHOT BRADLEY & TERESA |
| 8/31/2023 | $305,000.00 | 586 ECHO CT | JUNG WOO H & MINJA | KANG DAVID |
| 8/30/2023 | $440,000.00 | 257 SALINE RIVER DR | DAVIS ROBERT & JOAN TRUST | SAINT ANDREW PARISH SALINE |
| 8/29/2023 | $465,000.00 | 431 WOODLAND DR WEST | GRAY GARY A & CATHERINE M | KIRKER JENNIFER |
| 8/25/2023 | $679,900.00 | 347 HUNTINGTON DR | TURNER JAMES & JOAN D | BELL AARON G & COURTNEY M |
| 8/23/2023 | $360,000.00 | 77 NICHOLS DR | ALBABA MICHELLE DEVA & BILAL | GROVER JOHN & CLAIRE |
| 8/23/2023 | $170,000.00 | 616 LAMBKINS RD | CLARK JIMMY D | BREAKEY-WAYS ALIZA |
| 8/22/2023 | $185,000.00 | 135 SHEFFIELD DR | BURKEEN PEGGY L & MICHAEL D | MATHIS HAILEY |
| 8/22/2023 | $285,375.00 | 486 MAPLE COVE CIR | HUNTINGTON BIRCHWOOD LLC | RAKOVITIS BRIAN & GETSCHMAN ELEANOR |
| 8/21/2023 | $225,000.00 | 206 COMMONS CT | COURTENAY-MASCIOLI PROPERTIES LLC | DOWNER MELISSA G |
| 8/18/2023 | $425,000.00 | 385 HOLLYWOOD DR | MORRISON KERRI | CAMERON GEORGE D & JULIE K |
| 8/18/2023 | $361,700.00 | 153 NICHOLS DR | SOBUTKA DAVID | GORSUCH ADAM |
| 8/18/2023 | $355,000.00 | 265 NICHOLS DR | STUKKIE REAL ESTATE HOLDINGS LLC | JOHNSON ROSS P |
| 8/17/2023 | $260,000.00 | 159 WHITLOCK ST | CORNER GREGORY | PETERSON SARAH & DANE |
| 8/15/2023 | $235,000.00 | 165 COMMONS CIR | RYERSON SUSAN E | CARIO DAVID & CARIO WILLIAM |
| 8/14/2023 | $499,900.00 | 3053 WILDWOOD CT | BOYER ANDREW & DIANA KU | AMEDI BAHZAD |
| 8/11/2023 | $589,750.00 | 741 HAYWOOD DR | PULTE HOMES OF MICHIGAN LLC | YUN EARL & CHOI SUA |
| 8/11/2023 | $555,500.00 | 746 HAYWOOD DR | PULTE HOMES OF MICHIGAN LLC | FOSS MARIE HAZEL |
| 8/9/2023 | $330,000.00 | 582 LANCASTER CT | LAU JEAN ANN TRUST | LAST MICHAEL G & KAREN G |
| 8/7/2023 | $286,100.00 | 168 WALLACE DR | GRIEBEL RICHARD TRUST | SPARKS JORDAN & DANIELLE |
| 8/4/2023 | $430,000.00 | 559 FORESTBROOKE DR | MARTIN PAUL M & MEAGAN M | GIBNEY JOHN |
| 8/3/2023 | $230,000.00 | 858 AUSTIN DR | SPENCE MATTHEW & LINDA | SCIOTO PROPERTIES SP16 LLC |
| 8/1/2023 | $4,525,000.00 | 900 W MICHIGAN AVE | CML SALINE LLC | GENTHE AUTOMOTIVE EUREKA LLC |
| 7/31/2023 | $365,000.00 | 496 HOLLYWOOD DR | SMOLINSKI FRANK JR & SUSAN | CEBULA MOLLY & RYAN |
| 7/31/2023 | $275,000.00 | 208 WALLACE DR | KONSTANTIN KADARJAN TRUST | NAGEL KAREN |
| 7/28/2023 | $1,350,000.00 | 601 WOODLAND DR EAST #2 | UAW LOCAL 892 | SWITCHBACK 1 LLC |
| 7/28/2023 | $465,000.00 | 623 BERKSHIRE DR | BROEKHUIZEN ERIC & KIMBERLY ANN | BROWNSBERGER MICHAEL & CATHERINE |
| 7/27/2023 | $279,390.00 | 480 MAPLE COVE CIR | HUNTINGTON BIRCHWOOD LLC | MILLER JOSEPH & JODY |
More News from Saline