Dance Alliance Presents... Tea with the Cast of Nutcracker
Image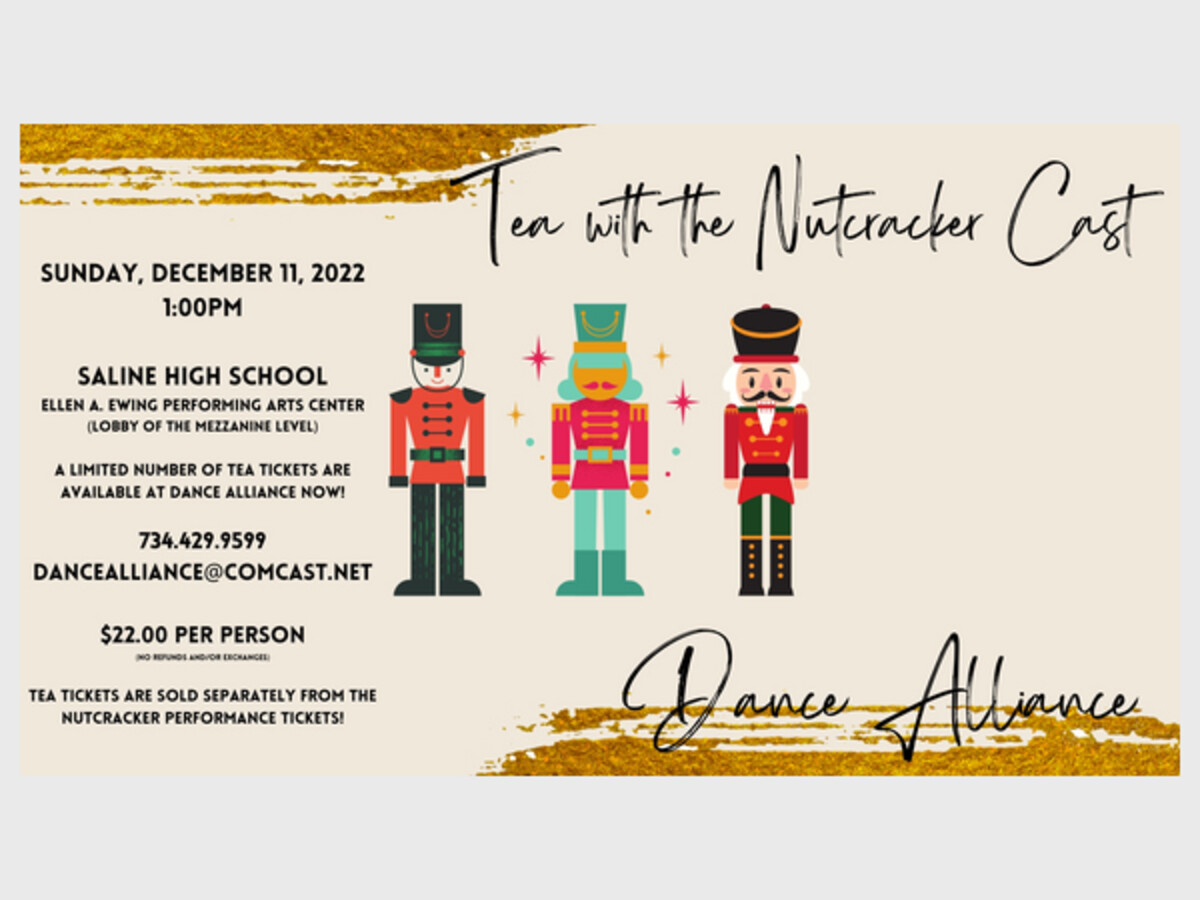 This post expresses the views and opinions of the author(s) and not necessarily that of The Saline Post management or staff.
Join us for our Tea with the Cast of Nutcracker on Sunday, December 11th at 1:00pm
at the Saline High School Auditorium in the Upper Balcony Lobby.
This unique holiday Meet-and-Greet offers a peek behind the curtain with an up-close and personal interaction with the 25th Anniversary Nutcracker Cast. Included is a 25th Anniversary Nutcracker Keepsake and a 25th Anniversary Nutcracker Cast Autographed Card.
Tea Tickets are $22.00 each and are available at Dance Alliance through Saturday, December 3rd, performance tickets sold separately.
Dance Alliance Ticket Sale Times at Dance Alliance:
4pm to 8pm on Tuesday, November 29th; 4pm to 8pm on Thursday, December 1st; and 9:30am to 12pm on Saturday, December 3rd
Call (734)429-9599 for more information.
Tea with the Nutcracker Cast Sample Menu:
Sweet Options Include Hazelnut Shortbread Cookies Sandwiched with Hazelnut Cream, Linzer Cookies Sandwiched with Raspberry Jam, Assorted Macarons, Miniature Vanilla Bean Cheesecakes, Chocolate, Raspberry and Lemon Meringue Tartlets, Miniature Eclairs with Chocolate Pastry Cream or Vanilla Diplomat Cream, and Miniature Ginger Molasses Cookies
Savory Options Include Turkey Palmiers with Gruyere and Honey Mustard, Lemon Artichoke Pesto Palmiers with Parmigiano Reggiano, Smoked Salmon Crostini, Traditional and Vegetarian Charcuterie Sticks
Hot Coffee, Hot Tea and Hot Cocoa Beverage Options Available
Saline High School...Ellen A. Ewing Performing Arts Center...Tea held in the Mezzanine Lobby of the theater.
1300 Campus Parkway
Saline, MI 48176
United States