THIS WEEK IN HORNET COUNTRY: Saline Teams Return from the Break
Image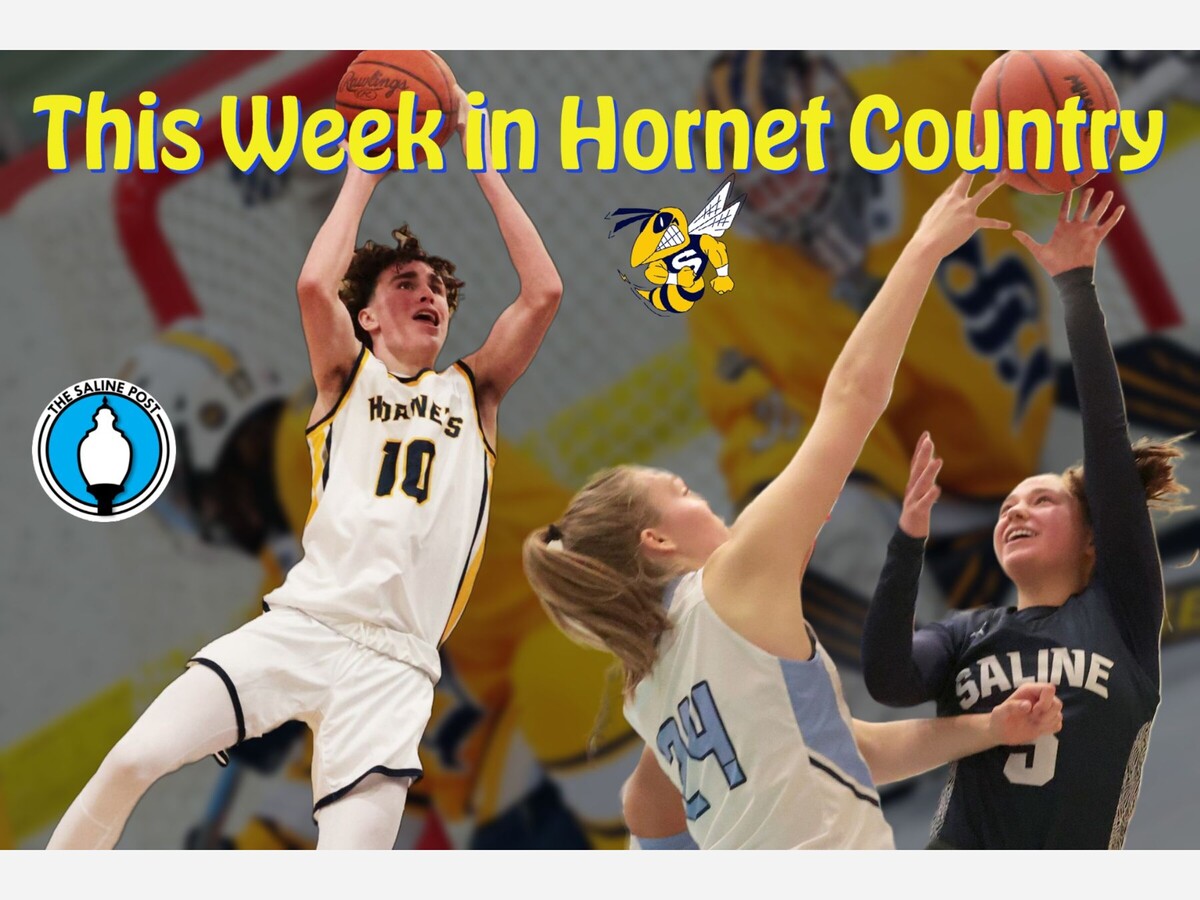 The holiday break is over for the Saline Hornets. A few teams competed during the holidays. Saline's varsity boys' basketball team lost to Grosse Pointe South last weekend. The Saline boys' swim and dive swam to a strong second-place finish at Zeeland last week.
(Buy your Saline Hornets sports photos here)
It's a strange time in the winter sports season. Some teams' seasons are well underway. They're already well on their way to making their mark. But others teams have yet to really get into the thick of their schedules.
Here's a brief look at where the teams stand today.
Saline Girls Basketball
Coach Roehm's girls started the season with a 7-0 record. They'll put that perfect record to the test with two road games this week.  Monday the Hornets play Toledo Rodgers at Redford Westfield Prep. Sunday, the Hornets play Walled Lake Central at Little Caesar's Arena - two games that are precursor's to one of the biggest games of the season  - at home to Dexter, Jan. 10. 
So far, the Hornets look fantastic. Freshman Keira Roehm looks like a threat to break Saline basketball records. Kate Stemmer,  a defensive demon since her freshman year, suddenly looks like she's turning a corner offensively. Sophomore Kadyn Maida has games where she's on the verge of dominance. And the senior class is strong with Taylor Kangas doing it all, Anna Hesse and Beth Ann Ford playing great in the paint, and the ever-athletic Peyton Maloney helping out.
At times, the offense looks like it hasn't gained the sort of swagger that allows teams to shrug off a cold spell. But even when that happens, this team's defensive effort, so far, has been more than enough to make up for it.
---
---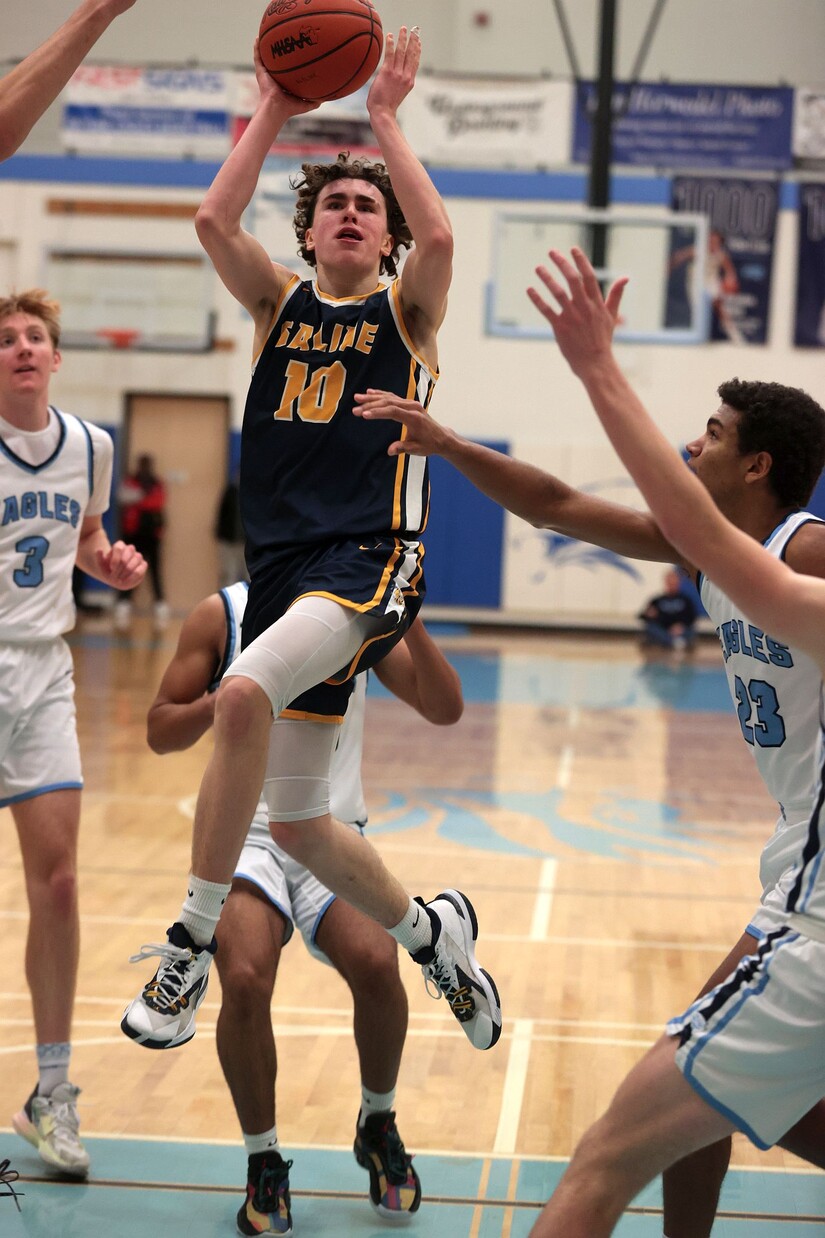 Saline Boys Basketball
The Hornets are 3-3 overall and 1-2 in the SEC Red. All three SEC Red games have been on the road with losses at Huron and Skyline and a win at Monroe. The Hornets were 1-1 during holiday showcase events, defeating Arbor Prep 51-27 at EMU Dec. 22 and losing to Grosse Pointe South, 84-57, at the North Farmington Holiday Extravaganza.
We haven't seen the Hornets since the Dec. 13 game at Skyline, so we're still getting a feel for the team. But right now, here's our take. If this team can straighten out stretches of carelessness that seem too stretch 2-3 minutes too long, they're going to be in these games against the tougher Ann Arbor Schools. 
Freshman Jonathan Sanderson is lighting up the scoreboard like we've never seen from a Saline varsity hoopster (other than Keira Roehm over on the girls' side) - and we've been covering Saline basketball since 2010-11. We picked the brain of our local sports historians over lunch last week and they can't recall a freshman off to such a start before. Big Dylan Mesman, a junior,  is a matchup problem for lots of teams in the post - but he's got a stunning, silky shot from long range, too. Zach Fidh, a guy who didn't play much last year, has turned into one of Saline's go-to guys this year.
In so many ways, it's a young team. Young teams have a propensity for letting bad spells last too long. Defensively, the Hornets need to find a way to slow down their opponents.
The Hornets host East Lansing (4-1) Tuesday night and then visit Flat Rock (6-1) Friday.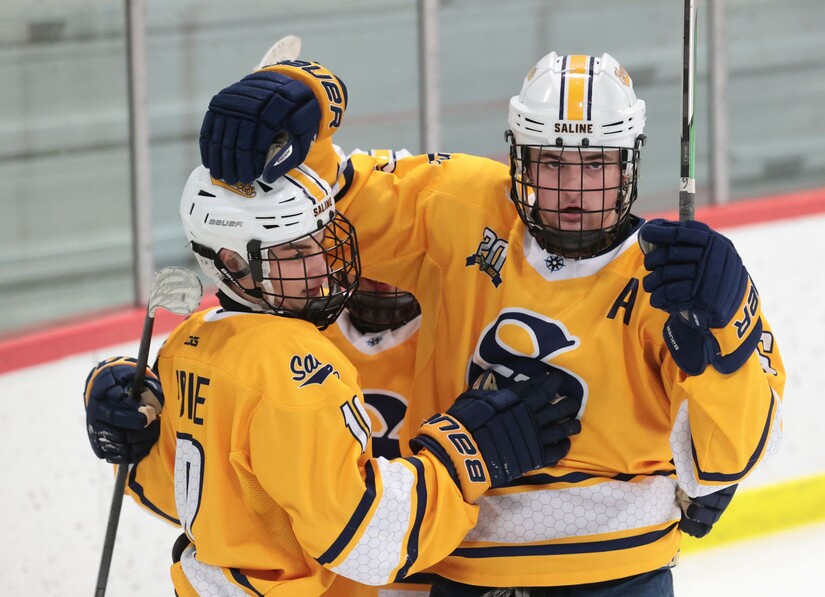 Saline Hockey
Coach Zagata's hockey team is one of those teams that's already deep into the season. Saline carried an 8-2 record into the holiday break.
Saline gets back to it Jan. 7 with a game against Bedford (2-7). The game is at 12:30 p.m. at the Ice Cube. So far, the Hornets have absolutely torn through the SEC Red.
Saline is shredding teams with a multi-line attack. Seven Hornets are averaging a point-per game so far: Blake Woodrell (6-11-17), Mateo Iadipalo (10-7-17), Bryce Ronewicz (8-8-16), Andrew Updike (7-9-16), Aidan Granica (5-7-12), Antonio Giacalone (4-7-11) and Guiseppe Giacalone (2-9-11).
---
---
Tyler Schroeder is 6-0-1 with a 2.25 GAA and a .901 save percentage. Drew Helmer is 2-1 with a 1.50 GAA and .917 save percentage. Schroeder has two shutouts and Helmer has one.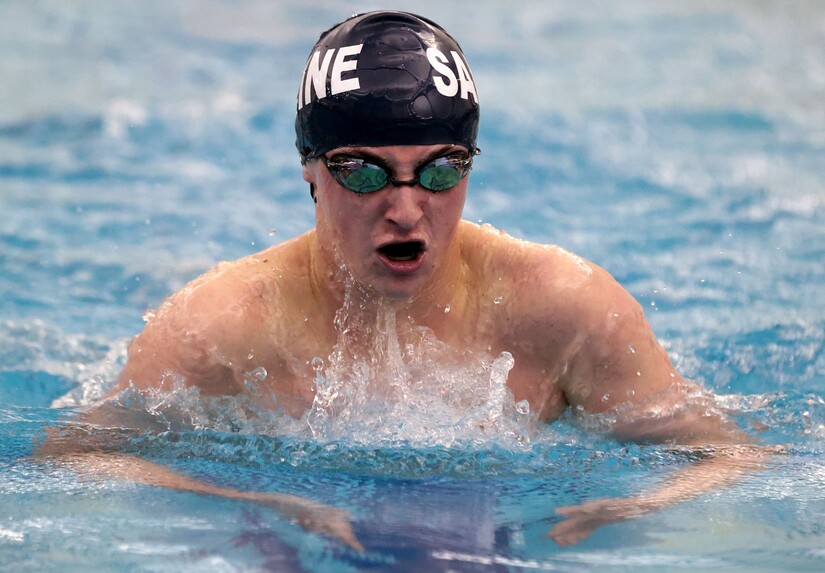 Saline Boys Swim and Dive
Saline's off to a strong start to the season. The Hornets had no trouble beating Monroe in the opening night victory. Last week, Saline took second at Zeeland in a meet that often attracts some of the state's best swim and dive teams.
(Buy your Saline Hornets sports photos here)
Senior Liam Russell is off to a solid start. He won one event, had another strong finish and helped two relay teams to strong finishes at Zeeland.  Diego Valdes is also off to a great start. He earned two state cuts in his varsity debut and then won the IM and took second in the butterfly at Zeeland. Dennis Ozil is also off to a strong start for the Hornets.
They call this time of year "the holidays," but it's the toughest time of the year for the Hornets, with the early morning swims and dryland training.
Saline heads back on the road for a Saturday meet at Battle Creek. Saline is home to Bedford Jan. 12.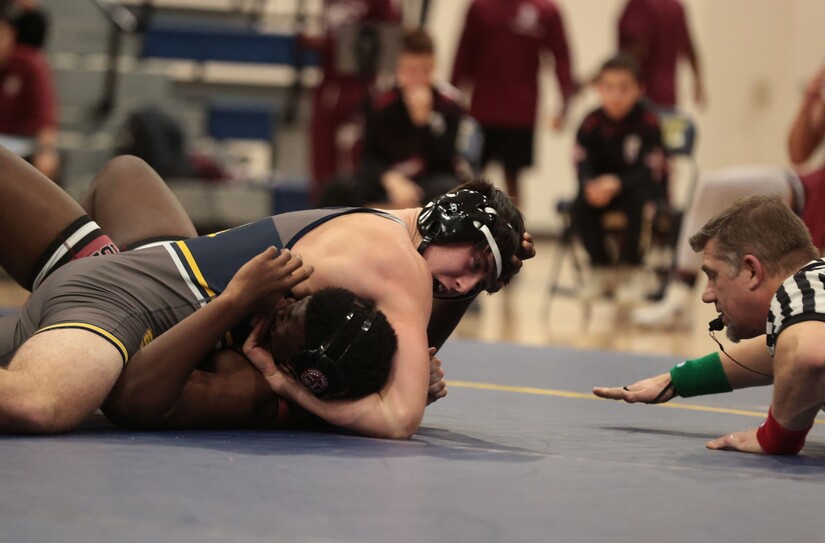 Saline Wrestling
In the midst of a retooling year, the young Hornets are still aiming at keeping the team district streak alive. We saw the Hornets rip through Gabriel Richard and Romulus on opening night - but it's been radio silence from the team ever since.
Got wrestling results? Send them to tran@thesalinepost.com. Saine visits Wyandotte Saturday.
Other news:
The bowling teams are home Wednesday to Adrian at Station 300.
The skiing team competes at 4:50 p.m., Jan. 10 at Mt. Brighton.
The gymnastics team is home Jan. 11 to Tecumseh.
The competitive cheer team is at Bedford for the first SEC meet Jan. 11.
Have JV scores? Send the score, a picture and stats to tran@thesalinepost.com.
(Buy your Saline Hornets sports photos here)
More News from Saline