BASKETBALL: Sanderson, Fidh Lead Saline to Win Over East Lansing
Image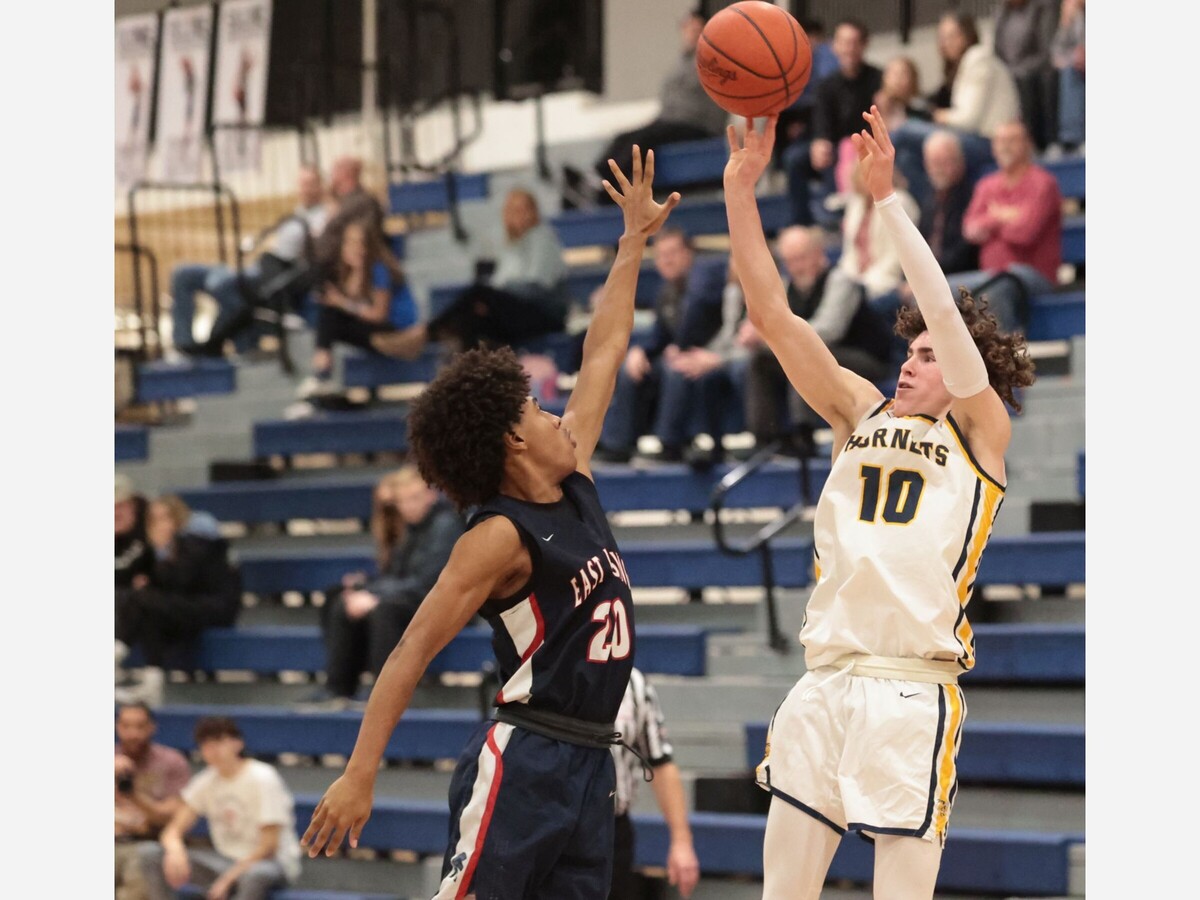 The Saline varsity boys basketball team started 2023 with a victory. Jonathan Sanderson scored 19 points and Zach Fidh added 13 points as the Hornets defeated East Lansing, 50-41, at Saline High School Tuesday night.
Saline improved to 4-3.
It was a back-and-forth contest until the final six minute of the fourth quarter. Saline went on a six-point run to take a 40-34 lead and outscored East Lansing 16-6 over the last six minutes.
Coach Mike Marek wasn't satisfied with the team's effort last week against Grosse Pointe South. He liked what he saw from his Hornets Tuesday.
"Last week against Grosse Pointe South, I didn't think we competed to the best of our ability," Marek said. "We got back to the basics and did things to the best of our ability today to find a way to win. I'm proud of that group. That's a huge bounce-back win against a really good team."
It was a defensive struggle by design, Marek said. The Hornets like low-event basketball - and there were few events in the first quarter. East Lansing (4-2) scored first.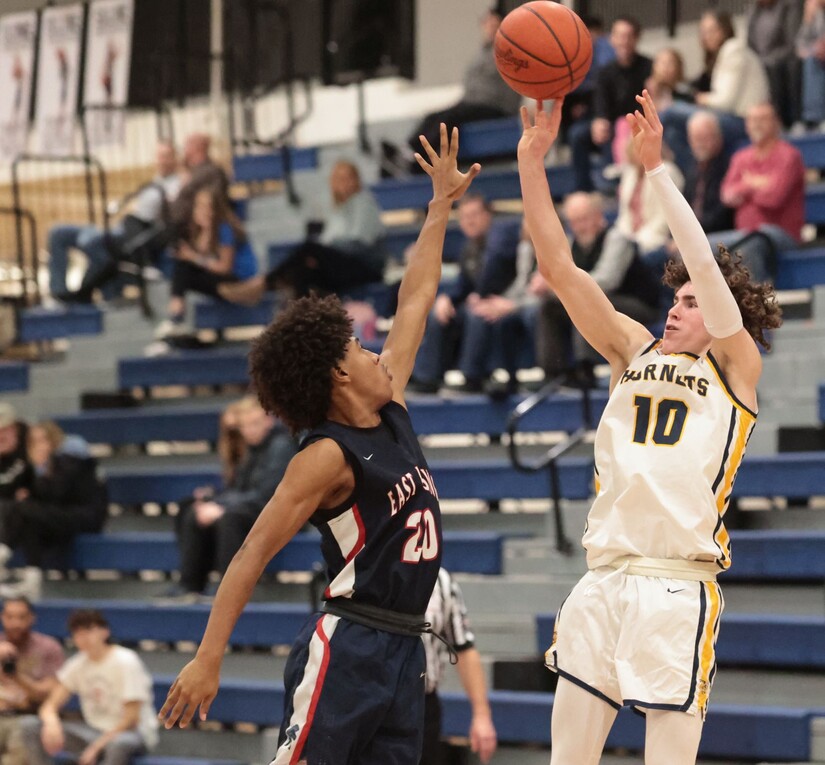 Midway through the first, freshman Jonathan Sanderson scored on a jump shot.
Saline went up 4-2 when Garrett Baldwin set up Wynter Burnett.
The first quarter ended tied at 4.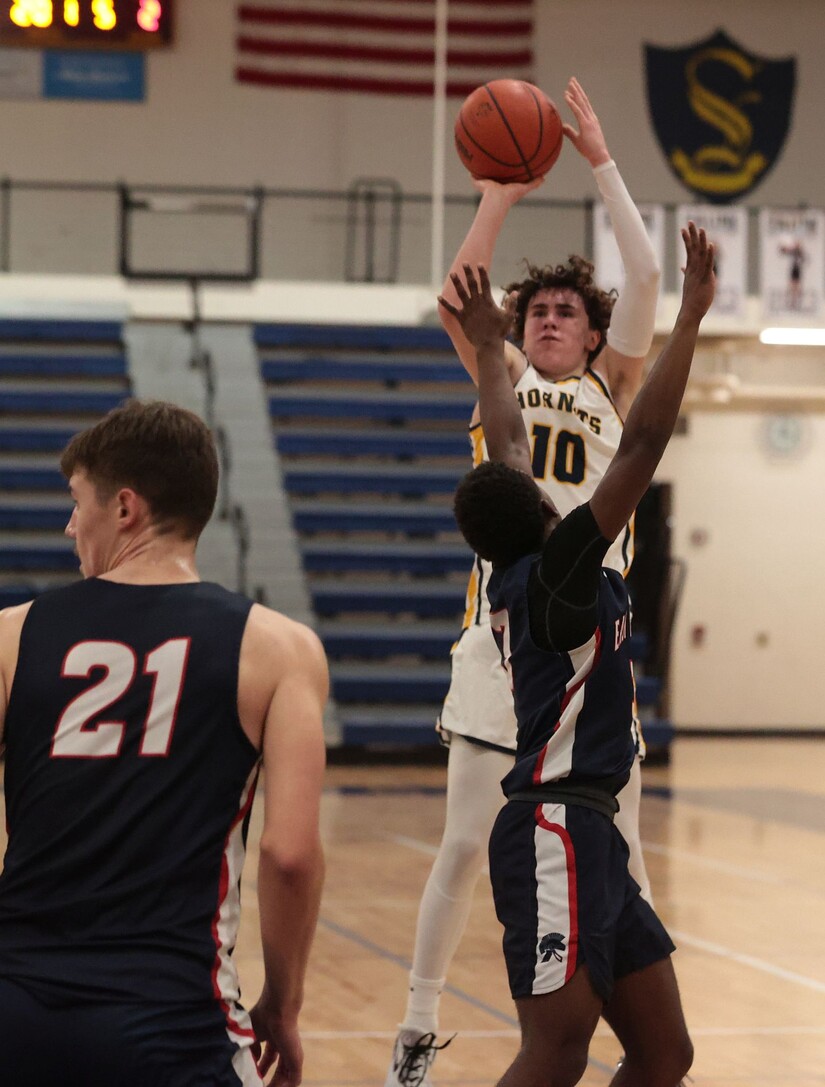 In the second quarter, Sanderson tied the game at 6 with a jump shot. 
After a Trojan basket, Sanderson hit a three-pointer to give Saline a 9-8 lead. The Trojans replied with two baskets for a 12-9 lead. Sanderson hit another three to tie the game at 12.
At this point, Sanderson had 10 of the Hornets' 12 points.
"He's unbelievable. He's a heck of an offensive player - but he gets after it on defense, too," Marek said.
Saline went up 15-12 when Sanderson made powerful drive along the baseline and passed out to Payton Widen who hit a three from the corner.
Harrison Rogers hit a three before the buzzer to give Saline an 18-14 lead going into halftime.
The Trojans controlled the early moments of the third quarter.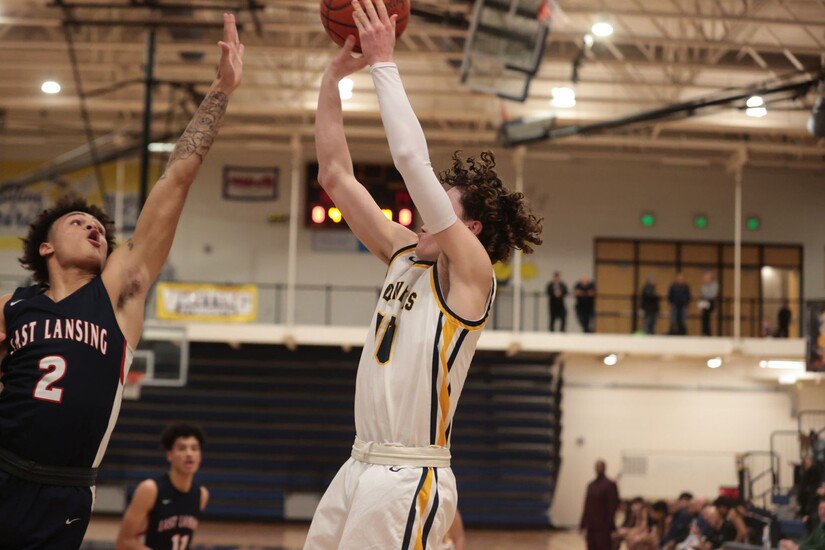 Highlights for the Hornets included Sanderson hitting a jump shot as he was fouled. He sank his free throw for the three-point play.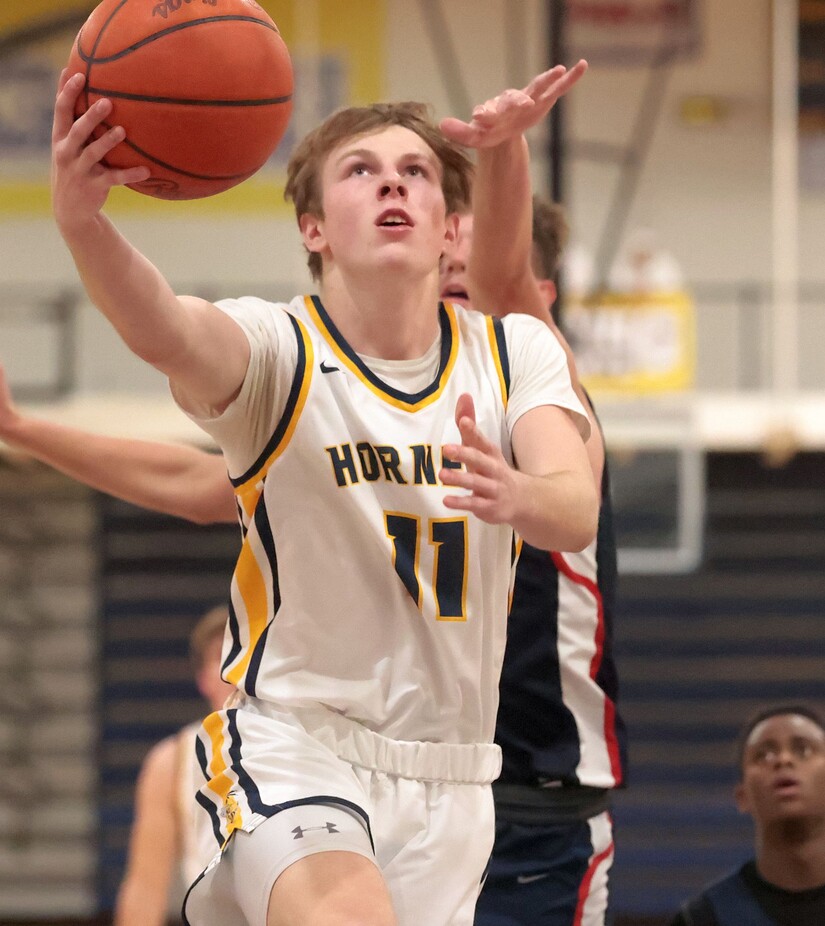 Garrett Baldwin also scored on a great run through the lane.
Yet midway through the third, Saline was down 27-23.
This is when junior Dylan Mesman and senior Zach Fidh got involved in the scoring.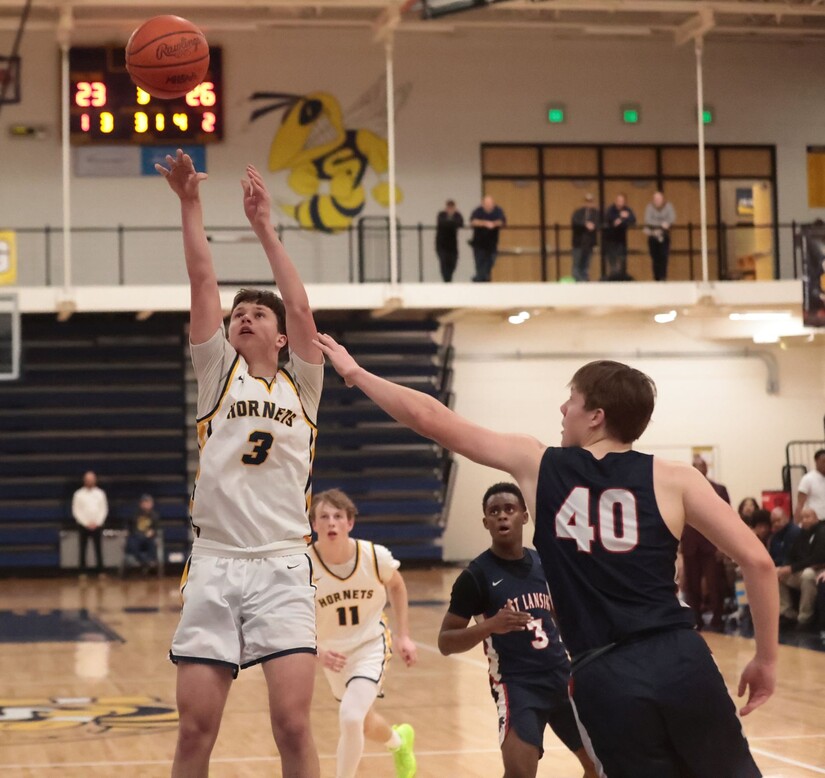 First, Zach Fidh lost his man with a quick spin in the paint and then made an easy, uncontested shot.
Then Mesman took a pass from Baldwin and took a hard foul while making his basket. He made his free throw and Saline led 28-26.
Mesman followed that up by putting back a rebound. Fidh followed with a basket for a 32-26 lead.
Mesman made it 34-27 by going 2-for-2 from the stripe.  Saline led 34-29 going into the fourth
The Trojans came out strong in the fourth with a three-pointer and they followed that up with a basket to tie the score at 34.
Saline bounced back with a tic-tac-to passing play up the floor to Fidh. Saline led 36-34. Marek called time out with 6:19 to play to provide instructions for the final moments.
Saline controlled the rest of the game. First Sanderson rebounded Mesman's three-point attempt and then scored on a turn-around jumper.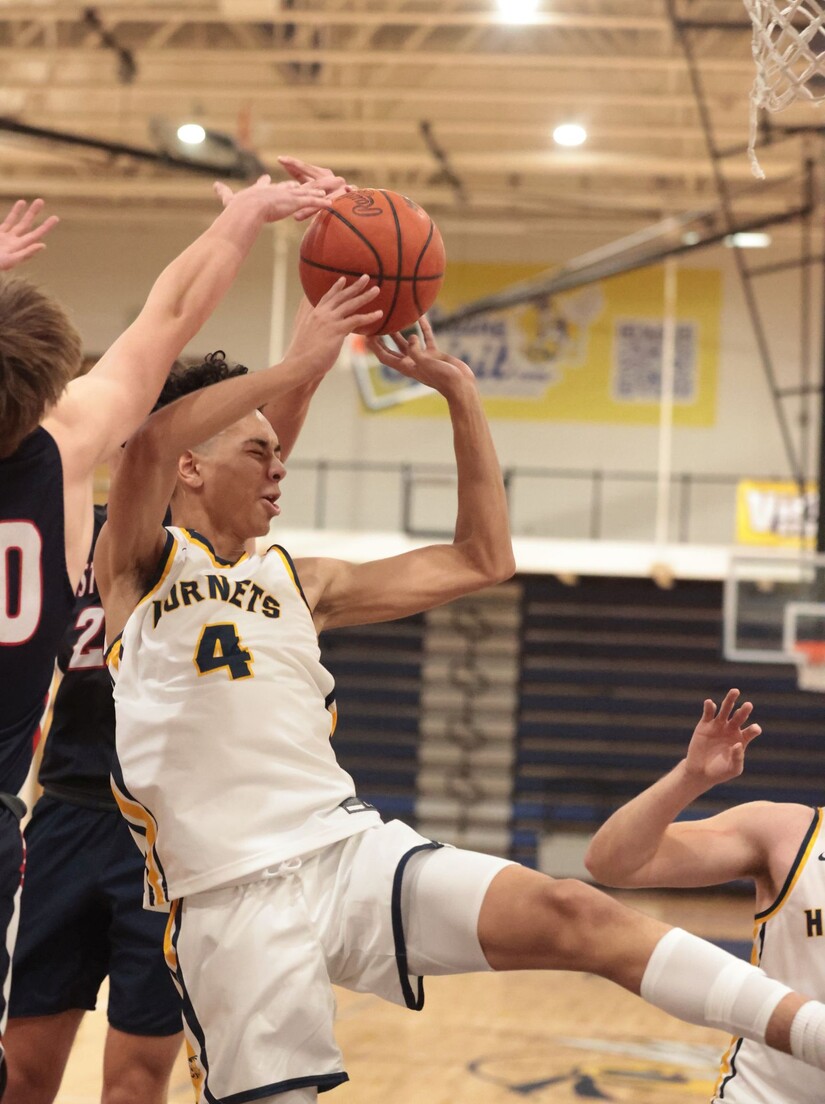 Then Rogers powered along the baseline and set up Fidh for a basket. Saline led 40-34.
The Trojans hit a three to close the gap, Rogers answered on a pretty passing play between he, Mesman and Fidh. And then Fidh hit a three from the corner for a 45-37 lead.
Down the stretch, Sanderson went 4-for-4 from and Fidh went 2-for-4 from the line. 
The Hornets will try to improve to 5-3 Friday at Flat Rock.
PHOTO GALLERY LINK - CLICK HERE
INTERVIEWS: