HOCKEY: 11 Hornets Enjoying the Hockey Season With Washtenaw United
Image
Sydney Clark will always remember the conversation she had with a senior resident of Mill Pond Manor a few years ago.
"She was so excited when she heard I played ice hockey," recalls the Saline High Sophomore. "She told me that she always wanted to play ice hockey, but couldn't." 
Clark learned from her new friend that girls were only allowed to figure skate in the 1960s.
"That kinda blew my mind," reports Clark, who has played the sport since she was four years old.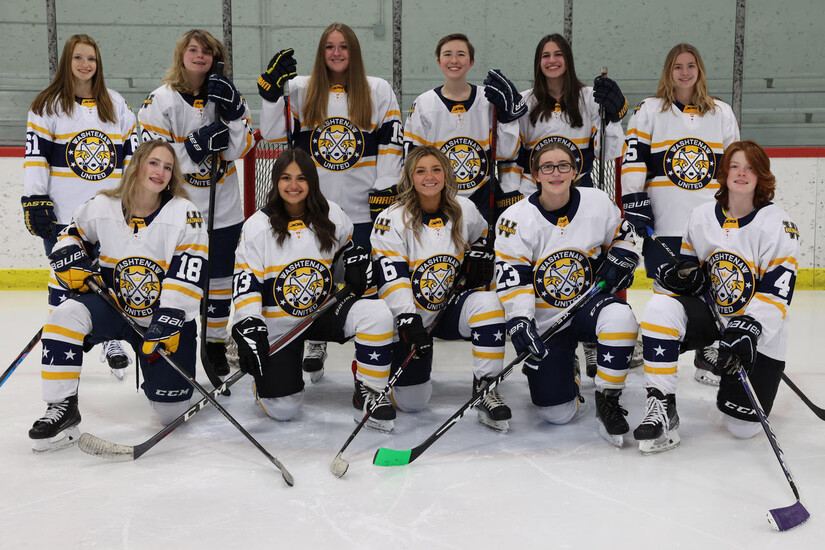 The Saline High players on Washtenaw United pose for a group photo. Saline contributes 11 players out of 18 for the 2022-23 season. Front row, L to R: Chloe Dillen, Nora Stevenson, Mikaylah Niethammer, Sam Wawzysko, Kendra WagnerBack row, L to R: Sydney Clark, Isabella Mack, Abby Schroeder, Kathryn Winters, Julianna Marini, and Lilly Schlack.
Clark is one of eleven players attending Saline High School that make up a strong core for Washtenaw United, a high school girls' hockey team in its third year of participating in the Michigan Girls High School Hockey League. The team serves girls attending any high school in Washtenaw County besides the public Ann Arbor high schools, which field their own teams.
This season Saline contributes the bulk of United's 18-player roster with two freshmen (Abby Schroeder, Lilly Schlack), six sophomores (Sydney Clark, Isabella Mack, Julianna Marini, Mikaylah Niethammer, Nora Stevenson, Kendra Wagner), two juniors (Chloe Dillen, Sam Wawzysko), and one senior (Kathryn Winters). The players range from those with years of experience on elite travel teams to those who decided to pick up the sport in the last year or two.
Many of the girls were inspired to play hockey by family members.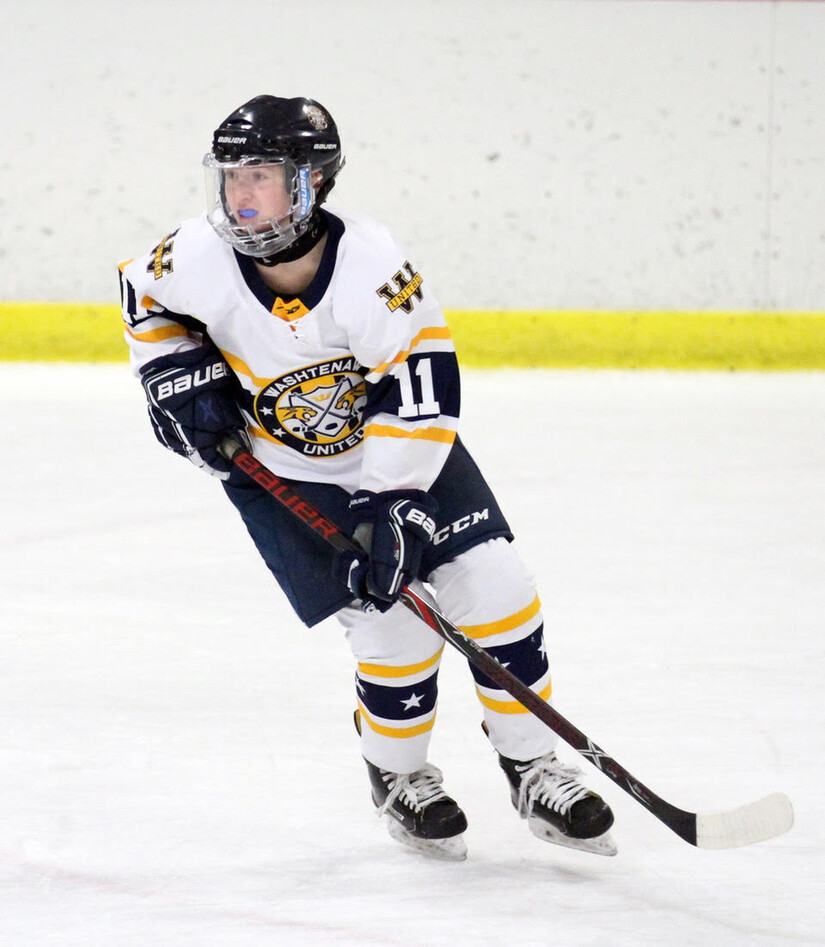 "I started playing because my brother, dad, and cousins played," says United's lone senior, Kat Winters, who is Captain for the 2022-3 season.
"I look up to them and I'm always looking to do the things they do," adds Freshman Abby Schroeder who watched her dad and brother play. Schroeder's brother Tyler is a goalie for Saline High School's hockey team.
Nora Stevenson, a sophomore, started playing just last year. She found a welcoming group in the United while learning the sport.
"If you are just starting out, nobody holds that against you and it just adds to the laughter and fun times that comes out of it," she says. "Everyone immediately clicks and gets so close to one another. It's a great bond."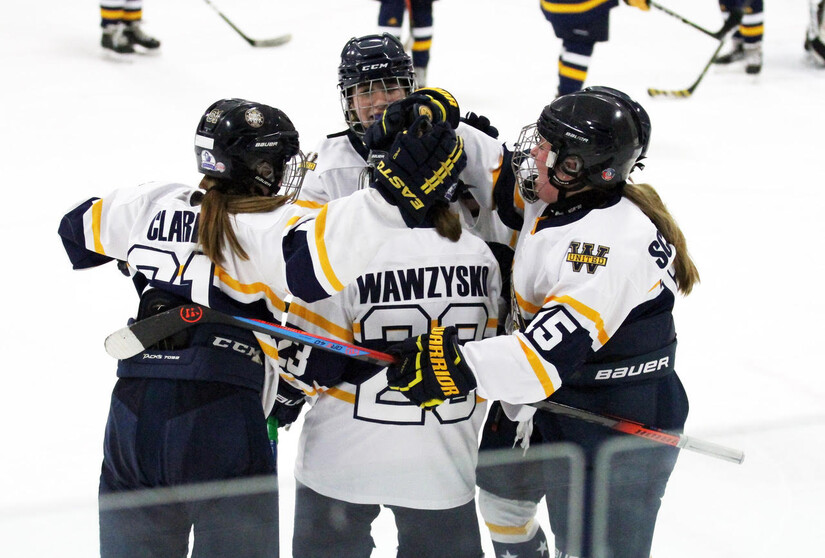 Junior Sam Wawzysko also started playing last year and scored the first goal of her career this season. Her goal came during a 5-1 loss to Sacred Heart, but that didn't stop the team from celebrating as if she'd scored the game-winner in the Stanley Cup.
"I feel like the team is like my second family in a way, everyone is really supportive of each other."
"Washtenaw United is the most welcoming team I've played for," continues Schroeder, who played travel hockey before joining the United. "The coaches care about their players and make sure everyone is always working and growing whenever we step on the ice. It's overall an outstanding environment to grow in."
Indeed, growing girls' hockey is one of the tenets of the United. At some point down the road, Saline High School as well as the other high schools feeding into the United look to roster their own girls' team.
"Hockey is just as much a sport for girls as it is for boys," adds Freshman Lilly Schlack. "I hope that as our team grows more girls will have the opportunity to recognize that and will try out something new."
-- Submitted by Katy Clark