BASKETBALL: Saline Beats Bedford, Wins 7th Straight - Longest Streak in More Than 10 Years
Image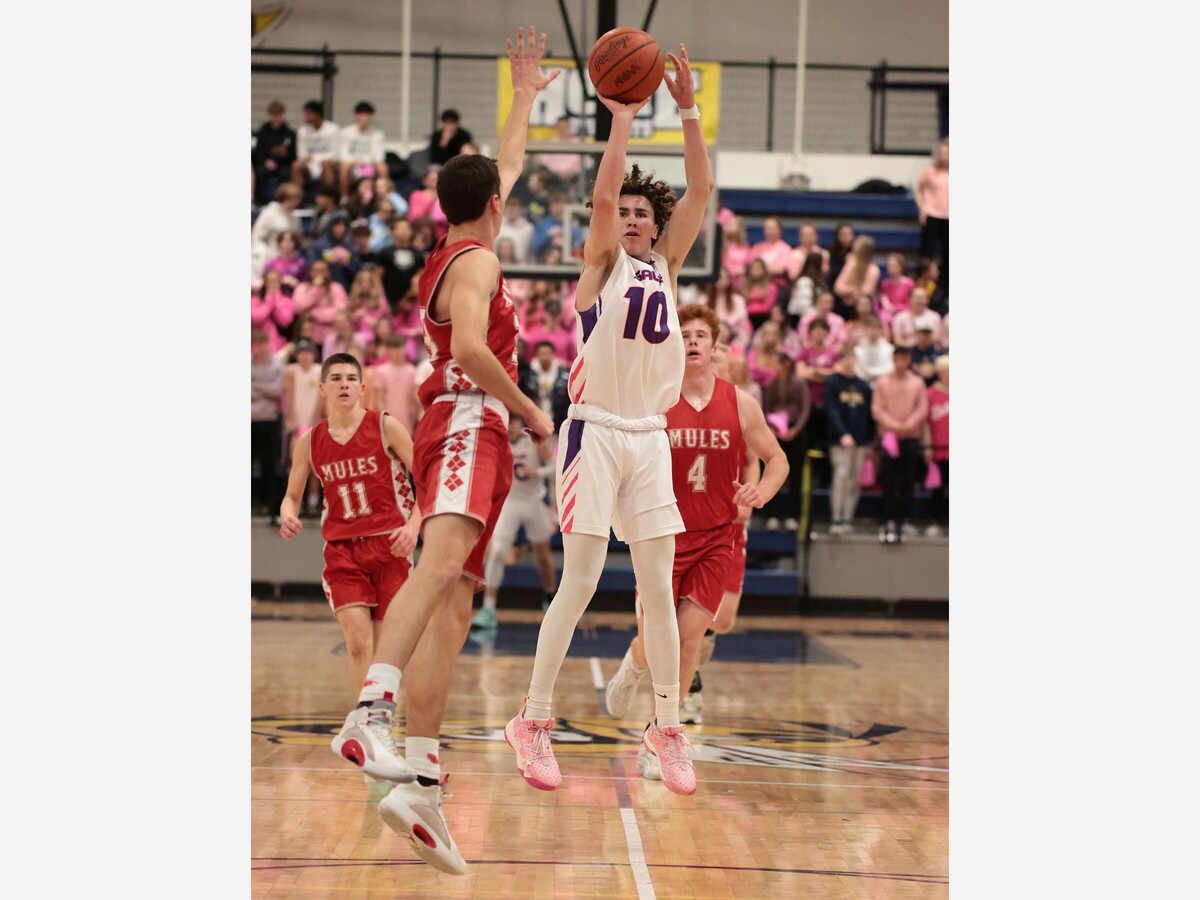 Jonathan Sanderson scored 12 of his game-high 23 points in the fourth quarter to help Saline beat Bedford, 57-47, and lead Saline to its seventh straight win.
Saline improved to 10-3 overall and 5-2 in the SEC Red.
Saline is unbeaten in 2023 and hopes to ride that streak to victory next week against Huron and Skyline, the two teams that beat Saline on its first trek through the SEC Red.
Coach Mike Marek said the Hornets are a different basketball team today than they were earlier in the season.
"That's seven in a row now. When we step on the court we expect to win. We're very confident right now in how we're playing and we showed it tonight," Marek said.
Saline had build a 12 point lead earlier in the third, only to see the Mules battle back and take a three-point lead by the end of the quarter.
"It's tough against a good team like Bedford. They've got an all-league player in Aaron Hollinger. But we made a few adjustments in the fourth quarter that helped. Sanderson got some pentration and spaced the floor a little bit so he could attack. He went to work and made some big plays," Marek said. "When they doubled him, we kicked it around and found some open guys."
Saline outscored Bedford 22-9 in the fourth quarter.
Zach Fidh scored 13 points and Dylan Mesman added 12. Harrison Rogers scored five points and Garrett Baldwin scored four.
Early in the first quarter, Bedford had a 5-0 lead.
Zach Fidh got the Hornets on the scoreboard with the first of his three three-point baskets. Sanderon got a point from the stripe to make it 5-4. Bedford scored to make it 7-4.
Jonathan Sanderson tied it up with a pull up jumper from the top of the key.
Bedford went up 10-7, but Saline responded with another three by Fidh to tie the game.
Dylan Mesman scored from the point to give Saline a 12-10 lead. Bedford tied it just before the buzzer to end the first quarter.
In the second quarter, it looked like the Hornets might run away with the game. Bedford scored first - and then it was almost all Saline. The Hornets had one of their most offensively balanced quarters of the season with four of the five starters scoring.
Sanderson hit a three from 2 o'clock to give Saline the lead.
Mesman sandwiched two layups around a free throw point for Bedford, giving Saline a 19-15 lead. The second basket started an eight-point run that also included two free throws by Baldwin, a layup by Sanderson and layup by Baldwin.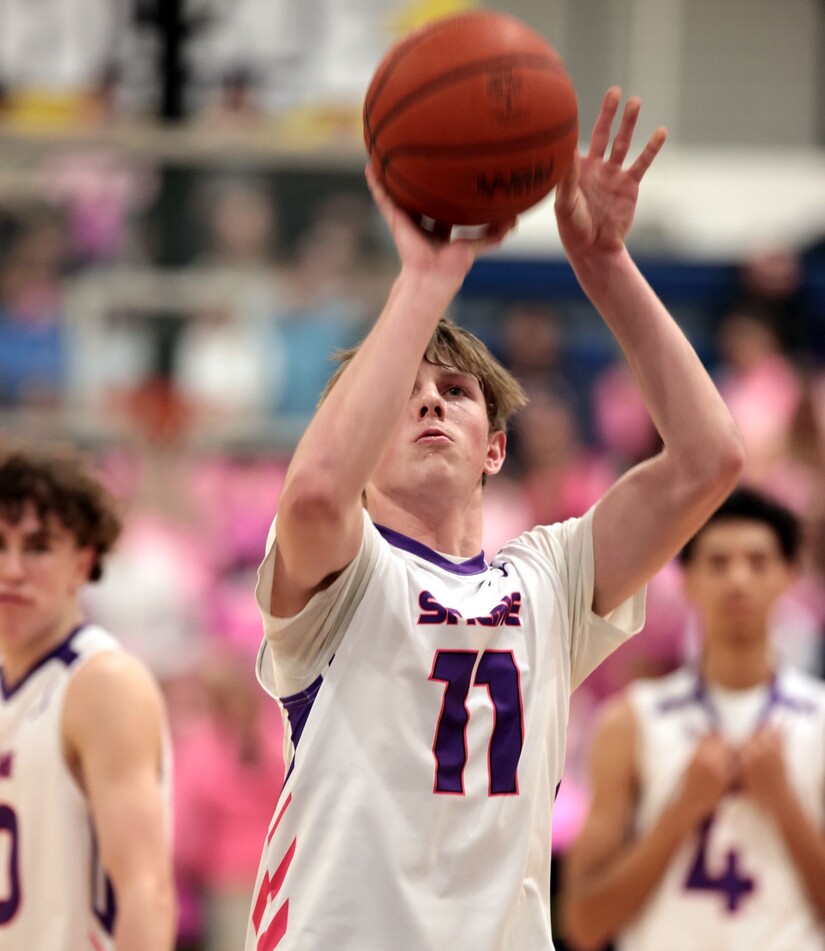 Saline led 25-15. After a Bedford basket, Saline went back to work, ending the quarter with a put-back by Mesman and two free throw points by Rogers.
Saline led 29-17 at halftime.
Bedford started the third with a basket. Sanderson replied with a layup to make it 31-19.
For the rest of the quarter, Saline managed a three pointer by Fidh and one point from the stripe by Fidh.
Saline was down 38-35 going into the fourth.
Mesman started the quick comeback with a point from the stripe.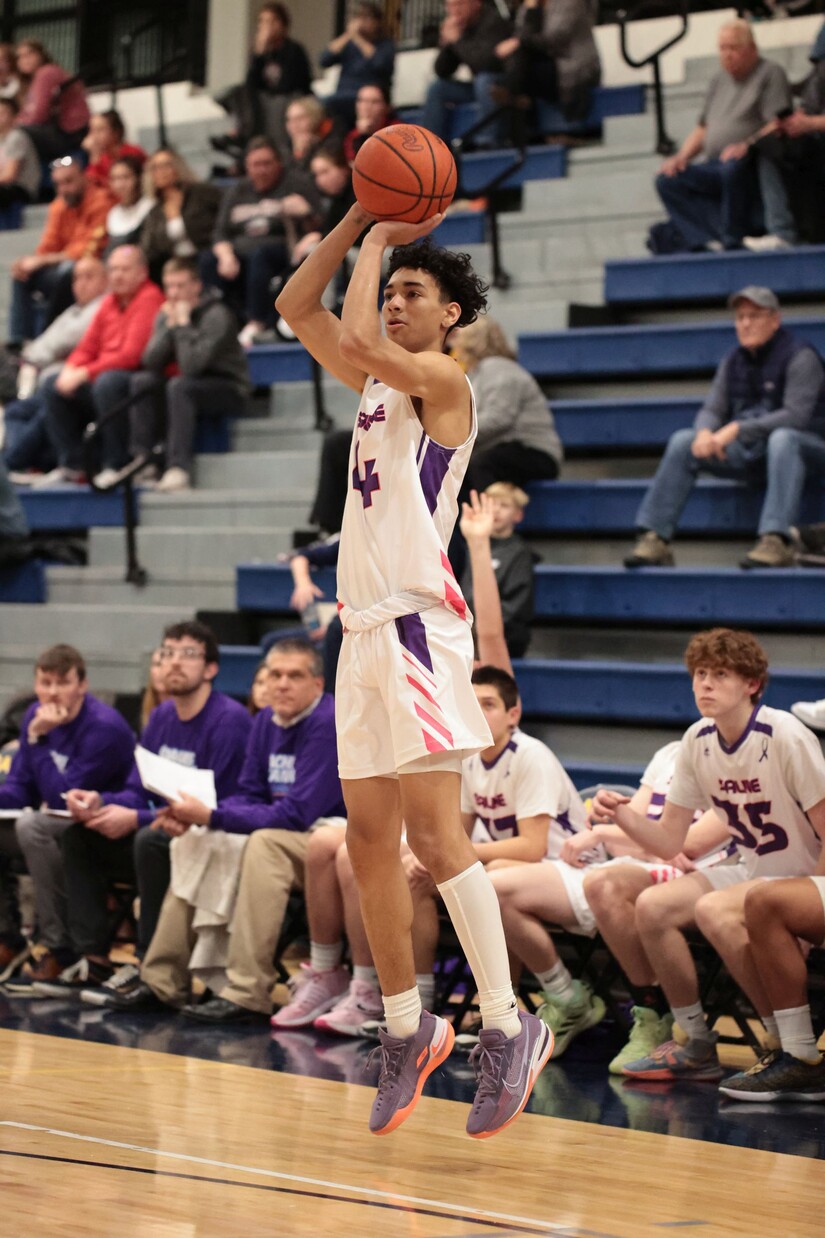 Rogers hit a three from the corner to give Saline a 39-38 lead.
Saline went up 41-38 on a steal and layup by Sanderson. Bedford tied it at 41 on a three-pointer. Mesman put the Hornets up by a point going 1-for-2 from the line.
Sanderson hit a three-pointer that put Saline up 45-41 - a lead that Hornets would not relinquish.
That was followed by two free throw points by Sanderson, a layup by Sanderson and a basket by Mesman. Saline led 51-41.
Down the stretch, Mesman made a three and Fidh went 3-for-4 from the stripe.
The red-hot Hornets host the unbeaten River Rats Tuesday.