BASKETBALL: Stemmer Shines as Saline Defeats Bedford in SEC Red Showdown
Image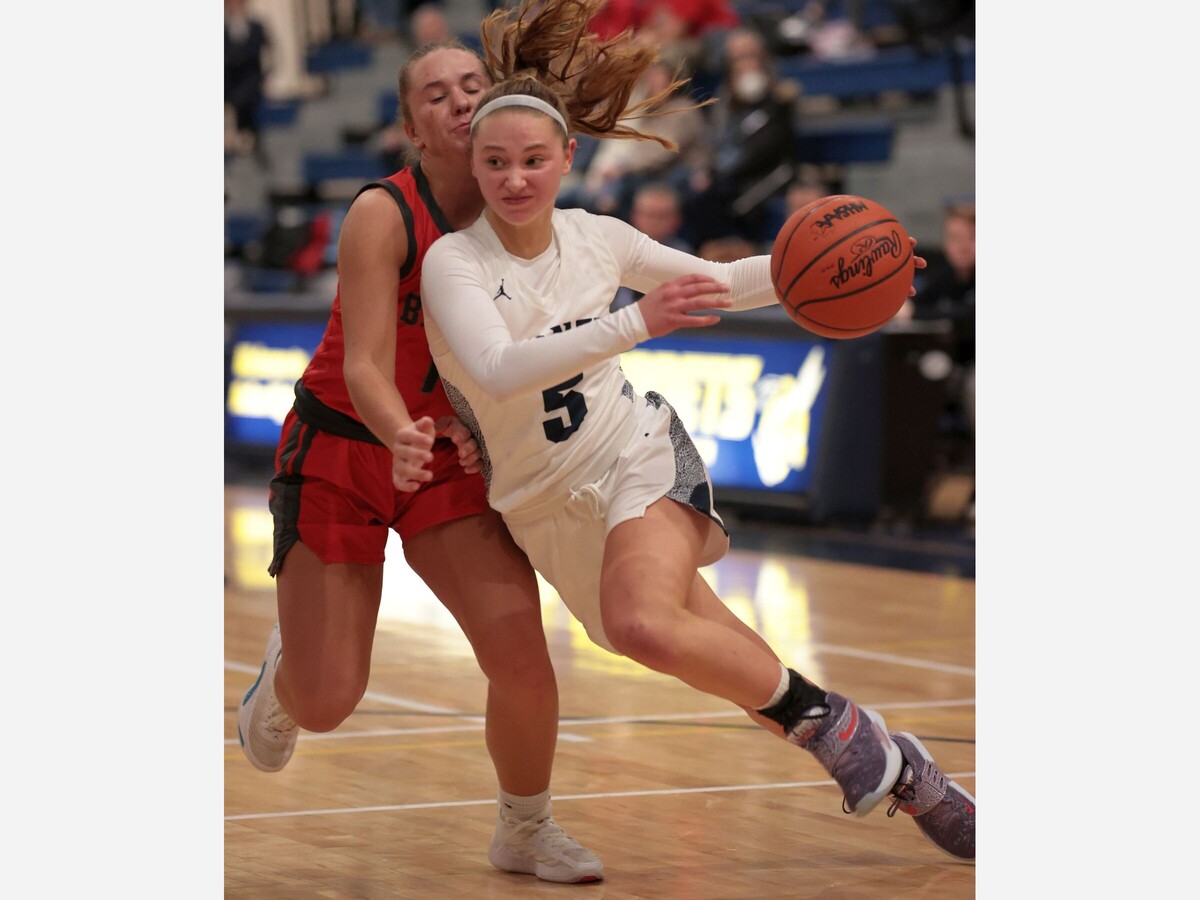 After Tuesday's buzzer-beater at Pioneer and last week's late come-from-behind win over Dexter, Saline junior Kate Stemmer was in no mood for late-game theatrics.
With Saline up 18-17 on Bedford in the battle of the SEC Red's only unbeaten teams, Stemmer scored 16 of Saline's next 20 points to end all doubts about the outcome of this showdown.
Saline won 41-22. Stemmer finished with 21 points, four rebounds and three assists.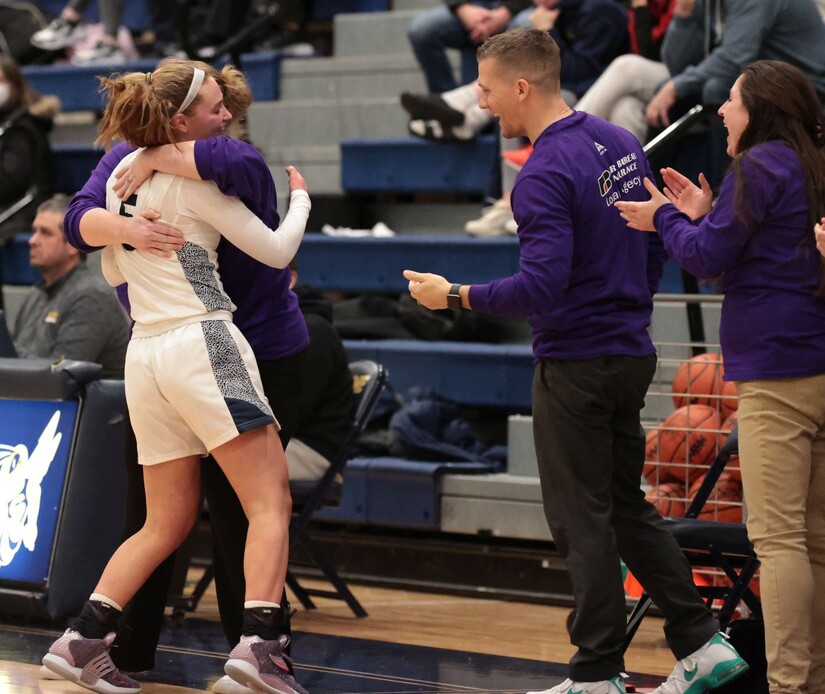 Saline coach Leigh Ann Roehm, who hugged her three-year-varsity junior when she left the game, was all smiles after the game.
"Kate Stemmer was absolutely magnificent tonight. She made 5 3's tonight (5 for 8) including 4 in the 2nd half. She caught the ball ready to shoot. She was ready for the moment," Roehm said. "I am really proud of the way she stepped up and led us tonight. Kate Stemmer is such an elite player. I thought she showed the world all that she is capable of tonight."
Saline improved to 13-2 overall. More importantly, the Hornets were the only undefeated team in a tough SEC Red after their first cycle through the conference. Saline is 7-0. Bedford is 6-1. Dexter is 5-2. Pioneer is 4-3.
The Hornets are now in the top spot and Roehm knows that comes with its own challenge - a challenge this team can meet if it shows what it showed Friday.
"Now the SEC runs through Saline. We take on the burden of the team with control so we have to show up mentality," Roehm said. "Our whole focus tonight was we need to play to win, and not play not to lose. I thought tonight might have been this season when, from the second we stood on the court, we played to win. There were no nerves. We just came to win and we have to keep that mentality and I'm excited for the second half of the SEC season."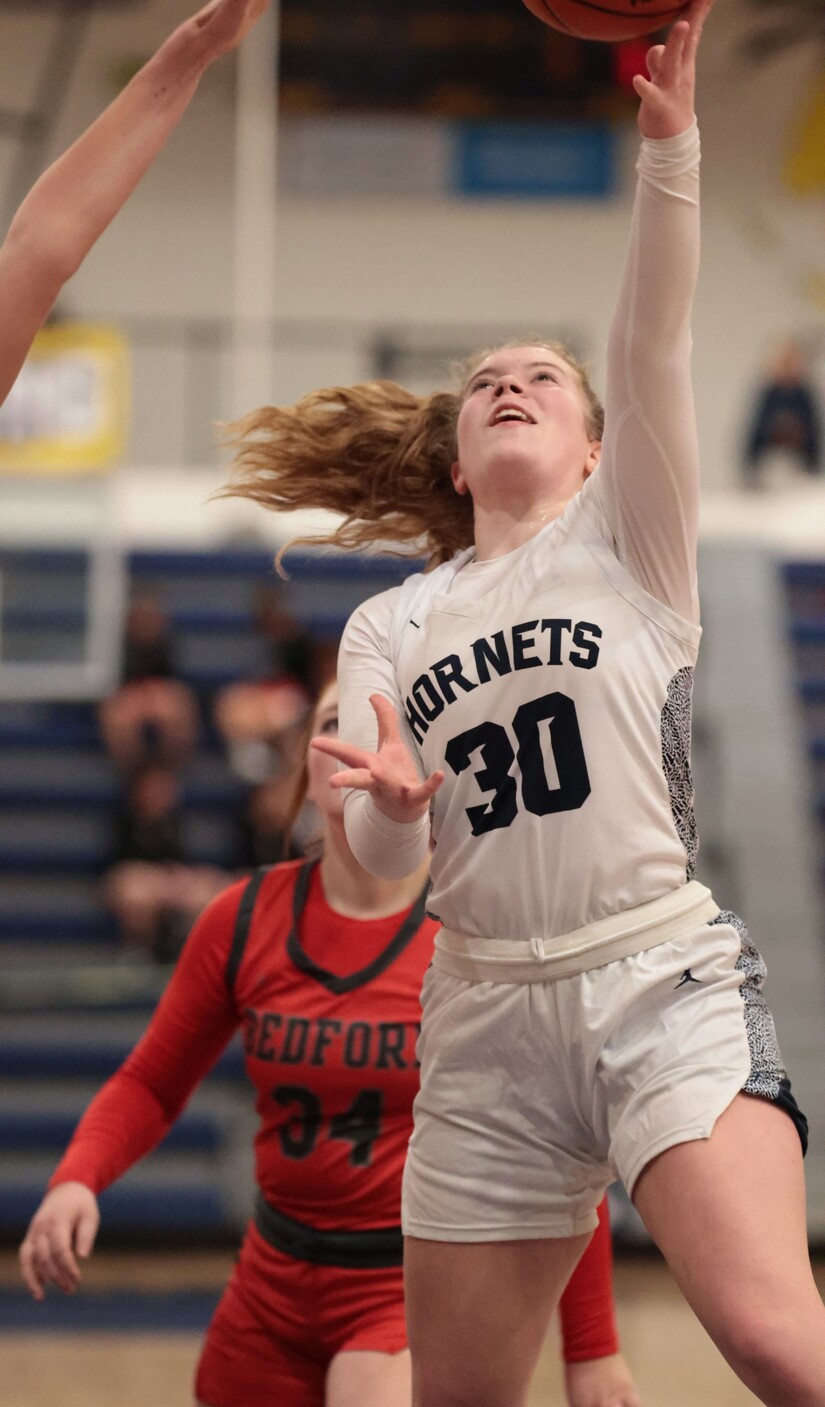 Saline statistics:
Kate Stemmer 21 points, 4 rebounds, 3 assists
Anna Hesse 8 points, 10 rebounds, 5 blocks
Taylor Kangas 5 points, 4 rebounds, 2 steals, 5 assists
Keira Roehm 5 points, 3 rebounds, 2 steals, 2 assists
Beth Ann Ford 2 points, 5 rebounds, 2 steals
Once again, the Saline defense stifled and wore down the offense until Saline could break a shooter or two free.
"I thought our defense was incredible. For 32 minutes, this team communicated, rotated, defended the drive and boxed out against a Bedford team with a lot of weapons," To hold that team to 22 points is such a testament to the team defense this team played."
The Mules (13-1) averaged 51 points a game coming into Friday's game. Their lowest output was 39 points against Lenawee Christian.
Offensively, the Hornets did a great job passing the ball around the perimeter and finding the open shot.
"We were 8-for-20 from the 3-point line and that forced Bedford to have to extend. Soon, that allowed us to slip our posts for some easy ones. We just made great decisions all around tonight," Roehm said.
In the paint, Taylor Kangas and Anna Hesse did the job against Bedford's Victoria Gray, who was limited to six points and eight rebounds.
"They did such an incredible job on Bedford's bigs. They boxed, they fought through contact, and they pursued the ball with reckless abandon. They were masterful running the high post vs Bedford's zone and created so many great shots for us," Roehm said. "They also both stepped up and made big shots when it mattered. Anna nailed a huge triple in the 3rd quarter and Beth Ann slipped a screen for a layup in the 2nd half when Bedford extended pressure."
Taylor Kangas had another good all-around game and quarterbacked the Saline offense.
"Taylor Kangas directed the show and had yet another 5-assist game. I thought her decision-making was terrific and the way she can attack off the bounce caused Bedford's defense to constantly be in scramble mode. Taylor is just so hard for defenders to keep in front of them. She also made a big 3 in our 3-quarter run. Taylor had a great game for us," Roehm said.
In fact, it was Kangas who hit the three that put Saline up for good.
Freshman Keira Roehm helped Saline start to a 9-2 lead.
"Keira Roehm got us out to a great start hitting a 3 to start the game. After that Bedford's defense really extended on her wide and deep as that allowed us to have great driving lanes and get open shots on reversals. I thought she made great decisions and she had a timely fourth-quarter drive responding after Bedford made a three that cut our lead," Roehm said.
Saline stormed out to a 9-2 lead but the Mules battled back to make it 9-7 by the end of the first quarter.
The second quarter was a defensive grind. The Mules scored the first points (Zalyn Stelmaszek on free throws and Zalyn Stelmaszek) to give Bedford an 11-9 lead.
It looked like the quarter might end with just four points of offense until Kate Stemmer fired her first three of the contest with 35 seconds left.
Saline led 12-11 at halftime.
Payton Pudlowski scored to give Bedford a 13-12 early in the third quarter. 
Anna Hesse replied with a three-pointer to gave Saline a 15-13 lead.
Bedford tied and took the lead on two baskets by Victoria Gray. 
With 2:40 to play in the third quarter, Kangas hit the basket that put the Hornets up for good.
Then it was Stemmer time.
With 1:51 to play, Stemmer hit a three-pointer to make it 21-17.
Then Stemmer went 2-for-2 from the line.
Saline finished the quarter with Hesse making a layup to give Saline a 25-17 lead.
Stemmer completely took over to start the fourth.
First, she scored on a strong drive through the paint. 
Then she hit two threes in 30 seconds.
In about 4:10, Stemmer's 13 points turned an 18-17 game into a 33-17 game.
Total dominance.
Roehm, Stemmer (another three) and Beth Ann Ford scored baskets down the stretch and Kangas added one point from the stripe.
Saline visits Huron Tuesday.