BASKETBALL: Rogers Lights it Up, Saline Defeats Huron to Win 8th Straight
Image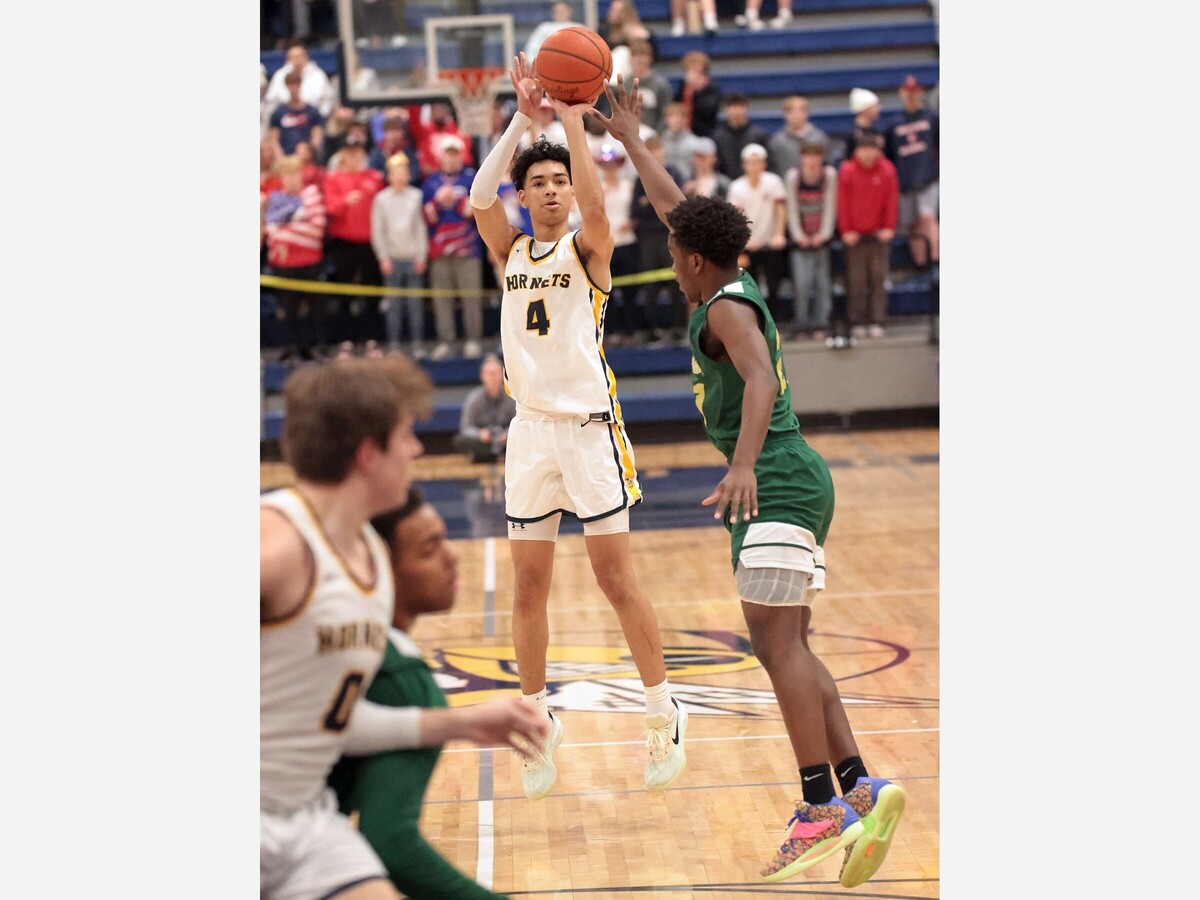 The Hornets' eighth straight win was their biggest yet.
Harrison Rogers scored 20 points and went 6-for-7 from three-point range as Saline defeated Huron, 57-47, in a game that's bound to send shockwaves through the Michigan high school boy's basketball world.
Saline improved to 11-3 overall and 6-2 in the SEC Red. Huron, in taking its first loss of the season, fell to 11-1 overall and 7-1 in the SEC Red.
Tuesday's win was a statement game for a Hornets team that lost 63-56 to the River Rats on Dec. 9.
"We showed how far we've gone. We were 1-2 to start the year with two tough losses to Huron and Skyline.  I'm so proud of this team. We come out here and expect to win these games. We come out here in the fourth quarter, we didn't crack, we didn't break. We stayed true to who we were and found a way to get the win," Marek said. "We have to take care of business Friday (against Skyline) now."
Nobody was more responsible for the win than Harrison Rogers. The Saline junior couldn't miss most of the game. He made six straight three-pointers, scattered throughout the game.
"We are a big dog team. We're one of the best teams in the state and we can knock off a lot of these big teams," Rogers said.
Rogers has been an important player for the Hornets all season - but Tuesday's effort was next-level.
"During the game all my shots felt good. My teammates found me - shout out to Garrett (Baldwin) with nine assists," Rogers said. 
Rogers said he's seen Baldwin, a senior, shooting in practice and gaining confidence.
"This game showed he can hoop, he can score. He's not just playing defense," Rogers said.
Baldwin was more involved in the offense than he's been all season.
He said the team has always had faith - it was more a statement to people who didn't know what Saline basketball is all about.
"We started off kind of slow. We've got an eight-game streak and everyone knew we were getting kind of hot. People know we're the truth now," Baldwin said. "We can play. They've got to respect us know."
Now that the Michigan basketball world knows about Jonathan Sanderson, Dylan Mesman and company, Baldwin is finding himself with more room and he's using it to his advantage. He spent all game driving into the paint, attracting attention and then kicking the ball out to Rogers, Sanderson and Fidh for three-point attempts.
"I've been able to drive and create for my team more," Baldwin said.
The Hornets are going to do everything they can to win an SEC Red Championship. They need to win out and hope someone upsets Huron. 
Jonathan Sanderson finished with 14 points. Dylan Mesman scored 10 points. Zach Fidh scored seven points and Garrett Baldwin finished with six points.
The Game
Saline was down 6-2 early when the Hornets got a basket by Baldwin and then a three-pointer from Rogers to go up 7-6. Saline went up 9-6 when Garrett Baldwin forced a turnover. He and Sanderson came in on a two-on-one and Sanderson grabbed the rebound and put it back.
Moments later, Rogers hit his second three of the game to make it 12-6. Rogers followed up with another three and Saline led 15-6. Before the quarter was up, Sanderson also made good on a three-point shot.
Saline led 18-11 after one.
The second quarter scoring began with Sanderson scoring on a baseline drive.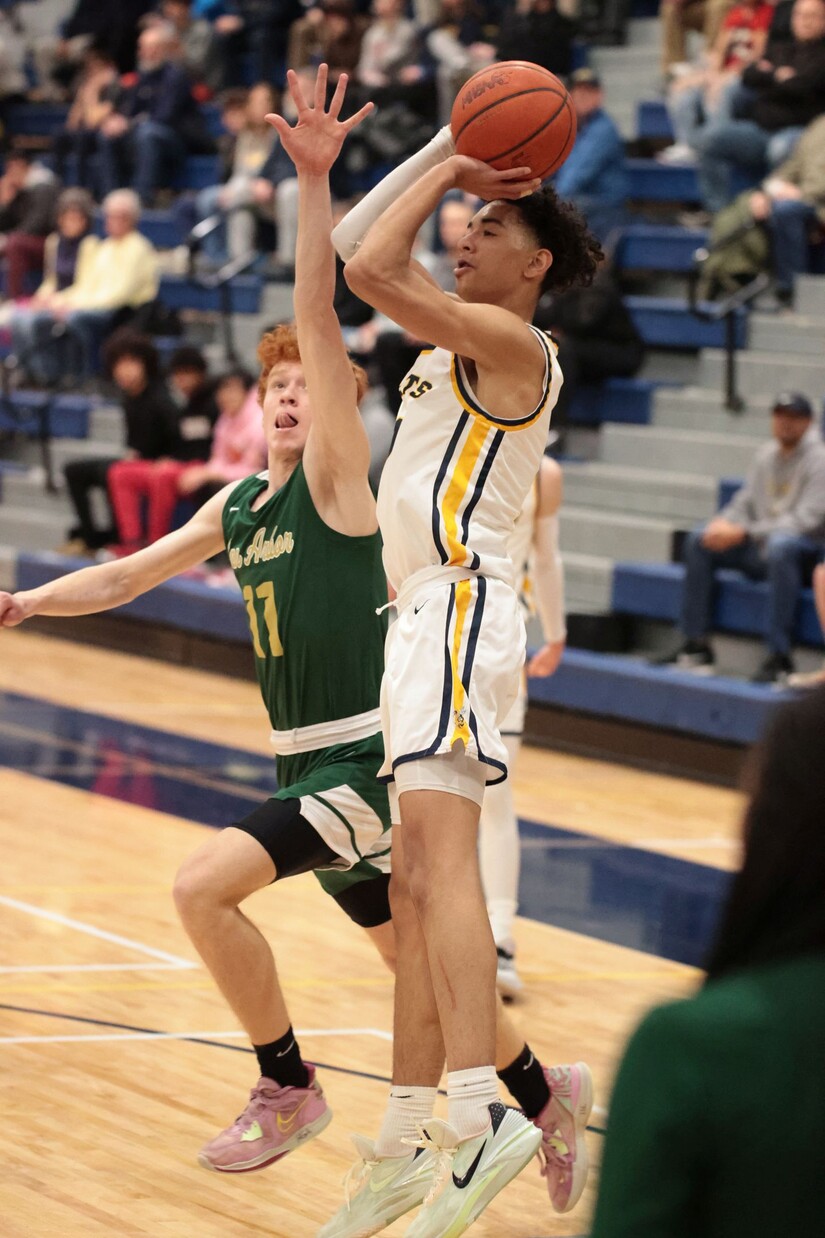 Saline went up 22-11 on a jump shot by Rogers.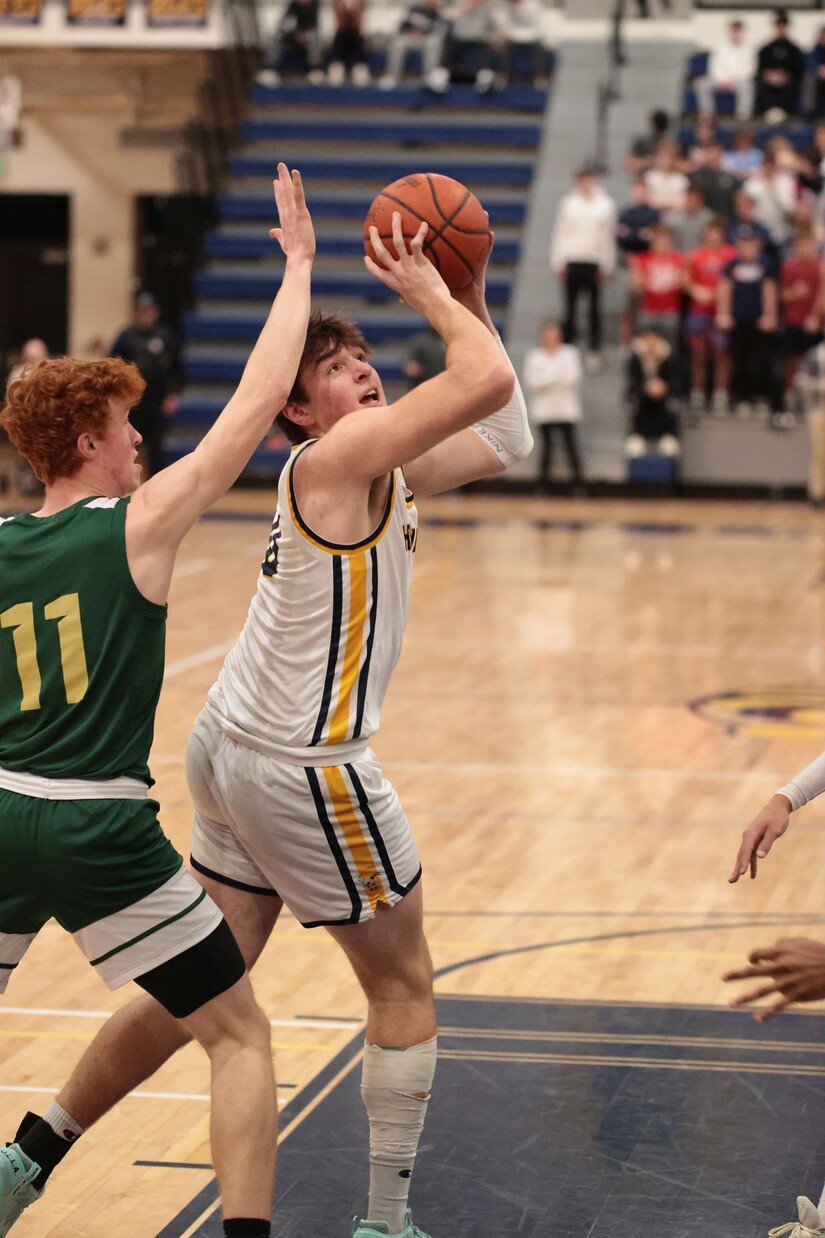 After a Huron three-pointer, Zach Fidh passed to Dylan Mesman in the paint and Mesman scored to make it 24-14. Sanderson added a three to make it 27-18. 
Sanderson picked up his second putback basket of the night late in the second quarter. The Hornets forced a turnover.  Sanderson and Fidh came in two-on-one. Sanderson passed to Fidh, whose shot rimmed out. But Sanderson put it back. 
Saline led 29-20 and took a 29-22 lead into halftime.
Saline built its advantage in the third quarter.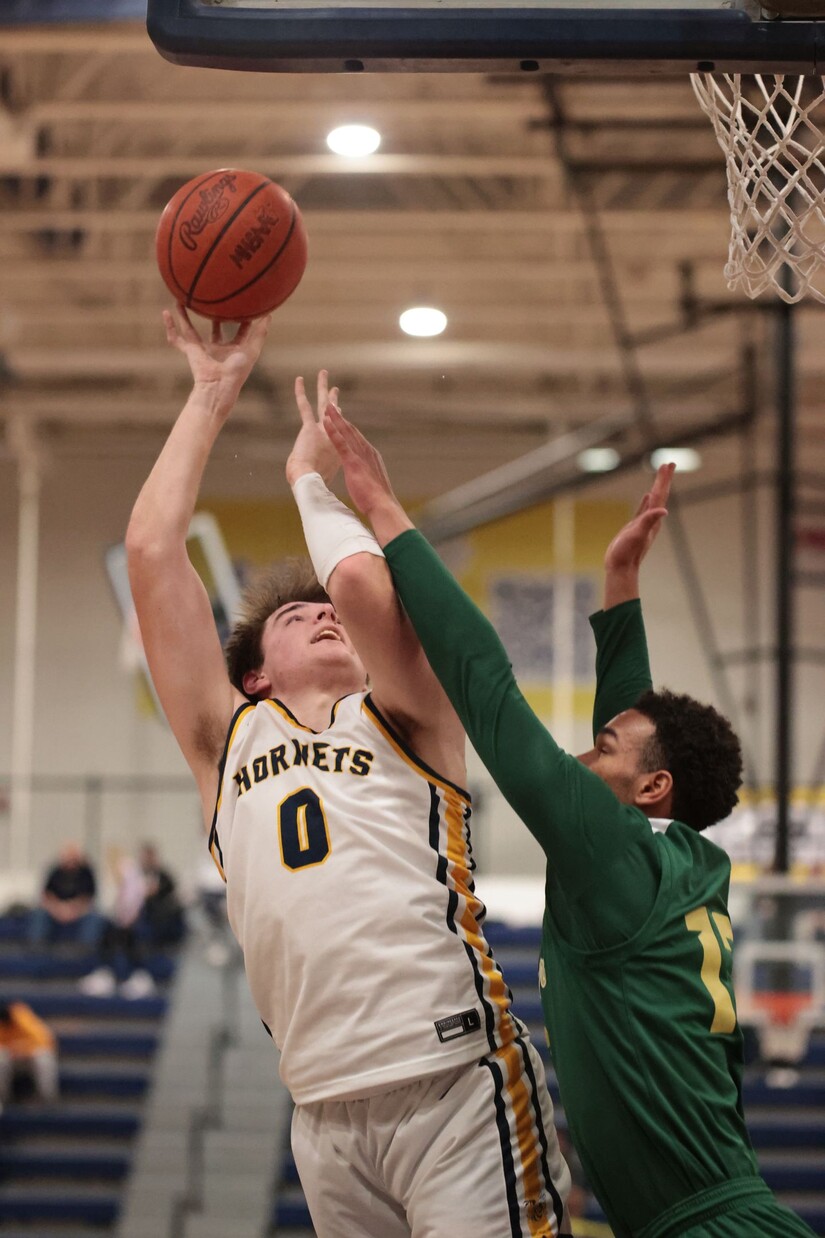 Dylan Mesman scored two tough points and added one from the stripe to make it 32-23.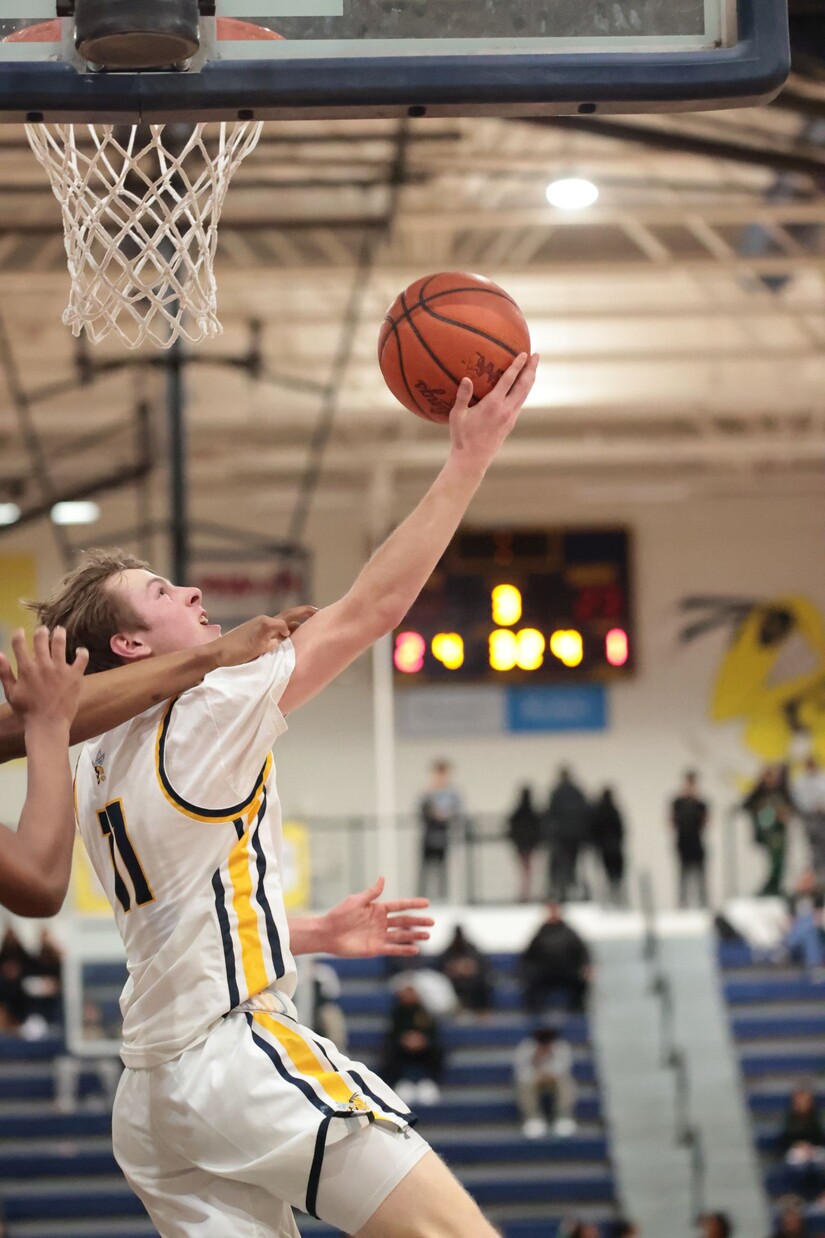 Baldwin rushed in from the perimeter and scored a nice layup to make it 34-23.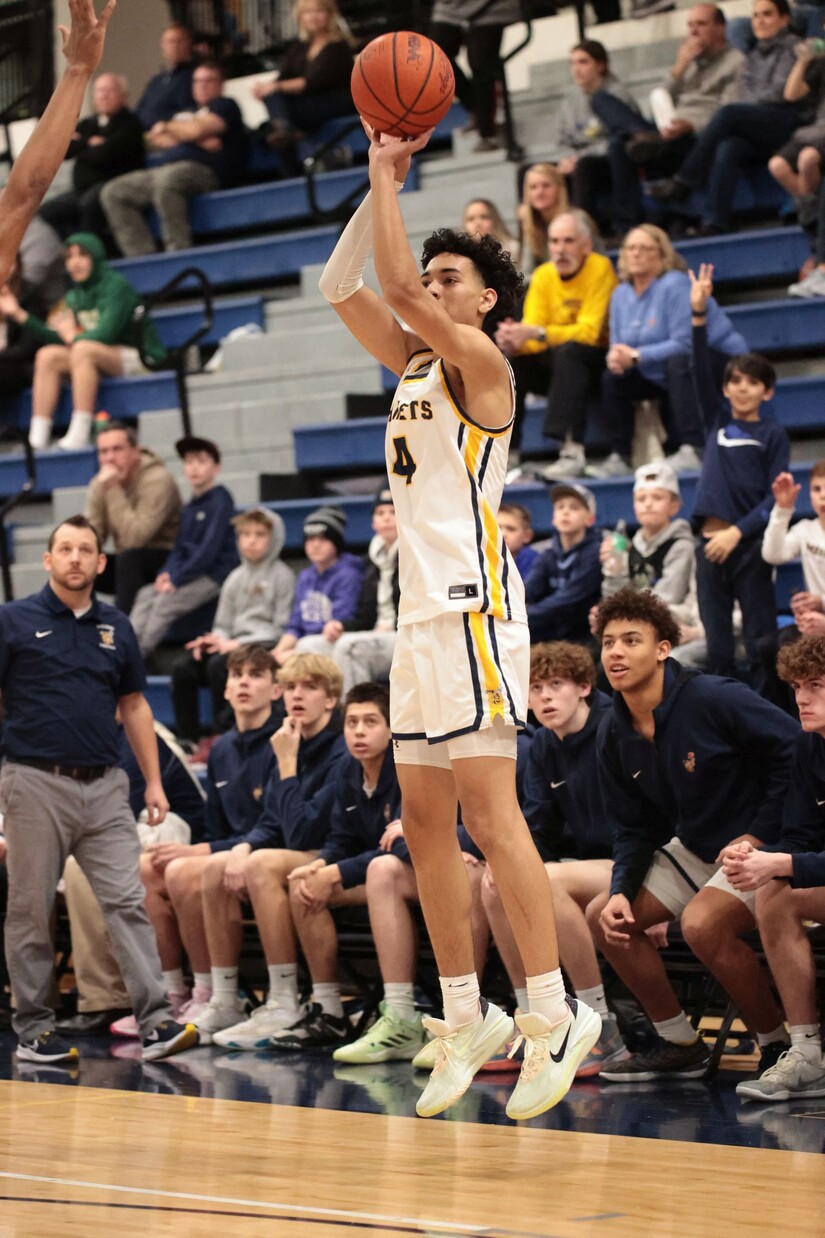 Moments later, Rogers hit back-to-back threes to give Saline a 40-25 lead.  After Huron went 1-for-2 from the stripe, Rogers hit another three from the opposite corner to make it 43-26 - the biggest lead the Hornets would have all game.
The River Rats started closing the gap, making it a 12-point game at the end of the third.
In the fourth, Braylen Dickerson did his best to put the River Rats back in the game, hitting four three-pointers. The River Rats got it as close as 47-44 before the Hornets stifled their comeback.
Baldwin rushed into the paint and then fed Fidh in the corner for a three-pointer.
Baldwin then took another one to the hoop himself.
Fidh broke away for the Hornets' last field goal to make it 54-44.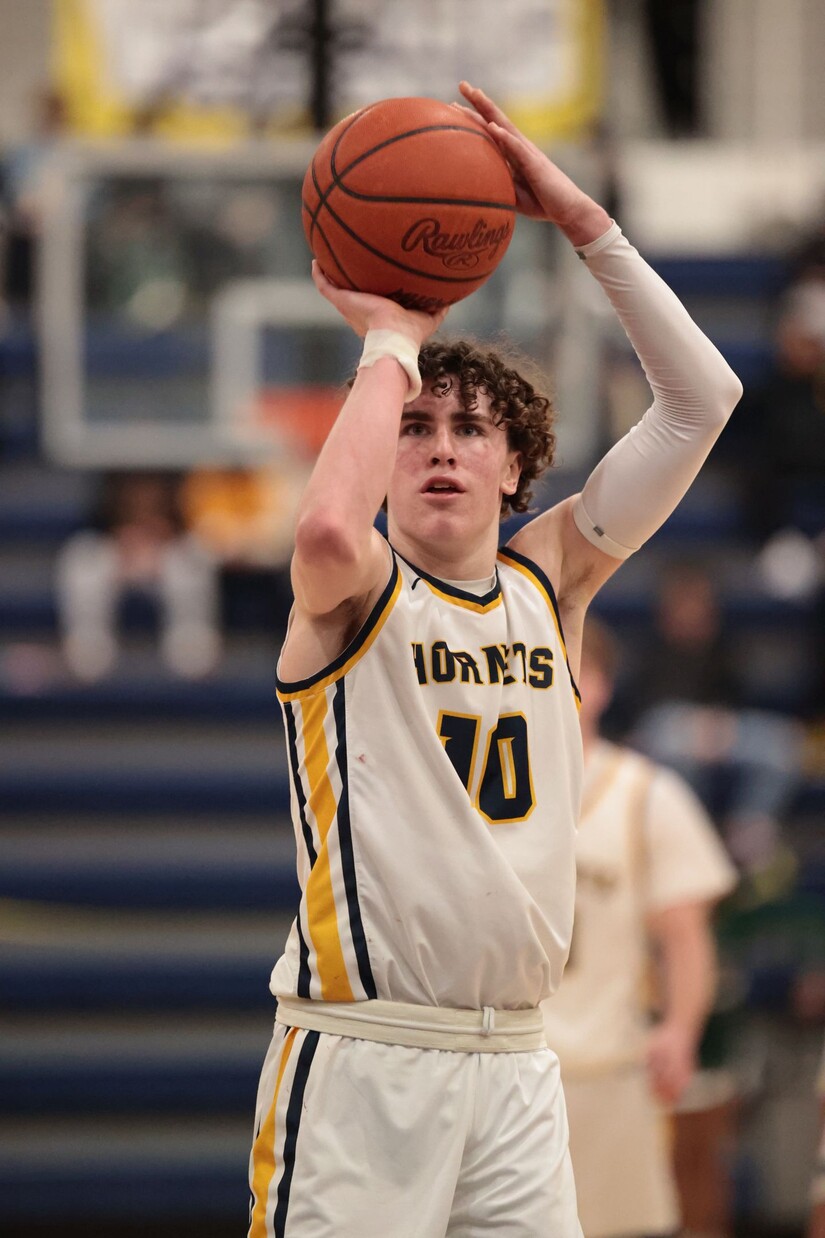 Sanderson and Mesman sealed the game at the free-throw line.
Notebook:
With some help, we found a longer streak than the current eight-game streak. The 16-17 team led by Jake Finkbeiner and Ryan Foley and coached by Jake Fosdick won nine straight. Saline needs one more to tie.
For the third straight game, Saline built a big lead and watched it disappear in the third quarter before pulling away in the fourth quarter.
Bedford (11-3, 5-3 SEC Red) rebounded to beat Dexter, 73-50.
Skyline (7-5, 5-2 SEC Red) 5defeated Lincoln, 57-50.
INTERVIEWS