Beth Ann Ford's Impact Measured in Wins, Smiles and High Fives
Image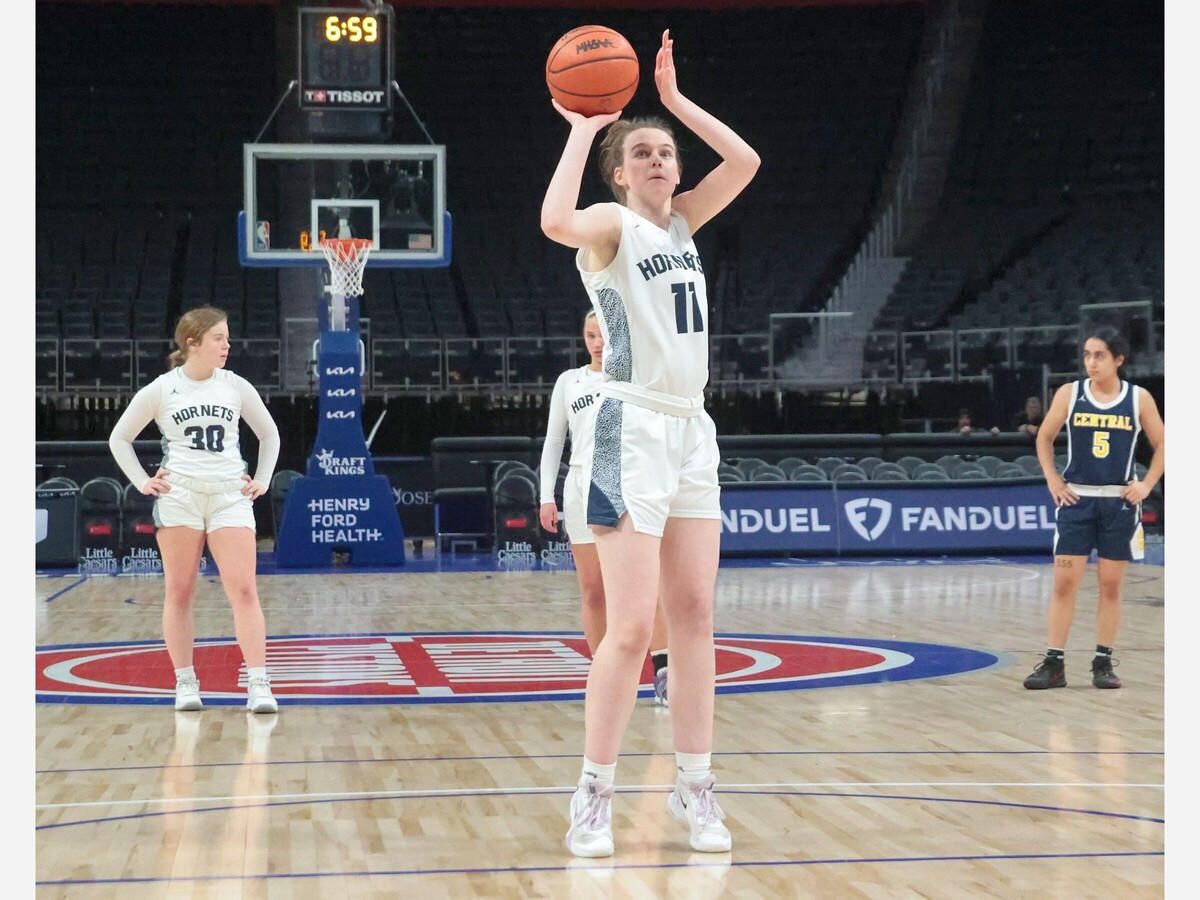 Keira Roehm's buzzer-beating three to beat Pioneer will go down as one of the most memorable moments of the Saline winter sports season.
Roehm, the fabulous freshman who made the shot for the 35-33 victory, earned every ounce of glory that comes with answering the bell at such a pivotal moment. But embedded in that play were many little things that paved the way for the big moment. They are the kinds of plays that perhaps only a coach notices. They are things that make Beth Ann Ford one of Coach Leigh Ann Roehm's most trusted warriors on the court.
On that play, Keira Roehm set up for the shot beyond the arc. Ford stood guard in front of her. Taylor Kangas wheeled the ball over to Roehm just as a defender broke free from the attention of Kate Stemmer and scrambled her way toward the Saline freshman. Ford stepped in front of the Pioneer defender, preventing her from contesting Roehm's shot.
It was a clean look - and Roehm was on the mark. Saline's unbeaten streak in the SEC continued.
"Can we give a huge shout-out and enormous credit to her screen at the end that led to the game-winning 3. Beth Ann is the best screener I have ever coached. Screens aren't always recognized, but we don't get that good of a look at the end of the game without Beth Ann's screen," coach Roehm said after the game.
There may not be a student-athlete in Saline who's enjoyed more winning than Beth Ann Ford this year. She and teammate Anna Hesse were both important players on a volleyball team that won the SEC Red, won districts and regionals and went to the final four. Now, Ford and Hesse are starters on a basketball team that's unbeaten in the SEC Red and is 16-2 overall.
On the basketball court, nobody in the history of the program has done more winning than Ford. Ford has been on varsity since her freshman year. Her career timeline dovetails with the renaissance of Saline girls' basketball. She's won the SEC Red. She's won two district titles.
On Tuesday, when Saline defeated Monroe, Ford became the winningest player in the history of Saline girls' basketball with 73 wins against 12 losses. This is despite a pandemic that cut two seasons short and a senior year that's far from complete.
"Beth Ann is a foundational rock of our program. The last four years on varsity she has been integral to our success and culture. Beth Ann does all the things for us that don't always get the glory. But, she deserves all of it! Is there a better stat to hold a record in than wins? She is a flat-out winner," Roehm said.
Ford is the daughter of Tom and Brandy Ford. 
Ford said she's 5'10 and 3/4s of an inch. 
"But on a basketball roster, I might put six feet, OK?" she says with a smile.
That height is evident when she's battling for rebounds in the paint or blocking spikes at the volleyball net. She's always been taller than her classmates.
"I grew much faster than my peers. When I look back at my old basketball photos, I'm head and shoulders above everyone else," she said.
It's not all height either. Ford has good leaping ability and the athleticism to spike volleyball and make layups and jumpers.
Ford's basketball career at Saline High School began with a surprise. She'd spent all summer working out with the junior varsity team. Naturally, she expected to make play JV as a freshman. Roehm said she'd done so much work and gotten so much better she was offered the chance to try out for
"She was so surprised, but she was also eager and ready for the challenge," Roehm recalled.
Ford impressed Roehm and her staff and was invited to play on the varsity team.
"I had just left a JV volleyball practice and I bumped into coach Roehm in the parking lot. She explained it to me and told me it was my decision. I went home and told my parents, 'Oh my God, coach just asked me to be on varsity,'" Ford said.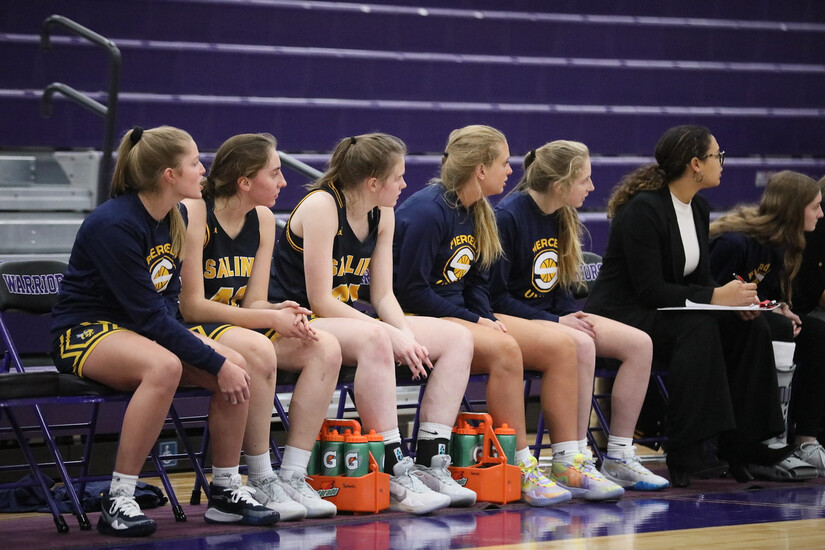 Roehm knew with Steffi Bentley and Natalie Sweetland on the team and playing in the paint, Ford could ease her way into the varsity experience.
"We didn't know for sure she would be on varsity. But, after the tryout period, it was obvious she belonged. Beth Ann started her career the way she finished - by showing up, working hard, and being a team-first player. She knew her freshman year would be a learning year," Roehm said. "A year to grow by practicing and being pushed by the Varsity players. She came in with no expectations of playing time, but ended up earning minutes and respect due to the person and player that she is."
Ford didn't get a lot of minutes - but she soaked in the experience.
"There were some games that I didn't get to play in, but I really devoted myself to learning the game and to supporting my teammates, always asking questions. I always want to be the first person to get out there and just try my hardest to improve," Ford said.
Ford's freshman year was a special year for the Hornets. They went 12-2. They finally beat Huron. And then they did it again at Huron in the district championship.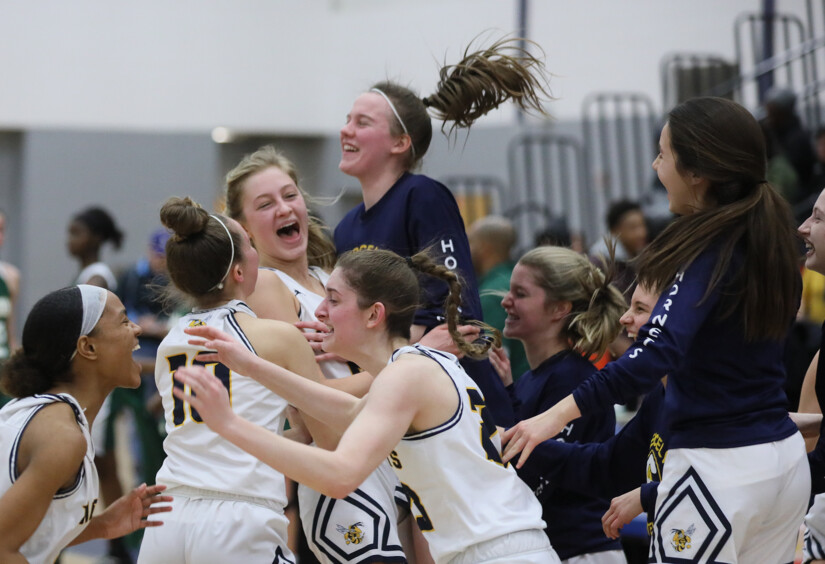 The Hornets advanced all the way to the regional championship when their historic season was cut short by the pandemic.
"That team was full of phenomenal players. They were wonderful women. I have a lot of really precious memories from that year," Ford said. "The end of the season was really heartbreaking because we never got to play our last game because of the pandemic."
Still, Ford said, it was an important season.
"I think that's still the sort of the team that sort of set the standard," Ford said.
Indeed.
Ford and the Hornets have done nothing but live up to those standards. In her sophomore year, Saline went 18-2, won the SEC Red and captured the district before falling in the regional final to a tough Wayne Memorial team.
Through the years, Ford has supported stars like Ella Stemmer and Sophie Canen and Steffi Bentley. Even today, as a four-year varsity player, she's still dedicated to putting the rest of her team first. Coach Roehm has emphasized checking egos at the door, being "fiercely united" and playing for each other. It's a message that Ford has taken to heart.
"I think that it's incredibly Important. Because the more you love your team, the more you love the game, the further you're gonna go," Ford said. "Everyone is going to have a bad game or an off game. But when your main focus is caring for and supporting your teammates, it doesn't matter. You help each other move on."
Ford plays AAU volleyball in the offseason - but she can't really say for certain which sport she prefers.
"Basketball one day. Volleyball the next. I love both sports," Ford said.
It was easier to love playing volleyball this year. Coach Darien Bandel focused on team-first, positive messaging that sounded a lot like Roehm's.  
When the team lost star junior Mallory Bohl for the season, nobody expected Saline volleyball to hold on to the conference title let alone go to the final four. Ford was one of the players who stepped into the void left by Bohl.
Ford, in humble fashion, doesn't take credit for the way she and the Hornets handled the loss of their star. She gives credit to Bohl.
"I really take a lot from the way that Mallory handled that situation because obviously, it was a heartbreaking injury for her, but she was there every game, cheering us on. It was inspiring," Ford said. "We wanted to do it for Mallory."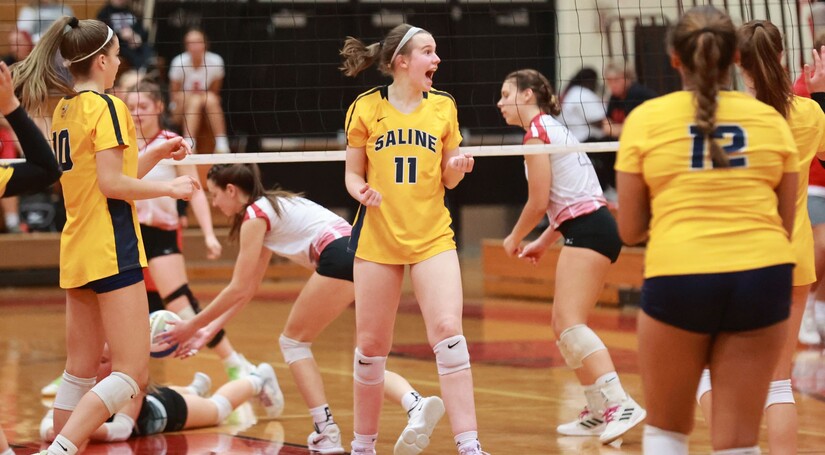 Ford and Hesse, who enjoyed that trip to the Kellogg Center, are the queens of the paint for the basketball team. Ford and Hesse have been teammates since elementary school. Their familiarity gives them advantages.
"I love playing with Anna because we played together for so long. We can just give each other a look and understand each other," Ford said. "She's got my back. She's going to support me. She's going to laugh with me when I make a mistake."
In the paint, Ford does things anyone can notice. She wins battles for rebounds. She gets her teammates second and third chances. She blocks opponents and keeps their possessions to one-and-dones.
Roehm said Ford does many things that fly under the radar. Ford is one of the reasons the Hornets can endure shooting slumps an win basketball games against tough teams.
"She controls the game with everything she does. She has one of the highest defensive IQs I have seen. She prides herself in rotations, boxing out, and defending with verticality. She is a student of the game and really researches opposing teams' post players and comes into games with a game plan. Whether she scores a single basket, opponent post players leave our games knowing how great Beth Ann defends," Roehm said.
The IQ, the work ethic, the rock-steady positive attitude and all that winning in both sports make Ford a leader on the Hornets.
"Beth Ann is one of the best human beings I have ever met in my entire life. She pushes everyone around her to be better. She is unwavering in who she is and in her character and integrity. That type of strength and maturity in a young woman is inspiring," Roehm said. "I have loved watching her evolve from a young 14-year-old freshman just showing up to work and learn, to being a two-year varsity captain and leader of our program.
When you talk to the Hornets, they emphasize the importance of enjoying this experience with their friends. They don't talk about the points or the rebounds.
"I'm proud of thinking on my feet, or setting a screen or battling hard in the post. When my teammates are smiling, pointing at me and high-giving me, that's what matters," Ford said. "That stats - those are for strangers. If they don't know what I did, it's not the end of the world - because I have wonderful people here in this gym who are going to let me know what I did."