O'Toole Suggests City Levy Tax if It Wants to Keep Local Police Dispatch Service
Image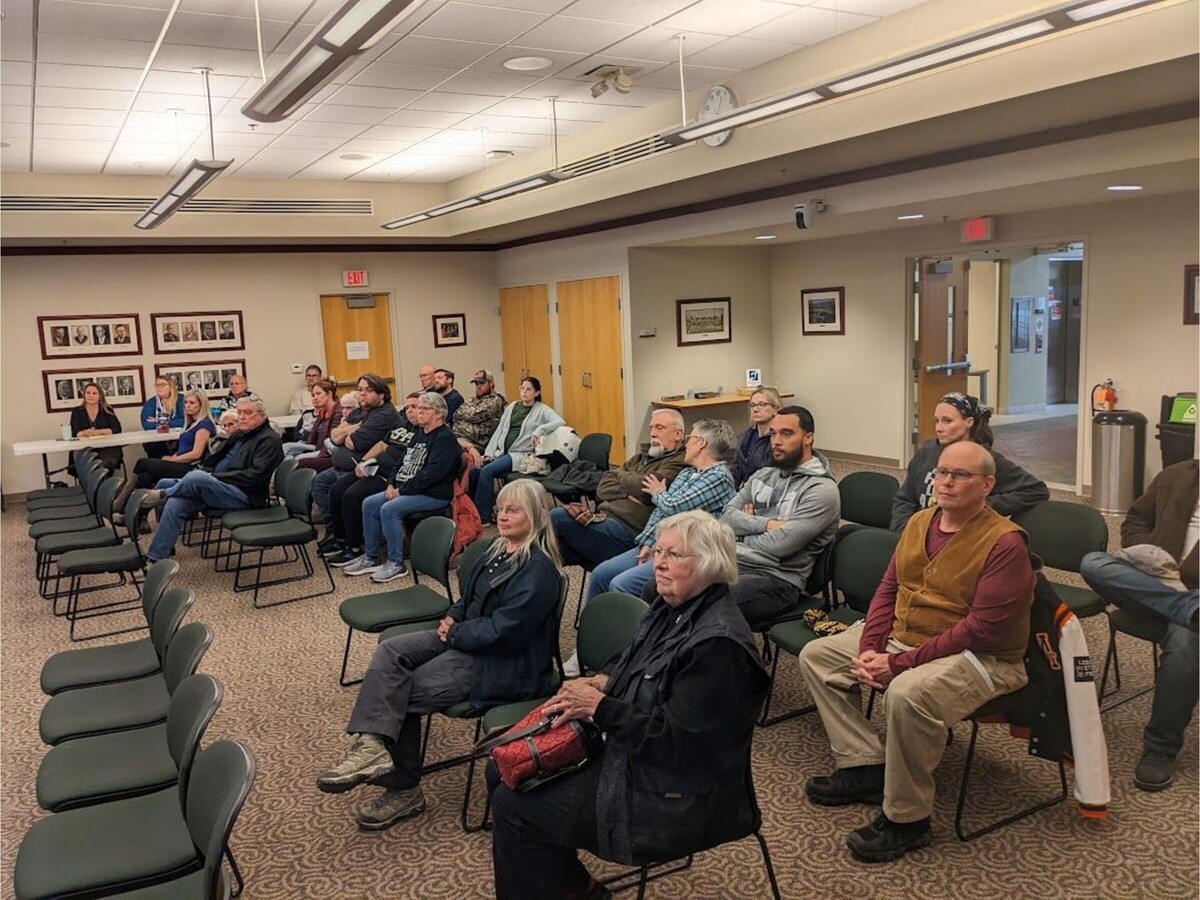 City of Saline manager Colleen O'Toole says that if the city council wants to keep local police dispatch services, she will recommend that the city ask voters to fund it with a millage.
O'Toole remarked Tuesday night at Saline City Hall, where the city hosted a town hall meeting to explain why city staff wants to eliminate the Saline Police Department's dispatch services and outsource the work to Washtenaw Metro Dispatch.
This is the third time the city has pushed the idea in just over a decade.
Today, Saline and Chelsea are the only communities left in Washtenaw County still having their own dispatch desk.  96 percent of county residents are served by the WSCO Metro-Dispatch department, according to Rochelle Noonan, Emergency Services Director. Noonan and Jeffrey Poiner, dispatch operations manager, also presented information during the meeting.
About 20 people attended the meeting, along with members of Saline City Council. Those who spoke were decidedly against the idea of eliminating the local police department, citing public safety, the safety of police officers and an extra level of care that will not be available if the service is outsourced.
O'Toole explained the genesis of the conversation was to save money and grow the city's fund balance back to levels called for by city council policy. The financial savings remained murky as city staff declined to estimate what kind of savings the city would gain.
O'Toole estimated the city's dispatch service costs between $300,000 and $350,000 a year. When asked O'Toole and Treasurer Elle Cole declined to estimate what it would cost to hire Washtenaw Metro Dispatch, or what it might cost to replace local dispatch with other city employees who would answer non-emergency lines and provide service at the SPD's front desk.
O'Toole said the city doesn't generate enough calls for service to maintain such an expensive dispatch desk.
But while cost savings are why the city is considering the switch, O'Toole suggested that the service from Washtenaw County might be superior in some instances - particularly during a big event, such as a weather incident. She noted that Milan Police Department went to Washtenaw Metro Dispatch two years ago after a major storm in Milan.
"The reality is that participation in Metro dispatch has been very well received by the departments who have made the switch. Their services would afford our officers an even greater depth of knowledge because their experience goes well beyond what we experience here in Saline," O'Toole said.
She also said the city was confident that the city would not suffer a lack of service.
"I expect that there would be no real change in the level of services we provide. So, that concept of losing your small-town officer is really a fallacy. We would continue to offer the same level of support and services," O'Toole said.
O'Toole clearly favored the chance to save money through the regional approach.
But the people who spoke during the meeting favored other ideas.
One woman, speaking anonymously, didn't like the idea of replacing the person at the dispatch desk with a "call button" outside the police department.
The woman said it was her interaction with a Saline Police Department dispatcher that started her on the path of standing up for herself after being a victim of domestic violence.
"I walked in (to the police department) and that woman - the dispatcher - was there with her empathy and her kindness and her grace," she said.
The dispatcher kept her there, talking to her between taking calls for service, and convinced her to talk to a police officer, who then convinced her to talk to Police Chief Marlene Radzik.
"My survival, my backbone and sticking up for myself started in this building with the female dispatcher. When I heard about (plans to eliminate the dispatch service) it saddened me," she said. "It was the empathy and the heart I felt from the people here that motivated me to help myself."
Don Terry, a former Saline dispatcher and 50-year law enforcement veteran, said it was important to consider the personal relationships between officers and dispatchers.
In Saline, he said, police are dispatched by people they know.
"For me, that translates to an officer safety issue and that's the biggest focus I have in the consideration," Terry said.
He said a  knowledgeable dispatcher has the ability to send the officer who is most likely to create the best outcome for the citizen and not just the officer.
Terry also about an MLIVE story that suggested Ann Arbor was considering severing its relationship with Metro Dispatch. Noonan said Ann Arbor recently signed a one-year extension.
Former dispatcher Sandy Wood said it was important to have dispatchers who know the city streets and know the officers.
"I've brought officers in when they've had a bad day and had them sit with me and talk with me to calm them down and get them back on the road again," Wood said.
Wood said she didn't believe Metro Dispatch could provide the caring service provided by SPD dispatch.
"They're overworked there. And they don't have the compassion and caring for the city ," Wood said.
Chris Boulter, a sergeant at the Saline Police Department, questioned whether Washtenaw Metro Dispatch was better equipped to handle large-scale incidents. He pointed to the recent ice storm when Washtenaw Dispatch was overwhelmed with callers and people couldn't get through.
Boulter questioned whether Metro Dispatch could integrate with other city services the way Saline Dispatch does. He noted that during the storm, the city dispatchers worked with police, fire and the DPW to act quickly, keep roads clear and close roads when necessary.
Boulter said Saline dispatchers provide a level of service not available from Metro Dispatch.
"It's about the non-English speaking family who needed a place to stay when their car broke down in the middle of the night. It's about the guy who ran into dispatch thinking he was shot when it was actually a part that came off the lawnmower," Boulter said.
Boulter also suggested he thought the city would make money on its first contract with Metro Dispatch but said costs would rise on the next one.
When asked by a member of the public, Police Chief Marlene Radzik didn't overtly express her opinion, one way or the other. 
In the past, it was Saline's police chief who acted as a spokesperson for the plan to outsource the dispatch service.
Radzik did seem to be leaning in favor of the proposal. 
"We just went through contract negotiations and pay and benefits were the two top issues for the officers and communications officers. And if they have an opportunity to move to Metro - it's no secret Metro Dispatch can offer what Saline can't right now," Radzik said.
Radzik did say she thought it was important for the morale of the police department to make a swift decision.
Staffing issues have plagued both SPD Dispatch and Metro Dispatch. Because of those staffing issues, Noonan said, Metro Dispatch could not handle Saline's calls for service until early 2024.
Mayor Brian Marl said the city council does not have a timetable for this decision.
Replies
It is very concerning that city managers who are making decisions about services that cost hundreds of thousands of dollars and directly affect residents, cannot clearly articulate or support their decisions with the clear financial benefit to the city.
We never got the answer to the percentage of increase to last year's water bills either. And this is a very simple question.
Why is the answer always to stick it to the residents by increasing taxes and utility bills?