Sayoni Bandyopadhyay Crowned MIss Saline 2020
Image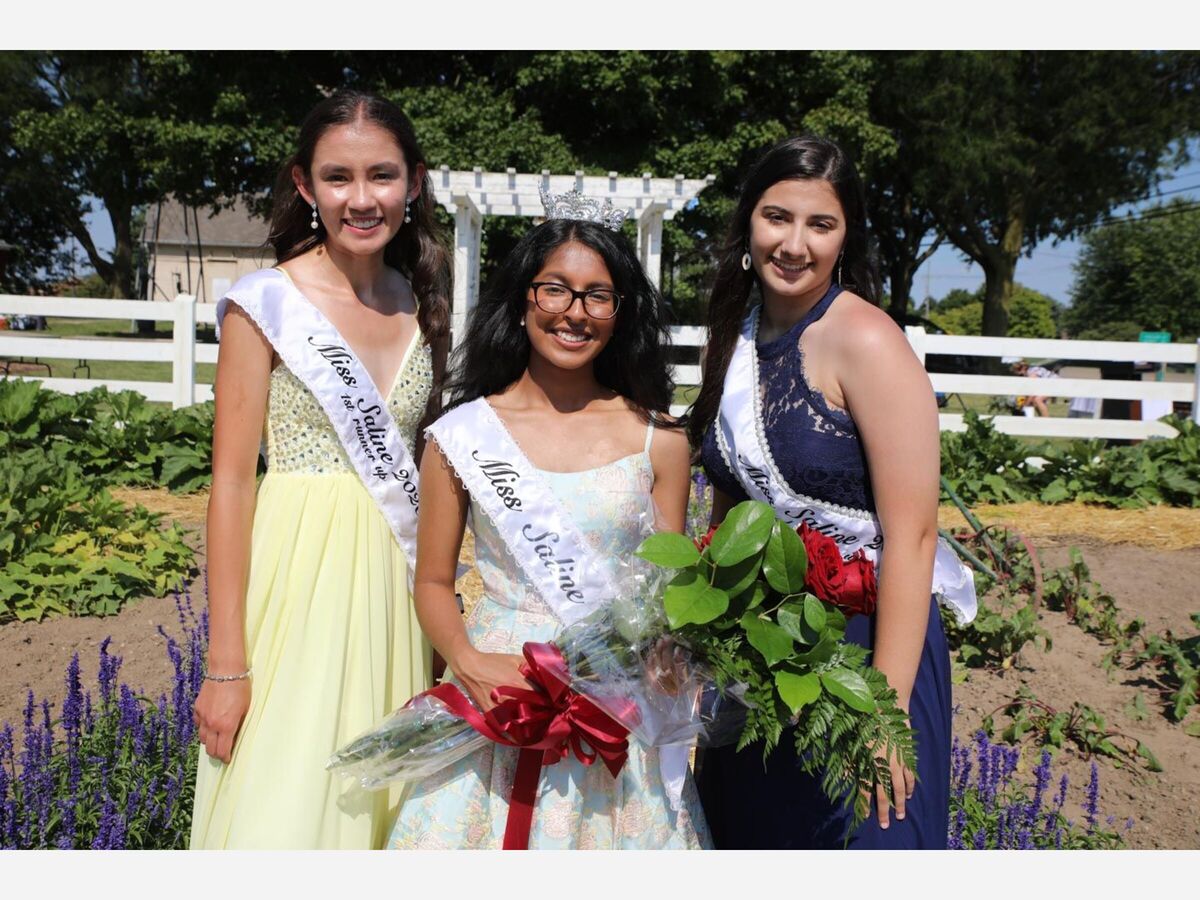 Saline High School rising senior Sayoni Bandyopadhyay was crowned queen of the Miss Saline Pageant on a sunny day at the Rentschler Farm Museum Saturday.
Bandyopadhyay was one of nine candidates in the pageant. As winner, she receives a $2,000 scholarship. Bandyopadhyay said she was surprised when her name was called as Miss Saline.
"This was an amazing experience and I was very happy to be here with all these amazing people. When my name was called, I was very surprised and also thrilled and excited," Bandyopadhyay said. "I'm really looking forward to the next steps now."
The first runner-up was Ava Ignacio and the second runner up was Maya Abdallah, both rising seniors at Saline High School. Ignacio received a $500 scholarship and Abdallah a $250 scholarship.
Bandyopadhyay, Iganacio and Abdallah, as the Miss Saline Court, will serve at events through the community over the next year.
Bandyopadhyay learned of the pageant from teachers at Saline High School.
"At first I wasn't sure, just because this is something so new for me. It's completely out of the ordinary. But it seems like a really cool experience and I always like trying new things," Bandyopadhyay said.
The contestants answered questions posed by the four judges, Mayor Brian Marl, Mancino's owner Katie Spence, Renew Saline owner Jeffrey McLaughlin or former Miss Saline Caitlin Sundquist. They also modeled an evening gown and performed during an opening number. Bandyopadhyay, Jalina Griffin and Abdallah also performed for the audience.
The other contestants were Amanda Lin, Griffin, Josie Sellenraad, Maya Scott, Avery McClelland and Olivia Helmer.
Helmer won the Interview Award, a $100 scholarship from the Coy family, for her strength during the interviews. David Rhoads presented the Leslie Niethammer Community Service Award and a $100 scholarship to Abdallah for her extensive volunteer record.
Former Miss Saline pageant winners Brittany Bryant and Amanda Coy were graceful emcees, keeping the event moving along by interviewing the contestants while tabulators struggled to score the event.
"These are nine wonderful young women and they're to change the world," Bryant said after a second round of questioning.
The two-hour event marked the return of the pageant, which wasn't held in 2019 following the retirement of longtime organizer, Katrene Starling. The 2020 event was originally scheduled to be held at Saline Summerfest in downtown Saline, but when the event was canceled due to COVID-19, organizers Kim Bryant and Molly Coy scrambled to find a new location. The found help from the Saline Area Historical Society, which offered use of the city-owned and historical society-operated Rentschler Farm Museum.
Molly Coy, whose mom and daughter were crowned Miss Saline, was glad to have the pageant back and thought the Rentschler Farm Museum served as a nice setting for the event.
"The Saline Area Historical Society was absolutely wonderful. They decorated the trellis and helped us with chairs and tables. We couldn't have had a more perfect site for Miss Saline 2020," Coy said. "It's a wonderful tradition. This was the 72nd Miss Saline. It's personal for us because my daughter was Miss Saline 2017 and her grandmother was Miss Saline 1958."
Here's a look a closer look at the contestants.
Amanda Lin
Amanda Lin is a rising junior at Saline High School. Amanda enjoys running as a member of the cross country team and indoor & outdoor track & field teams. She is a member of Minding your Mind Matters, a mental health awareness club at the high school. If crowned Miss Saline, Amanda is looking forward to making an impact on our community and gaining leadership experience.
Ava Ignacio
Ava Ignacio is a rising senior at Saline High School. She enjoys babysitting for families in Saline. Her dream is to become a physical therapist. Ava is cross country captain, a Link Crew leader and a member of the Marching Band. Ava also serves as a confirmation leader at St. Andrews Church. Ava enjoys her Saline community and would love to be crowned Miss Saline.
Avery McClelland
Avery McClelland is a rising senior at Saline High School. She works as a friendly barista at Bigby coffee and holds the position of shift leader. Avery has run track & field the past three years and is involved in the club Students Against Racism. She enjoys service projects as a member of her youth group at Christ Our King Church. If crowned mIss Saline, Avery looks forward to serving her community while developing new relationships. 
Jalina Griffin
Jalina Griffin is a rising senior at Saline High School. She spends her free time working at Aeropostale and Shake Shack. Jalina is involved in the Diversity Inclusion Group at Saline High School. She likes to sing, dance & cook and looks forward to meeting new friends and participating in Miss Saline.
Josie Sellenraad
Josie Sellenraad is a rising junior at Saline High School. You may see Josie's smiling face working as a barista at the Starbucks in Target. Josie also babysits. She is involved in Key Club, Link Crew, Connecting Club & the Psychology Club. If crowned Miss Saline, Josie looks forward to mentoring others and developing relationships. 
Maya Abdallah
Maya Abdallah is a rising senior at Saline High School. She is captain of both her travel and high school soccer teams and enjoys her part time job as a referee. She serves as a leader in Student Council, and Interact Club. Maya is active in her church and youth group and loves playing the piano & keyboard. If crowned Miss Saline, she hopes to unite the community and promote a service-oriented mindset in young kids.
Maya Scott
Maya Scott is a rising junior at Saline High School. Maya is passionate about social justice and is a member of the Uproar Club at SHS. Maya is no stranger to the stage, as she performs in musicals, plays & concerts. She is a member of the drumline in the Marching Band. Maya wants to be crowned Miss Saline to learn more about the community and spread positivity. 
Olivia Helmer
Olivia Helmer is a rising senior at Saline High School. She works in her family's business setting up auctions. Olivia is a leader in her 4-H group, serving as secretary for the past two years. She is a member of the Student Advisory Board for the Foundation of Saline Area Schools. Since a young age, Olivia has played the drums. If crowned Miss Saline, she looks forward to providing youth mentoring, philanthropy and having an impact on community affairs.
Sayoni Bandyopadhyay
Sayoni Bandyopadhyay is a rising senior at Saline High School. She serves as an intern for a candidate running to represent Michigan in the 12th district in the House of Representatives. Sayoni has served as the President of her class for the past 2 years and is Vice President of NHS. Sayoni holds many talents including singer, dancer & saxophone player. If crowned Miss Saline, she looks forward to giving back to her community.