Freedom Fighters Stage Peaceful Protest in Saline
Image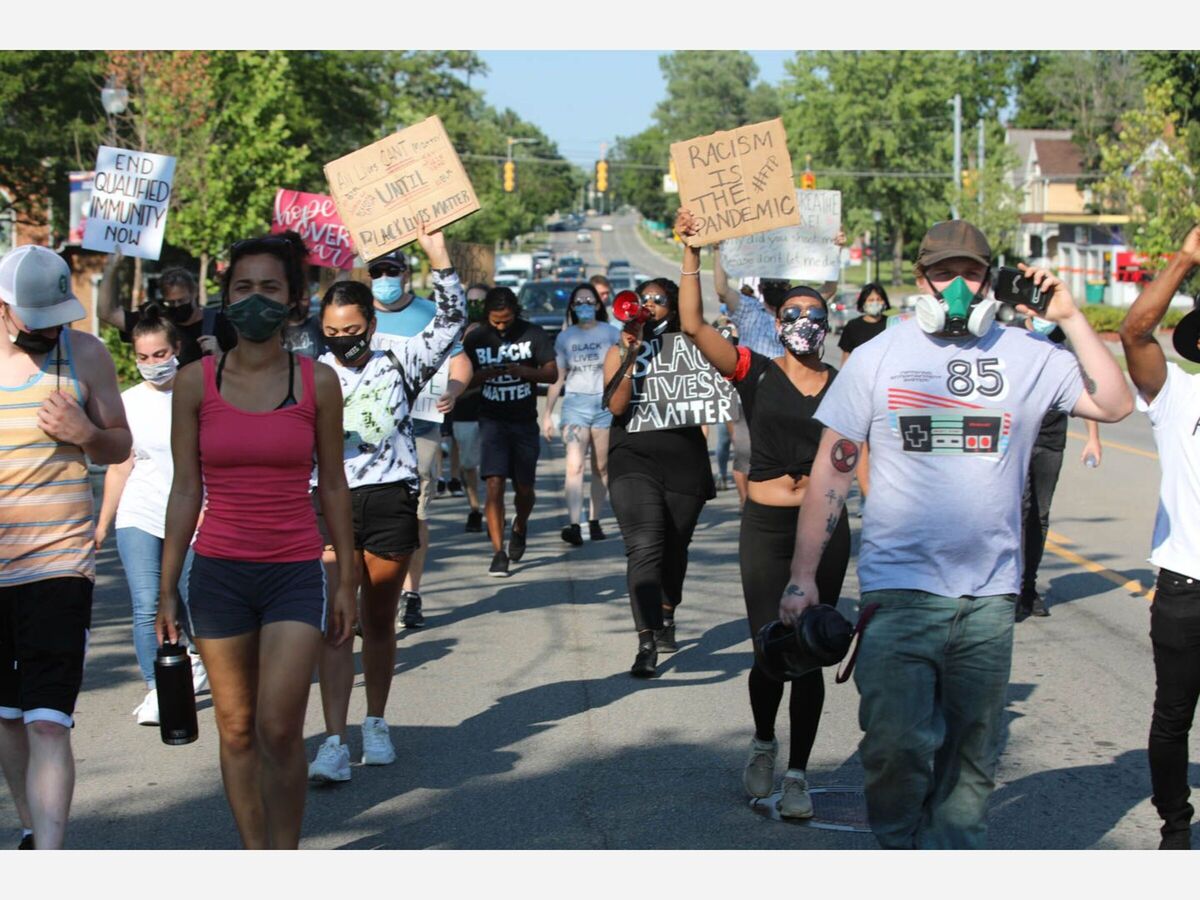 A Michigan group calling itself the Freedom Fighters staged a peaceful Black Lives Matter protest in Saline Saturday afternoon.  The group met at Brecon Park for a few speeches and a voter registration effort before parking around the City of Saline while escorted by the Saline Police Department.
Freedom Fighters of Michigan bills itself as a grassroots organization seeking to affect change and ensure the safety, socioeconomic and educational standards for black people.
The group was joined by Saline residents. Saline City Councillors Christen Mitchell and Kevin Camero Sulak participated. Council candidate Jenn Harmount also participated.
Freedom Fighter member Steven Daugherty, on Facebook, explained why the group chose Saline for its action.
"We chose Saline as an opportunity to educate as many people in these small, majority Caucasian communities that are not exposed often to what's happening around the world, or better yet don't understand the need to see what's going on," he wrote.
Ben Israel Ibura, a Farmington Hills resident, is one of the founders of Freedom Fighters. The group was known as Heart of Detroit until a few months ago.
"It began as philanthropy, but it's become a civil issue. Freedom Fighters is a platform for all people who are being oppressed to collectively create change," Ibura said.
The killing of George Floyd by Minneapolis police was the "straw that broke the camel's back" and turned Freedom Fighters into a civil rights group.
"This country is based on democracy. That means you have your right to due process," Ibura said. "No one can be the judge, the jury or the executioner. That should echo for all people. Everyone should be afraid of a system that can allow someone to be the judge, the jury and executioner."
At the park, remarks were made by several people, including Councillor Christen Mitchell, who referenced Saline's reckoning with its own racism.
"Earlier this year, in our very own small town, ugly racial incidents among high school students made international news. Stunned, many of us woke up to the fact that our neighbors face outright bigotry regularly. Many of us, myself included, became aware that our neighbors, both children and adults, face this kind of treatment daily," Mitchell said. "We were appalled. And we said, enough. We can do better. We must do better."
Mitchell said she welcomed the Freedom Fighters to Saline.
"They are here to talk to us about common sense police reforms, common sense societal reforms, that we need to look at now.  The Freedom Fighters are here so that we might stand strong together. Thank you for being here – together we will do better," Mitchell said.
There were about 50 people at the Brecon Park gathering and most of them joined for a lengthy demonstration. The group marched up Watson and Nichols to Harris Street, turned at Clark Street, went north on Maple to Michigan Avenue, and then went west to Ann Arbor Street, before taking Bennett Street back to Harris and through the neighborhood back to Brecon Park.
Along the way, Saline residents applauded from their front yards or honked their horns and cheered support from vehicles.
Imura said he was heartened to see the Saline residents who joined the demonstration reach out to friends and neighbors during the demonstration.
"You're empowering those people because they trust you. What you're doing is showing them you're not afraid to stand up for what's right," Ibura said. "And then that empowers them to go home and maybe have a conversation about what's right or look for organizations that can help oppressed people, or work on racial bias, or their own internal racial bias. If you're my friend and I see you standing up for what's right, I'm more likely to take that stand, too."