SOFTBALL: Hornets Sweep Tecumseh, Improve to 7-0
Image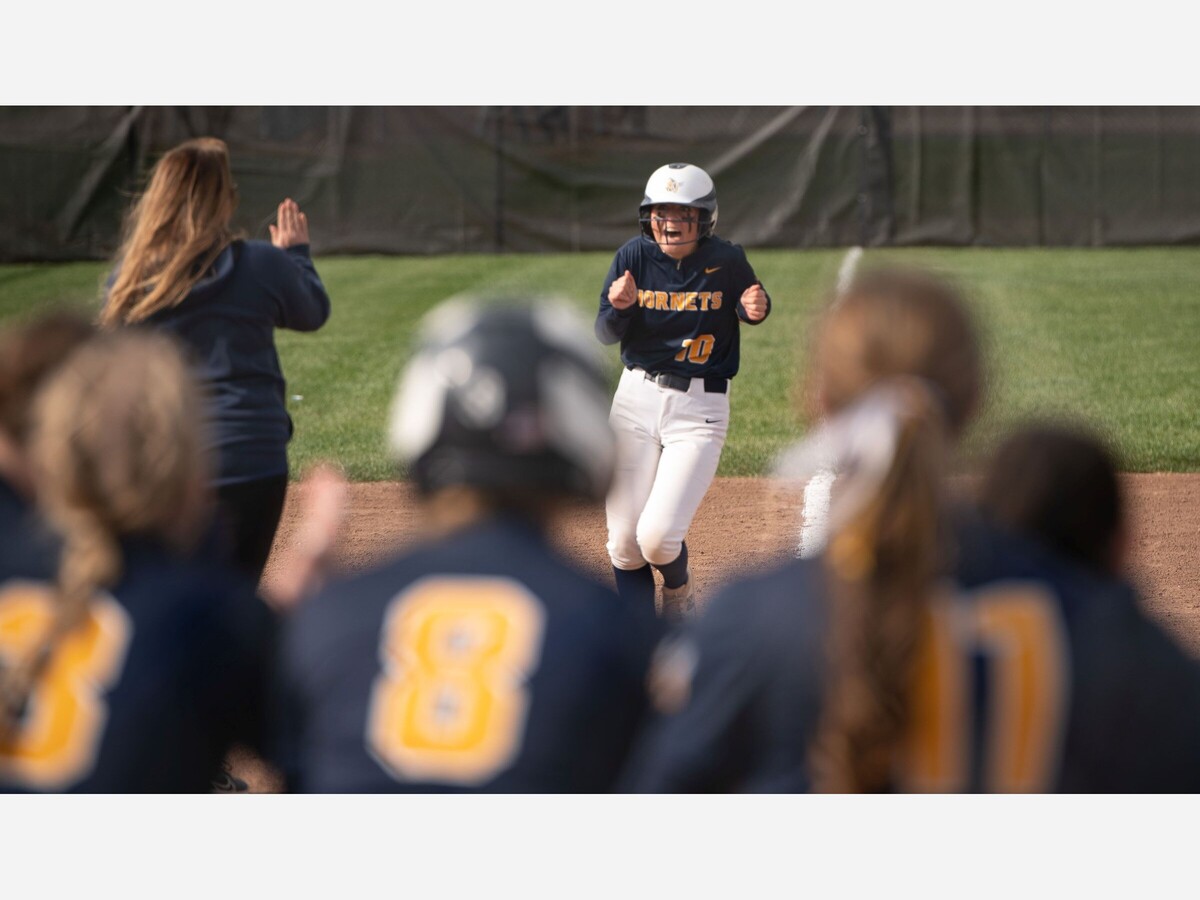 TECUMSEH – Saline swept a doubleheader, 12-1 and 12-0, at Tecumseh Wednesday to improve to 7-0 on the season.
Karli Dorr pitched a complete-game three-hitter in the opener, giving up one earned run. She walked none and struck out 11.
Dorr was also 2-for-3 with a home run and three RBI for Saline. Leah Holloway also homered for the Hornets.
The game was scoreless until the top of the third.
Dorr led off with a walk. Lanie Lipowski bunted for a single, moving courtesy runner Lily Evans to third. Sydney Hastings grounded to short, scoring Evans. Kaleigh McClelland singled to score Lipowski. Clara Cherry doubled to center to score McClelland.
In the fourth, the Hornets added a run. Emily Sweetland led off with a walk. She took second on a single by Izzy Deveau. The runners advanced on a ground out by Dorr. Sweetland scored on an error when Lipowski grounded to third.
Saline blew the game open with six runs in the top of the fifth. Hastings started the inning with a single to center. McClelland bunted to the pitcher for a single. Hastings took third. Cherry hit a ground ball to first and reached on an error. Hastings scored. Saline led 4-0. McClelland scored on a wild pitch. Then Holloway hit a fly over the leftfield fence to make it 7-0. The Hornets kept swinging. Izzy Deveau singled to left. Dorr homers over the leftfield fence. Saline led 9-0.
Saline added three more runs in the seventh. Sweetland walked and Delaney Lee singled. Deveau walked to load the bases. Dorr singled to left, making it 10-1. Hastings reached on an error by the rightfielder, scoring Evans and Lipowski. Saline led 12-1.
Saline won the second game 12-0. Deveau scattered four hits and a walk over five innings for the victory. Cherry went 2-for-2 with a home run, two runs and three RBI. Holloway was 2-for-3 wth two runs and an RBI. Hasingtons went 2-for-3 with two RBI and two runs. Hastings and Sweetland (1-for-3, two RBI) also hit doubles.
Saline scored two in the first, two in the third and eight in the fourth. The game was called after five innings due to darkness.
In the first, lead-off hitter Hastings was hit by a pitch. McClelland reached on an infield single and Cherry walked. Holloway's fly to leftfield scored Hastings. McClelland and Cherry also advanced. Sweetland's fly to right scored McClelland.
In the third, Cherry singled to single and Holloway singled to left. Sweetland loaded the bases when the shortstop made an error. Lee was hit by a pitch, scoring Cherry. Deveau grounded to short, scoring Holloway.
Deveau allowed two hits and had runners at first and third with one out in the bottom of the third. She struck out the next batter and got the third out on a ground ball to Sweetland at shortstop.
In the top of the fourth, Saline added eight runs. With one out, Hastings doubled to right.McClelland walked. Cherry followed with a home run over the centerfield fence. Saline led 7-0.
Holloway singled to center and scored on Sweetland's double to right. Lee drove in Sweeland with a single to center to make it 9-0. Deveau singled to right, moving Lee to third. Evans singled to left, scoring Deveau. Hastings singled to center to score Evans and Deveau. Saline led 12-0.