Award-Winning Author Speaks at Saline District Library
Image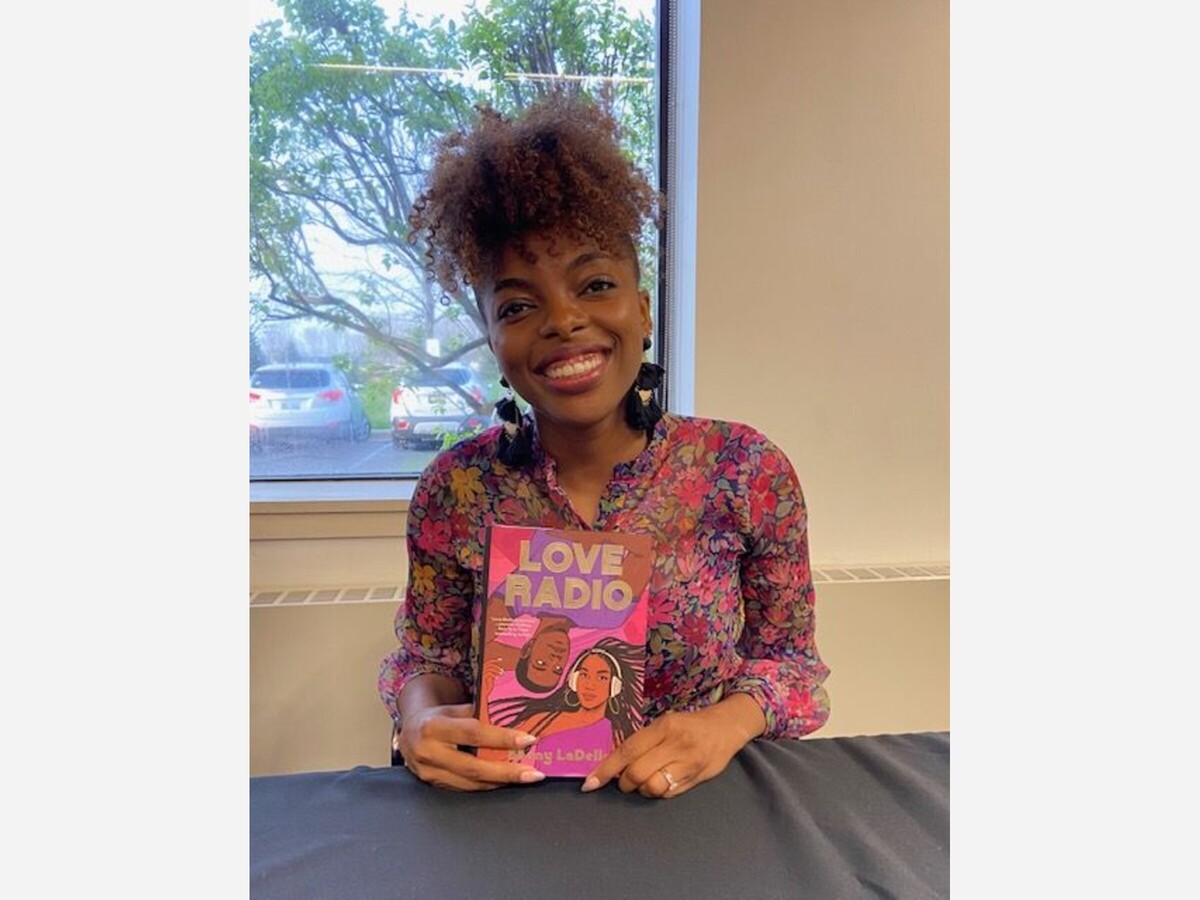 The Saline District Library was the host for the 2023 Michigan Notable Book Authors Event this week. The featured guest speaker was Detroit native Ebony LaDelle, author of the award winning book "Love Radio," published by Simon and Schuster in 2022.
LaDelle read an excerpt from the novel, spoke about her career in publishing, and answered questions from guests in attendance. After her talk, she signed copies of the book, which were made available for purchase by Fine Print Bookshop.
Born in Detroit and raised in Southfield and Oak Park, LaDelle went on to receive a degree in marketing from Howard University. She worked in publishing for Penguin Random House and Harper Collins, notably serving as brand marketing director to President Barack Obama and Michelle Obama.
LaDelle, who now resides in Washington D.C., began writing her Young Adult romcom novel during the pandemic.
"I wrote most of Love Radio during COVID. It was very much a balm for me at that time, as things were so bleak," she said. "I wasn't able to see my family and friends. I was quarantining, and I kind of used writing the story as a way to stay connected to family and friends, to highlight joyful moments and reminisce."
She took this time to pursue a dream she had held since childhood.
"I thought about what I would want to read and what my friends would want to read at that age. And also, because I was in marketing in the teen space for over five years, I thought about what teens now would want to read. Though the timelines are different, many of the things that I wanted are what teens want today."
As the writing began to take shape, she knew she wanted the story to be an homage to the Motor City.
"One of the things I kept going back to was growing up in Detroit, and me and my mother driving to and from school and listening to the radio. I can't write a book about radio and music and not have it set in Detroit," she said. "Once that came about, everything came alive. I also realized that I had never seen a Young Adult romance set in Detroit."
One of her goals was to show the city in a positive image, as opposed to the negative side that is often portrayed in the media.
"We should be able to see the grit and the beauty. The city of Detroit became a character in itself."
After publication, the book was featured on the Today Show, and was also chosen by People Magazine and Amazon Editor's Pick as one of the best books of 2022. In addition, it was a 2023 Audie Award finalist and one of this year's Michigan Notable Books.
LaDelle described her evolution as a publishing insider and novelist. She explained the process, from finding an agent to re-writes and cover art input.
"Some people are plotters and some are pantsers - they fly by the seat of their pants," she said.
LaDelle feels that she works best with an outline, and keeps to a regular writing schedule whenever possible. Her advice to other would-be authors reflects her discipline.
"Show up to the page every day."
LaDelle is currently working on her second novel, with hopes that her first novel may make it to the screen one day.
"There is Love Radio movie interest," she said. "I'm keeping my fingers crossed that it actually happens."
More News from Saline