434 Hornets Graduate from Saline Area Schools
Image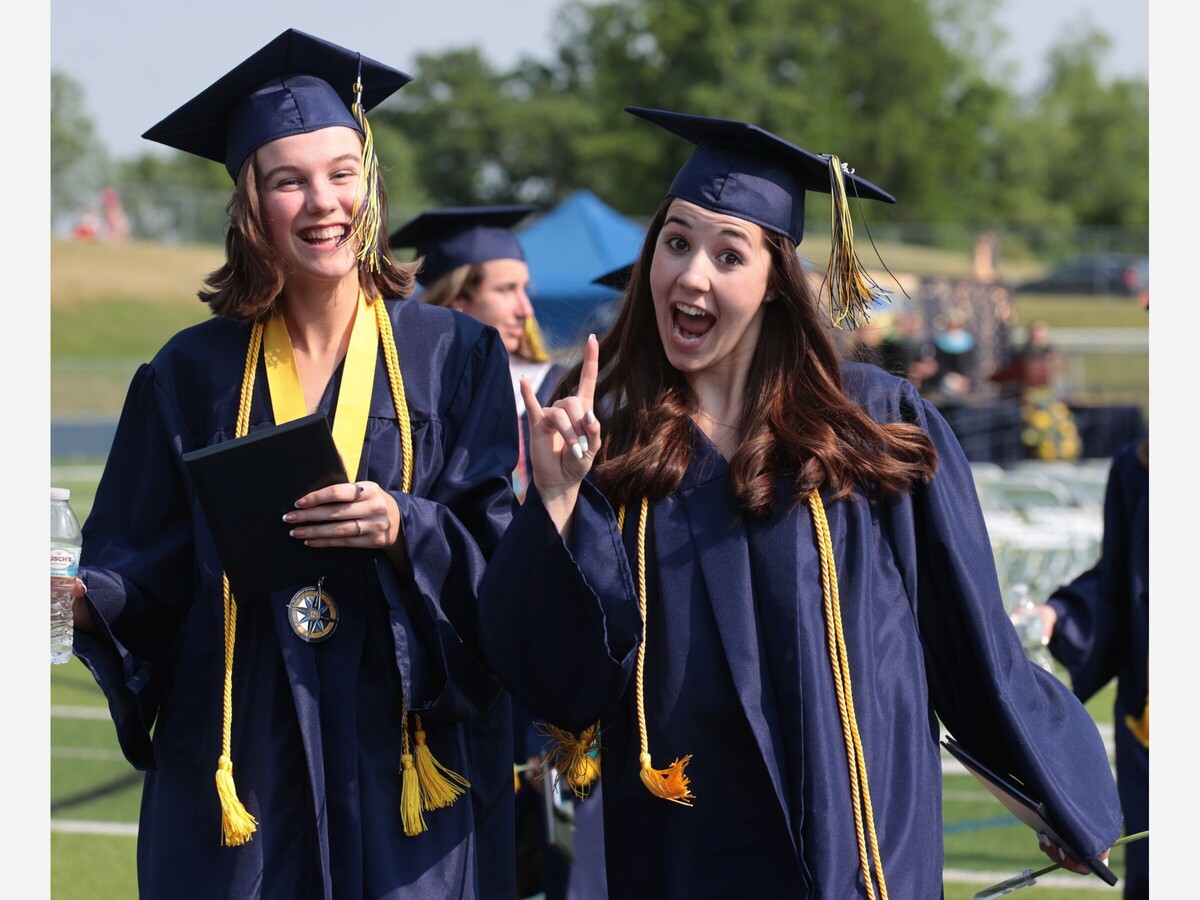 434-strong, the Class of 2023 officially completed their journey through Saline Area Schools Sunday, as commencement ceremonies were held at Saline High School's Hornet Stadium.
Links to 4 Photo Galleries:
The ceremony, held under beautiful sunny skies, was filled with song, reminiscences and optimism for bright futures.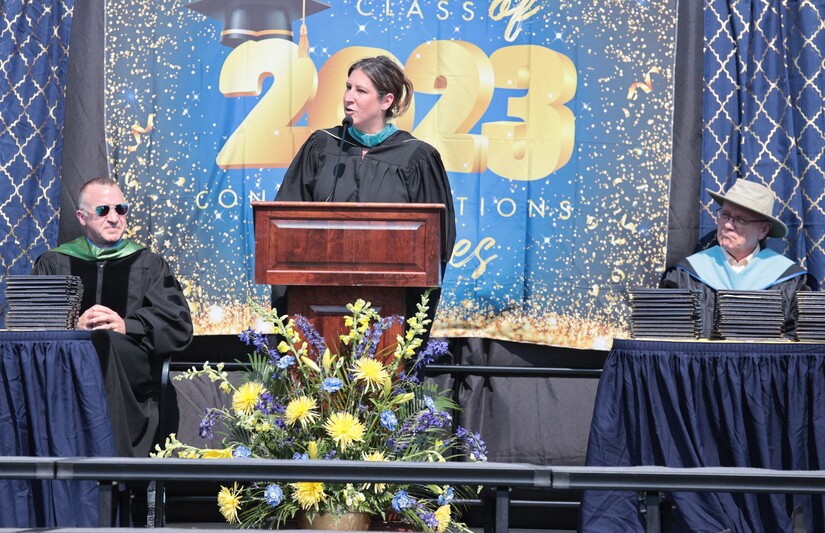 Saline High School Principal Theresa Stager said the class of 2023 - the 155th graduating class from the school - excelled in academics, athletics and other activities.
"Their academic achievements have been outstanding. Saline High School has once again been recognized as one of America's best high schools," Stager said.
She provided several facts about the Class of 2023:
Saline's advanced placement test pass rate is tops in Michigan.
There were three National Merit finalists.
There were 18 National Merit Commended Scholars.
200 students are graduating with a grade point average of 3.667 or higher.
The class received local scholarships totalling over $120,000.
80 percent of the graduates will attend a four-year university or college.
12 percent will attend a two-year educational program.
Others will attend trade schools, join the workforce or join the military service.
She said the character of the Class of 2023 was a tribute to the students' parents, families, school and community. Stager thanked the class for an exceptional four years.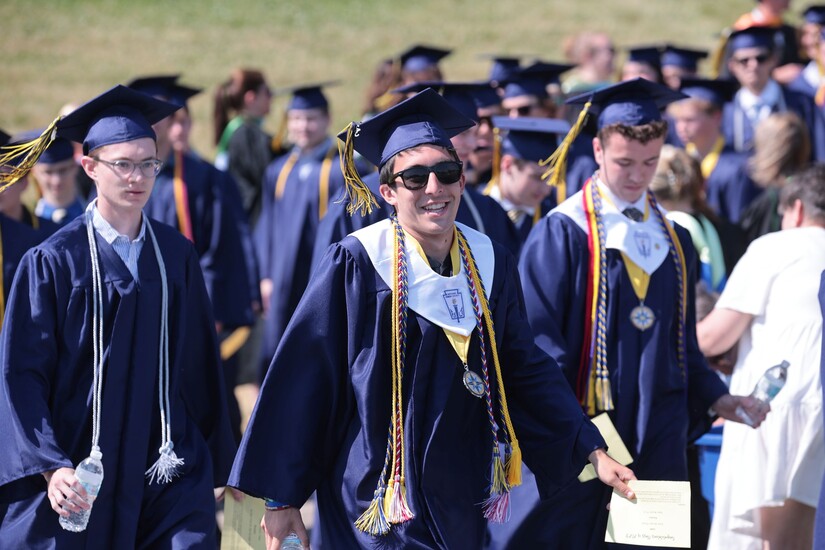 The ceremony began with the processional as the band and symphony orchestra performed Pomp and Circumstance.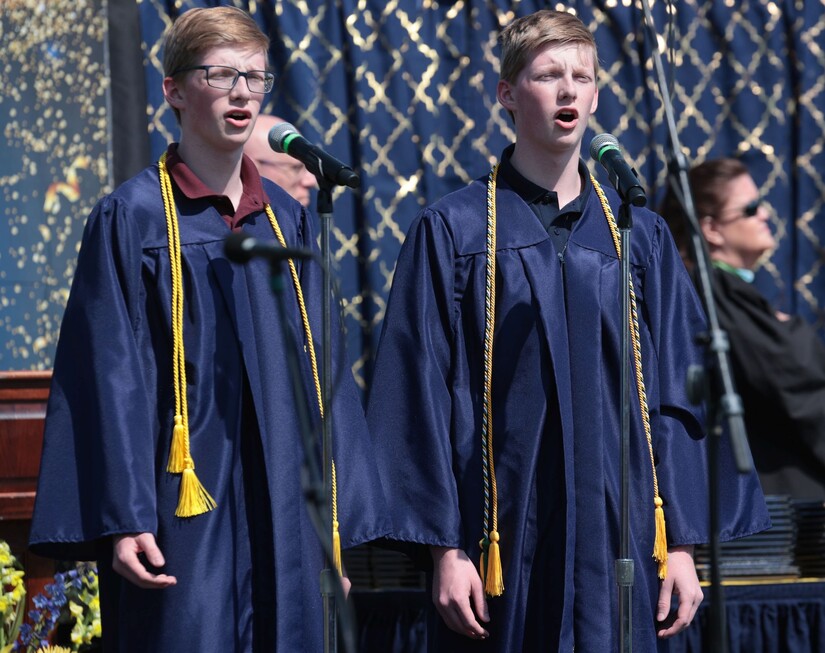 Luke and Quinton Johnson sang the national anthem.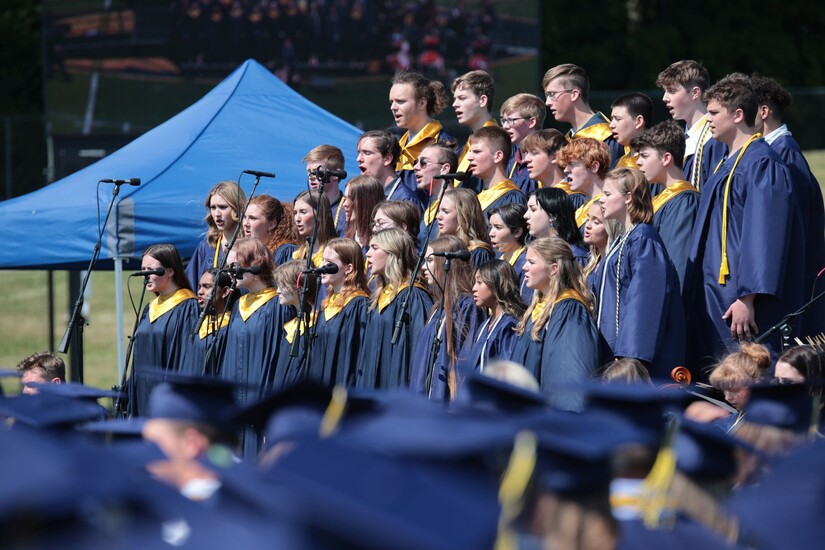 The chamber choir and senior members of the orchestra collaborated and combined the two senior Class Songs, Don't You Forget About Me, by Simple Minds, and Long Live, by Taylor Swift.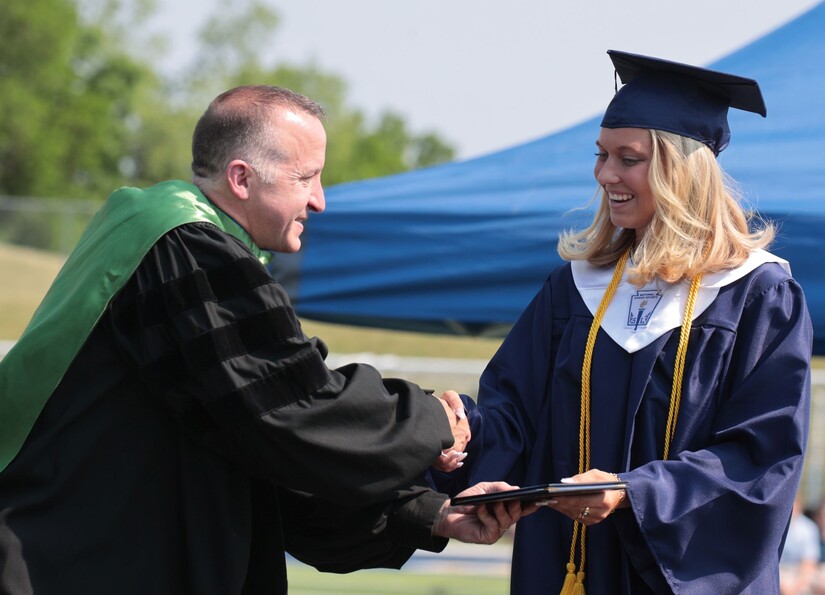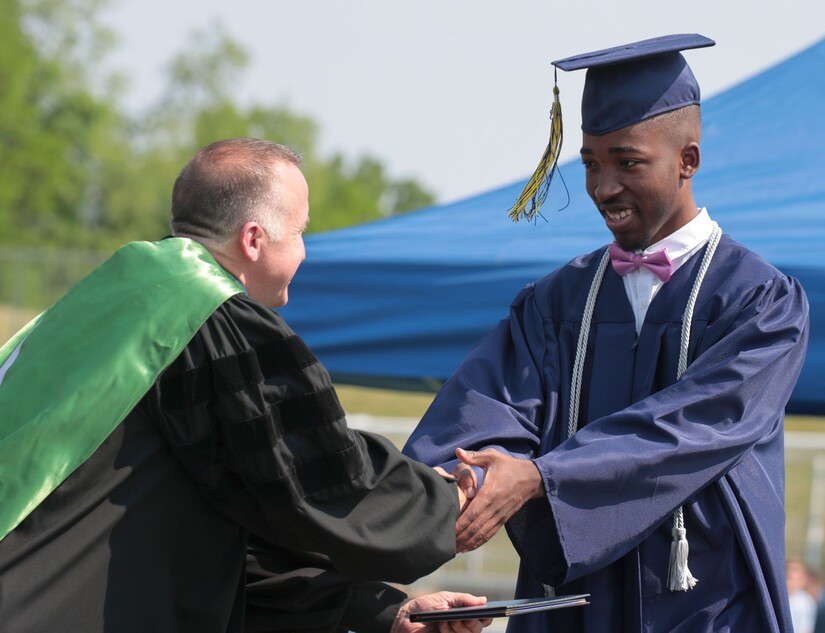 After Principal Stager introduced and presented the Class of 2023, Superintendent Dr. Steve Laatsch presented the diplomas. Then, one by one, students crossed the stage at the 50-yard line, collected their diplomas, and shook the hands of Dr. Laatsch, Principal Stager, Alternative High Principal Carol Melcher, School Board President Michael McVey and even, for a time, school resource officer Lamar Gassaway.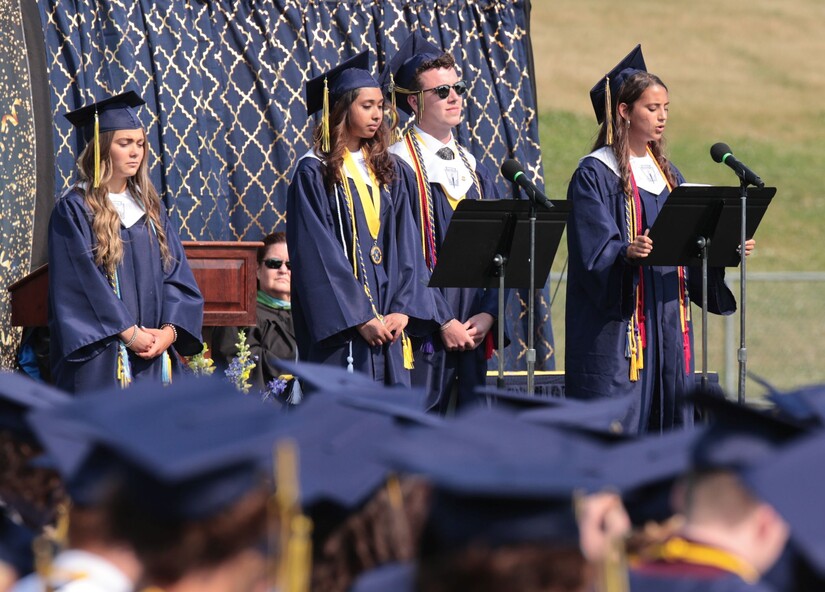 The senior address was given by senior class officers Carson Caldwell, president, Sia Agarwal, vice president, Rachel Bryant-White, secretary, and Aiden Burke, treasurer, after Caldwell called for a moment of silence for Trisca Beasley, the high school math teacher who died in September. Beasley "inspired everyone she came across," Caldwell said.
Bryant-White described the Class of 2023's journey through high school.
"From being lost in the hall and also probably being lost within ourselves to standing here today and reflecting on these past four years and looking forward as we step forward into the next chapters in our lives, we must remember to cherish the memories of our days here and what these four years have taught us," Bryant-White said.
Burke recalled the COVID-19 lockdown that extended spring break for the rest of the school year and into the sophomore year.
"But in the end, we stuck together, knowing it was the only way to navigate such an unknown way of life, despite not knowing what was ahead," Burke said.
He recalled the Zoom classes and asynchronous Fridays.
"We quickly became the class of adaptability," Burke said.
In the spring of 2022, regular classes resumed.
"We stuck together. Yes, there were some hiccups along the way, but we will forever be united by this one-of-a-kind experience," Burke said.
Argawal also touched on the COVID-19 experience.
"We went from cheering two weeks off school to having to go through an important period of our lives in isolation," she said. "We grew into mature adults and found out more about our interests and values."
Argawal said the Class of 2023 is part of the generation of change.
"After an era of movements, protests and growth, we are now stronger than ever and I am proud to say we are ready to face the future as individuals who are passionate, mature and strong," she said.
Caldwell encouraged students to look to their left and right and notice the remarkable individuals at their side. She invited her peers to embrace the moment and cherish the memories they've made while also looking forward with excitement and optimism.
"As I look out to the sea of graduates beside me I am filled with a profound sense of hope ad possibility. I see a group of individuals who have persevered and shown remarkable courage and strength. Through all our challenges, we have emerged stronger than ever before," she said. "I am honored to be part of a graduating class that has shown such resilience and determination."
She said the Class of 2023 is uniquely positioned to make a positive impact on the world in diverse ways.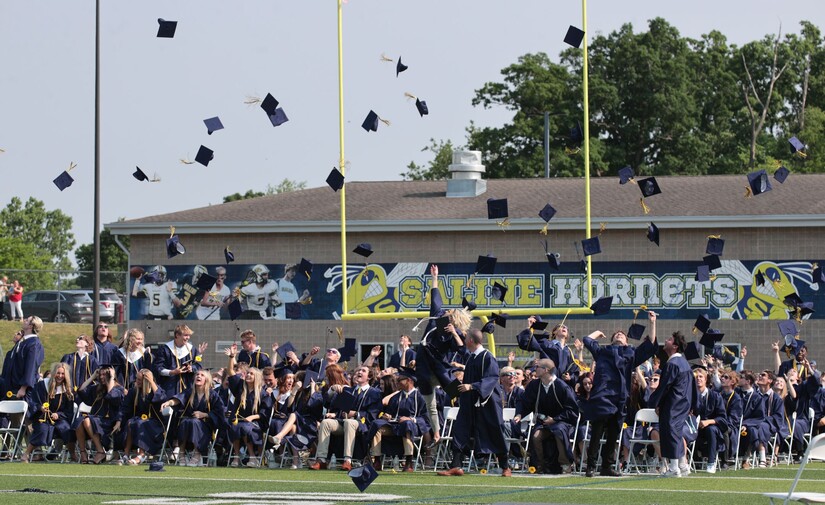 Caldwell invited her classmates to move the tassels from the right to left. Seconds after they did, the graduates gleefully whipped their mortarboards into the air.
Principal Stager made a few closing remarks, congratulating the class on everything it has accomplished thus far.
"You've made us immensely proud and we hope you leave here with a deep appreciation for your time - from your first day at Saline Area Schools, to this very moment," Stager said. "May your experiences, memories and lessons learned carry with you as you move on. Congratulations. Thank you. And go Hornets!"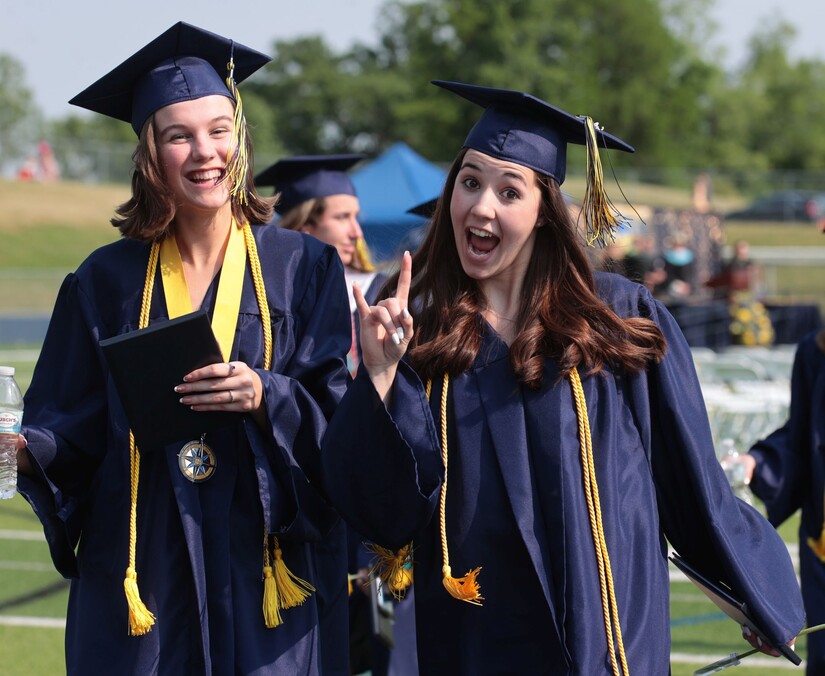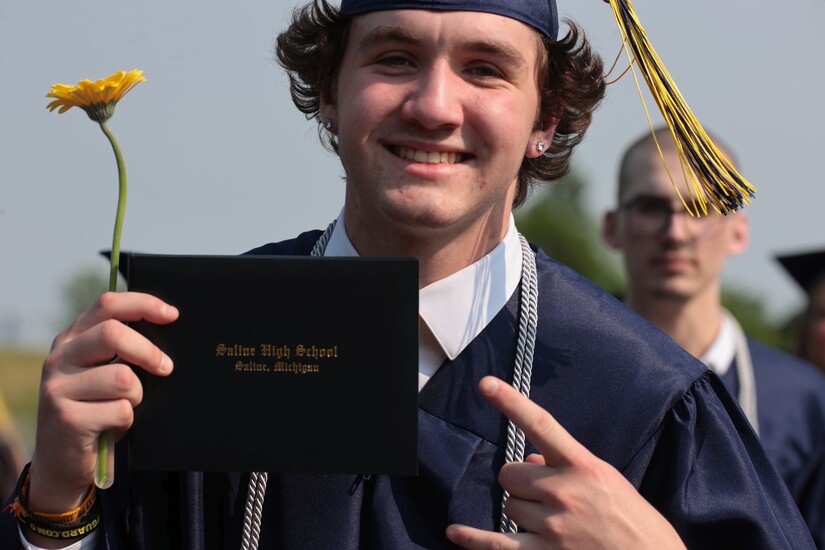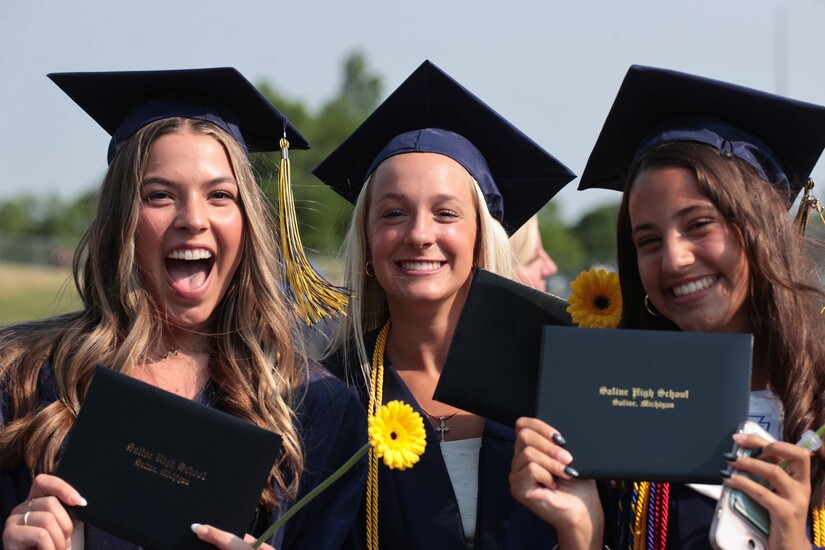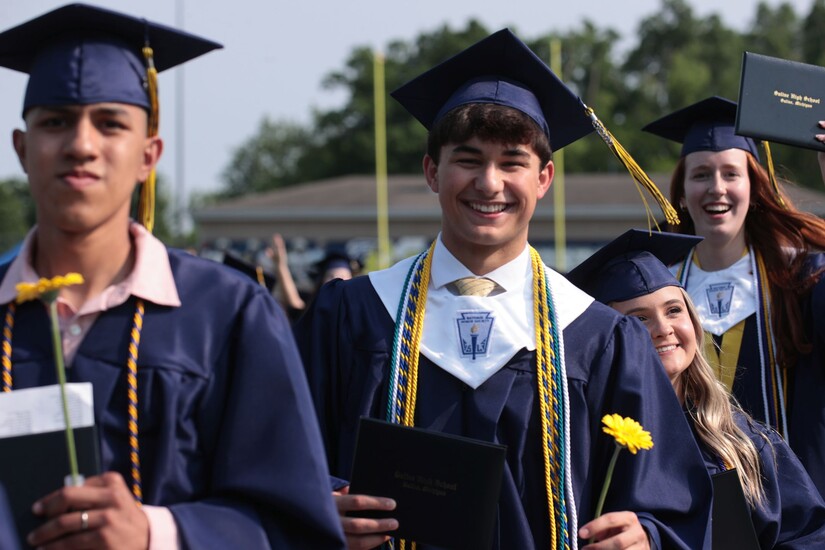 More News from Saline