Local Chef Priti Kaur Is Growing Tiffin Tonight, Her Indian Cuisine Business
Image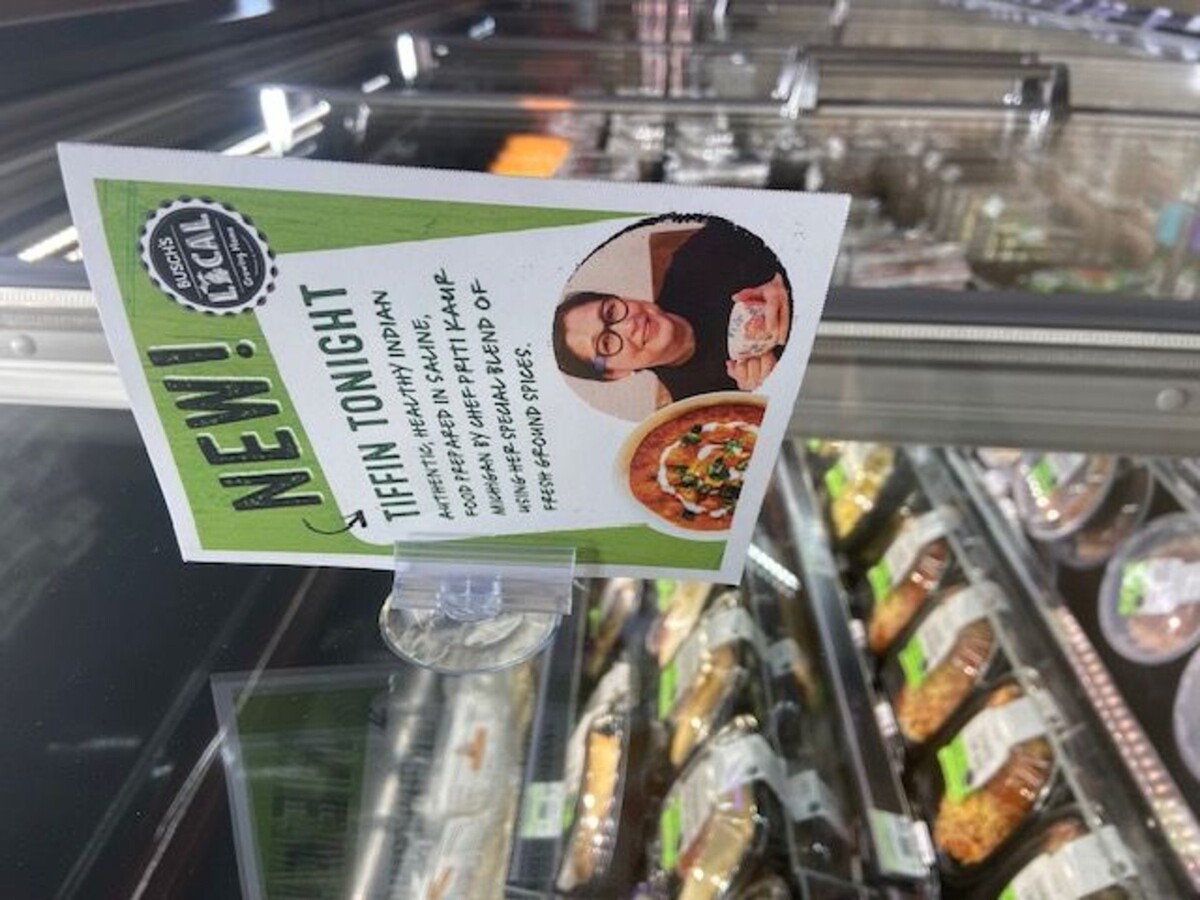 Local chef Priti Kaur has always enjoyed cooking for others. As the director of Cozy Heart Childcare Center for over twenty years, Kaur was often cooking and baking for children. In time, the parents began asking Kaur to cook for them as well. Soon, she was making Indian-inspired meals for families to take home and enjoy.
"The parents would say 'We would love to have your cooking.' I would put out a menu, and on Fridays they would walk home with small orders. I thought 'Maybe I should play a little bit more, in a licensed way, where I can market and see."
In 2019, she got her license, rented a kitchen in Ann Arbor, and began cooking on the weekends. She began selling meals at Argus Farms, and was soon selling at Agricole Farms and White Lotus Farms. The business, which is called Tiffin Tonight, took off from there.
"A Tiffin is a stainless steel lunchbox," Kaur explained. "Tiffin comes from that time during the British Empire when they would eat hot lunches during midday."
Kaur has happy childhood memories of eating Tiffin lunches under the shade of the mango trees during school days. Today, Tiffin lunch deliveries are a big business in India, with meals being catered to school children as well as office workers.
When the COVID-19 pandemic closed her childcare center in 2020, Kaur began to think of life beyond teaching. She made the decision to close the center permanently and turned to her native cooking.
"I had this passion for food on the side," she said. "This was a challenge for me, to start new. I weighed the options, and I think I made the best decision."
In 2020, she approached the Saline Area Senior Center and spoke with Andrea Lewis about using the facility's kitchen. After receiving permission from Saline schools, she began her operations there.
Kaur, looking to expand her business, offered her services to the University of Michigan. She brought samples to the retail manager of the procurement department and was soon selling at five campus cafes. She now supplies meals for nearly 13 cafes at the university.
"Pop-up culture started growing," she said. "It's a really nice culture, being local. They know you, one on one. There is so much respect for the local people and the vendors. You are greeted well, and the food is respected. There is some kind of spiritual contact with food, and I see that with local vendors and growers and farm stops."
"Everything is being made with fresh ingredients," Kaur said. " Ginger, garlic, I grind my own. My spices, if you see, the coriander I use, I grind it. The garam masala, I roast and grind it. I sell these, too. I sell ghee made with Calder Dairy milk, so fresh and local. The flavors are different than boxed spices. This is homestyle cooking that is authentic and healthy."
When Kaur learned that the Saline location of Busch's supported local businesses, she approached Scott Rossen, who was eager to offer the meals there. She began selling her meals in November 2022. Busch's now sells three options of Tiffin Tonight meals at three other local Ann Arbor stores, with plans to sell in Dexter, Chelsea, Plymouth and Farmington Hills.
Kaur appreciates the help she has received from friends and family in her business.
"The team is really good. They are all my friends from my past childcare center. The kids who grew up under my care, they come and work. I still have that relationship with all the families."
Tiffin Tonight offers premade meals, wraps, and smoothies, with the menu options varying at different locations. For more information, visit tiffintonight.com.
More News from Saline