Author and Game Designer Kyle Ott Visits Fans at R U Game?
Image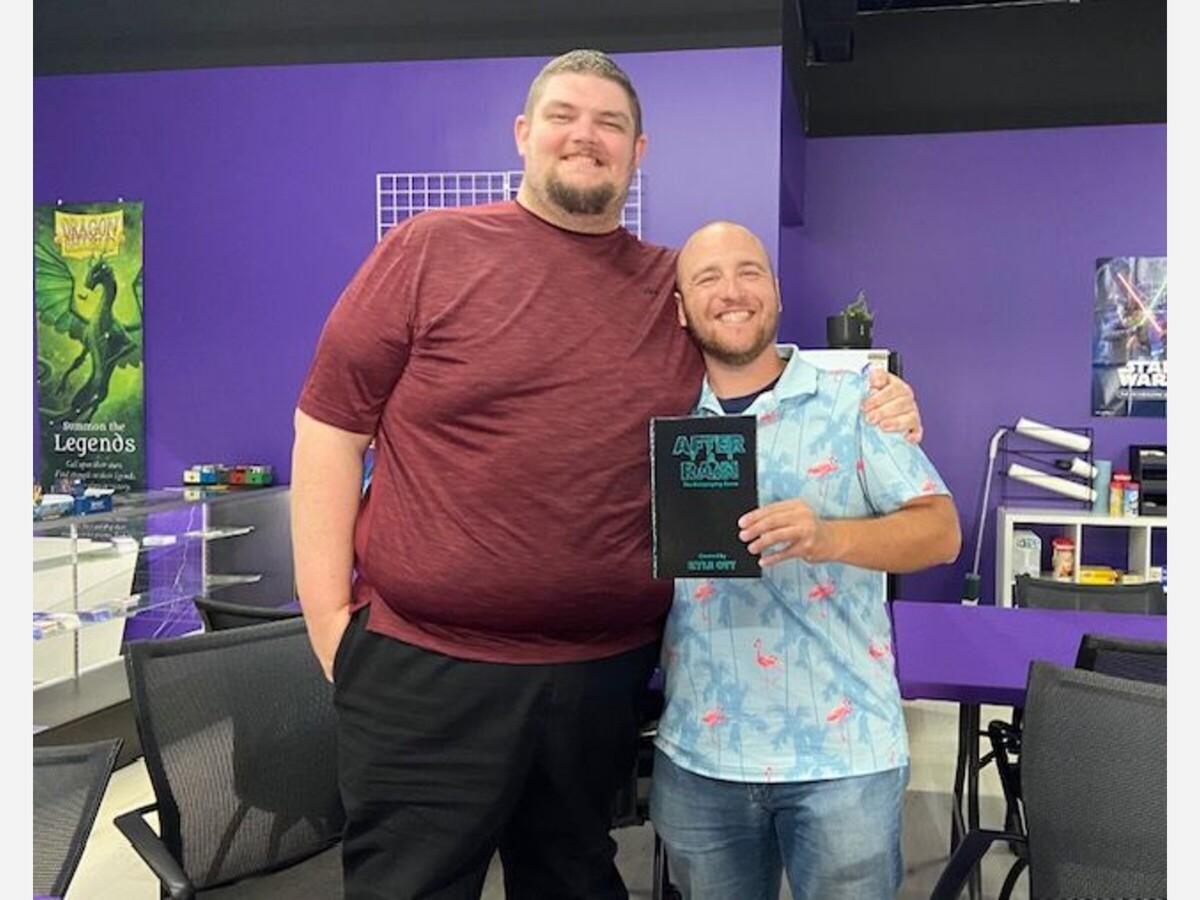 Kyle Ott, a Pennsylvania-based board game designer, recently visited R U Game? to sign copies of his books and debut his latest board games with fans in the community.
Benjamin James, owner and operator of R U Game? store in Saline, has been friends with Ott for several years, and was happy to offer his patrons the chance to meet him in person. James was pleased with the turnout for this two-day event, which took place on Saturday and Sunday.
"We moved a good number of copies of the books, which means a lot of people came in to meet Kyle," James said. "He introduced people to a lot of his games, and he has a new one that just came out called "A Fear Within".
Ott thought this was the perfect opportunity to visit the store, which opened in the Michigan Avenue storefront in late 2022. His game "After the Rain" has received international acclaim and nominations from NEEIE, the world's biggest game award ceremony.
"Ostensibly, I'm here to sell games and play games and talk about games and game design, but really I'm here to share the experience with a good friend of mine," Ott said.
James and Ott have been friends for the past seven years, sharing their passion for the gaming industry. During that time, James realized his dream to open a game store, and Ott pursued his goal to create board games.
"My good friend, Ben James, runs R U Game? here in Saline," Ott said. " He and I met forever ago when we were both working in consulting with another board game company. I started a board game publisher three years ago during the pandemic. We have since got picked up for national distribution, so we sell all over the place, and Ben's store has been carrying my games as well."
Ott began his career in 2012 while attending college in Pennsylvania
" I was writing for Magic the Gathering for some of their websites. I was approached by a college professor at the university to help him design a History in Games course. It was my first paid game design gig. I got paid to go to school and play games. Once that happened, I was hooked."
Since that time, Ott has worked in Escape Room design, video game design, and board game design, and is currently focused on storytelling games.
Ott was able to try two of his yet-unpublished games with patrons.
"We do organized play tests in order to see if a game is worth essentially bringing to market and bringing to sell. We have to see if it's fun first, or if the rules, as written, function. We put out the call to anyone here in Michigan, specifically patrons of the store, to come in and try the games out and test them."
Ott will use patron responses to help fully develop the games before publishing.
"Based on that feedback, what's going to happen is I will go back to the drawing board. If it goes well and I like what we're doing, then I will probably go back through the editing process a little bit."
In addition to designing, Ott is also a co-creator of "Desks and Dorks", a board game design and creation podcast that he launched with friend Riley Parks during the pandemic.
"We were both looking for something to do, and we had joked that we would start a podcast every time we hung out," Ott said. "So I put out a call to all of my friends in the industry and asked 'What is the design you've always wanted to pitch to a publisher but were too afraid you'd get laughed out of the room?' We would bring on other small creators and publishers to interview. It became a cross-section of a very niche part of the industry that wasn't getting a lot of attention."
R U Game? is located at 1345 E. Michigan Ave. For more information on upcoming events, visit rugameonline.com or call 734-316-2045.
More News from Saline