FOOTBALL: Saline Bests Brighton, 42-3, to Open the Season
Image
BRIGHTON - Saline opened the 2023 high school football season with a dominating 42-3 victory over Brighton Thursday. From the surgical opening drive led by senior QB CJ Carr, the Hornets were nearly unstoppable on offense. Defensively, the Hornets gave up a decent drive in the first half, but Saline kept Brighton out of the end zone and got stronger as the game went on.
(More than 1200 photos in our gallery)
Saline head coach Joe Palka was obviously pleased to come away with such a convincing win against a quality football team in week one.
"Obviously we have things we need to work on, like better communication and those kinds of things, but let's be honest, at the end of the day, we're pretty happy. We won 42-3. Our best players played well. Our defense rallied and we kept getting stronger as the game went on," Palka said.
The Hornet attack showcased the skill and savvy of Carr, considered the best high school quarterback in the state, as well as the game-breaking ability of several Hornets, like Caid Fox, James Rush, Ladainian Woods and Jaiden Leonard.
It took less than two minutes to score. The opening kickoff sailed into the end zone. Saline took over at the 20 and Carr went to work, zipping short passes left and right to Caid Fox and Dylan Mesman and James Rush. Precision was the name of the game as Carr was 6-for-6 before handing off to Rush for the 15-yard touchdown run that put Saline on the board.
"It set the tone. It's a hostile environment - a huge crowd, with opening games for both teams. To be able to go down the field and get points right away, it gave our team a lot of confidence," Palka said.
Saline's defense came up with a stop on the next series. The Hornets' next drive was foiled by a sack and a penalty. A fourth down conversion failed and Brighton took over. The Bulldogs put together a good drive and were deep in Saline territory when Ryan Stein came up with a sack on third down.
Brighton's excellent kicker made the long field goal - but Saline still led, 7-3.
(More than 1200 photos in our gallery)
The kicker sent the kickoff into the end zone again. On first down from the 20, Carr tossed a screen pass to senior Ladainian Woods, the newcomer who quickly had everyone scrambling for their roster when he emerged from a pack and then raced past everyone for an 80-yard TD on the last play of a very long first quarter.
Brighton put together another decent drive in response - but once again the Saline defense came up with the big play.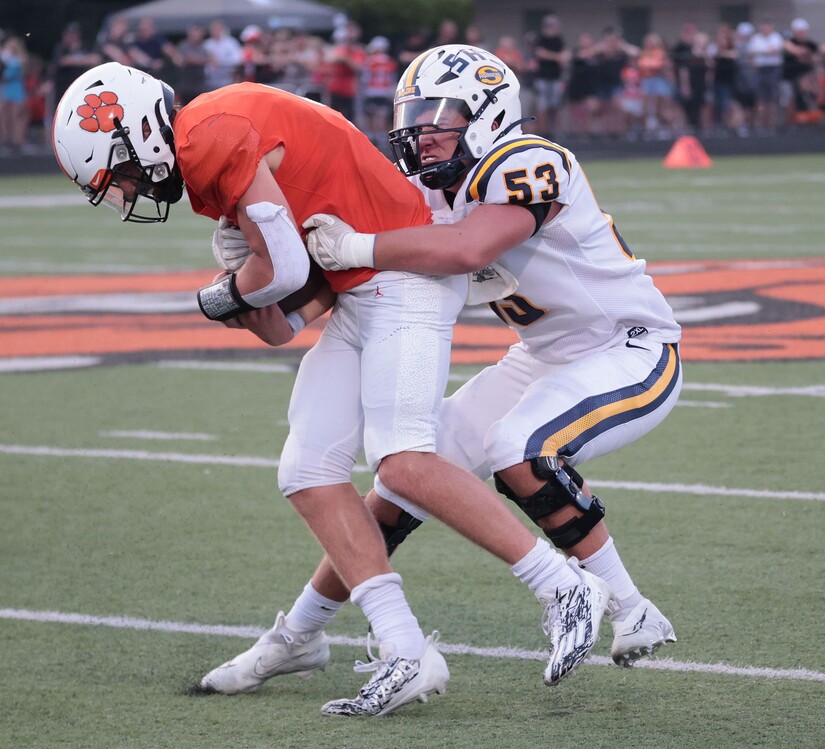 Cam Pawlick stopped the hardnosed Brighton QB Grant Hetherton on fourth town to prevent the Bulldogs from getting any ideas about a comeback. Palka was asked about his defense that bent, a bit, in the first half, but did not break.
"If they score at the end of the half there, it's a momentum boost for them and I think we've got a game," Palka said. "We don't love to bend, but we're a young defense, still, and we're kind of finding out what our niche is. I told our coordinator that I want to be aggressive this year and he was."
Saline added to the lead in the second quarter after another defensive stop. The drive featured Carr running for a first down, airing one out along the sideline to Jaiden Leonard for a big gain, and then doing it again with Caid Fox.
Carr capped the drive, running for a four-yard TD.
Saline took the 21-3 lead into the dressing room at halftime.
The Hornets came up with another defensive stop to open the third quarter.
Saline took over. Carr passed to Fox for a big gain along the Saline sideline. Carr then went to Mesman for another big gain along the sideline. Isaiah Harris rushed in from a yard out to give Saline a 28-3 lead.
It didn't take Saline to get the ball back. On fourth down, the snap got behind the Brighton punter. Ryan Kavanaugh and Ian Furlong dropped him deep in Brighton territory. James Rush followed his blockers in for his second touchdown of the game.
After Jacob Piniatoglou's kick (he was 5-for-5), Saline led 35-3.
Saline got the ball back on an interception by Nolan Klein.
Tommy Carr took over at quarterback. He completed a pass to Josh Folk, but most handed off to Zain Issa, who eventually rushed in for Saline's final touchdown.
Ethan Cotsonika's kick was good and Saline led 42-3.
Palka watched CJ Carr shoot the lights out in an aerial assault last year - but it wasn't enough for the Hornets to go four quarters with the eventual state champs from Belleville. Before the season, Palka said developing the running game will be crucial to the Hornets success. Saline rushed for 5 touchdowns Thursday - two by Rush, and one each by Issa, Carr and Harris.
"We want to get the ball out to our playmakers. And the other thing is, we're blocking the run better than we were doing a year ago at this point and we're running the ball at the running back position than we did a year ago," Palka said. "I'm excited to see us continue to grow in that area."
For years, Palka has employed platoon systems almost religiously. He rarely used players on offense and defense. When he did, it was usually in jumbo packages, or he'd use a defensive back as a running back on a reverse. Late in tight games, the platoon system often gave the Hornets an edge on teams with tired two-way players. This year, the Hornets are using key players on offense and defense.
Dylan Mesman, the highly regarded tight end, was seen playing defensive end and making tackles in the backfield. Linemen Camden Pawlick and Michael Reder are playing both ways. Isaiah Harris played defensive line and rushed for a touchdown. In regular weather, it would have been interesting to see how the Hornets handled the extra load. So, given Thursday's heat and humidity, Palka was impressed by his players.
"I thought they responded great. To ask that many two-way players to go the distance, the whole game, in the heat like this - they did better than I thought they were going to do," Palka said.
Some notes:
It was Saline's first win against Brighton since an 18-0 victory in 1978. Brighton had won 4-0 straight - though the two teams hadn't played since 2000. Saline is now 5-6 against Brighton since 1950.
Dylan Mesman, one of the best tight ends in high school football, lined up at defensive end several times and was a force. 
Other players going both ways included Isaiah Harris, Camden Pawlick and Michael Reder. Coach Joe Palka said the Hornets managed the extra load really well, especially given the heat.
The bus carrying Saline's offensive players went off the road and into a ditch near the rest area on Southbound US-23 before the M-14 exit. There were no injuries. Most players switched buses. Some players were picked up by family. It's not clear what caused the bus to leave the road, but the buses were traveling through a storm that carried heavy rain and strong winds.
Saline has won on opening night four straight seasons since the 35-21 loss to Chippewa Valley.
Saline hosts Dexter at 7 p.m., Friday.
In other SEC Red action, Skyline defeated Burton Bentley, 30-18, Lapeer beat Huron, 40-13, and Monroe beat Jackson, 24-6.
(More than 1200 photos in our gallery)
More News from Saline