Children's Day at the Saline Community Fair
Image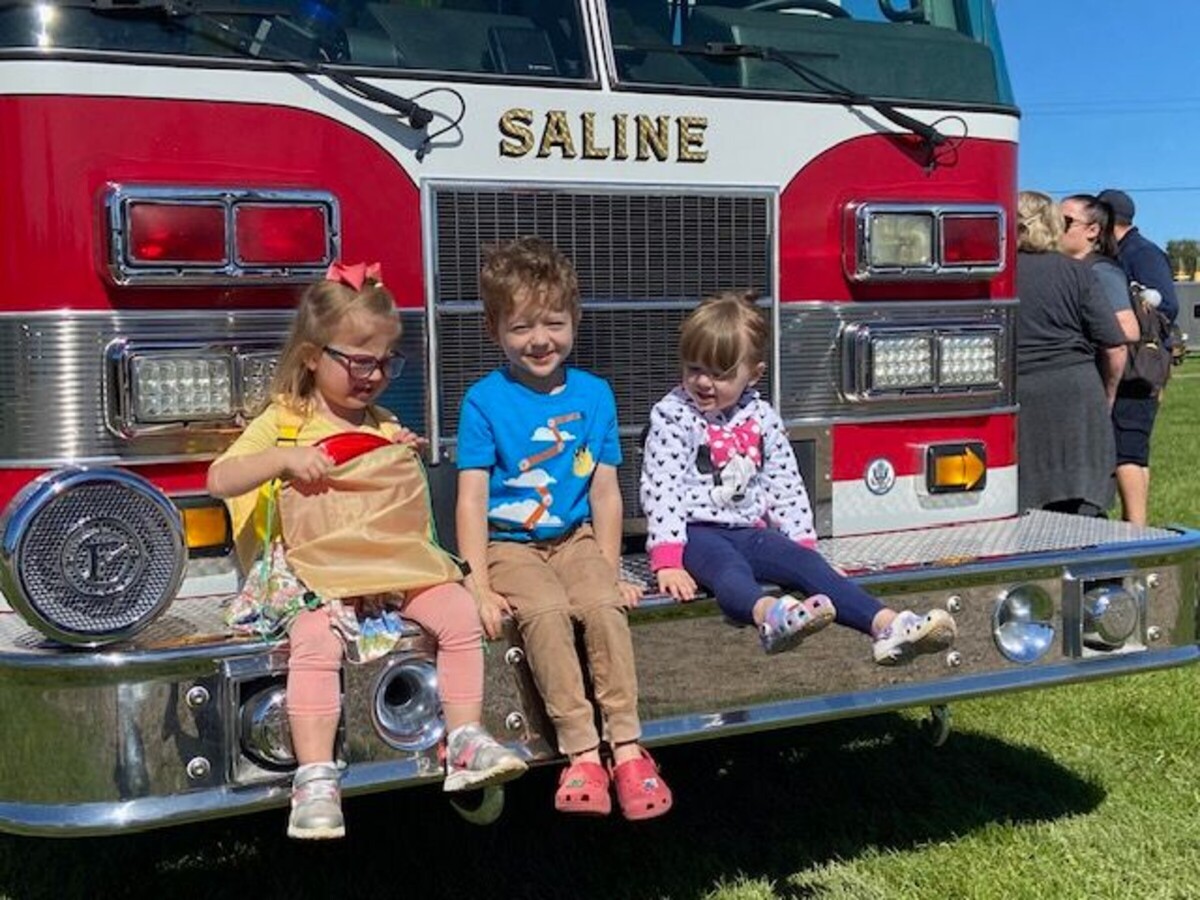 Saline Community Fair hosted Children's Day at the Washtenaw County Fairgrounds. The morning began with the popular Touch a Truck event, held from 10AM to 12 Noon. Children were able to sit in the driver's seat of fire trucks, inspect an ambulance, climb into a bulldozer, and board a school bus.
Deputy Jessica Wion is the Community Engagement Deputy for the Washtenaw County Sheriff's office. She was on hand to let children see a sheriff's car, and to test drive a mini version themselves.
"It's important for kids to realize that police are their friends and they are not scary people, and they can interact with us," Deputy Wion said.
Jake Herter from the Saline Fire Department was also available to give kids a firsthand fireman's experience.
"They always ask us to come out and bring the fire truck so the kids can see it and play with it and crawl in it. They love it," Herter said. "We've been doing it for a long time. We love being here, and being a part of the community. It's fun."
Local mom Jessica said that she came to the fair with her children and friend Ashley for Touch a Truck and the Kid's Day.
"The kids really enjoy the various trucks they can talk about, get on, and touch," Ashley said.
Busch's Market kept guests fed and hydrated for the event. Kayla Smith and Sammie Gionatti represented Busch's Saline location, passing out free items to anyone who stopped by the iconic vintage Busch's truck.
"We're trying to hand out some good stuff for the kids. We've got bananas, apples, snacks," Smith said.
"We've got little Busch's cups and magnets and keychains," Gionatti said.
One of the new attractions this year was the Smokin' Hot Gun Slingers Mounted New Shooters Clinic at the horse arena. Guests could watch horses and riders as they paired experienced horses with those in training on the course.
Kasen Smith, age one, enjoyed seeing the horses with his mother Jentzen and great grandparents Paul and Sharon Buckholz, owners of Washtenaw Glass Company.
"He could stay here all day. He likes the horses," Paul Bucholz said.
Kasen, who was this year's First Place Blue Ribbon winner in the One Year Old category at the fair, also enjoyed the Touch a Truck event.
"He didn't want to get out of them. He had a wonderful time," Sharon Bucholz said.
The Comedy Farm Magic Review provided tricks and laughs as Farmer Jon and his lie-detecting chicken performed for the audience.
Families also enjoyed seeing the animal exhibits at the barns, and learning about farming and agriculture at the displays and interactive play areas.
The Saline Community Fair is open every day until Sunday, September 3. For more information on admission and events, visit salinefair.org.
More News from Saline