Saline City Council: Police Sworn In, City Charter Amendment Resolution Approved, Rezoning Approved and More
Image
Here's a review of Monday's Saline City Council meeting.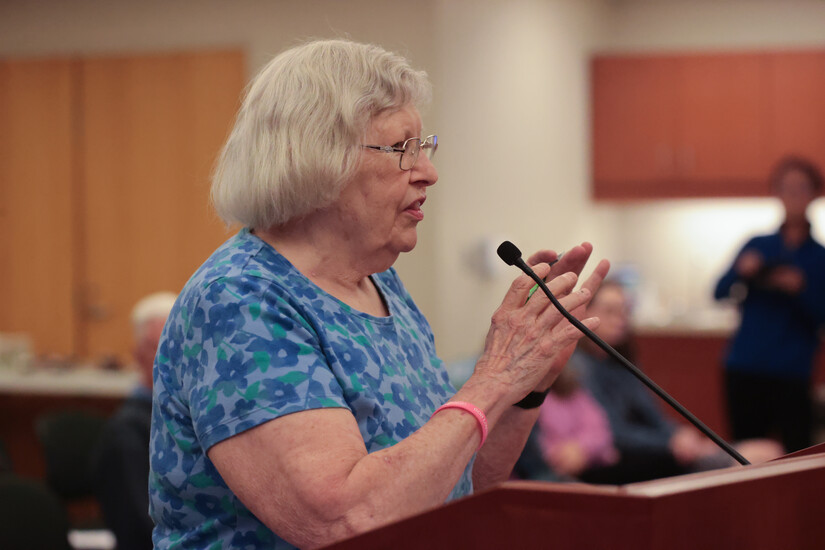 Public Comment
Changming Fan congratulated police officers sworn in. He called the city's new but not yet approved master plan "wonderful."
Mary Hess said she thought the city was rushing proposed charter amendments to the ballot. She also said the city should return to the practice of summarizing public comment as part of the meeting minutes.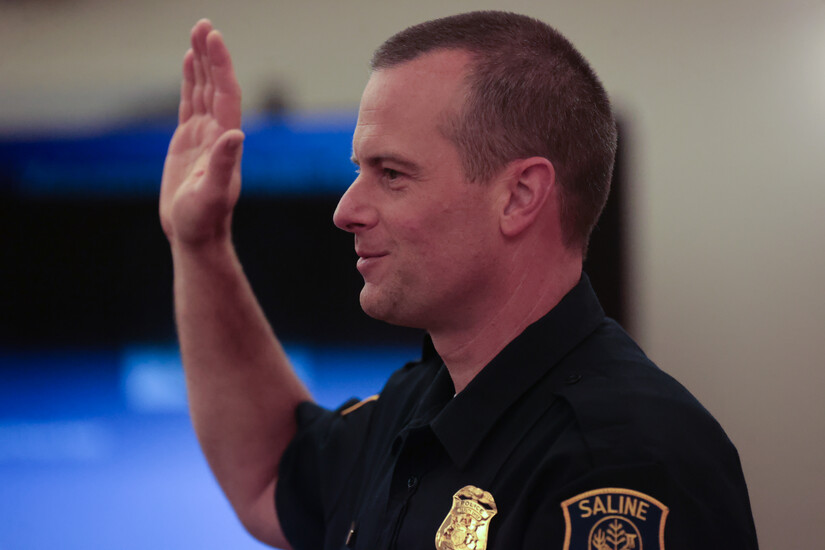 Police Swearing Swearing-In
Three police officers were sworn in. Andrew Hartwig was sworn in as Deputy Chief of the Saline Police Department.
Kelsie Anndrews and Paul Rakovitis were sworn in as road patrol officers.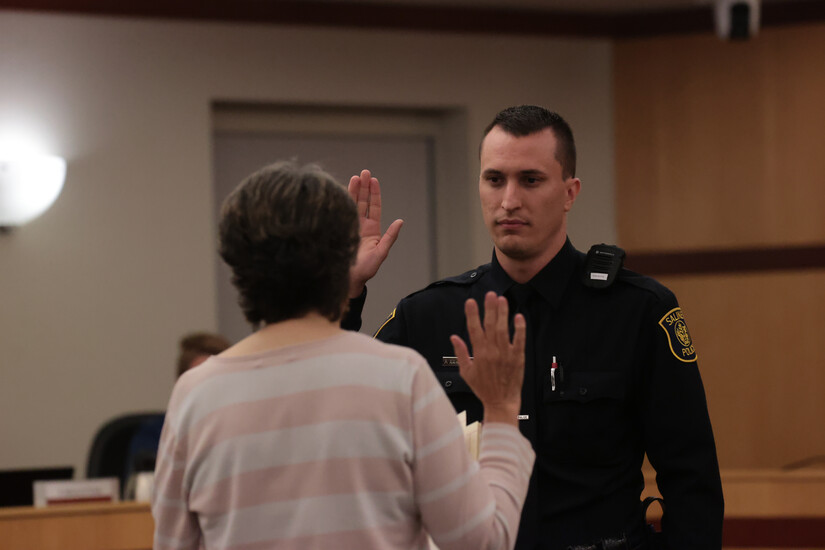 After the swearing-in, officers had their lapels pinned to their uniforms.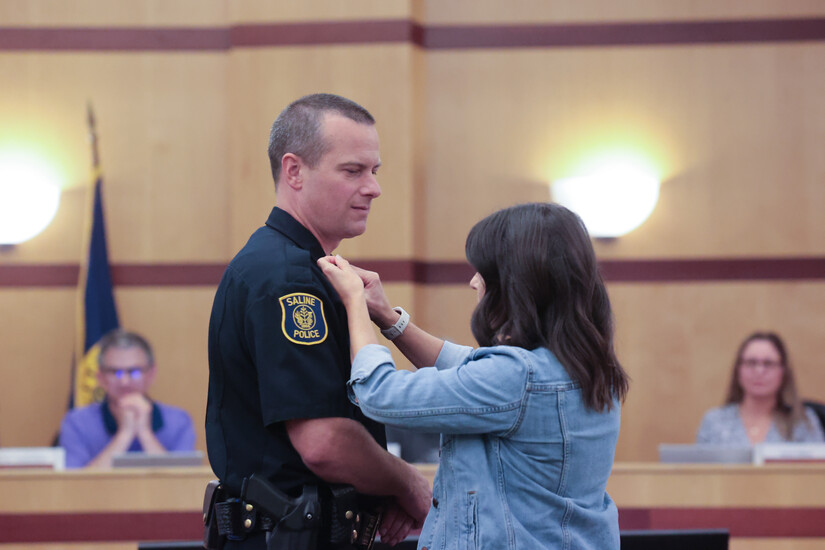 Rakovitis recently graduated from the academy at Washtenaw Community College. Andrews worked in Garden City before coming to Saline.  Hartwig served as sergeant and road patrol before his recent appointment as deputy chief. 
Mayor Brian Marl thanked the new officers for choosing Saline for their law enforcement career and wished them well. He noted that Deputy Chief Hartwig has already spent much of his career in service to the community and said he expected great things in the future.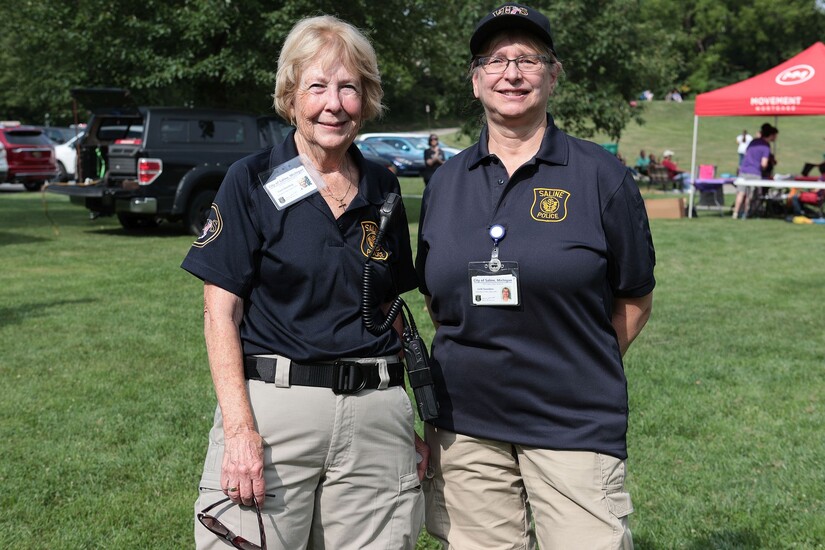 VIPS
Saline Police Chief Marlene Radzik gave a brief presentation about Volunteers in Public Safety program. The program recently drew some flak from the public when it was advertised on the department's social media channel. Chief Radzik explained the volunteer program was a supplement to daily operations in the department and a vehicle for community engagement.
"They are strictly volunteers who stay engaged with the community at events like Summerfest, Oktoberfest and holiday parades," Radzik said. "It's also a way for (the volunteers) to learn about Saline and how we do things, operationally, in the police department."
VIPS was formed under former Chief Jerrod Hart in 2018. Radzik said VIPS are not taking positions from the road patrol. They help at events, directing traffic, answering questions and adding extra eyes and ears. Radzik said the VIPS do not carry weapons or have arrest powers. They have on rare occasions enforced handicapped parking rules. They have also canvassed local businesses for information so the SPD has accurate emergency contact information in its database.
VIPS is down to three volunteers, which is why the SPD began advertising for more. Volunteers must be over 50, have a clear driving record, no criminal record, excellent interpersonal communication skills and a desire to give back to the community.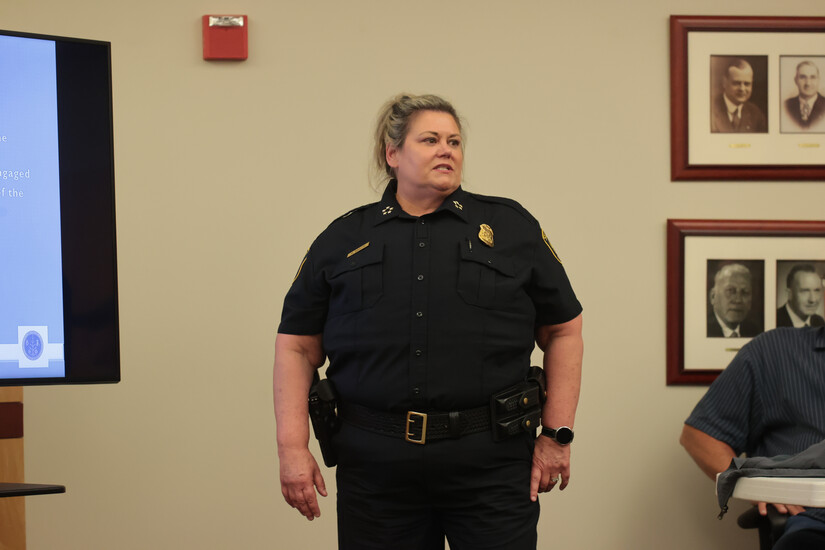 Everbridge Communication Tool
Chief Radzik explained the city has been reviewing emergency public communications since the Aug. 3 killing of Amber Jo Thomas. Radzik said after reviewing the issue with stakeholders, the city is moving forward with a plan to use Everbridge for emergency alerts. The Washtenaw County Sheriff's Office is among the agencies in the county using Everbridge to alert residents on matters such as tornado warnings, emergencies, traffic incidents, construction and utility issues.
Radzik said the local service is run through Washtenaw's Metro Dispatch.
The Everbridge program could also be expanded to other Saline departments or even other entities, like the school district and library.
The city plans to maintain its 411 text service.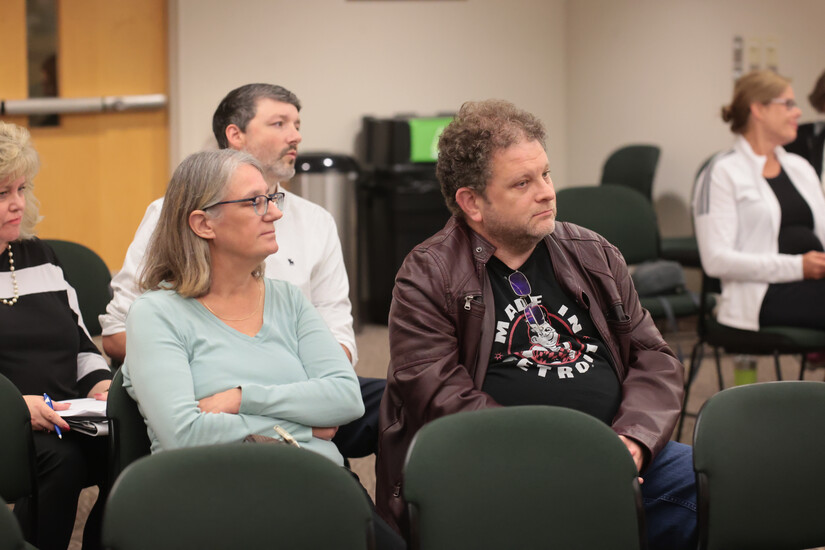 Rezoning of Annexed Property
You might never have guessed that the Saline Picture Frame business, located at 7641 Ann Arbor Saline Road, was part of Lodi Township. It won't be for much longer. The city recently approved annexation of the property and the state's boundary commission is expected to soon approve it. The property is being sold or has been sold to Mitch Rohde, who plans to use the building to store his collection of video game machines. Community Development Director Ben Harrington explained the proposal was to rezone the property from Agricultural to OS - which allows office, professional business and light industrial as uses.
Nobody spoke during a public hearing on the rezoning. Council unanimously approved the rezoning.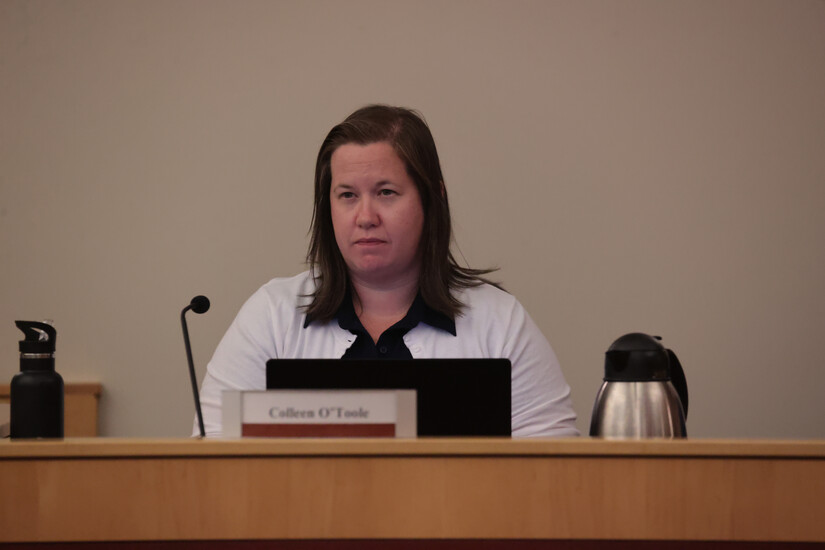 Charter Review Report
After several months of work, City Manager Colleen O'Toole presented the report of the Charter Review Working Group.  Amendments include some changes to post meeting summaries on the city web page instead of in a newspaper,  increasing city council terms from two to four years, cleaning up language so that it's gender neutral, and changing several bylaws so they are in step with state laws.
All charter amendments will have to be approved at the ballot box by voters. The first amendments could be on the ballot as soon as February or March of 2024, thanks to a resolution unanimously approved by council.  The first ballot would include the change to allow some notices to be posted on the web instead of in a newspaper - saving the city some money.
The report recommends several changes and a timetable for putting those amendments before voters during six separate elections by the end of 2025. The vote to increase council terms to four years is recommended for November of 2024.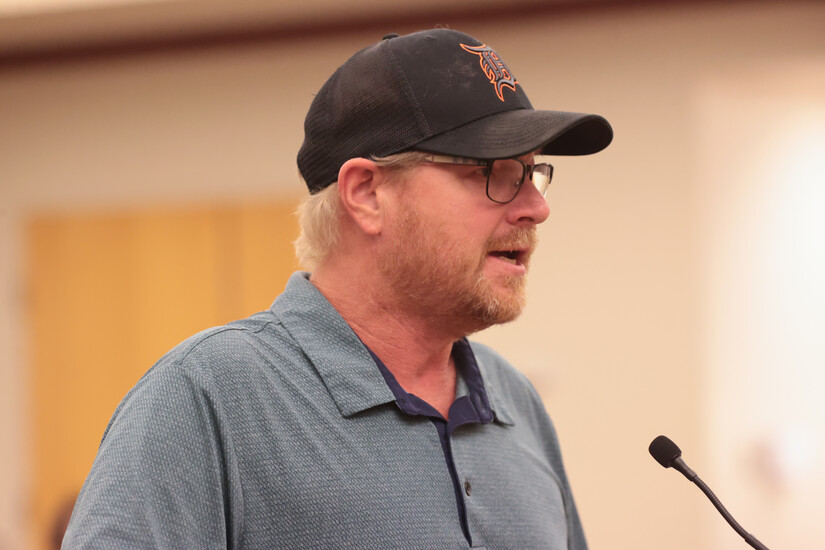 Stump-Grinder Purchased
At the recommendation of DPW Director Larry Sirls, council approved the purchase of a stump grinder from Bandit Industries for $63,306.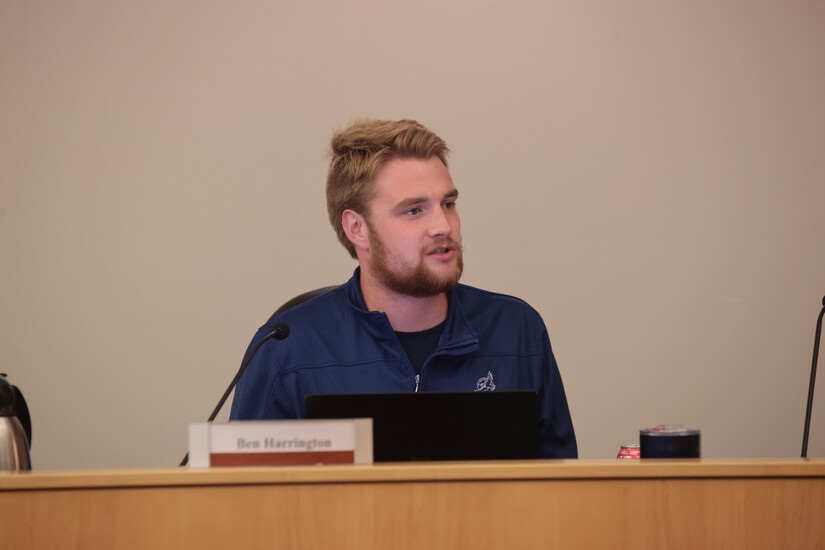 Master Plan Distribution Approval for Comment
City Council Approved Community Development Director's recommendation to distribute the draft of the 2023 Saline Master Plan. The community development department and planning consultants from Carlisle/Wortman Associates have been working on an update of the master plan for a year. The work has included three townhalls, a web-based survey with 400 responses, and studies on downtown parking and housing. Over the next 63 days, neighboring communities, railroads, utility companies and the public can review the plan and recommend changes.
View the draft of the plan here.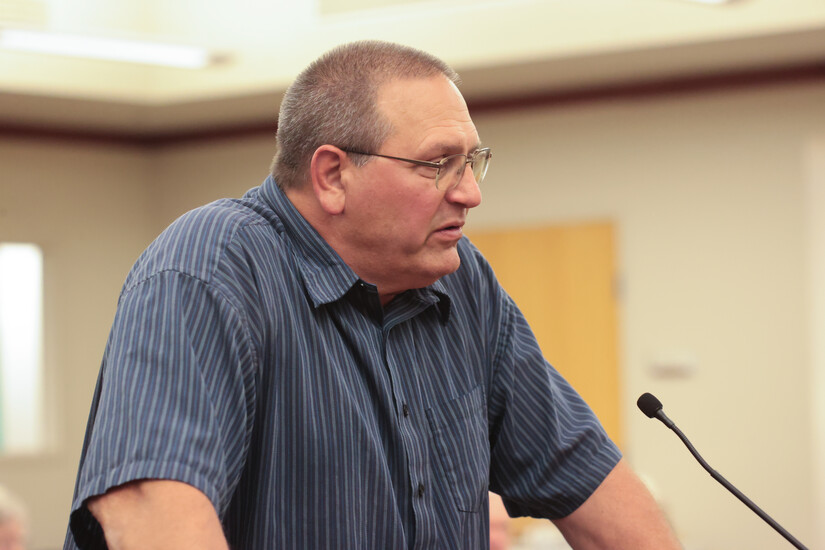 City Buys Dual Auger System for WWTP
Council approved the purchase of a dual auger system with a bigger from Duperon. The equipment and its installation by Midwest Power will cost $183,251.
The current bar rack for rag removal in the wastewater treatment plant's influent channel is not sufficient for the task. The bars are two widely spaced and removal of debris (wipes, sanitary napkins, etc) requires considerable physical effort from staff. As a result, rags often make their way into other processes, like pumps and clarifiers. The new system will remove a large percent of the rags, Briggs said.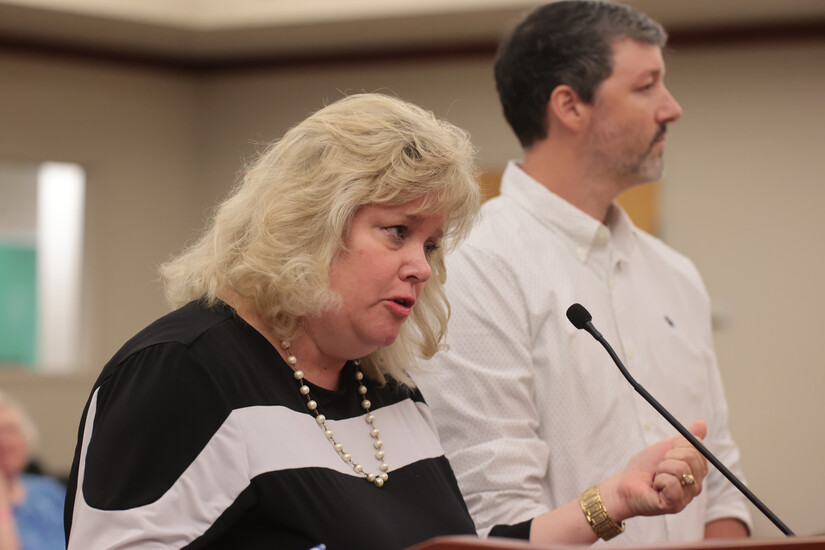 DTE Gas Franchise
The city council approved the first reading of a new 30-year gas franchise agreement with DTE.
Molly Luempert-Coy, regional manager for DTE Energy,  and Bryan Fowler, senior supervisor, for DTE Energy, took questions from Saline City Council. Both are Saline residents.
Luempert-Coy said the agreement can be revoked by the city or DTE. She also said it doesn't prevent a secondary provider in the city.
Councillor Dean Girbach asked about the state of infrastructure in the city. Fowler said typically, the cast iron pipes were most likely to need work, but he said the iron pipes in Saline were generally operating well. New lines are generally plastic.
Girbach said the city has to tear up recently constructed roads due to gas leaks. Girbach asked what DTE could do to avoid that scenario.
Luempert-Coy said DTE is working on plans for upgrading aging infrastructure throughout the region. But such a plan won't see city staff for about years, as DTE upgrades infrastructure in older communities.
Councillor Dell'Orco suggested DTE and the city work harder to coordinate construction plans.
Girbach also raised questions about new infrastructure not fitting well in historic districts. He referred to a recent project on North Ann Arbor Street, where the owners of an historic home were not pleased by a new vent installed on their property. Luempert-Coy said DTE works with historic districts and planners for solutions to those issues.
Councillor Nicole Rice asked about communications and community relations. She asked how DTE talks to homeowners about issues like the one on North Ann Arbor Street.
Luempert-Coy said DTE may do press releases or social media outreach. Workers knock on doors and talk to customers. Luempert-Coy answers questions on Saline social media channels.
Council passed the first reading of the agreement.
Reports and Other Announcements
Councillor Rice announced that council will discuss the possible outsourcing of the SPD's dispatch to Washtenaw Metro Dispatch at the meeting next Monday. She said the agenda will be online Wednesday.
Mayor Marl reminded people that Oktoberfest takes place Friday and Saturday. He also discussed an uptick in unlicensed solicitors in his neighborhood. Marl asked city staff to use social media channels to remind people about regulations for soliciting. Most solicitors must be licensed in the city and wear their badges when going door-to-door. Harrington said there has been only one license granted this year. Harrington said residents who want to report a solicitor should gather their names and call the city while the solicitor is at their home.
Councillor Dillon said the Committee for Committee Oversight met and created a PowerPoint to present Oct. 9 for city committee leadership.
Public Comment
Changming Fan invited council to the upcoming Foundation for Saline Area Schools Luncheon. He said it was important for city council and school board to work together. 
Mary Hess reiterated the need for meeting minutes to reflect the flavor of public comment. "It is important when people get up and speak their concern," Hess said.
More News from Saline
File Attachment