The Saline Cottage Inn's New Owner-Operator Tim Nowling Plans Continuous Improvements, Community Involvement
Image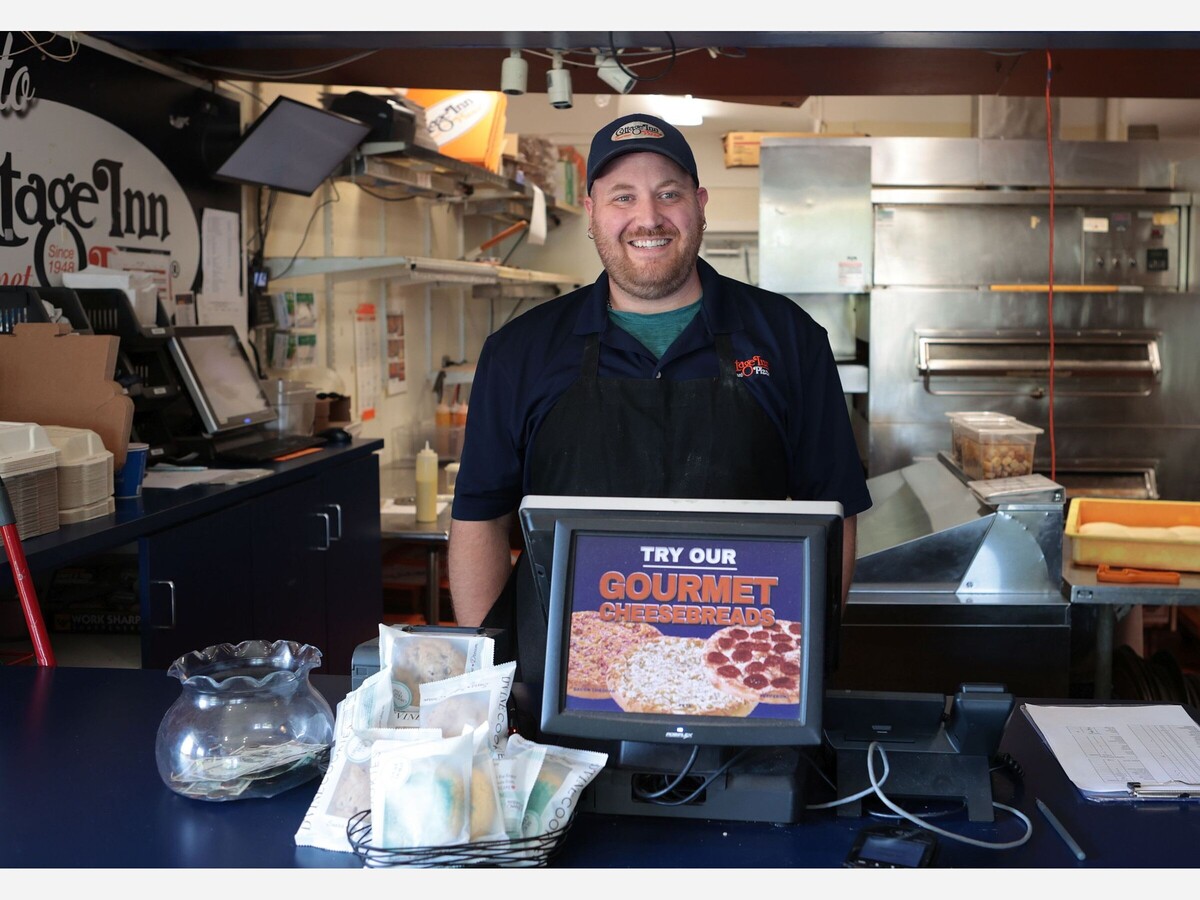 Meet the new boss. Same as the old boss.
Literally.
Except, now, Tim Nowling isn't only the general manager, he's the owner-operator of the Cottage Inn Pizza restaurant in Saline.
(Saline Cottage Inn, 501 E. Michigan Ave., is open seven days a week, from 10 a.m. to 10 p.m.)
Nowling wants to preserve what has made Cottage Inn a successful restaurant - and infuse that with more community involvement.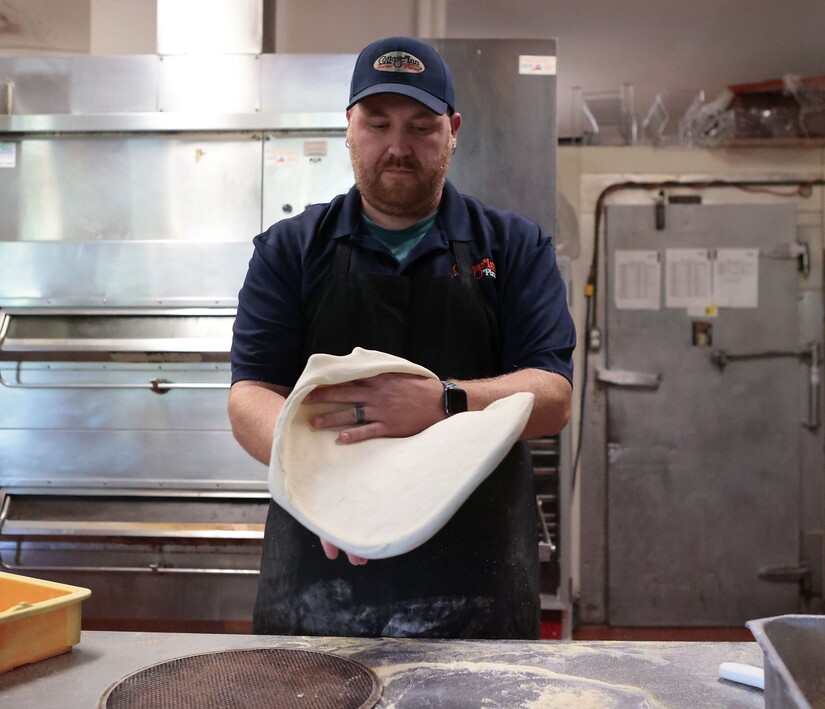 "What I like about Cottage Inn is that our ingredients are better than our competitors'. Our produce doesn't come pre-chopped. We chop everything here. We don't buy low-grade meats like you'll see at some places. We hand-stretch our pizzas and make our deep-dish in pans," Nowling said. "I like that I can open up a Saline Cottage Inn pizza or calzone and I can tell who made it. It's a real hands-on approach."
He said Cottage Inn has managed to stay above the fast-food pizza approach.
"I like that there's still kind of a mom-and-pop feel about it," Nowling said.
Nowling also likes the team he's got at the Saline Cottage Inn.
"We've been fortunate. We have a great team here with excellent employees," Nowling said. The restaurant has a strong customer base. But because the restaurant went through a number of general managers in a short period of time, he's spent his first few months at the store solidifying operations.
Don't expect any major changes to the menu - that's part of the Cottage Inn brand. Instead, expect Cottage Inn to be more involved in the community.
"You're going to see us at schools, in athletics and at events downtown and around the community. We work here. We live here. Our customers are here. We want to be involved and give back to the community. I want my girls to be proud of this business," Nowling said.

Nowling believes in the pizza business - since he loves pizza.
"I'm a pepperoni pizza guy. Pepperoni, onion, banana peppers and green olives is kind of my go-to. I also like our boneless wings," Nowling said. "I should also eat more salads - but you can't really go wrong with anything here."
Nowling loves his location in the plaza with Busch's, but he's not sure he needs as much space for dining.
"Our dining room was here for the buffet, but that's been gone since the pandemic. You had to have an employee plate the food or fill up cups at the fountain - and with where the price of labor is, that just wasn't feasible," Nowling said. "At the same time, we're kind of cramped in the kitchen, so we might look to expand the kitchen."
The Cottage Inn model is also something Nowling believes in. He's seen franchises succeed and fail - and he's learned from both.
"The operators who took a hand's off approach and just took their profit tended to have a harder time," Nowling said.
Whether it's taking orders, throwing pizza dough or working the oven, Nowling is hands-on.
Nowling is a lifelong resident of Washtenaw County. He grew up in Ypsilanti and attended Huron High School in Ann Arbor to play hockey.
His wife Nicole is a nurse at Trinity Health Ann Arbor Hospital. They have three daughters, Noelle, Libby and Charlotte.
The Nowlings moved from Ypsilanti to Saline during the pandemic. Like many families, they came to Saline for the schools.
Nowling came to the pizza business from the educational field. He was planning on a teaching career and working as a para pro in Ypsilanti schools when decided education was not the right field for him. He began working at the Cottage Inn business on Washtenaw Avenue in Ypsilanti. He was promoted to a shift-runner and became an assistant manager at the Packard restaurant. Within 18 months of joining the company, he became the general manager of the State Street restaurant.
"I brought up sales quickly over there and became a trainer with the corporate office," Nowling said, noting that sales were up nearly 50 percent in less than a year.
He helped train employees to open 10 new restaurants in Michigan and in places like North Carolina and Orlando.
Then he became a franchise consultant for a couple of years before the pandemic hit.
It was a rapid rise through a growing company.
"Hard work, a little luck, supportive ownership and franchise community, along with great employees," Nowling said, when asked how he rose through the ranks so quickly.
When the pandemic hit travel and consultancy became next to impossible. He moved back to the area and became general manager of the Washtenaw Avenue restaurant. With success at the location, Bowling became director of operations. He spent a lot of time traveling and helping new Cottage Inn operations launch.
"It was a tough position that took a toll on our family, so I decided to go back into the restaurants," Nowling said. In late March, Nowling became general manager of the Saline restaurant.
He's been happy since taking the position in Saline.
"I forgot how much I like working in a restaurant," Nowling said.
According to Nowling, the Cottage Inn Company, owned by the Michos family, was recently sold to one of its largest franchisees. The new ownership group gave Nowling the chance to buy the Saline restaurant.
Nowling said he felt indebted to the Michos family,
"They were great. They noticed people who worked hard and gave them opportunities to advance within the company," Nowling said. "When I started at Cottage Inn I was going to sleep on a friend's couch and now I have a wife, kids and a home. This company has given me wonderful opportunities."
Since arriving at Saline, Bowling's been busy getting the restaurant into tip-top shape. He said service and delivery times have improved.
"We've been focused on getting pizzas in and out of the ovens as quickly as possible," Bowling said.
Delivery times were improved by trying to send out one order at a time.
"We try our best to deliver singles only. We went 89 days without taking two orders in one trip," Bowling said. "So most of our orders come right out of oven and straight to the customer's door - without sitting under a heat lamp."
Customer happiness is the number one goal for Nowling.
"Whether's friends having a great time at a party who want a pizza, or someone who had a rough day at work and comes home to order a pizza to feed the kids and relax, we're doing our best to make sure they're happy," Bowling said.
More News from Saline