SASC Health Fair Connects Seniors with Community Providers
Image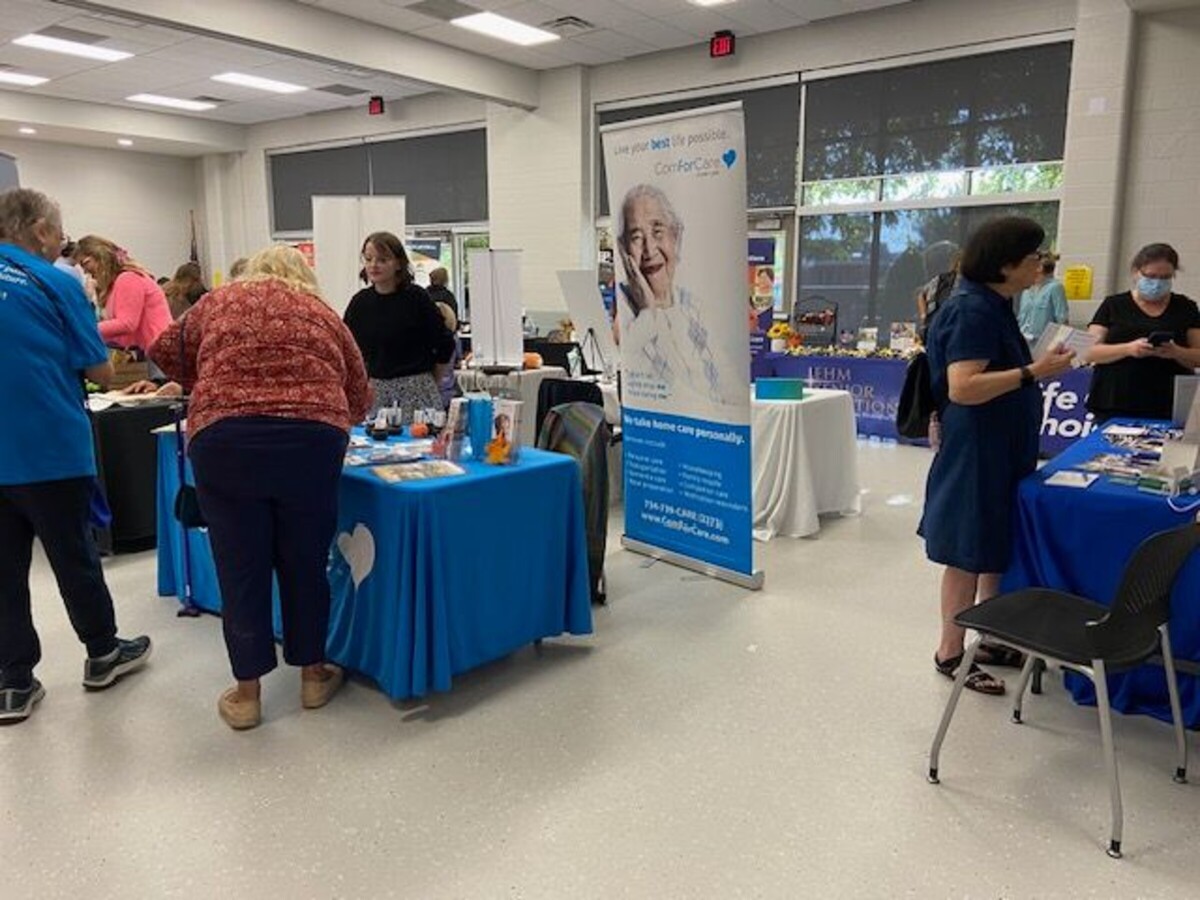 The Saline Area Senior Center hosted its seventh annual health fair on Friday from 9AM to Noon. Participants visited with vendors, talked to care providers, and received flu shots.
"We're expecting to have more than one hundred people through our doors. We're offering shingles vaccinations and flu vaccinations, and we have over 35 vendors from various health care facilities and businesses here," said Andrea Lewis, Program Coordinator. "We have lots of goody bags, giveaways, raffle prizes, and a lot of health information. We're excited to be able to offer this again. It just keeps getting bigger every year."
Participants at the fair were able to visit tables and ask questions from representatives of insurance providers, caregivers, and senior living communities.
Kelly Robertson, marketing director for EHM Senior Solutions, provided information on housing options and various levels of care.
"It's great to see our local seniors coming and learning about resources to help them either age in place or move to communities and get the support and services they need," Robertson said. "They're a very engaged audience and ask great questions."
Physicians and staff from Saline's new Trinity Health IHA Group were on hand to meet visitors and answer questions about the facility.
"We've had a lot of people come through," said Andriana Alexander, MD.
"It's been good, steady traffic," said Matthew Moore, MD. "People have been very welcoming and interested in seeing what we have to offer. We've had a lot of new patients coming our way."
Jim Mangi of Dementia-Friendly Saline was excited to share upcoming events in the community.
"We are having continued success with the movies program. It's running at about 85 to 90 people on average every month.," he said. " It has expanded to Emagine Canton. That started last month, and we will continue to be in coordination with our program here in Saline."
"We are also starting up a dementia choir, a singing group for persons with dementia and their caregivers and friends. We're very excited about that. People with dementia, even if they've lost other abilities, will still have the ability to make and enjoy good music."
Mangi was distributing flyers about an upcoming event on October 26.
"In coordination with the Kiwanis Club in Ann Arbor, we are doing a dementia-friendly shopping event at their thrift store on Jackson Road. It's going to be a Halloween-themed luncheon event followed by special dementia-friendly shopping."
Jody Roberts from the Saline Rec Center was on hand to give information about the programs offered.
"We do this every year," Roberts said. "It's so important for the community for the senior center to have this, with all the representatives from all these different businesses. We've had a lot of people who are members that know about the rec center, but we also have a lot of new people who are interested. We show them a lot of things we offer, especially for seniors. We let them know about programs we have for kids because they have grandkids. The rec center has so much to offer for every age and every ability. We're just happy to be here."
More News from Saline