German Exchange Club Says "Wilkommen" to Students from Germany
Image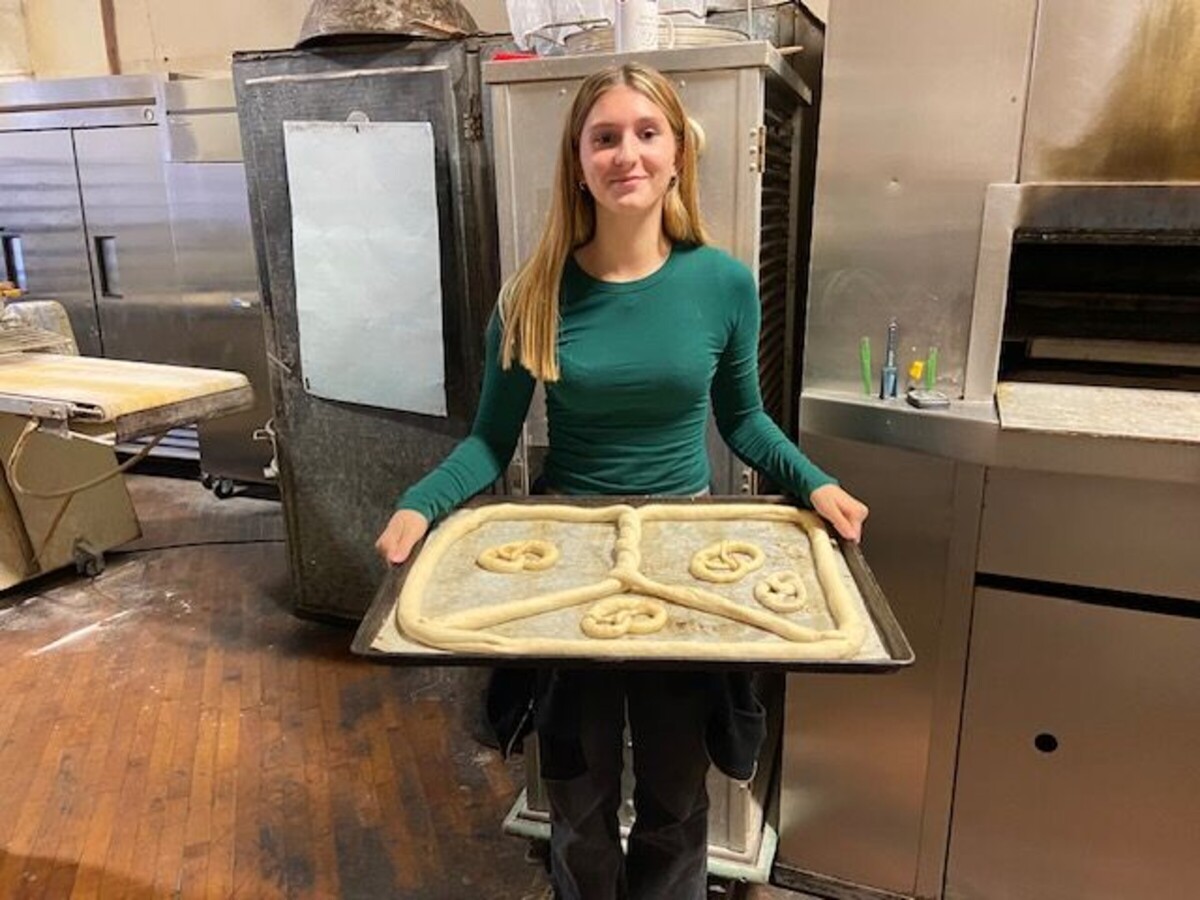 Saline High School's German Exchange Club hosted twelve students and their teacher from Speyer, Germany this past week. As part of their two-week visit, students stayed with host families, experienced life as a Saline High School student, and explored the city of Saline and the southeast Michigan region.
On Tuesday, students and teachers visited Benny's Bakery, where Steve Babiak taught the visitors how to make pretzels. Babiak gave a behind-the-scenes tour of the bakery, showing visitors how they make donuts, cinnamon rolls, jelly balls, and breads. He explained the various machines used in the kitchen, demonstrated different elements of the baking process, and answered questions about the business.
Babiak explained that when baking products like cinnamon rolls, they look for the GBD, or Golden Brown Delicious color.
"It has to look good," he said. "I'm a true believer that you eat with your eyes," Babiak said.
He asked the students what they like to bake at home, and learned that many enjoy baking cakes, cookies, and even pizza. The students learned that what they call a Berliner in Germany is referred to as a Jelly Ball filled donut here.
Babiak demonstrated his pretzel-making techniques, and then let all the students give the pretzel twisting a try themselves. He told them that his oven can make thirty dozen pretzels in seven minutes, and that many customers order the pretzels for game day tailgating parties.
Dwayne Stange has been organizing the German exchanges, along with help from Holli Neeb.
"I was the German teacher at Saline High School for the last six years," said Dwayne Stange. "We've had a long-standing gap partnership with a reciprocal exchange between students from Saline and students that's traditionally been done with our sister city, Lindenberg. In our most recent set of exchanges, we had so many cancellations. First there was COVID, and then there were concerns with how people's lifestyles were impacted. Luxury travel was not really an option for everybody. This is an optional but valuable thing."
Stange spread the word that the school was looking for a new German school to partner with in the exchange program.
"We had the good fortune, when our exchange with Lindenberg fell through, to pair with a new school in Speyer. That's when I met Ingrid Pohl, who is my counterpart at the school in Speyer."
Last June, twelve SHS students visited Speyer, Germany, staying with host families and learning about the region.
"Because we were re-inventing the exchange, we brought Saline students there first, and this is their return visit," Stange said. "We took a whole group of students from Saline High School. They stayed with the families of the students you see here. They lived like a German for two weeks. They went to German high school and did presentations about Saline and Michigan and the United States."
This week, twelve German students from the city of Speyer have been touring local sites and learning about the city, state, and American culture.
"What we've been doing is arranging experiences like this, but also sending them through a normal day in the life of an American high school student, living in families and giving presentations about their region in our schools as well," Stange said.
Speyer teacher, Ingrid Pohl and her family, accompanied the students on the trip.
"It's been a wonderful experience because everyone has been so welcoming," Pohl said. " I think they are getting much out of this program because they had a chance to get to know their partners in Germany. Now they see their homes, they see their school, they see what they do with their spare time after school."
Pohl said the students have been impressed with all that Saline and the high school has to offer.
"You have a wonderful school program here with lots of sports and music and programs. I think they are really impressed by the diversity of classes at school," she said. "They are impressed with the German heritage they see here. Some of the family members still speak a little German. Some still use German recipes when they prepare food. Some know bits and pieces about German culture. I think that's been a great experience for them."
After the trip to Benny's Bakery, the students met with Mayor Brian Marl at the municipal building, where they learned about the city and our local government.
"We had a great visit. It was a very inquisitive group," Mayor Marl said. "We chatted about the history of Saline, the German settlers who migrated to our area, as well as our local customs and cuisines. They also mentioned that they are excited to visit the city of Detroit on Wednesday the18th. By all accounts, they are very much enjoying their visit to southeast Michigan. It was such a pleasure visiting with them today. I really enjoyed our conversation."
Stange said that students and host families are planning to tailgate on Friday before attending the home game at Hornet stadium, where they are looking forward to experiencing the community spirit of an American football game and seeing a performance of Saline's marching band. On Saturday, they will enjoy a dinner together at Dan's Downtown Tavern before wrapping up their visit.
"The visit has been outstanding. It's been a wonderful chance to show the same hospitality that was extended to us," Stange said.
More News from Saline