FOOTBALL: Rush, Hornets 'Pound The Rock' to Defeat Pioneer, Advance to Belleville Rematch
Image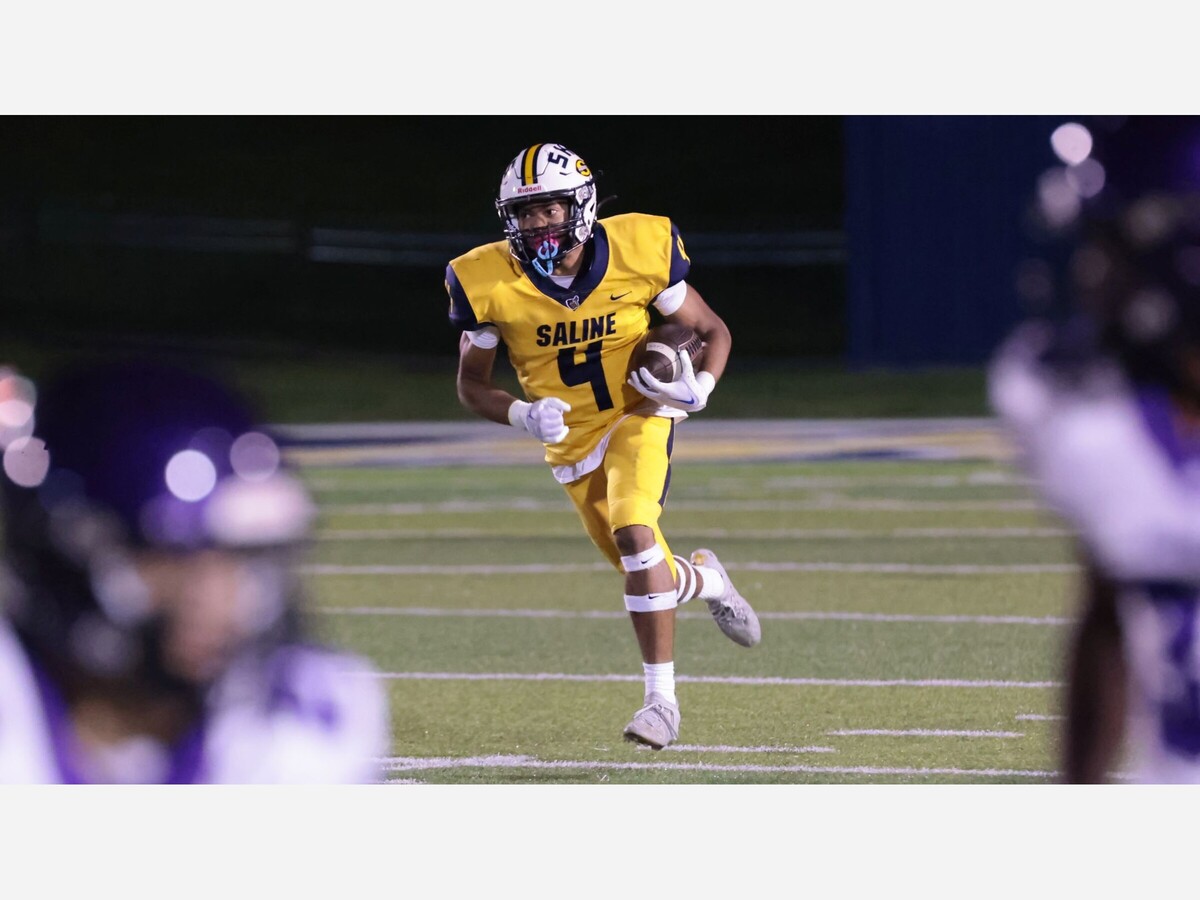 Bring on Belleville for the rematch.
James Rush ran for four touchdowns and CJ Carr threw touchdown passes to Dylan Mesman and Caid Fox as Saline defeated Pioneer 56-14 in the district semifinal. Saline now plays Belleville in the district championship, most likely at 7 p.m., Friday, when two of the state's teams engage in a rematch of last year's district final, which was won by the Tigers on their way to the state championship.
Friday at Hornet Stadium, the Pioneers surprised everyone by scoring first and then appearing to shut down Saline's first possession on a three-and-out. But James Rush and the Hornets surprised the Pioneers with a fake punt and Rush ran the ball into Pioneer territory for a first down and a lot more. Saline went on to score eight straight touchdowns and win the game in dominant fashion.
Rush ran for four touchdowns. He scored three touchdowns on Sept. 8 when Saline beat Pioneer, 56-0.
Rush beat the Pioneers inside and out, long and short.
"The O-Line was moving bodies - Camden Pawlick, Dylan Mesman, Ryan Bloch, Sutherby. I couldn't thank them enough. They're out there. I'm following. I trust them and I'm just glad they got the job done," Rush said.
Two Out of Three
The running game was one of the areas Saline Coach Joe Palka wasn't pleased with last week when Saline suffered its only loss of the season at the hands of Lake Orion. Palka said Saline needed a better running game, better special teams play, and fewer penalties.
"We got two out of three," Palka said. Penalties continued to bother the Hornets. But the running game and special teams were much better.
The running game, in particular, was an emphasis of the Hornets all week. Saline's been trying to develop continuity on the offensive line as it's become healthier.
"We wanted to run the ball. We wanted to be more physical," Palka said. "We are getting much more physical on the O-Line. And we're running downhill, which is great to see."
Palka said Rush had a lot to do with it.
"James is making all the right cuts. It's all him reading that. On those inside and outside zones, you've got to have a back with the vision and make the cut, and he can do that," Palka said.
The team didn't give up any big plays on special teams and, on one kickoff, the ball bounced away from the Pioneer returner and was recovered by Austin Abbate inside the Pioneer 5. The team had a fake punt for a big first down and Josh Folk had a punt return touchdown taken back because of an illegal block.
"Special teams are just a 'want to.' I think we increased our 'want to' this week.
On the penalty front, Saline still has work to do.
"As the games get bigger, you just can't have any of them. There's just no margin for error. That's something will address again this week,"
Something New
Palka has coached Saline football for 12 years. Never before have we seen a team on the sidelines as animated as it was Friday night. The team sang and chanted throughout the night. And Palka thinks that spirit had an impact on the game.
"We played out of tradition a little bit. Let's get excited," Palka said.
The team activated in three situations - on kickoffs, supporting the defense on third down, and when the team went into jumbo formation for tough yards. In the later situation, they chanted "pound the rock."
Palka said the kids had fun with it all week. He thinks it can help next week at Belleville.
"There'll be no big home crowd and home band, it's just got to be us, getting our own juice," Palka said.
"The kids were great. It was kind of organic, and it was really fun to see," Palka said.
Something Old
When coach Palka came to town, trick plays and the element of surprise were a big part of transforming Saline into a state powerhouse. The surprises haven't come quite as frequently in recent years. But the 3rd-and-long fake punt run by James Rush caught everyone by surprise. Instead of punting the ball away and giving Pioneer a chance to take an early 14-0 lead, Palka elected to go for the fake. And it worked. Rush ran for a first and all the way into Pioneer territory and Saline took over the game.
Onside kicks were a biig part of the mix - and Palka said the team hasn't had the right kick for that in several years.
"But hey, trust me. They (trick plays) are in there. Beware next week," Palka said.
Belleville
Last year, Saline lost to Belleville 62-44 in a shootout. It's hard not to expect fireworks in the district championship. Palka was asked to compare last year's team to this year's team.
"We're really good on offense right now. We're getting better on the O-Line. Losing Garrett Baldwin and Roman Laurio on offense were big losses. That (receiving group) was probably better last year as a whole, But this year our offensive line is better and our run game is better," Palka said. "Our defense, it's hard to replace some of the seniors we lost, so it's a work in progress. But I love the demeanor of our team."
Palka said he's not sure if Belleville's the same team it was last year.
"Starting tonight, we'll start looking at Belleville. Who knows how that's going to go? It doesn't look like anyone's fared well against them, but I always like to bet on our kids," Palka said.
Saline 56 Pioneer 14
Saline kicked off to Pioneer to start the game. Pioneer's QB Kalan Wong found Lleyton Lage along the Pioneer sideline for a big gain. He was pushed out of bounds inside the 10. A couple of plays later, Wong passed right to Everett Burkhart who scored before Peyton Wiiden could drag him down. Pioneer led 7-0
Saline's first drive wasn't going well. After a penalty forced a 3rd-and-13, CJ Carr's pass to LaDainian Woods was stopped for a loss. Saline lined up to punt from its 33. The ball was snapped to Rush who went to his left, sidestepped one tackler before he burst into the open field. He was finally taken down at the Pioneer 35.
Palka said they saw something in the film that suggested this play was a good option. Rush recalled the play.
"I thought he (the tackler he sidestepped) was going to get blocked, but he didn't. So I had to outrun him," Rush said. "So I went for it and that was a big motivation for our team. It was a big turning factor - because we also scored off that drive."
And Rush wasn't done contributing to the drive. He ran for another first down. And then he ran for a 10-yard touchdown, swerving left to avoid the pile and then lowering his shoulder and powering through a tackler waiting for him just outside the endzone. After Jacob Pinatoglou's kick (he was 7 for 7), the game was tied at 7.
Saline's defense never really looked surprised again. Saline stopped the Pioneers dead in their tracks and Pioneer punted from its 15. Saline took over at the 32. Carr tried for Jaedyn Leonard in the end zone but the play didn't work. Carr passed to Dylan Mesman to get Saline inside the 20. 
A couple of plays later, Carr passed to Caid Fox who sprinted toward the end zone and dove for the touchdown, but the ball was ruled down at 1.
Rush, following his line, "pounded the rock" into the zone and Saline led 14-7.
Saline's defense snuffed out Pioneer's next drive. On 3rd-and-14, the Pioneers tried a reverse that Saline stopped at the 17. The Pioneers punted and Saline took over at its 44.
Carr passed to Folk for a first down. Saline moved the ball down the field with runs by Rush and Woods. 
And then Woods, after using a stutter step to slip out of being surrounded by Pioneers, ran in from nine yards. Saline led 21-7.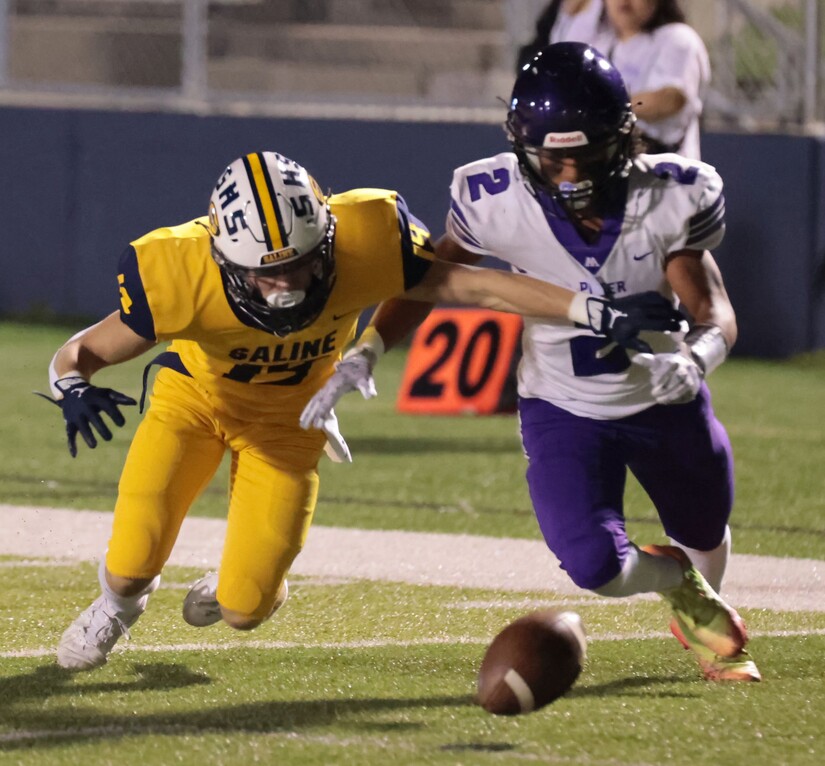 Saline got the ball right back when the Pioneer returner muffed the kickoff and Austin Abbate recovered the ball at the 11.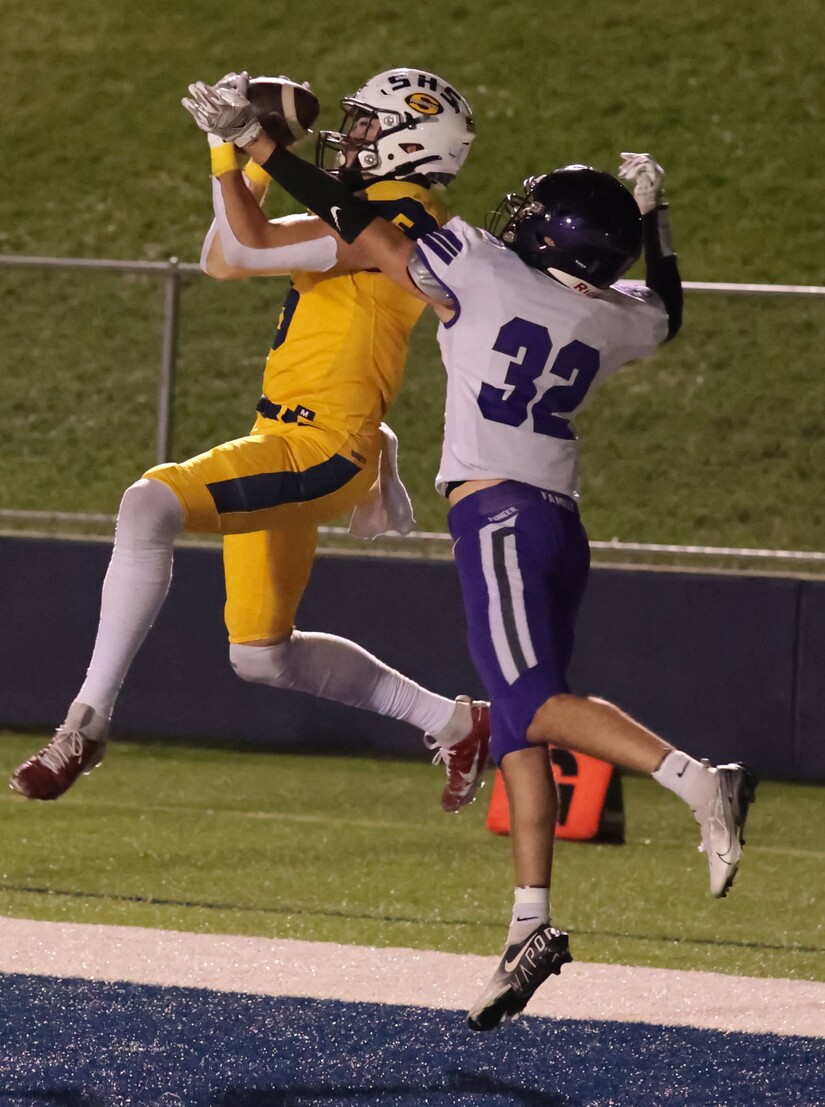 A play later, Carr lofted a pass to 6'5 TE Mesman in the corner of the end zone. Saline led 28-7.
Pioneer's next drive pushed all the way down to the Saline 4. One endzone try was batted down by a diving Woods. A 4th and goal pass was incomplete. Saline took over at its four with 3:40 to play in the half. Carr started the drive with a five-yard keeper. On 3rd-and-7 from the 31, Carr threw over the middle to Caid Fox to the Pioneer 30. Carr completed a pass to Miller Grambau for a first down at the 28. Then Woods picked up 17 yards, slithering through a throng of would-be-tacklers along the Pioneer sideline. 
Saline capped the drive with Carr throwing a short pass over the middle to Fox, who sprinted and dove over the line. Saline led 35-7
The second half began with Pioneer kicking to Saline. Fox returned the ball to the 28. Carr passed to Mesman for a first down at the Saline 44. From there, it was all Rush. He hopped through the backfield, cut to the outside, turned on the jets to hit a seam, cut back to the sideline, beat the last diving defender, and then ran the last 25 yards all by himself.
Saline led, 42-7 after the 56-yard touchdown.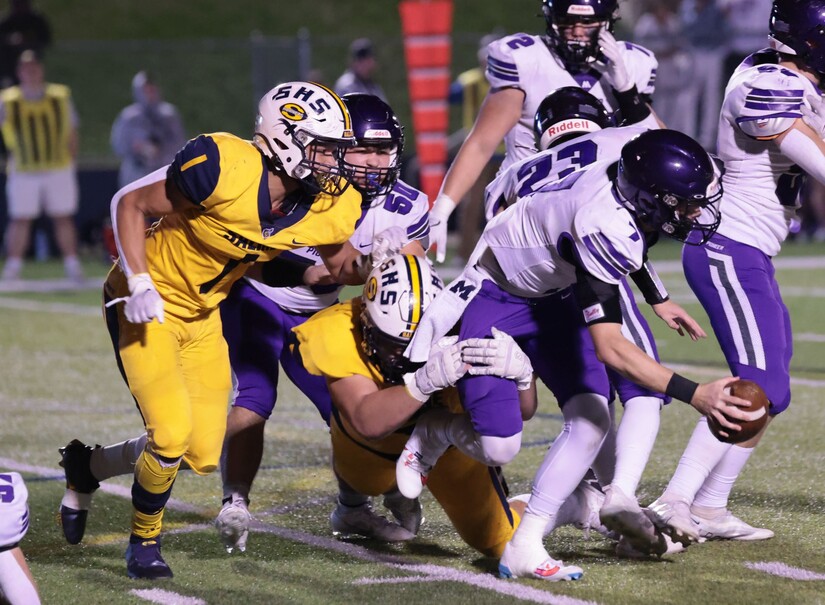 The Pioneer's were forced to punt from its own 10 two plays after Michael Reder sacked the QB. Folk received the punt at the Pioneer 45 and immediately reversed the play toward the Saline sideline. He ran it all the way back for a touchdown that was nullified by a penalty for an illegal block. The drive began at the Saline 45. 
On 2nd-and-1 from the 7, Rush powered through the middle for his fourth touchdown of the game. Saline led 49-7.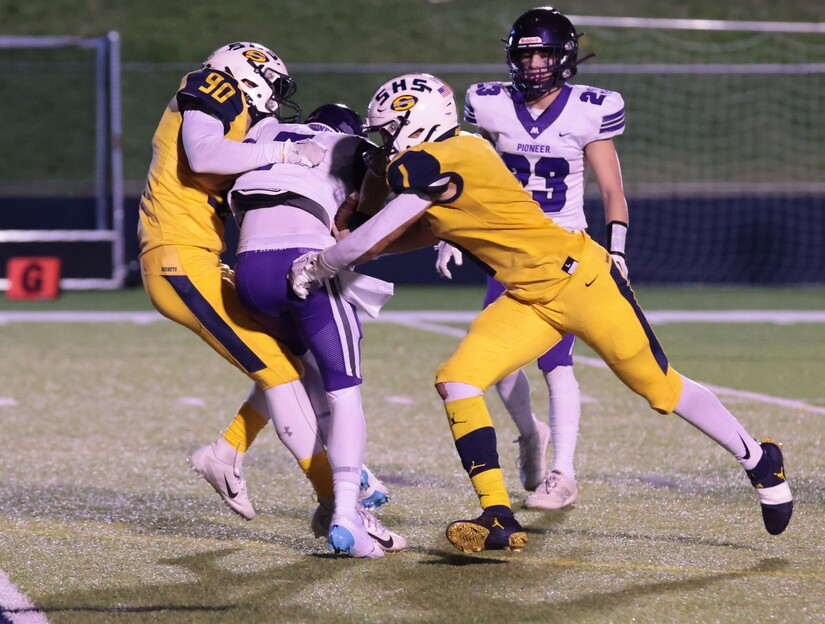 Saline's defense came up with another big tackle for a loss on the next Pioneer possession. On 3rd-and-8 from the 12, Allen Saidov and Isaiah Harris dropped Wang at his own three-yard. Pioneer's punter was deep in his end zone when he kicked.
The Hornets took over at the Pioneer 49. Tommy Carr took over at QB and Zain Issa became the missing back. Issa had one great run for a first down, lowering his shoulder to power over the tackler. The drive stalled out when Carr's pass to Noah Bonner fell one yard short of the marker. Pioneer took over - but Saline quickly got the ball back. On 4th-and-8 from the Pioneer 30, a desperation pass fell incomplete. Saline once again worked with a short field. Saline got most of those 30 yards on a pass from Carr to Folk, who was pushed out of bounds at the one. On the next play, Issa powered through for a touchdown. Saline led 56-7.
The Pioneers put together an 86-yard scoring drive that was capped by a 32-yard run by Leyton Lage.
Saline is 9-1. Pioneer finishes the season with a 6-4 record.
On the other side of the bracket, Belleville, 10-0, defeated Huron, 5-5, by a score of 48-7.
PHOTOS
The football, band and dance team can be found here.
INTERVIEWS
More News from Saline