VOLLEYBALL: Saline Sweeps Skyline to Open MHSAA Playoffs
Image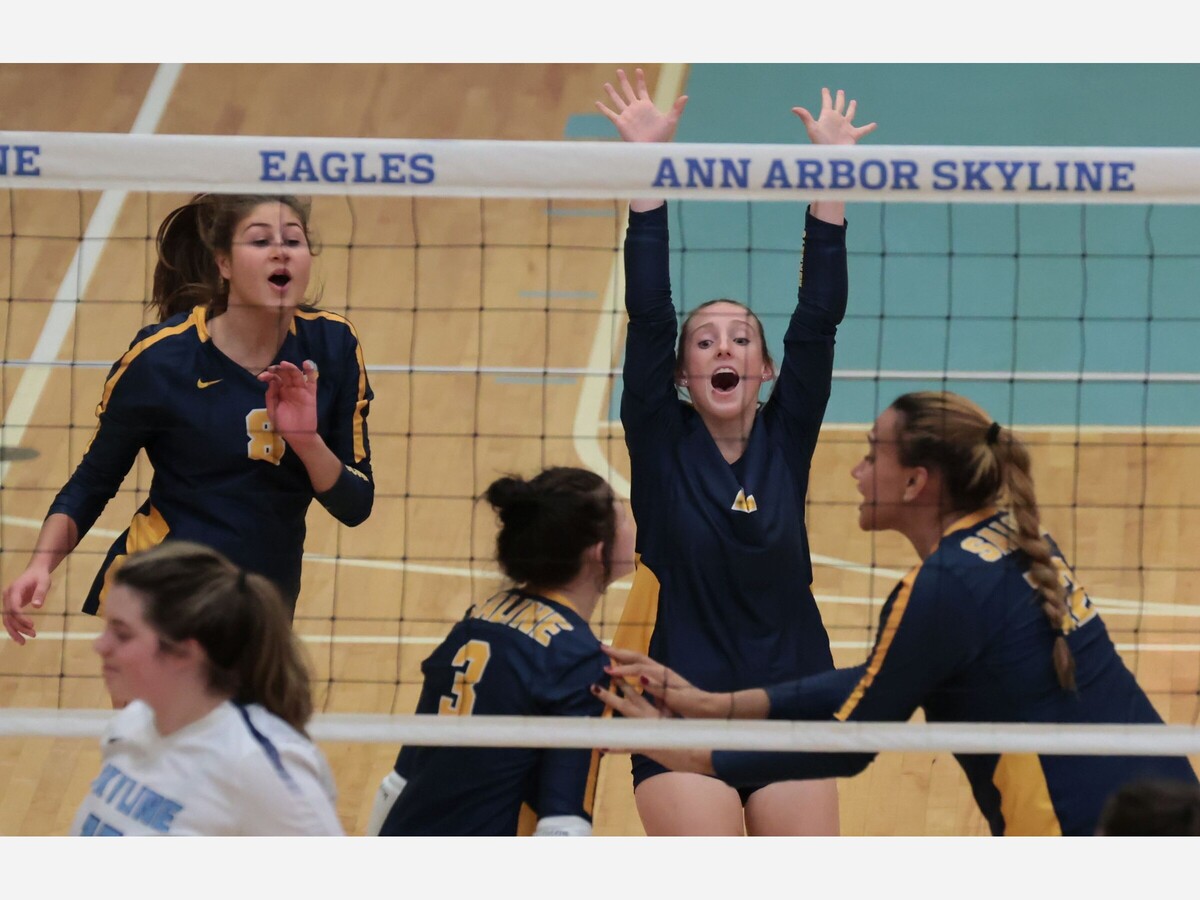 ANN ARBOR - Saline opened the MHSAA Division 1 volleyball playoffs with a 3-0 victory over Skyline. The Hornets defeated the host Eagles 25-22, 25-16 and 25-22.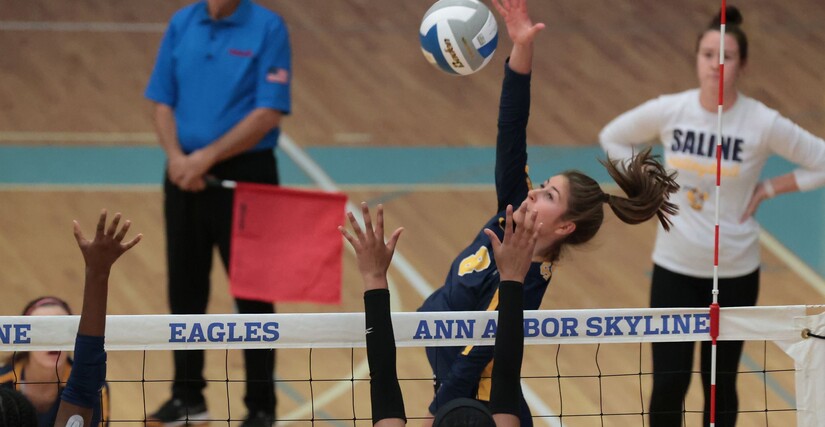 The Hornets advanced to the district championship game against  Pioneer, which is scheduled for 5:30 p.m., Friday at Skyline. The winner of that game will take the district trophy and advance to the Division 1 Region 4 tournament that begins Nov. 7 at Ypsilanti-Lincoln.
The Hornets swept Pioneer in their league matchup and then defeated their rival again in the SEC tournament.
The Hornets faced the Eagles without outside hitter Catherine Flaharty. The Xavier commit is recovering from an ankle injury sustained in practice.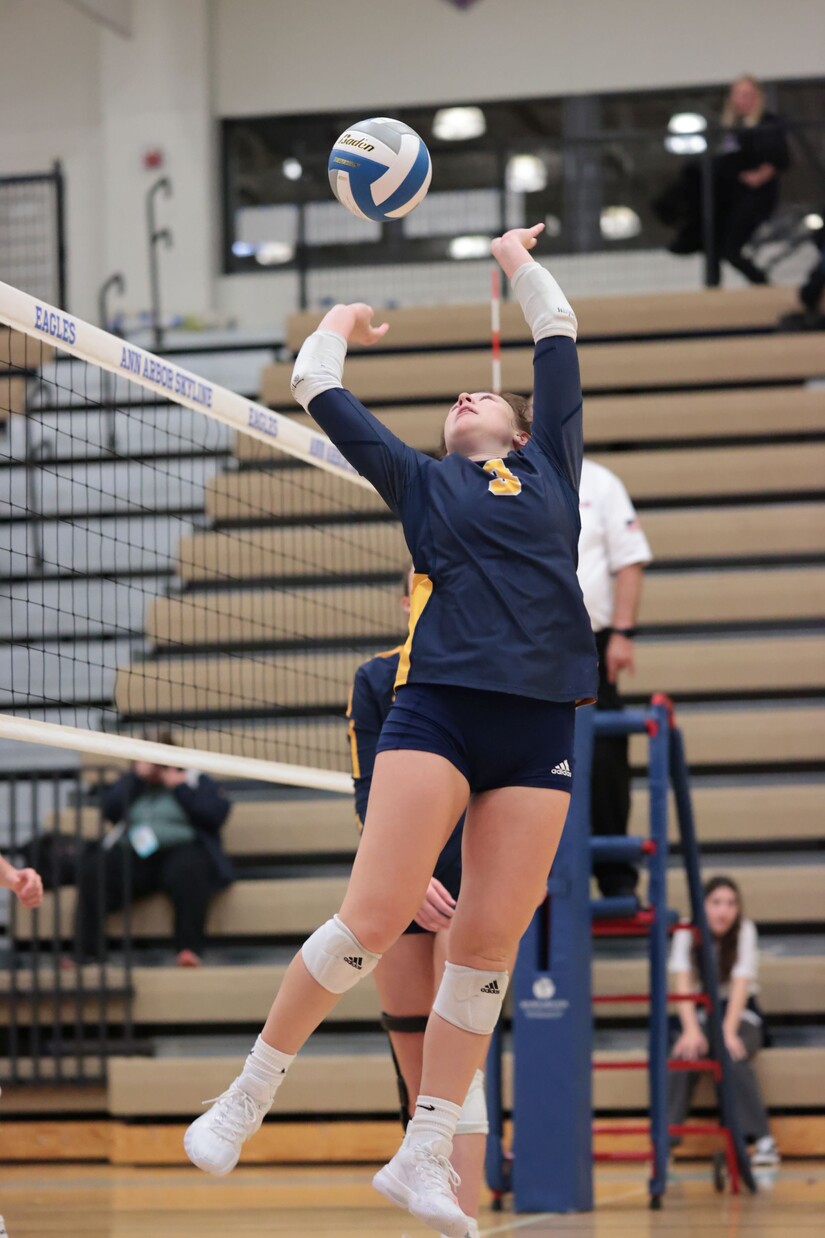 In addition, Olivia Behen, one of the best liberos in the state, has recently moved into the setter position.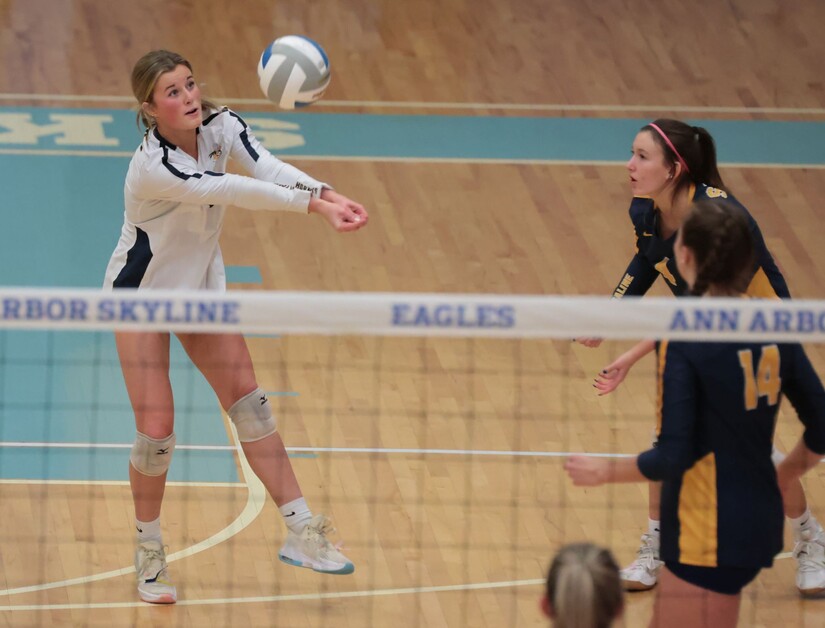 Mallory McFarlane, who made her varsity debut last year as the Hornets went to the final four, is starting the playoffs as libero.
Coach Darien Bandel said that until a rough patch at the end, when the Eagles were fighting for their seniors, the Hornets had a strong outing.
"I thought we did well. We really did well on defense and serve receive. I thought we lost focus a little bit at the end, but we were able to get it done," Bandel said.
The Hornets and Eagles spent most of the first set in a cat-and-mouse game. Saline jumped ahead, Skyline battled back, Saline went ahead, etc. Saline went ahead 13-10 on kills by Sidney White and Marie Laurio and a block by Mallory Bohl. Skyline battled back to tie it.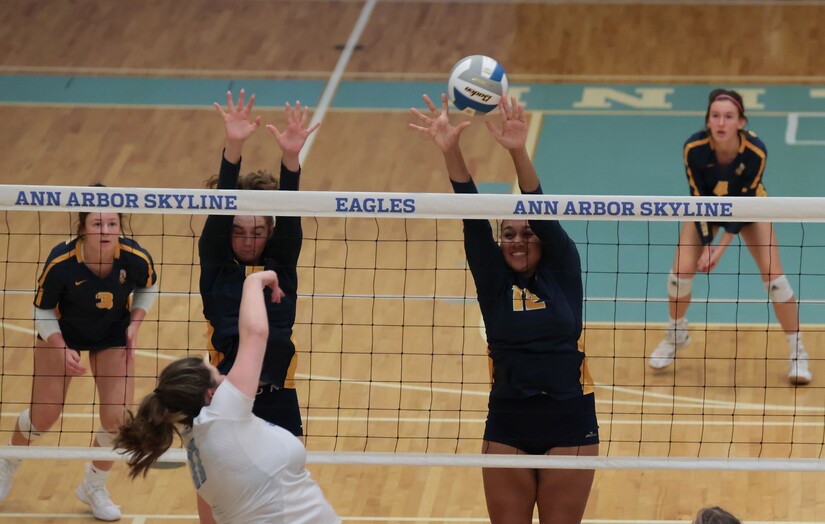 Saline went ahead 19-15 on kills by White and Laurio, a block by Addison Ashley and an ace by Kate Fredericks. Again, Skyline battled back to tie it. Skyline went on a run and took a 22-20 lead, but Saline went on a 5-0 run to finish the set.
Saline was most dominant in the second set. The Hornets started with kills by Behen and Laurio. Kills by Laurio and White and an ace by Fredericks made it 5-1 Saline. Skyline rattled off six straight points to take the lead. Saline was down 8-6 when Bohl, the middle-hitter on her way to Notre Dame, delivered a kill. Allie Smith took to the service line and Saline scored five more points - two more from Bohl, one on a block and one a kill. Saline led 12-8 and didn't let Skyline back into the contest.
Bohl is going to be leaving Saline in two months for Notre Dame. Coach Bandel said Bohl wants to deliver for her Hornets.
"She's leaving early. We love her. We want what's best for her and the program. But we also have to get her ready to go to Notre Dame," Bandel said. "I think it's starting to hit her a bit - 'It's my senior year' - and how much effect she can have on the team. So I think we're starting to see post-season Mallory."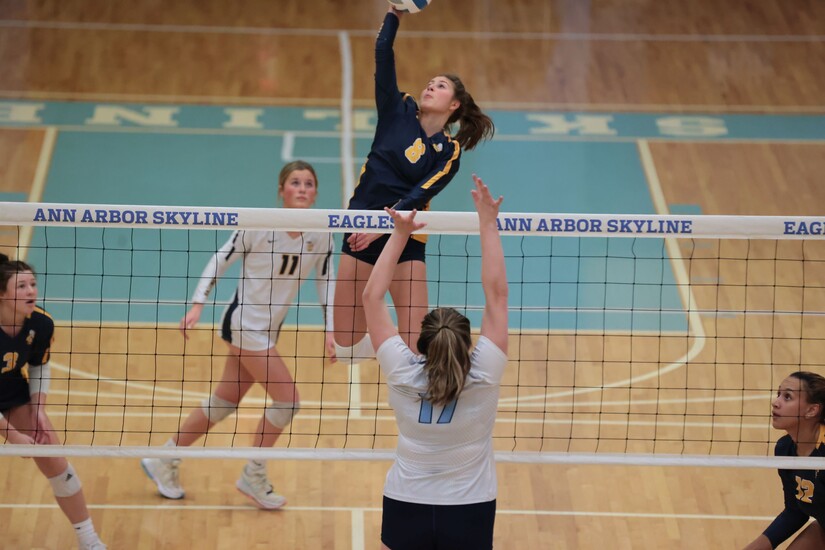 Throughout the night, Laurio showed her dominance - scoring points from the net and from the back row. She had two kills during a four-point run that made it 22-13.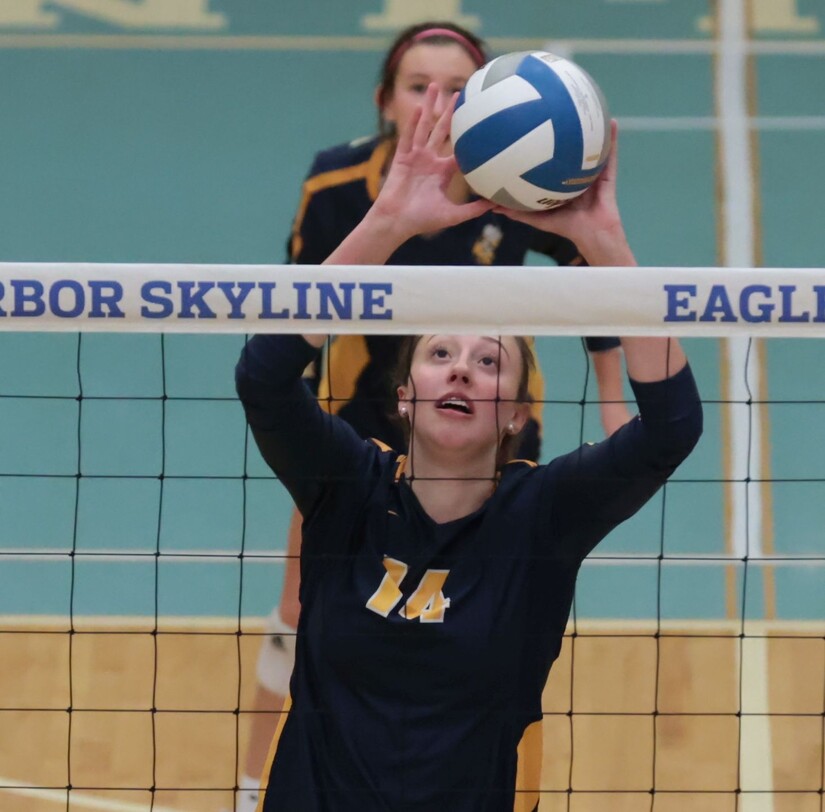 Skyline opened the third set with a  4-2 lead. Saline responded with three points on two kills by Laurio and a block by Bohl.
Down 7-6, Laurio put Saline back in front with back-to-back bullets. Skyline stayed within striking range but the Hornets slowly increased their lead.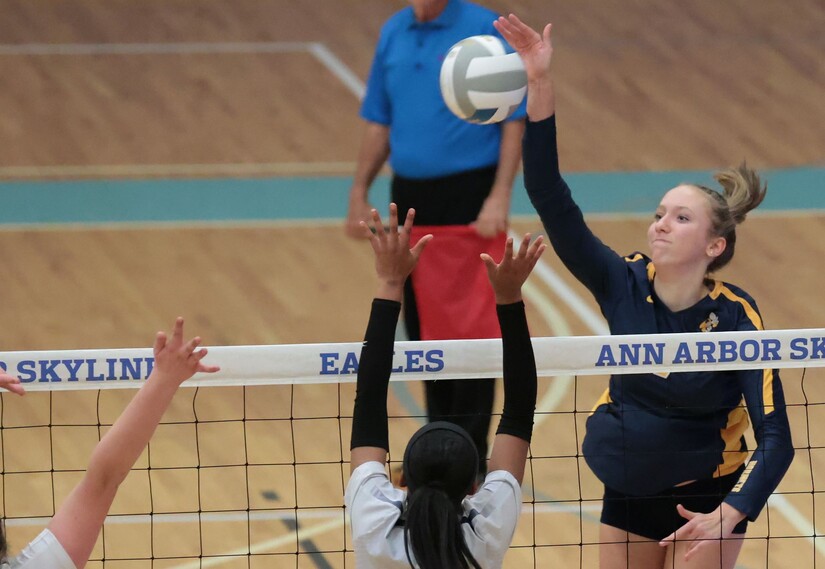 After a kill by White, Saline led 17-13.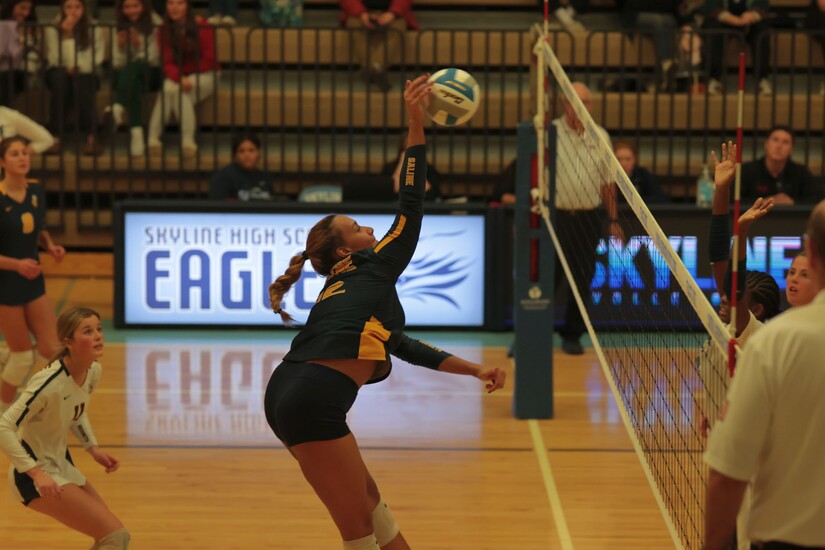 After a kill by Ashley, Saline led 22-16.
The Eagles, on their home floor, weren't about to go down without a fight. They scored six straight points to tie the game. 
The Hornets regained control and clinched the set and match on an ace by Smith.
INTERVIEWS
More News from Saline