VOLLEYBALL: Saline Sweeps Pioneer to Take 2nd Straight District Championship
Image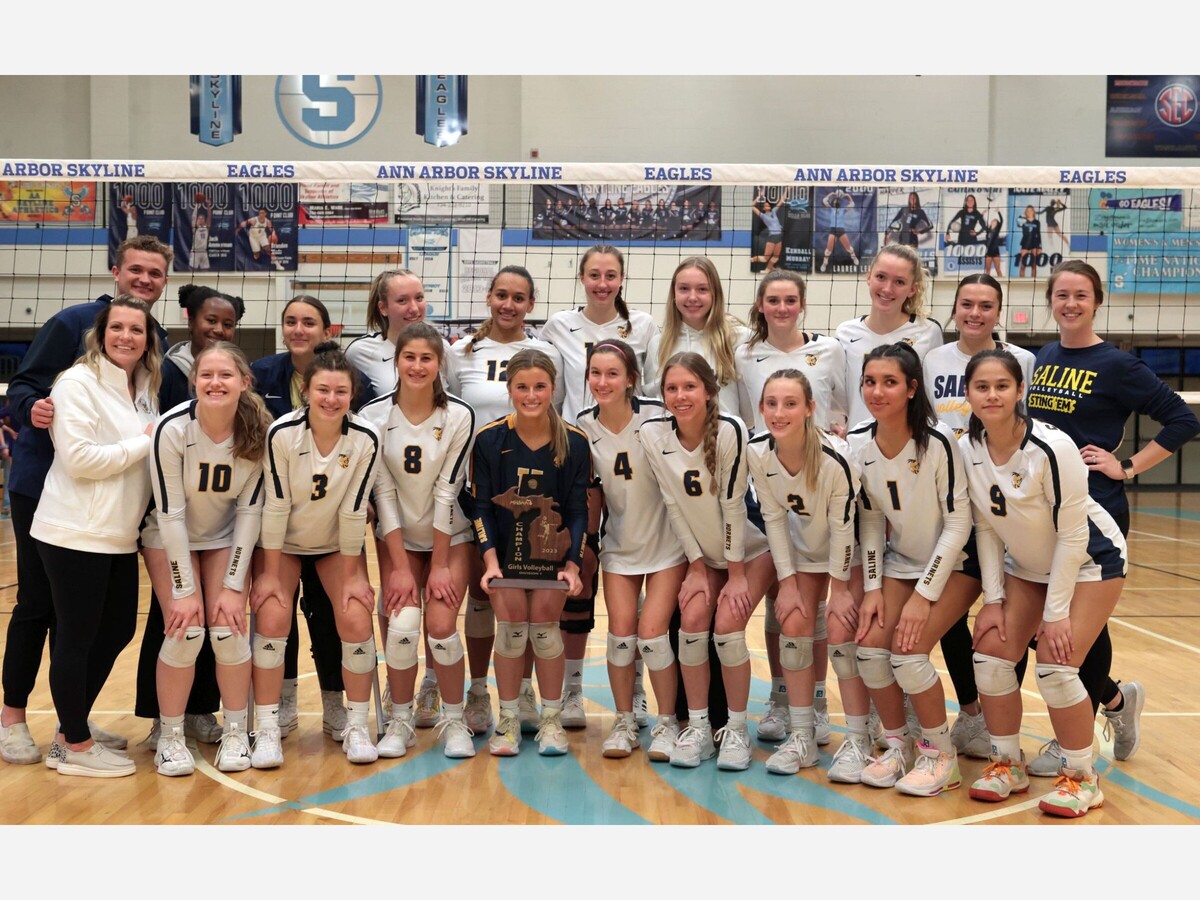 ANN ARBOR - Saline swept Pioneer, 25-12, 25-19 and 25-16, to win the MHSAA Division 1, District 14 championship Friday at Skyline High School. The victory gives Saline back-to-back district titles.
Saline was the heavy favorite in the district tournament - especially in Friday's final. Coach Darien Bandel said the Hornets weren't always at their best, but that they finished strong.
"I thought we started a little unfocused today. I'm incredibly impressed with Pioneer's effort. They gave us a heck of a game," Bandel said. "I thought we responded really well in the third set and I'm really looking forward to playing Brighton on Tuesday."
Saline plays Brighton in the regional semifinal at 7 p.m., Tuesday at Ypsilanti-Lincoln High School. Northville and Bedford play in the other semifinal.
Even without 6'1 hitter Catherine Flaharty out of the line up, the Hornets dominated at the net.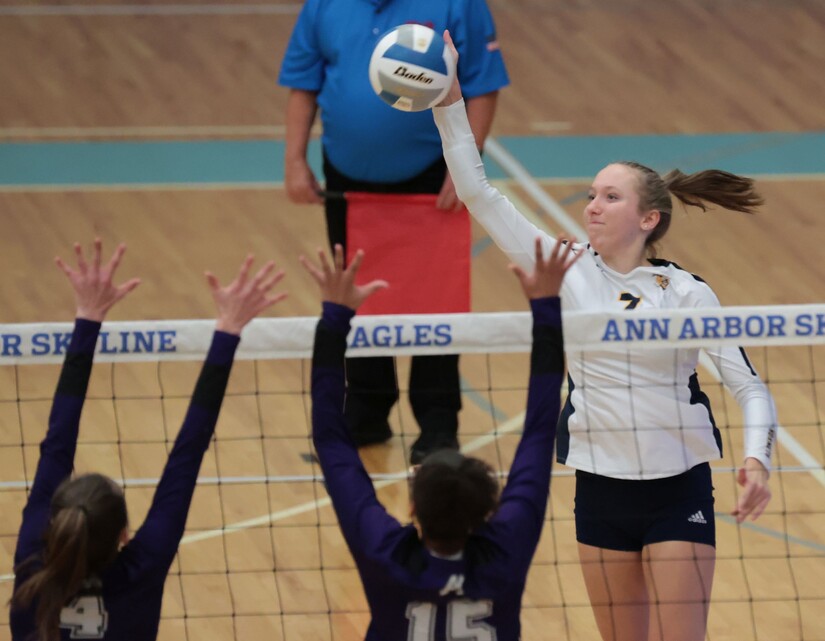 Saline scored points with a steady diet of hitting from senior Mallory Bohl, juniors Marie Laurio, Addison Ashley and Sidney White, and sophomores  Clare Beazley and Taylor Dahms.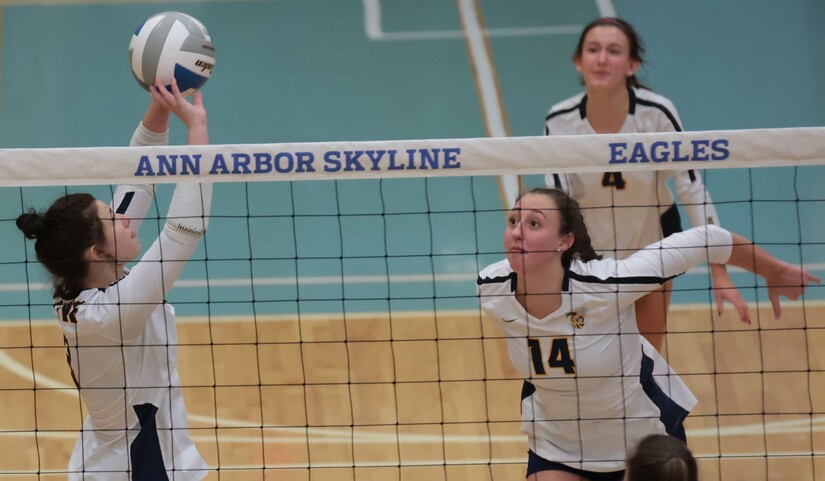 They were set up by senior Olivia Behen.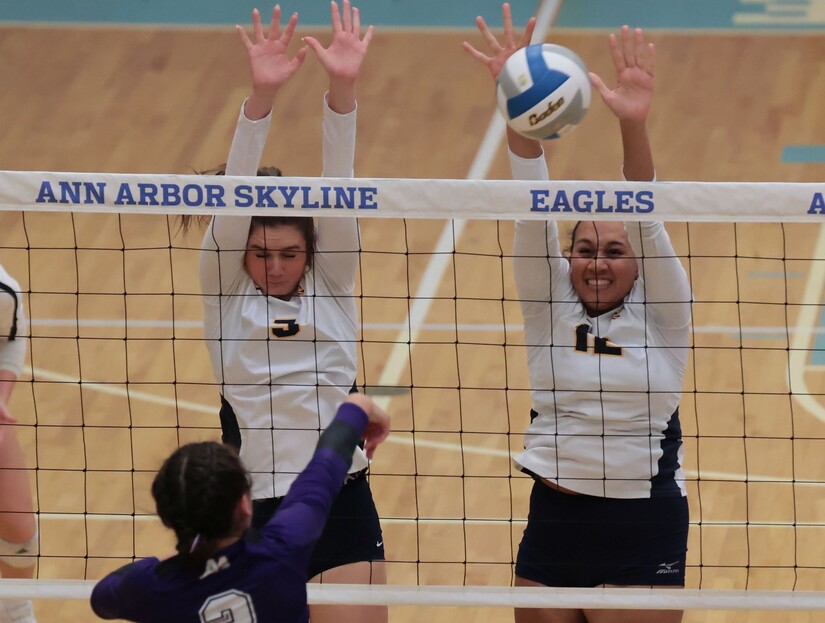 Saline also benefitted from the blocking of Bohl and Ashley.
Saline was rarely behind in Friday's final.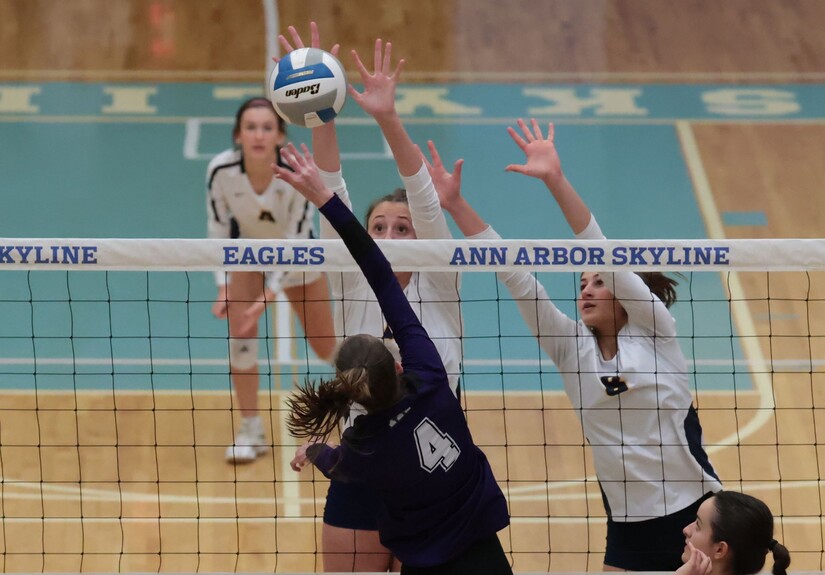 In the first set, Pioneer had leads of 1-0 and 2-1, and once Bohl's first block of the game fell to the floor, Saline led 3-2 and never looked back.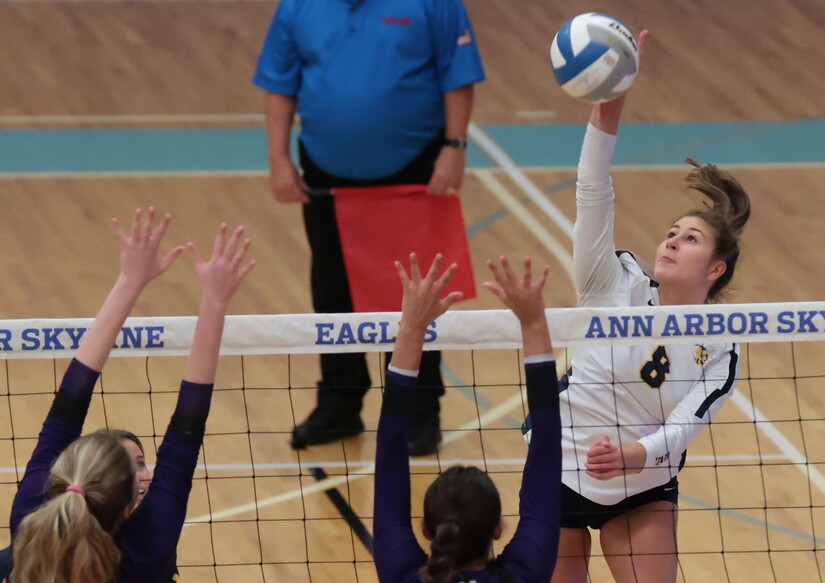 Laurio, the Syracuse commit, took turns dominating early in the set. She had two points during a three-point run that gave Saline a 9-3 lead.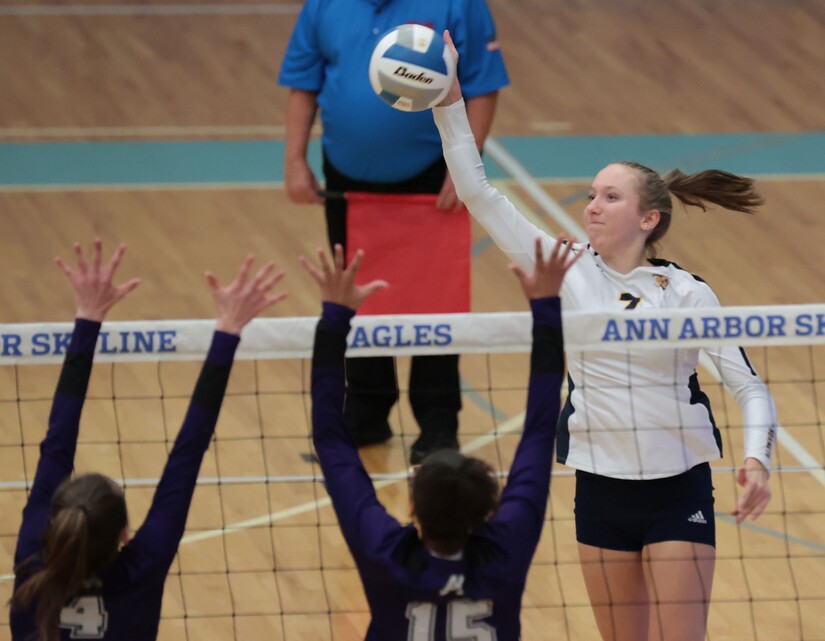 After Pioneer scored, White and Laurio had kills and Behen served an ace during a four-point run that gave Saline a 14-5 lead.
Laurio had another back-to-back kill sequence to make it 16-6.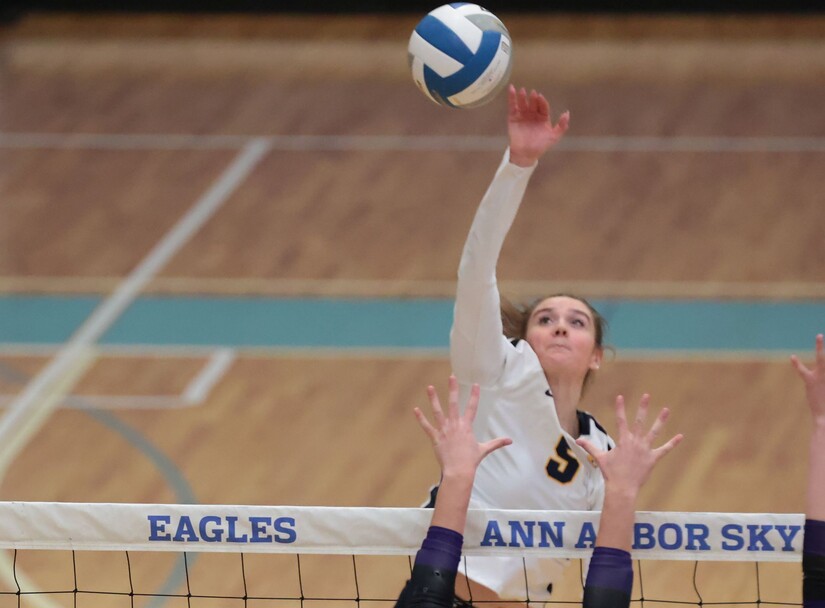 Clare Beazley had back-to-back kills during a four-point run that made it 20-8.
Saline cruised to a 25-12 win, finishing the set on Ashley's cross-court kill.
The second set was the sloppiest for the Hornets.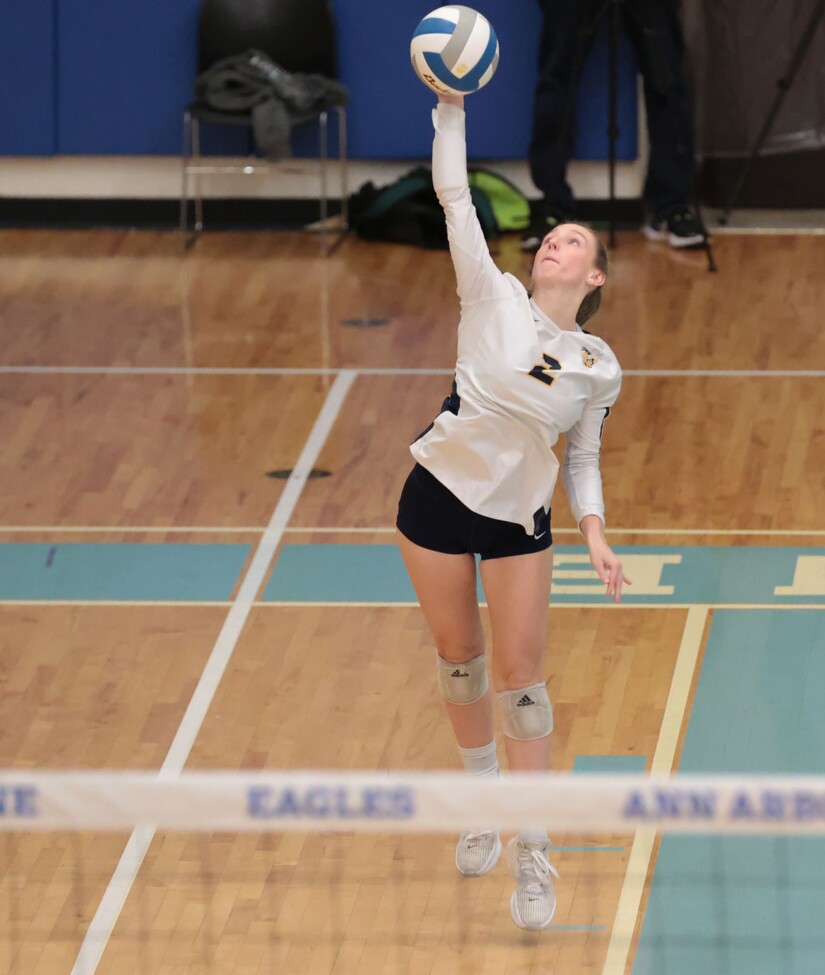 Up 6-4, Saline went on a five-point run with Allie Smith at the service line. That was the Hornets' longest run of the match as Saline struggled with consistency.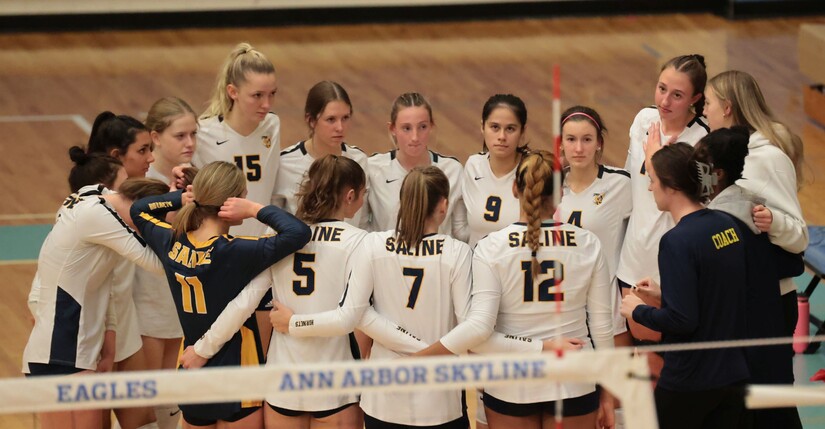 Still, Pioneer couldn't match the Hornets' size or athleticism and while the Pioneers closed the gap, they never really threatened. The Hornets finished with seven of the game's final nine points to win, 25-19.
Once again, it was Ashley's net play that clinched the set for Saline.
Set three began with Pioneer scoring first.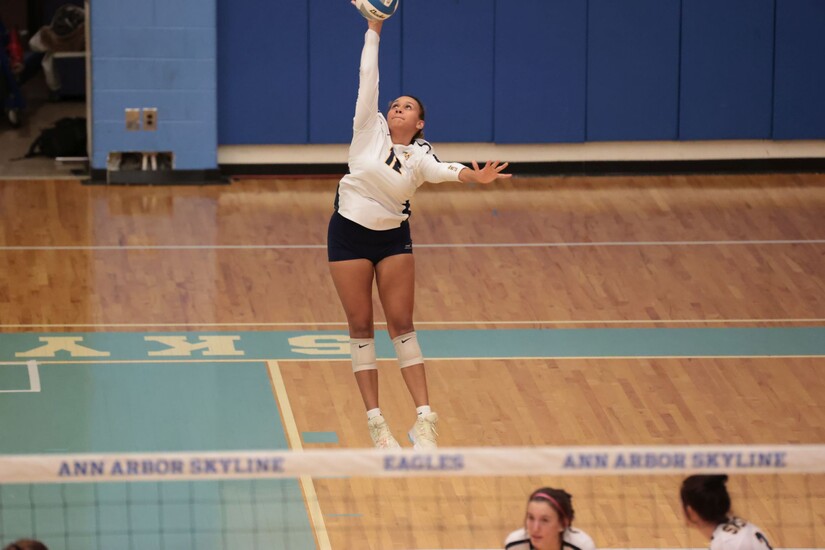 Saline replied and Ashley took to the service line. By the time she was done, Saline had a 10-1 lead. Ashley served two aces during the run.
Laurio, with her leaping ability, and Bohl, with her height,  continued to dominate at the net.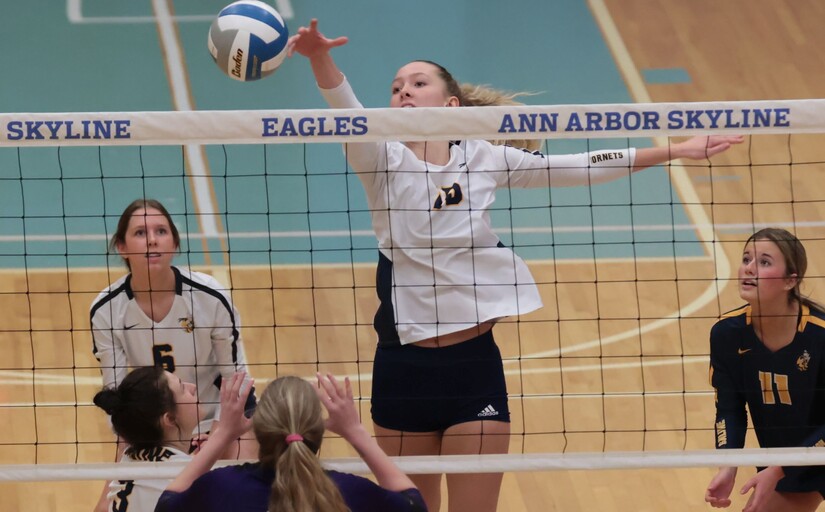 Sophomore Taylor Dahms entered the game and had success at the net with a couple of kills and a block.
Saline clinched the set and match with a spin-to-win ace served by junior Rylee Bero.
Saline advances to a very tough regional tournament that begins Tuesday at Ypsilanti Lincoln High School. Saline plays Brighton, 20-1, at 7 p.m. Brighton defeated Saline back on Aug. 24 in a tournament which also saw Saline lose to Northville, who will play Bedford on the other side of the district. Saline hasn't had much success against these teams this year, but those losses came earlier in the year.
"Those are four top 10 teams. This region is going to be brutal. We're looking forward to a great region of really good volleyball and it only gets harder from there," said Bandel, who sees reason for optimism. "A new lineup has given us a spark, something to work hard for and some excitement."
The Hornets hope injured Xavier-commit Catherine Flaharty is back in practice over the weekend and ready to help the Hornets on Tuesday.
More News from Saline