HOCKEY: Washtenaw United Streaks to 5-1 Win Over Grand Rapids
Image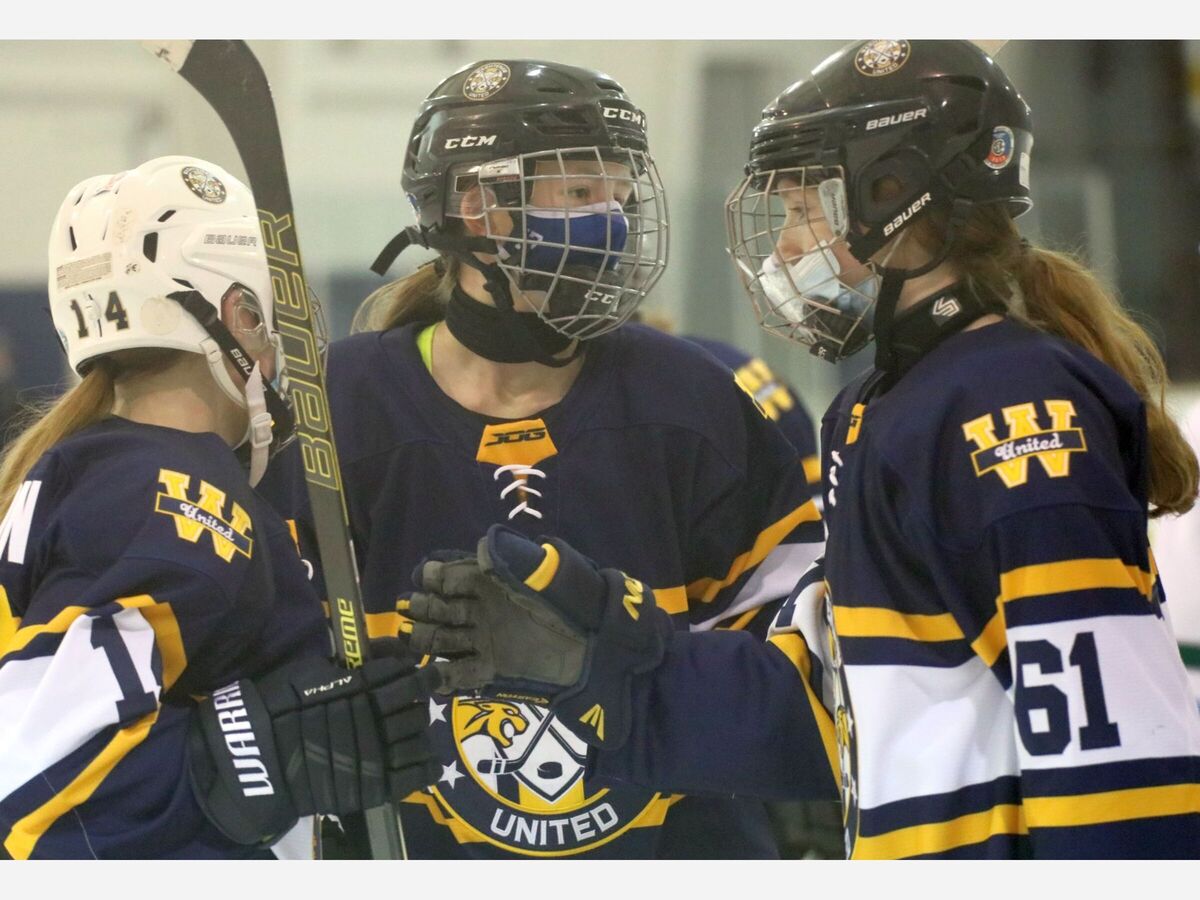 The Washtenaw United Girls High School ice hockey team hosted the Grand Rapids Griffins 19U team Saturday, Feb. 27 at the Ann Arbor Ice Cube. Washtenaw set the tone of the game early with a goal by Linzy Costella (Manchester, '21) unassisted at 12:38 of the first period. A short time later her teammate, Cecilia Hendrickson (Chelsea, '24) put another goal behind the Griffin's netminder. Reese Caryl (Saline, 22) and Jillian Eggleston (Dexter, '22) had assists on Hendrickson's goal. Late in the period, the Griffin's goaltender stopped a terrific end-to-end rush by Costella.
Washtenaw continued their offensive push in the second period with a goal at 13:25 by Sydney Clark (Saline, '25) assisted by Raegan Kopitsch (Dexter, '24). This time Grand Rapids returned the pressure by getting one past Washtenaw's goalie, Julia Scarcello (Saline, '22) at 9:27 of the period. In response Washtenaw scored two goals in quick succession. The first was scored by Caryl with assists from Henrickson and Kathryn Winters (Saline, '23) at 8:16, followed only 12 seconds later with a score by Henrickson with the assist from Kopisch. At 6:30 remaining in the period, Washtenaw newcomer Lexi Lyons (Saline) got her first shift with the team.
The two teams played a back and forth game in the third period with power play opportunities by both teams and some good defensive work by Washtenaw's Eggleston, Julia Berholz (Dexter, '24), Rylee Kennedy (Milan, '24) and Riley Malloy (Saline, '24). Lyons contributed with several strong break out passes to her teammates throughout the 3rd. The Griffins best chance came on a surprise shot on Scarcello with 7:08 remaining in the game and again when the Griffins got a shot off from the point right at the buzzer. Scarcello made strong stands on both attempts and had a total of 12 saves for the win.
The win improved the United's record to 6-2-0 on the season. Next up for Washtenaw are home games against Pioneer HS JV on Monday, 3/1 at 5:30 p.m. and then a rematch against Pioneer Varsity on Thursday March 4 at 8:30 p.m.. Both games are at the Ann Arbor Ice Cube where limited spectators are permitted.
INFORMATIONAL ADDENDUM: Washtenaw United is a High School Girls' Hockey Team skating out of the Ann Arbor Ice Cube. The team serves High Schools within Washtenaw County that do not have a dedicated team to play for. Currently, Pioneer and the combined Skyline-Huron have dedicated teams. Washtenaw United is made up of players from Saline, Dexter, Chelsea, Manchester, and Milan. The team is in its first year of play, and is an affiliate member of the Michigan Girls High School Hockey League (MGHSHL) with plans of full membership into the league for the 2021-22 season.
Email: WashtenawUnitedHSHockey@gmail.com
Website: https://www.migirlshshockey.org/page/show/5974674-washtenaw
Facebook: @WUHSGirlsHockey
Twitter: @WUHSGirlsHockey
Instagram: @WashtenawUnitedHockey