CORONAVIRUS: One Hospitalization, No Deaths Reported in Washtenaw County Over Holiday Weekend
Image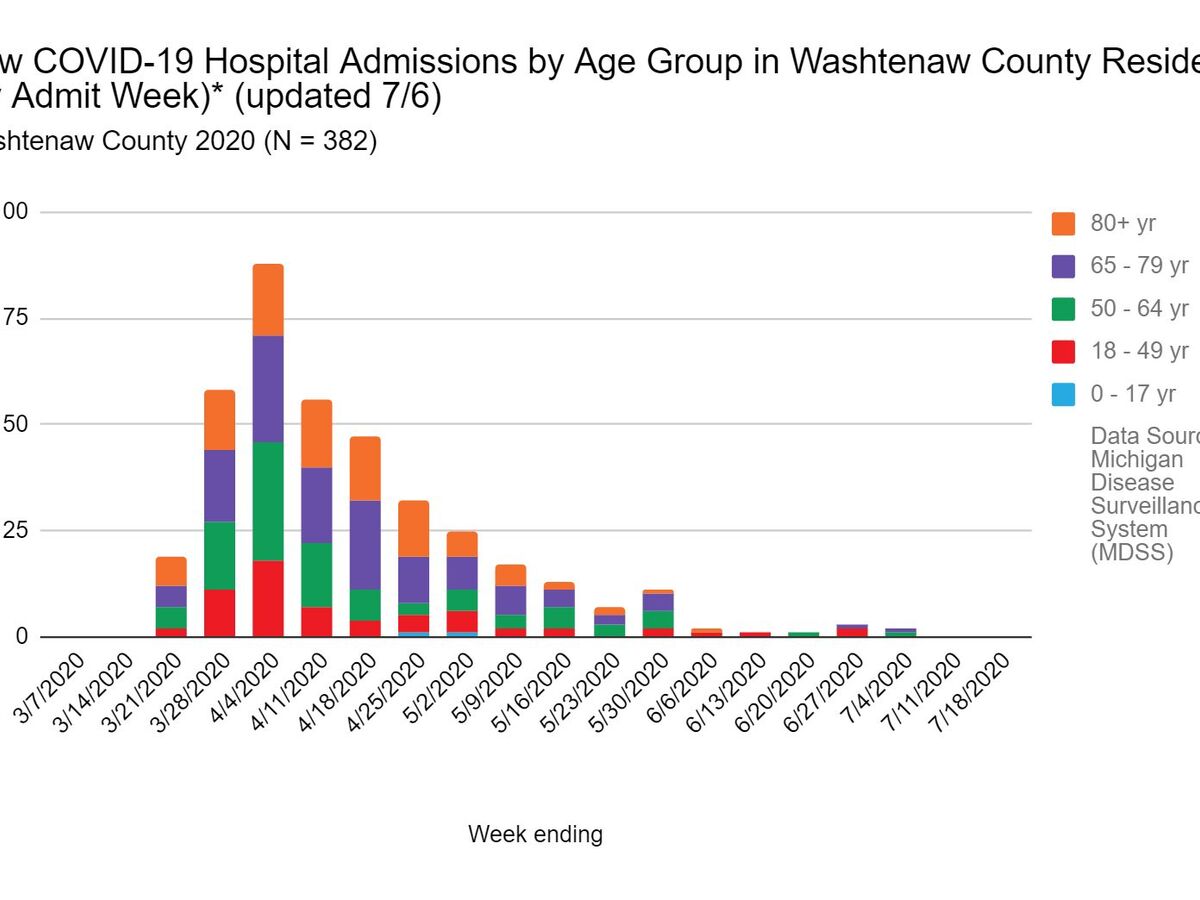 There were no new deaths and one hospitalization in data updated by the Washtenaw County Health Department as reporting resumed after a long holiday weekend Monday.
The number of COVID-19 deaths remained at 106. The number of hospitalizations increased to 382.
There were 40 new lab-confirmed cases, taking the total to 1,546. The number of recoveries increased by eight to 1,295.
It was the first time the county page was updated since Thursday.
The number of cases in Saline's 48176 zip code increased by two to 82. 
For the week, Washtenaw County saw a substantial increase in confirmed cases. There were 71 confirmed cases last week, up from 35 the week before. It was the most new cases since the week of May 2, when there were 94. The highest week on record is March 28, when there were 228 lab-confirmed cases.
Despite the significant increase in confirmed infections, hospitalization numbers remain low. There were three new deaths last week. The peak came in April when 88 county residents were hospitalized.
There were three deaths last week. It's down from the high of 22 in early May. But last week's total was as much as the previous three weeks combined.
The State of Michigan reported three new deaths, bringing the total to 5,975. There were no deaths reported Sunday - the first time there were no deaths reported since the pandemic started.  Michigan reported 297 new confirmed cases.
According to the CDC there were 235 new deaths, bringing the total to 129,811.
 
!function(e,i,n,s){var t="InfogramEmbeds",d=e.getElementsByTagName("script")[0];if(window[t]&&window[t].initialized)window[t].process&&window[t].process();else if(!e.getElementById(n)){var o=e.createElement("script");o.async=1,o.id=n,o.src="https://e.infogram.com/js/dist/embed-loader-min.js",d.parentNode.insertBefore(o,d)}}(document,0,"infogram-async");