BAND PREVIEW: 167-Strong, The Saline Marching Band's Theme This Year is 'Dance Show'
Image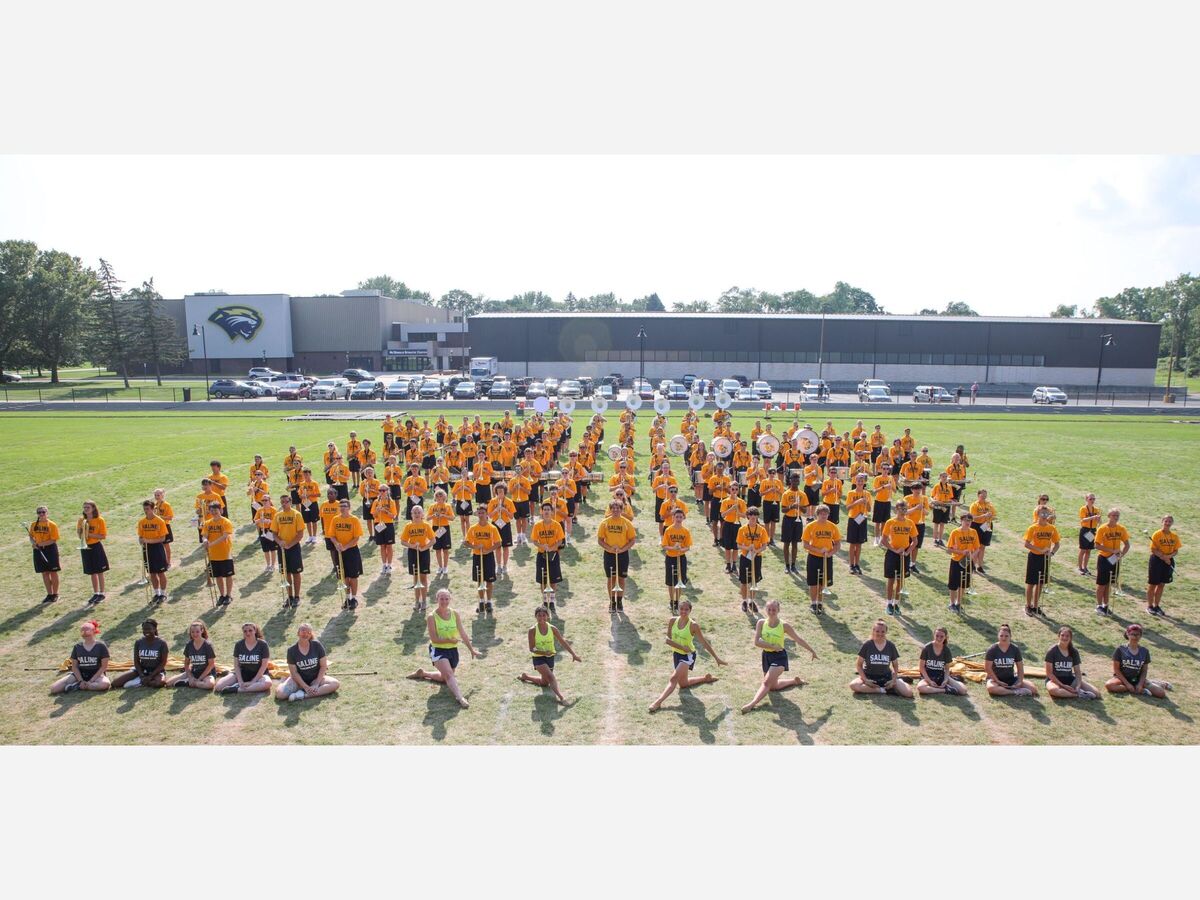 In a lot of ways, it felt like starting new.
Even for veteran teacher and Marching Band director Nate Lampman.
The Saline High School Marching band didn't have a band camp in 2020, thanks to COVID-19. And in 2019, band camp was cut short due to a water main break at Spring Arbor University.
So when the band returned to Spring Arbor earlier this summer for band camp, only about a quarter of the band - the rising seniors - had ever started and completed camp.
"Three-quarters of the band had never had the full experience for our camp this summer. The band has a lot of wonderful traditions and experiences that occur at camp, and it was fun reintroducing those to the students," Lampman said. "In a lot of ways it reminded me of our first band camp in the summer of 2000 because the whole experience was new for most of the band students."
The Saline Marching Band this year features 167 members. Lampman said there was a lot of excitement around camp with the chance to have a normal year. In this case, normal includes returning to their familiar place in the north end zone in more crowded stadiums.
"There is a lot of excitement and anticipation on the part of both band students and staff for this season. We are really looking forward to being in our traditional spot down on the field in the north endzone," Lampman said.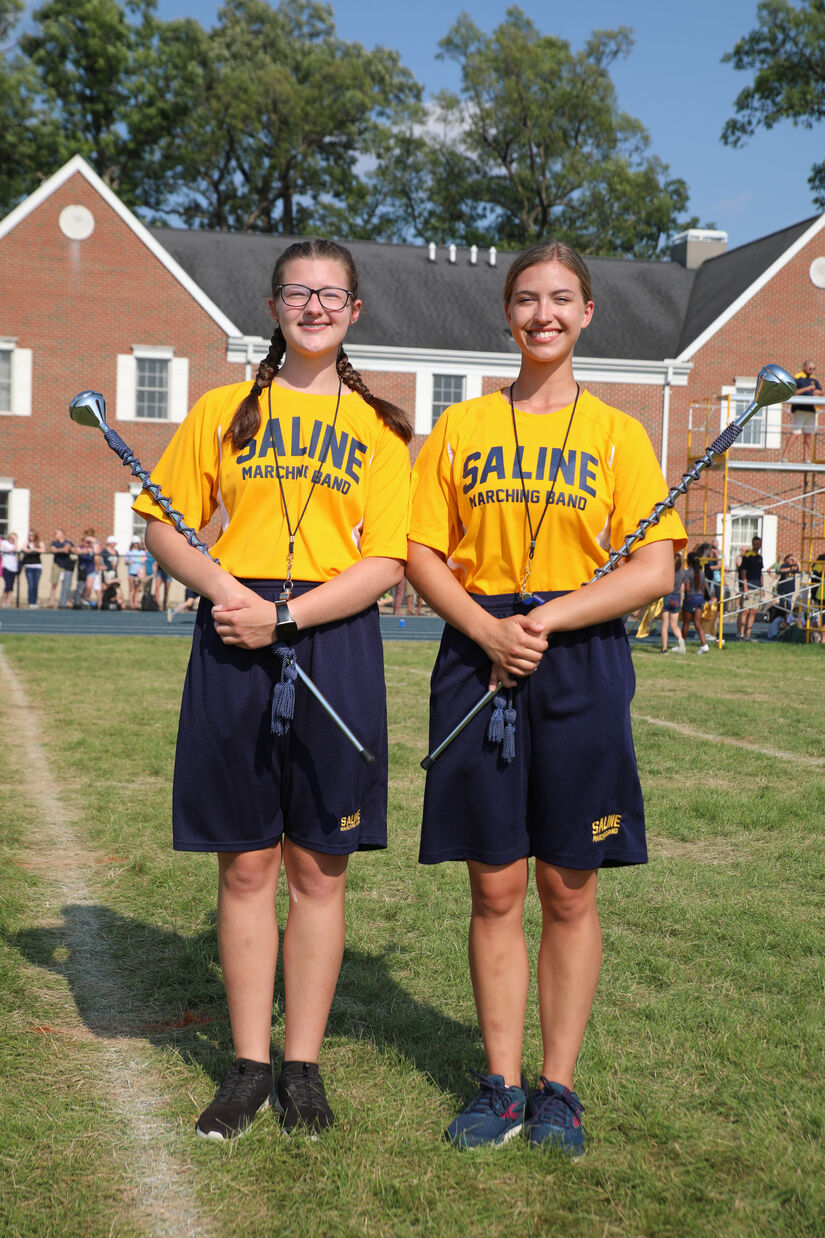 The band is led by drum majors Cora Hart, who debuted as a drum major last year, and Kira Shaffer. They were chosen after a rigorous audition process in June.
"Cora and Kira did an outstanding job at camp. Not only did they do an excellent job leading the band musically in rehearsals on the field, they also had a huge role in creating the positive culture and work ethic that has always been an attribute of the Saline Marching Band," Lampman said.
The section leaders are Jacob Cotsonika (Trombone), Travis Crigger (Drumline), Lily Cutler (Piccolo), Micah Davis (Sousaphone), Drew Eccleston (Tenor Saxophone), Alexis Figueras (Majorettes), Stefanie Harris (Trumpet), Andrew Steele (Trumpet), Mackenzie Hertler (Clarinet), Lauryn Pickett (Clarinet), Christian Manohar (Alto Saxophone), Sarah Marquardt (Colorguard), Tess Sanderson (Mellophone) and Jordan Wright (Baritone). The section leaders were chosen by a vote within their instrument section.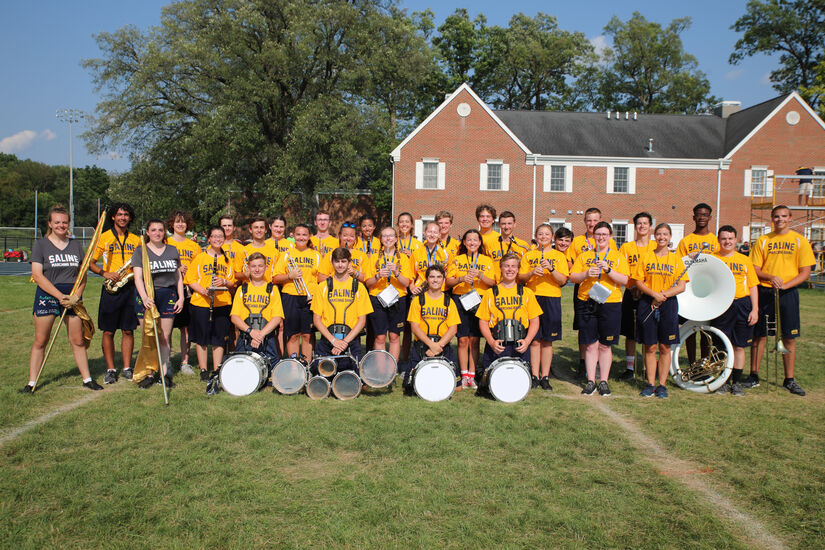 This year's halftime show is "Dance Show." Songs include Safety Dance by Men Without Hats, Dancing Queen by Abba, Jump in the Line by Harry Belafonte, Attitude Dance by Tower of Power and Dance to the Music by Sly and the Family Stone.
Here's the rest of the Saline Marching Band Roster.
Tommy Allmand
Kelsey Altevogt
Natty Anderson
Avery Atkins
Bradley Austin
Carter Bankowski
Owen Belote
Owen Benes
Kate Black
Skye Bleed
Neah Bloch
Eddie Bregger
Colin Brown
Charlie Burchill
Emma Burns
Trinity Calleja
Tory Cantrell
Zhanna Carlson
Yuri Carnino
Luke Caswell
William Cauley
Luke Chai
Lindsey Clarke
Julianna Combs
Dori Cook
Jacob Cotsonika
Ella Courtney
Daniel Covey
Fiona Crawford
Travis Crigger
Lance Cronin
Harold Crowner
Lily Cutler
Madeline Cutler
Micah Davis
Chloe Dillen
Rowan Dillen
Lauren Durant
Emma Easley
Drew Eccleston
Collin Eckermann
Luke Fair
Kathryn Feller
Alexis Figueras
Tricia Filbrun
Alex Fischer
Owen Fischer
David Franklin
Eric Friedholm
Carmella Gatto
Mark Girvan
Evelyn Goerlitz
Eli Gray
Joshua Gregory
Luke Haase
Allison Hafer
Evan Han
Ella Harmon
Stefanie Harris
Cora Hart
Lucy Hart
Amalia Hayden
Anna Healy
Andrew Height
Mackenzie Hertler
Maddie Holderbaum
Lauren Holloway
Katie Holmes
Phoebe Huddleston
Erin Huetteman
Jenna Huetteman
Ben Isaacson
Ray Jenkins
Amelia Jobe
Samar Kannenje
Sara Khan
Bryan Kim
Logan Kipley
Jacki Kolano
Nicki Kolano
Ronald Kreucher
Ryan Landini
Elly Lecursi
Marianna Lemley
Daniel Lemmerhirt
Iliana Lichtenstein
Zach Lindemann
Mallory Lizotte
Alissa Logsdon
Evan MacNaughton
Ian MacNaughton
Kendall MacNaughton
Kadyn Maida
Meredith Makowski
Christian Manohar
Sarah Marcinkiewicz
Octavia Marciszewski
Emily Marquardt
Sarah Marquardt
Jeslyn Martindale
Sophia Mattson
James McCalla
Jameson McFaddin
Greta McIntire
Jacob McNaughton
Saman Meshinchi
Tessa Meyers
Kevin Miller
Bela Morales
Anna Mueller
Leah Mueller
Adyson Naebeck
Philip Narumi
John Omega
Grace Orwig
Caroline Pangilinan
Sophia Parisek
Lauryn Pickett
Aaqilah Rashiid
Shelby Reed
Quinton Riggs
Abby Roth
Grace Roth
Trevor Rothfuss
Hayden Rouse
Rebecca Rummel
Samuel Sakel
Tess Sanderson
Hayden Schad
Ava Schneider
Carrie Schwartz
Kira Shaffer
Anna Shingle
Daniel Sirbu
Brehima Sissoko
Kosta Smyrnis
Megan Socha
Wyatt Sowa
Riley Spencer
Cameron Spitael
Devor Stacey
Colin Stack
Marcus Stanish
Andrew Steele
Cael Sutherland
Gavin Sykes
Adam Telgen
Kylee Tennant
Kyra Tokarski
CJ Maegan Tuldanes
Ava Turner
Nicolás Ventura
Adeline Verkerk
Kadence Waldrop
Amber Walker
Owen Walker
Gabe Walters
Everett Warila
Victoria Weeden
Izzy Whalen
Will Winslow
Kathryn Winters
Joey Wlodyka
Jordan Wright
Ben Yoders
Ray Yoders