TENNIS: Saline Opens Season With Three Wins at Saline Quad
Image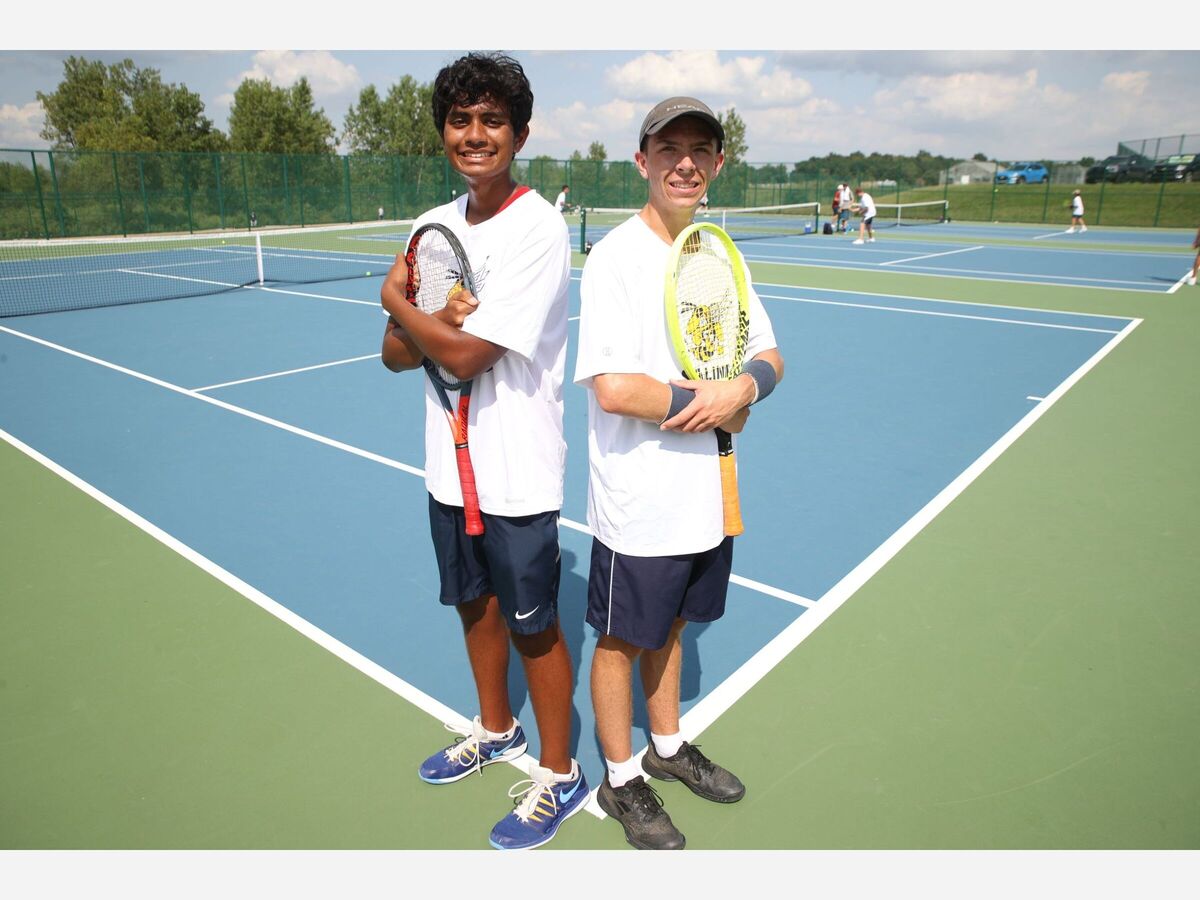 Saline's varsity boys' tennis team opened the season winning three matches at the Salem Quad Saturday.
The Hornets bested Walled Lake Northern, 9-1, beat Grand Blanc, 9-0, and defeated Salem, 8-2.
Amod Talekar, playing singles one, Reed Recchia, singles two, and Brenden Morrison, singles three, all went 3-0.
In doubles, Roan Luchies and Joeb Wuerthele, in the second flight, went 3-0. Also going perfect were Gabe Cueto and Jason Hu (3rd flight). At doubles five, Ryan Fisher and Andrew Strong were 3-0. Milo Spieth and Ishaan Mendiratta went 2-0.
SALINE HIGH SCHOOL - 9, Commerce Township WALLED LAKE NORTHERN - 1,
Singles:
No. 1 - Amod Talekar, SALINE HIGH SCHOOL def. Mason Mojica, Commerce Township WALLED LAKE NORTHERN, 6-1 , 6-3 , -;
No. 2 - Reed Recchia, SALINE HIGH SCHOOL def. Austin Keffaber, Commerce Township WALLED LAKE NORTHERN, 6-0 , 6-1 , -;
No. 3 - Brenden Morrison, SALINE HIGH SCHOOL def. Zack Beneson, Commerce Township WALLED LAKE NORTHERN, 8-3 , -, -;
No. 4 - Tyler Brunsell, Commerce Township WALLED LAKE NORTHERN def. Lucas Bae, SALINE HIGH SCHOOL, 6-1 , 6-2 , -;
Doubles:
No. 1 - Nick Birkle, SALINE HIGH SCHOOL - Paul Goldhardt, SALINE HIGH SCHOOL def. Robbie Whelan, Commerce Township WALLED LAKE NORTHERN - Mathew Murray, Commerce Township WALLED LAKE NORTHERN, 6-3 , 6-4 , -;
No. 2 - Roan Luchies, SALINE HIGH SCHOOL - Joeb Wuerthele, SALINE HIGH SCHOOL def. Owen Wittman, Commerce Township WALLED LAKE NORTHERN - Tim Awad, Commerce Township WALLED LAKE NORTHERN, 6-3 , 6-4 , -;
No. 3 - Gabe Cueto, SALINE HIGH SCHOOL - Jason Hu, SALINE HIGH SCHOOL def. Luke Orrico, Commerce Township WALLED LAKE NORTHERN - Gryffin McGowan, Commerce Township WALLED LAKE NORTHERN, 6-3 , 6-1 , -;
No. 4 - Mason Miller, SALINE HIGH SCHOOL - Caleb Helmer, SALINE HIGH SCHOOL def. Bryce Hodge, Commerce Township WALLED LAKE NORTHERN - Connor Fitzsimmons, Commerce Township WALLED LAKE NORTHERN, 6-4 , 6-2 , -;
No. 5 - Ryan Fisher, SALINE HIGH SCHOOL - Andrew Strong, SALINE HIGH SCHOOL def. Jacob Freese, Commerce Township WALLED LAKE NORTHERN - Andrew Friend, Commerce Township WALLED LAKE NORTHERN, 6-3 , 6-2 , -;
No. 6 - Milo Spieth, SALINE HIGH SCHOOL - Ishaan Mendiratta, SALINE HIGH SCHOOL def. Sam Brikho, Commerce Township WALLED LAKE NORTHERN - Gabe Agrest, Commerce Township WALLED LAKE NORTHERN, 6-1 , 4-6 , 10-3 ;
SALINE HIGH SCHOOL - 9, GRAND BLANC - 0,
Singles:
No. 1 - Amod Talekar, SALINE HIGH SCHOOL def. Ashton Hesson, GRAND BLANC, 7-5 , 3-6 , 10-2 ;
No. 2 - Reed Recchia, SALINE HIGH SCHOOL def. Nirav Patel, GRAND BLANC, 6-0 , 6-0 , -;
No. 3 - Brenden Morrison, SALINE HIGH SCHOOL def. Luke Trotter, GRAND BLANC, 6-1 , 6-1 , -;
No. 4 - Lucas Bae, SALINE HIGH SCHOOL def. Krishna Pedavalli, GRAND BLANC, 6-1 , 6-4 , -;
Doubles:
No. 1 - Nick Birkle, SALINE HIGH SCHOOL - Paul Goldhardt, SALINE HIGH SCHOOL def. Andrew Meunier, GRAND BLANC - Nathan Preiestap, GRAND BLANC, 6-1 , 6-0 , -;
No. 2 - Roan Luchies, SALINE HIGH SCHOOL - Joeb Wuerthele, SALINE HIGH SCHOOL def. Alex Stevens, GRAND BLANC - Saareya Sorbol, GRAND BLANC, 6-3 , 6-0 , -;
No. 3 - Gabe Cueto, SALINE HIGH SCHOOL - Jason Hu, SALINE HIGH SCHOOL def. Logan Ito, GRAND BLANC - Jackson McCormick, GRAND BLANC, 6-1 , 6-0 , -;
No. 4 - Mason Miller, SALINE HIGH SCHOOL - Caleb Helmer, SALINE HIGH SCHOOL def. Marty Barker, GRAND BLANC - Avery Kordyzon, GRAND BLANC, 6-0 , 6-2 , -;
No. 5 - Andrew Strong, SALINE HIGH SCHOOL - Ryan Fisher, SALINE HIGH SCHOOL def. Asa Bachman, GRAND BLANC - Duke Zhu, GRAND BLANC, 6-1 , 6-3 , -;
SALINE HIGH SCHOOL - 8, Canton SALEM - 2,
Singles:
No. 1 - Amod Talekar, SALINE HIGH SCHOOL def. Aadi Huria, Canton SALEM, 6-0 , 6-0 , -;
No. 2 - Reed Recchia, SALINE HIGH SCHOOL def. Harish Narayan, Canton SALEM, 6-1 , 6-0 , -;
No. 3 - Brenden Morrison, SALINE HIGH SCHOOL def. N/A, 2-0 , 2-0 , -;
No. 4 - Shyrod Sajadpour, Canton SALEM def. Lucas Bae, SALINE HIGH SCHOOL, 6-2 , 6-0 , -;
Doubles:
No. 1 - Nikhil Kondagunta, Canton SALEM - Akash Bharathan, Canton SALEM def. Nick Birkle, SALINE HIGH SCHOOL - Paul Goldhardt, SALINE HIGH SCHOOL, 6-3 , 6-1 , -;
No. 2 - Roan Luchies, SALINE HIGH SCHOOL - Joeb Wuerthele, SALINE HIGH SCHOOL def. Kalan Patel, Canton SALEM - Zaid Yahya, Canton SALEM, 7-5 , 6-0 , -;
No. 3 - Gabe Cueto, SALINE HIGH SCHOOL - Jason Hu, SALINE HIGH SCHOOL def. Nathan Clarke, Canton SALEM - Sampan Chaudhuri, Canton SALEM, 6-2 , 6-1 , -;
No. 4 - Mason Miller, SALINE HIGH SCHOOL - Caleb Helmer, SALINE HIGH SCHOOL def. Rishi Topiwala, Canton SALEM - Romel Patel, Canton SALEM, 3-6 , 3-6 , -;
No. 5 - Ryan Fisher, SALINE HIGH SCHOOL - Andrew Strong, SALINE HIGH SCHOOL def. Aditya Patel, Canton SALEM - Ayush Patel, Canton SALEM, 6-2 , 6-1 , -;
No. 6 - Milo Spieth, SALINE HIGH SCHOOL - Ishaan Mendiratta, SALINE HIGH SCHOOL def. Dhruv Bhatnagar, Canton SALEM - Rupesh Seetharaman, Canton SALEM, 6-2 , 6-0 , -;