THIS WEEK IN HORNET COUNTRY: Saline Basketball Gets a Big Win, Hockey Still Unbeaten and More
Image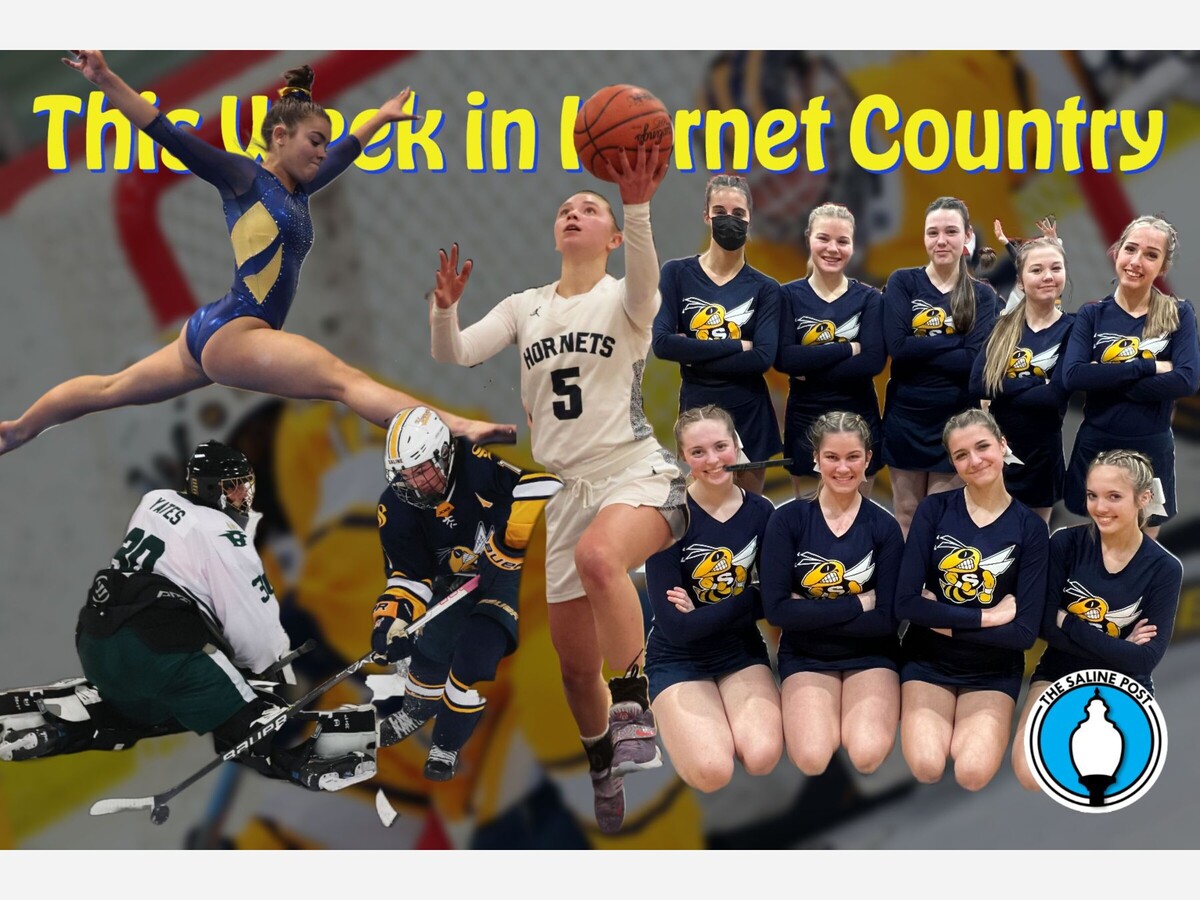 Last week was a big week in Saline High School athletics as all of the teams resumed action.
Here's how things look as we start a new week.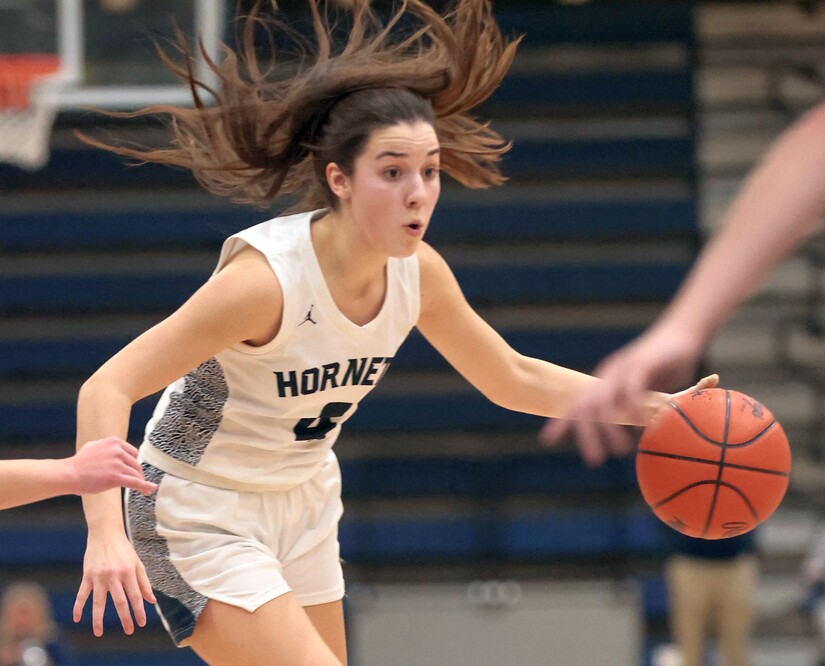 Saline Girls Basketball
The Hornets have gone 3-0 since our update. Sunday, at Little Caesar's Arena, Saline bested Walled Lake Central 56-35. Tuesday, in the big game, Saline beat Dexter, 35-32, coming back from a 12-point deficit in the second half. Friday, Saline defeated Brownstown Woodhaven, 54-41. 
In the Dexter game, you really can't say enough about Saline's defensive effort. The Hornets were fast and furious on defense - and that kept Saline in the game long enough to make some shots. The other thing that Saline did was make free throws in the clutch, going 6-for-6 at one point during comeback.
When a team can play defense the way Saline did Tuesday, they're literally never out of a game. They can 0-for-12 on threes in the first half and still get right back in it in the second half with even half-decent shooting.
Of course, coach Leigh Ann Roehm and the Hornets want to avoid those 0-for-12 first half and do better than half-decent in the shooting department - and when they do, look out!
Junior Kate Stemmer had another big week for Saline, capped with a 20-point performance Friday. In the paint, Olivia Hesse and Beth Ann Ford continue to put their height, leaping and athleticism to stellar use for the Hornets. Freshman Keira Roehm continues to shoot confidently and she's often looks as comfy driving to the hoop as she does shooting from long range.
This week Saline visits Grass Lake Tuesday and Lincoln on Friday. All the games are important, but circle Jan. 27, when the Hornets host Bedford at 5:30 p.m. Both teams are unbeaten in the SEC.
Boys Basketball
Saline has won three straight after Tuesday's 58-49 win over Dexter. Saline is 2-2 in the SEC Red and 6-3 overall.
What's nice to see is that the Hornets are starting to see more offense from other players. Harrison Rogers had a career-high 16 and Zach Fidh also scored 16 in the Dexter game. Freshman Jonathan Sanderson continues to thrive, scoring 14. Add Dylan Mesman to that threesome and that gives the Hornets who can reliably hit double figures.
Saline hosts Chelsea Tuesday and Lincoln Friday. Our friend Greg Wickliffe told us that Chelsea (9-0) could be the best team in Washtenaw County this season - so this is a huge test for the Hornets.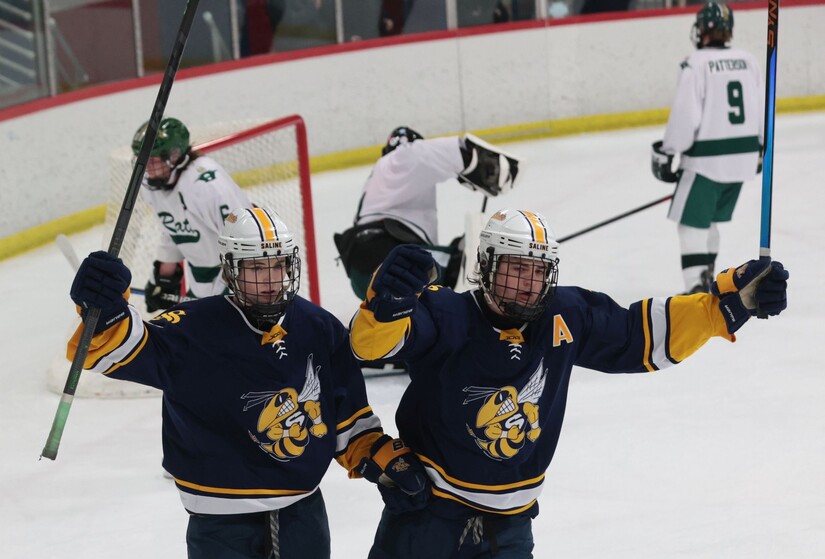 Hockey
Saline won three games to improve to 12-2. They've now won six straight since losing to Novi, 5-4, Dec. 10. The Hornets two losses have come by a total of two goals.
Last week, Saline beat Ann Arbor Huron, 7-4, scoring three third period goals to break the tie. They beat Dexter, 8-0. 
The win over Huron put Saline comfortably in the driver's seat for the SEC Red title. Saline is 6-0. Huron, in second, is 4-2. The worst the Hornets can do now is tie for first. The Hornets finish the SEC season with games Jan. 25 against Skyline and Feb. 9 against Pioneer.
Sunday, at Yost Arena, Saline beat Lenawee, 3-2.
Saline hosts Jackson at 7:30 p.m., Thursday at the Ann Arbor Ice Cube. On Saturday, Saline plays Woodhaven at Southgate Arena at 3 p.m.
Locally, the hockey program hosts a euchre fundraiser Saturday at the American Legion. 
There are two rounds per game. The cost is $50 for a team of two. People must be 21 to participate. There are cash prizes for the top three teams.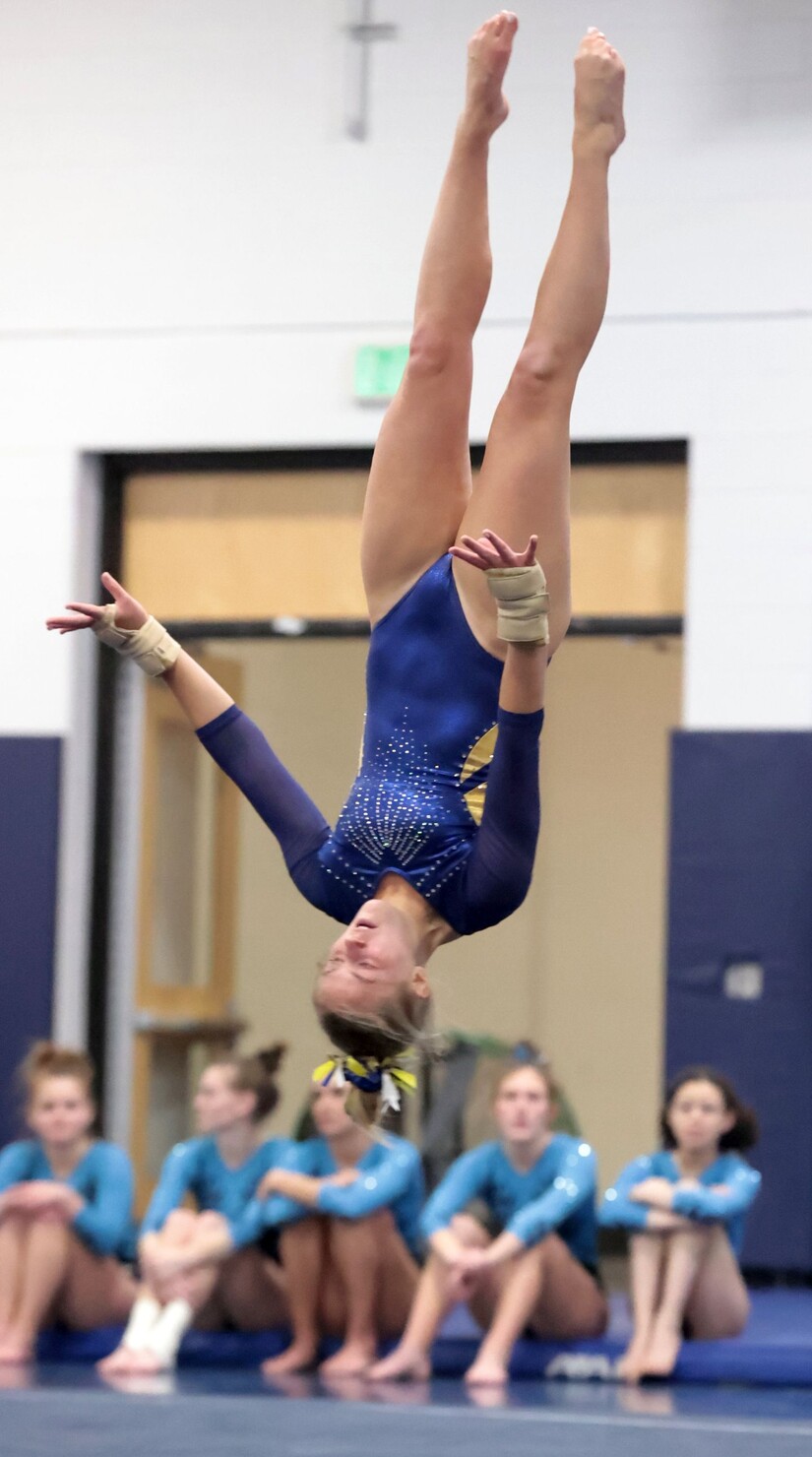 Gymnastics
The Saline High School varsity gymnastics team competed for the first time of the season Wednesday night at home.
The Hornets lost to the Tecumseh/Manchester/Columbia Central co-op team, by a score of 130.35-124.7.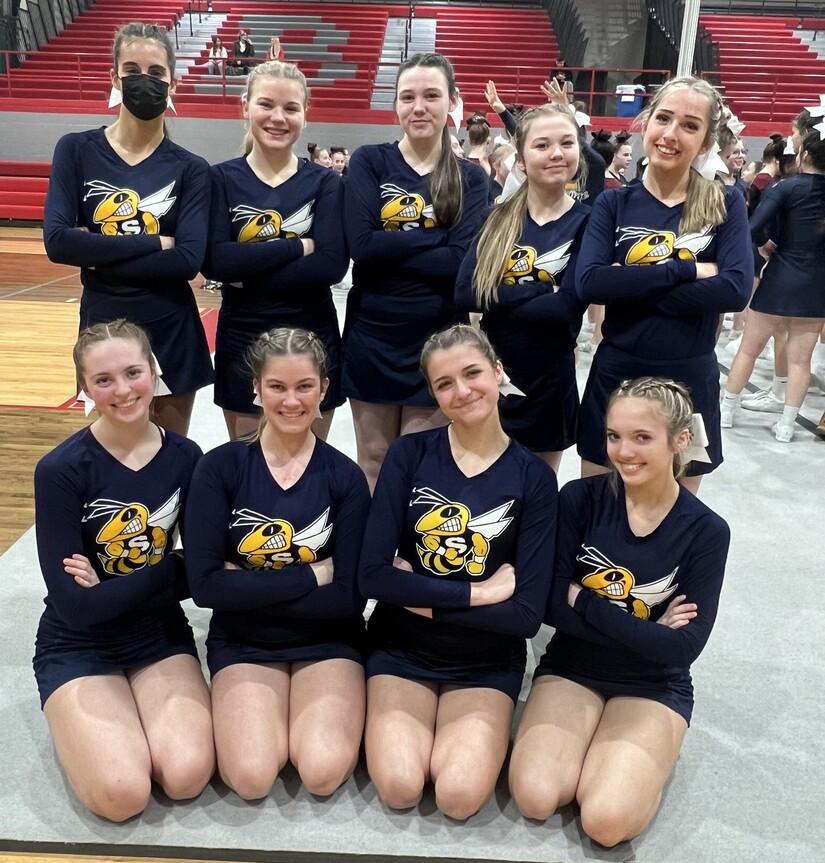 Competitive Cheer
Saline took third Jan. 11 in the opening SEC Red meet at Bedford. Bedford was first and Dexter was second. The Hornets were back in action Jan. 13 at Westland John Glenn, where Saline took second in the five-team meet, behind the host.  Saline hosts the second SEC Red meet Jan. 26 at 6 p.m. The Hornets also host a 26-team invitational Feb. 4 at 10 a..m.
Saline hosts the second SEC Red meet Jan. 26 at 6 p.m. The Hornets also host a 26-team invitational Feb. 4 at 10 a..m.
The Hornets, coached by Cathy Mutter, are:
Ava Proctor senior
Tanith Hohenberger Junior
Callahan Miltenberger Junior
Ella Patterson Junior
Ava Mitton sophomore
Claire Byron sophomore
Maisy Sullivan freshman
Maddy Belaire freshman
Sam Bigham freshman
"We have a very small, young team this competitive season. They are working hard and holding their own," coach Mutter said.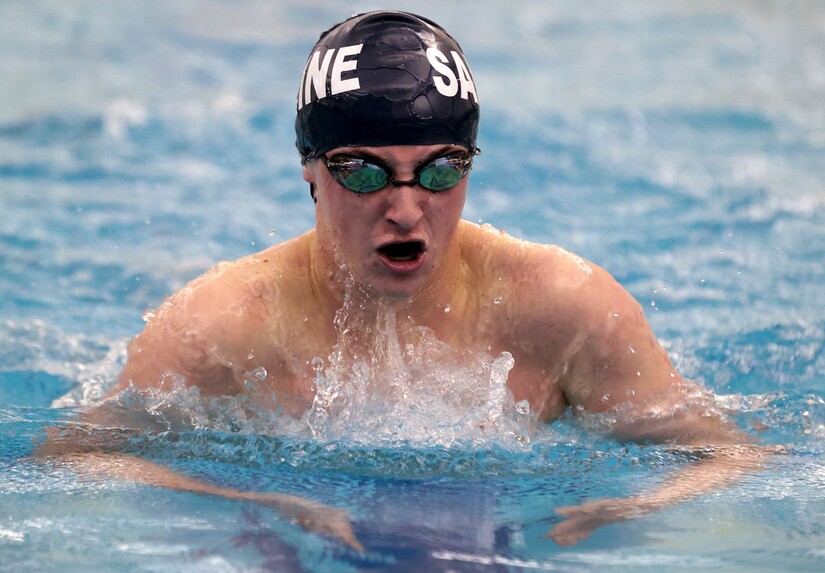 Swim and Dive
Saline shared the wealth at swim and dive Thursday, as the Hornets raced past Bedford, 124.5-58.5. Eight different Hornets won individual events and all three relay teams won.
Saline hosted University School out of Ohio Saturday and lost, 100-76. Saline visits Dexter Thursday.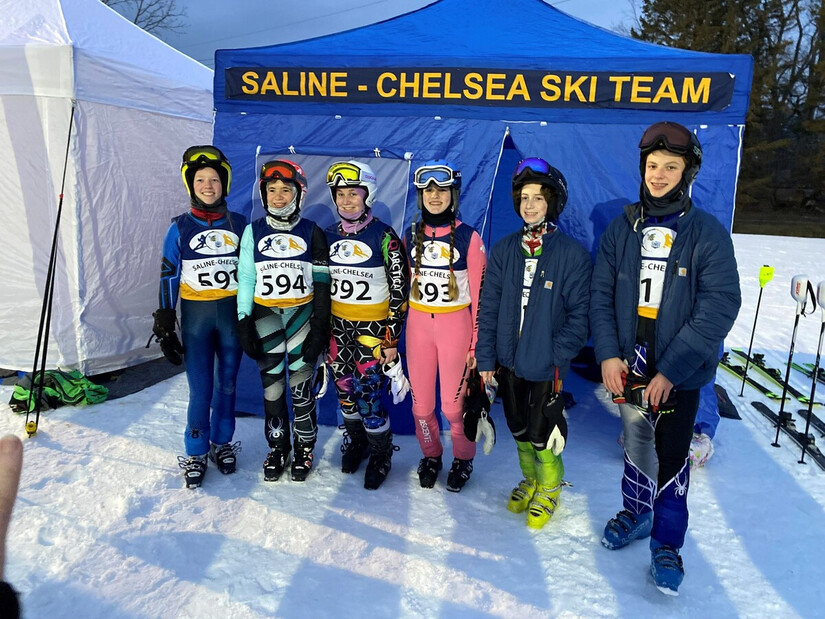 Alpine Skiing
The Saline-Chelsea High School alpine ski team began their competitive season last night (1/10/23) at Mt Brighton racing in Giant Slalom competitions. The girls' team beat Northville in a head-to-head competition with Saline racer Leah Mueller leading the way with a final combined time of 35.76 seconds, closely followed by Anna Mueller (36.14 secs), Lauren Holloway (36.17 secs), and Chelsea Bachran (37.24 secs). The boys' team had strong races as well, with Logan Kipley leading the way with a final combined time of 35.90 seconds, followed closely by Parker Carrell (37.04 secs).
Other Sports
Got results for bowling and wrestling? Lay them on us.