Welcome to Stully's Community Education Basketball Recap:
Image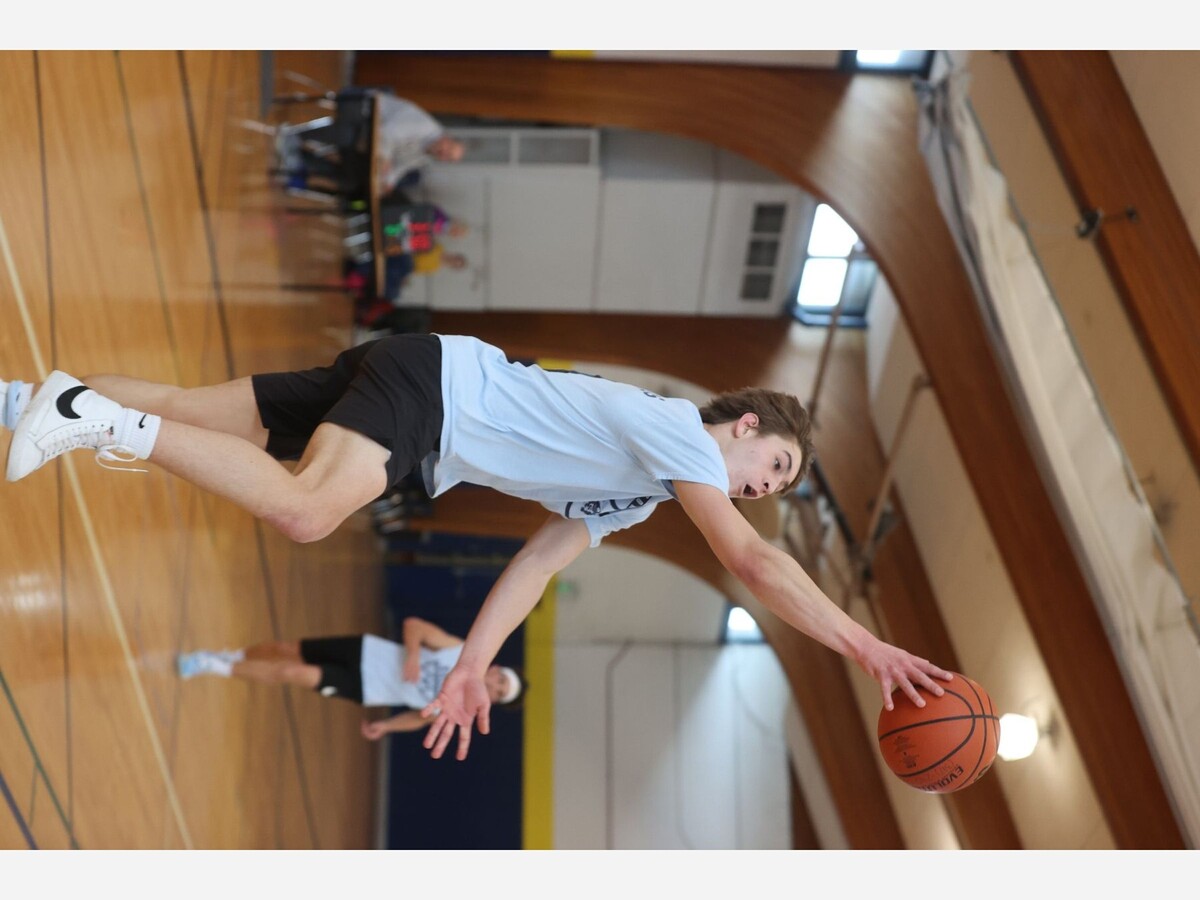 Coach Scott Stull, coordinator of the Saline Community Education recreational basketball league, takes basketball reporting to another level.

Here's his report from the hottest game in town.
Recap Jan. 14
Bricklayers-58 V Girl Ballers-17
Bricklayers took care of business in the first game of the season by using balanced scoring(everyone scored) and running the floor in transition. AJ Hayes scored inside(14 points), while Jackson Phillips led all scorers with 16 points, most of them in transition. Girl Ballers battled as they were without 4 players and their coach. Chloe Kraft hit a pair of three's en route to a team leading 8 points, while Maxine Geherin scored 4 and Cailee Jarvey added a triple.
Lil' Steppas-52 V The Fades-38
This was a very close, back and forth game until Lil' Steppas pulled away late. Seven players scored for LS as Josh Folk leading the way with 17(3 three's) and Khaden Ballard added 12(2 three's). A few break away lay-ups at the end of the game blew open the lead. The Fades Jackson Muir tried to will his team to a win with a game leading 24 points(2 three's), while Drew Barker chipped in with 9 points.
Prestige Worldwide-48 V O's-43
Prestige Worldwide got the win, but it was a battle as they trailed for much of the game before taking the lead late. While Prestige's offense sputtered early, O's were hitting three's(11 total) at will. Prestige had 5 players with 5+ points, led by Luke Sundquist(13) and Connor Mitzel(11). Lucca Angeli paced the O's scoring with 11 points(3 three's), while Noah Bonner added 8 points(2 three's).
Saline Wild Wings-38 V Yodieland Buckets-31
Saline Wild Wings struggled offensively without three of their players, while Yodieland Buckets fought to stay in the game. Tate Bezeau led the winners with 11 points, while Keldon Perron had 9 and Roman Laurio added 8. Josh Nagle scored 14 points to pace Yodieland's offense.
NEW FEATURE:
Powerade "Play of the Day"
**Hands down(literally), the play of the day was Roman Laurio's two-handed dunk versus Yodieland Buckets. Congrats Roman!!
Famous Amos Cookies "Team of the Week"
**Multiple teams nominated for their performances(Yodieland's close game V #1/O's almost upset of #2), but this weeks winner was Girl Ballers and their battle V Bricklayers. "We scored 17 points when no one thought we would score 20 all season" was heard after the game. Congratulations GB"s!!
Standings: Pt. Differential
Bricklayers 1-0 +41
Lil' Steppas 1-0 +14
Saline Wild Wings 1-0 +7
Prestige Worldwide 1-0 +5
O's 0-1 -5
Yodieland Buckets 0-1 -7
The Fades 0-1 -14
Girl Ballers 0-1 -41
Top Scorers:
Jackson Muir-24
Josh Folk-17
Jackson Phillips-16
AJ Hayes-14
Josh Nagle-14
Luke Sundquist-13
Khaden Ballard-12
Connor Mitzel-11
Lucca Angeli-11
Tate Bezeau-11
Predictions for 1/21
The Fades V Yodieland Buckets
Both of these teams are in search of their first win of the season. The Fades will need to find some other offensive punch in this game as only 4 players scored last week. Yodieland Buckets will need to lock down on Muir and force other players to score. Fades will need to get out in transition to score by using ball pressure/traps on Yodie's guards. Yodie's, you will need to find someone to compliment Nagle in the scoring department. The team that plays the best "D" wins, I've got The Fades by 6+.
0"s V Saline Wild Wings
O's will need a repeat performance from last week in terms of hitting three's, but also need to learn how to play with a lead. There is no shot clock in this league! Wild Wings, if you have a repeat performance from last week, watch out for an upset. Providing SWW get there players back, find some offense and figure out defense, they should win. But, if O's can hit some three's and figure out how to play with a lead(IF they get one), they have a legit chance. I think SWW rebounds after last week's performance, if they are at full power, and win this one by 8+.
Lil' Steppas V Bricklayers
Lil' Steppas got a big win last week, although they struggled at times. Bricklayers also won, though they were a little less challenged. Steppas can score in multiple ways, but I think their transition game and use of speed and athleticism defensively will be key. Don't settle for the three and change sides of the floor with the ball on offense. Bricklayers, you will need to value the basketball and possessions, in addition to being able to play tough "D". IF Bricklayers play a solid all around game, they have a chance. I think the Steppas come out with enough pressure to get out to a lead and do enough down the line to secure a win. Steppas in a single digit win.
Girl Ballers V Prestige Worldwide
Hopefully, Girl Ballers will be at full power in this game. By having more players and being able to substitute freely may allow them to top 20 points. Additionally, by getting Cahill back they have a second point guard to help Craft. Continue to work hard, use shot fakes, take open shots and make a few three's. Prestige, you were not especially effective on the offensive end last week. If you get out to a lead, stop the transition scoring in favor of executing a half court offense. Drive, draw 2, cut, float and kick. Prestige wins big, but do they impress the guy doing the power rankings???
****Predictions are based on a full squad showing up! Injury report/No shows can affect the predictions!!
Winners
Stully's Prediction %(SPP)
Last Week 4-0 1.000 Overall 4-0 1.000
POWER RANKINGS:
Saline Wild Wings
Prestige Worldwide
Lil' Steppas
O's
The Fades
Bricklayers
Yodieland Buckets
Girl Ballers
More News from Saline