BASKETBALL: Saline Rains 3s in Record Fashion in Bounce Back Win Over Lincoln
Image
YPSILANTI - Saline roared back from a rare loss in record-breaking fashion at Ypsilanti-Lincoln High School, Friday.
The Hornets made 14 3-pointers to beat the Railsplitters, 82-39, for the biggest offensive output of the year.
Seven different players hit three-pointers for Saline.
"We had 11 on the roster tonight. 7 out of 11 made a three. That is exactly what we needed tonight, going into next week," Saline head coach Leigh Ann Roehm said, referencing next's week schedule which includes Pioneer and Bedford.
14 three-pointers put Saline on the Michigan High School Athletic Association's records page.
"That's something cool to be a part of," Roehm said.
See photos in our gallery below! Or, click here for our full gallery.
Saline led 35-19 at half after five threes in the first half. In the second half, the steady rain turned into a downpour.
"In the second half, we really started moving the ball. There was an extra effort to share, to make one more, to create not good shots, but great shots. And then our shooting percentage goes up," Roehm said. "And then sometimes it's just contagious. Once someone's on fire then everyone feels like they're on fire."
Saline improved to 11-2 overall and 5-0 in the SEC Red. Saline completes its first swing through the SEC Red next week with a game at Pioneer (5-6) Tuesday and home game against Bedford (12-0) Friday.
Roehm was happy with the way Saline bounced back from Tuesday's loss at Grass Lake.
"It was a heartbreaking loss. You can always tell so much about a team by how they bounce back. We either fall apart and 'say, oh no, we lost.' Or we say, 'Let's build from this. Let's bounce back. Let's figure out what we need to do to be a champion.' They had two great practices and they showed up today," Roehm said. "I'm really proud of how we bounced back."
Here are the stats:
Kate Stemmer 17 points, 5 rebounds, 3 steals, 3 assists
Keira Roehm 14 points, 5 rebounds
Kadyn Maida 13 Points 5 rebounds, 4 steals
Taylor Kangas 11 points, 2 steals, 2 blocks, 4 assists
Hadley Griffin 7 points, 3 rebounds, 3 assists
Payton Maloney 6 points, 5 rebounds
Beth Ann Ford 5 points, 8 rebounds, 2 steals
Bailey Burt 5 points
Anna Hesse 4 points, 10 rebounds, 2 steals, 2 blocks, 3 assists
"This was a complete team win. So many different people stepped up tonight," Roehm said.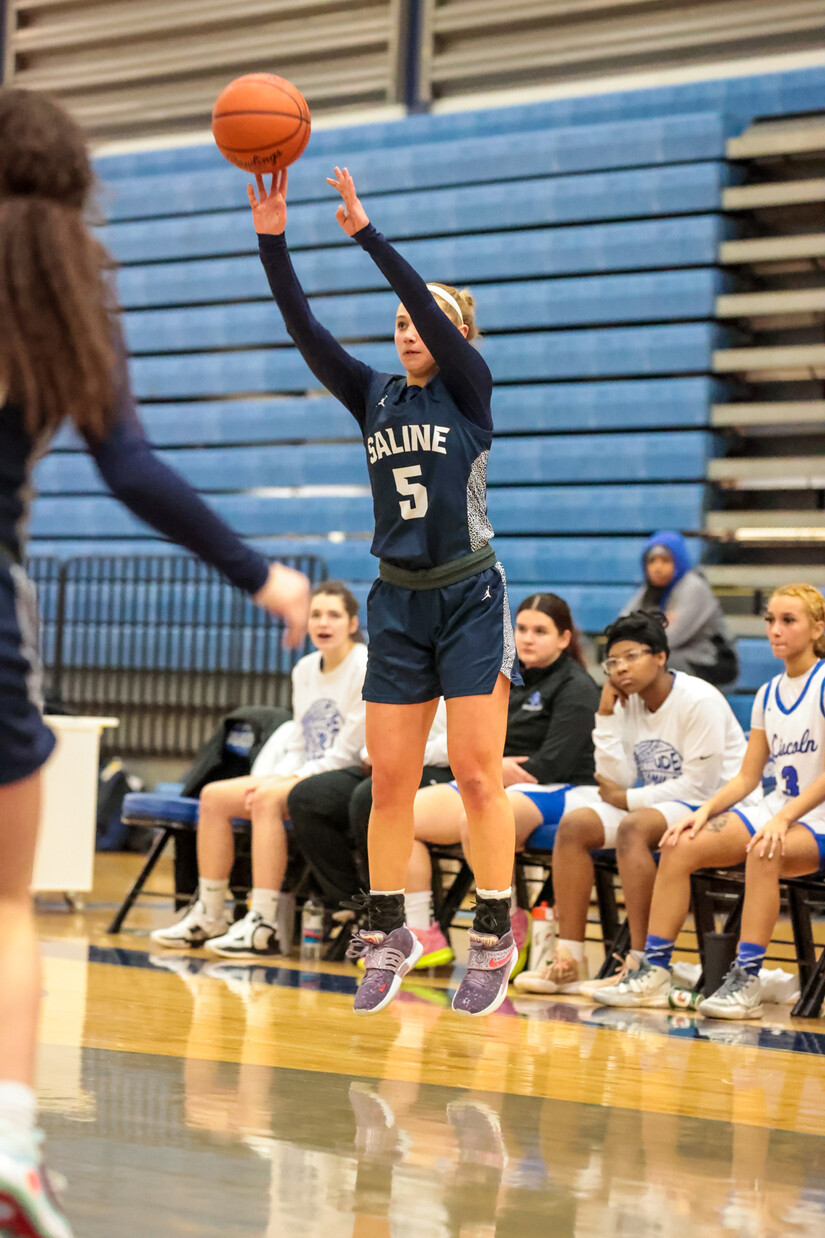 Freshman Keira Roehm led the aerial assault with 4 three-pointers. Stemmer had three.  Kangas and Maloney each had two. Maida, Griffin and Burt each had one.
See photos in our gallery below! Or, click here for our full gallery.
More News from Saline