Stully's Community Ed Basketball Recap
Image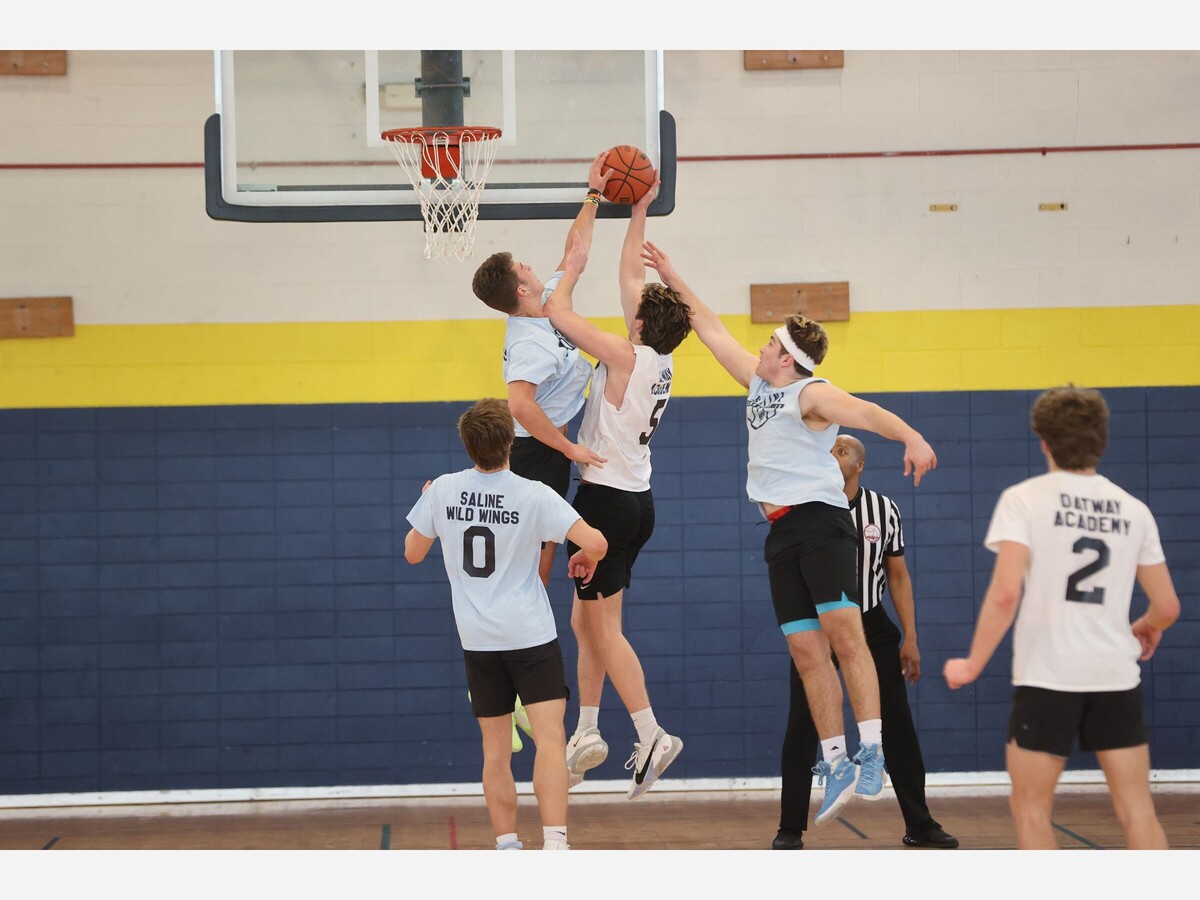 Welcome to Stully's Community Education Basketball recap.
Community Ed basketball coordinator Scott Stull recaps and previews the best basketball league in Saline.

Recap of Feb. 25 Action
Lil' Steppas-55 V Prestige Wordlwide-43
This game was not as close as the score indicates as Prestige scored in a flurry late in the game. Lil' Steppas game plan was executed to perfection in the first half and continued in the second half until the game was out of reach. They handled man, zone and everything thrown at them. Prestige had no answers on offense. Lil' Steppas was led by Josh Folk's 19 points, while Brandon Wise added 11. everyone scored for PW with Raphael Morozowski leading the offense with 9 points.
Saline Wild Wings-77 V The Fades-46
A game that was never in doubt with Muir on the bench, but The Fades battled the #1 ranked team and kept the outcome of the game reasonable. Saline Wild Wings executed a "football style" offense, relying on the long, full court pass off missed shots in the second half. The Wings were led by Kriss Sydlowski's 22 points, while Cade Tousa(13), CJ Carr(11) and Matt Walper(11) hit for double digits. Drew Barker(11) and Ryan Terris(9) paced The Fades offense.
Yodieland Buckets-74 V Girl Ballers-20
Yodieland scored plenty of buckets as they bested Girl Ballers and moved to 2-4 while keeping GB out of the win column. The Yodies ran the floor on offense and tried to pitch a shutout on defense, to no avail. Girl Ballers had a short bench, but snuck in a 6th player to have a little fun, 6 v 5. Yodies were led by Josh Nagle's career high 24 points, while Zach Miller added 19(3 three's) and Jayden Jones/Ian Theisen added 10 points each. Girl Ballers were paced offensively by Chloe Kraft and Maxine Geherin with 8 and 4 points, respectively.
O's-43 V Bricklayers-36
This contest was pretty close as the lead changed several times. O's slowed down the pace of the game trying to get good looks, while Bricklayers got good looks, but failed to convert. O's pulled away late and sealed the game on the defensive end of the floor. O's were led by Lucca Angeli's 18 points(2 three's), and Matt Boehm had 8(2 three's), while Bricklayers Johnny Arvai's 10 points paced Bricklayers, while Jackson Phillips and Noah Reeves scored 7 points each.
Powerade "Play of the Day"
Kriss Sydlowski's "almost dunk" scored 2 points on a made basket en route to a "career high" 22 points, almost double his previous high scoring game. Congrats Kriss!!
Famous Amos Cookies "Team of the Week"
The Fades did not win this week, but battled to score 45+ points versus the #1 ranked team, AND did it with Muir on the bench. Congrats to The Fades!!
Standings: Record Pt. Differential
Saline Wild Wings 6-0 +201
Lil' Steppas 6-0 +119
Prestige Worldwide 4-2 +86
O's 3-3 +6
Yodieland Buckets 2-4 +58
Bricklayers 2-4 -51
The Fades 1-5 -65
Girl Ballers 0-6 -340
Top Scorers:
Josh Nagle-24
Kriss Sydlowski-22
Josh Folk-19
Zach Miller-19
Lucca Angeli-18
Cade Tousa-13
Brandon Wise-11
CJ Carr-11
Matt Walper-11
Drew Barker-11
Jayden Jones-10
Ian Theisen-10
Johnny Arvai-10
Predictions for March 4
Bricklayers
V The Fades
The Fades get Muir back this week, which will help, especially on the offensive end. Others stepped up last week in the scoring department, and that will need to continue for a "W". Bricklayers will need better execution with baskets cuts and have to finish to have a chance in this one. Defense will be the key for both teams: Bricklayers, keep Muir under control, he will get his points, but make someone else beat you//Fades, Bricklayers have multiple scorer's, but shut down the outside shot-dribble drive and force their bigs to score. This game also has tournament seeding implications for both teams. I think Bricklayers win in a close one, 3 points or less.
O's V Girl Ballers
O's should have no trouble in this contest as rumor has it, several Girl Ballers will be missing. O's, this will be a time to work on some basics, while not getting too crazy and getting hurt before the tourney next week. GB, I hope you have 5 legit players to compete, or at least 4, so O's can get some work in. This may end up being a fun scrimmage!! Big win for O's, by 25+.
Lil' Steppas V Saline Wild Wings
#1 V #2, the week before the tournament!! What a great opportunity for both teams! Lil' Steppas are coming off a convincing win versus Prestige Worldwide last week as their game plan execution was excellent. Saline Wild Wings beat on a Fades team that was missing their top scorer. I think this game will come down to execution on both ends of the floor. LS has basketball savvy, outside shooting and some inside players that do the "little things", but lack true post "O" and "D". SWW has the athleticism to run teams off the floor and multiple players can score, but lack consistent outside shooting. Game plan: LS, work outside-in/SWW work inside-out. This has the makings of a tight game, and who plays "tight" in the end will not win. I am going with Wild Wings in a 1 point victory.
Yodieland Buckets V Prestige Worldwide
Yodieland Buckets are coming off a win last week, while Prestige was pummeled by Lil' Steppas. Yodieland has played everyone tough all season, they just need to learn to finish. Prestige has been a little disappointing with their play, particularly on the offensive end of the floor. Prestige should have the #3 seed, even with a loss, due to point differential. Yodie's are a #5 seed with a win, maybe a #6 seed with a loss. Yodie's will come out and play hard, they just need to play under control. Prestige is looking for momentum going into the tourney with a win. I think Prestige gets it done, BUT it could be REAL close, maybe OT. PW by 2.
*Predictions are based on a full squad showing up! Injury report/No shows can affect the predictions!!
Stully's Prediction %(SPP)
Last Week 4-0 1.000 Overall 22-2 .917
POWER RANKINGS:
Saline Wild Wings
Lil' Steppas
O's
Bricklayers
Prestige Worldwide
Yodieland Buckets
The Fades
Girl Ballers
More News from Saline