BASKETBALL: 'One of The Best Saline Teams Ever' Falls in Regional Semifinal
Image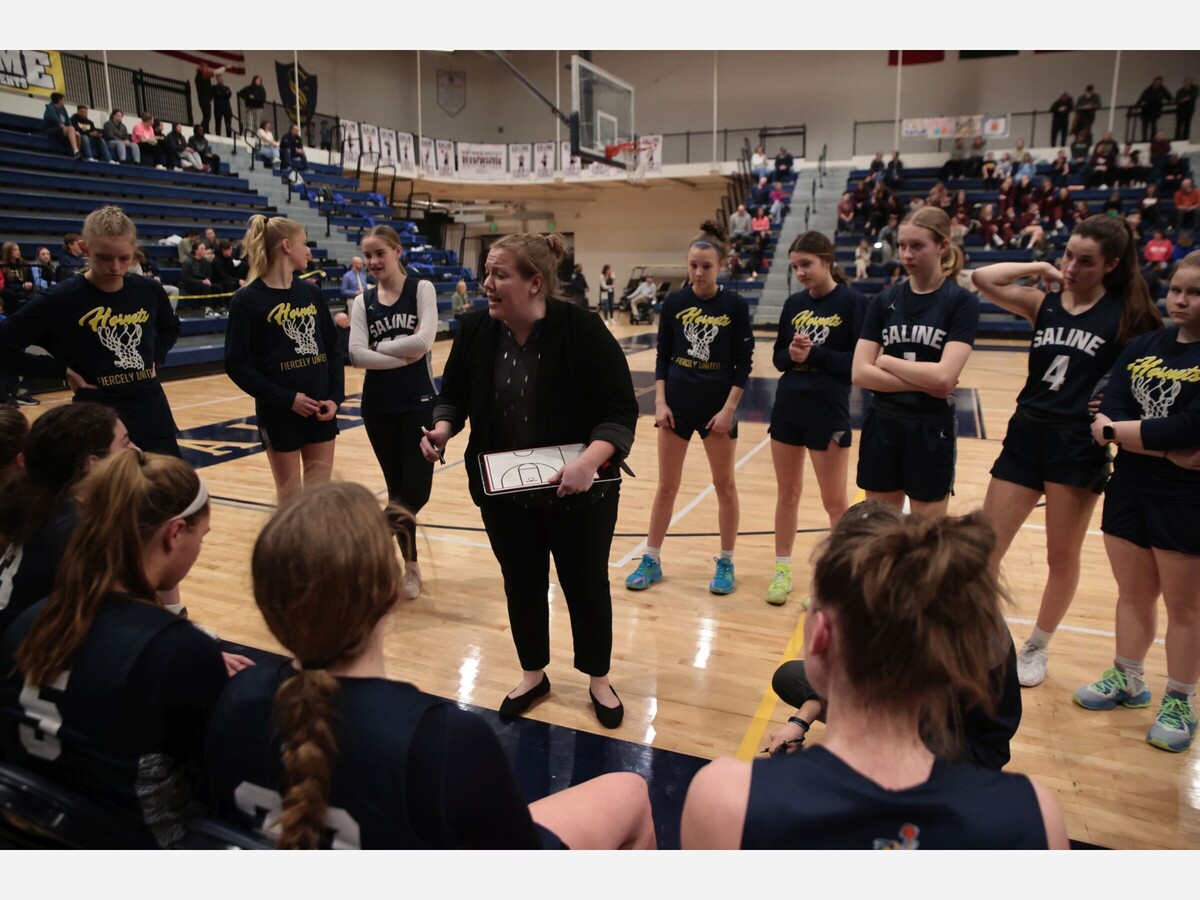 After 21 wins, an SEC Red championship and district championship, the Saline High School girls' basketball season came to a close Tuesday. Saline lost 46-42 to Salem in the regional semifinal at Saline High School.
It's a loss that will likely sting for a while because Saline could have easily won the game. And had they won, they would have met Dexter, a team Saline beat twice in the regular season, in the regional championship.
"We gave ourselves a chance to win, that's for sure. We turned it over too much. That was the biggest difference," coach Leigh Ann Roehm said.
While the team was heartbroken after the loss, Roehm focused on the positive.
"These are special moments. Not many teams have the chance to play in the regional. All those teams that lost in the district would swap places with us at any moment to have the opportunity to feel the pain we're feeling right now," Roehm said, tearing up. "Every opportunity that we get as a team together is a chance to thrive in the moment, playing the greatest game on earth with the greatest people on earth. There is something just magical that has happened this season. So how am I feeling? I am feeling full of gratitude."
The game couldn't have started better for Saline. After a basket by Salem star Madi Morson, Saline went on an eight-point run. Anna Hesse went 1-for-2 from the line. Keira Roehm hit a three. Beth Anne Ford took an inbound pass from Taylor Kangas and put it up for two. And then Kangas drove in for two.
The Rocks got a basket back but Saline went right back to work. Kadyn Maida took a pass from Hadley Griffin and put it up while getting fouled. She hit the and-one shot and Saline led 11-6.
Then Maida wheeled a pass to Anna Hesse in the paint and Hesse scored to give Saline a 13-4 lead which the Hornets carried into the second quarter.
The Rocks struck first in the second quarter, but Saline replied with Roehm's second three of the game. Saline went up 18-6 when Hesse put back a rebound.
The Hornets seemed to be in complete control of the game. They were dominating on the glass. They were scoring inside and out. They were limiting Salem's star, Madi Morson.
But, as we've seen throughout the season, momentum can quickly shift.
Saline threw the ball away a couple of times to help the Rocks go on an 11-point run to get them within one, at 18-17.
Kate Stemmer stabilized things for Saline with a triple, to make it 21-17.
Saline led 21-19 at halftime.
The Rocks struck first in the third quarter to tie the game. Saline controlled the rest of the quarter.
First Roehm and Hesse worked a 2-on-1, capped by Hesse's short bank shot to put Saline back in front. Then Kangas hit a jump shot to make it 25-21.
The overtime hero from the district championship game kept things going with a three from the top of the key.
The Rocks replied with six points to cut Saline's lead to 28-27, but again, Kangas delivered a three.
Roehm followed with her third triple of the game. Saline led 34-27 at the end of the third quarter.
Things quickly turned for the worse for the Hornets early in the fourth quarter. Kangas, who'd kept Morson in check, was assessed two fouls in the opening seconds. She had four fouls and left the game. Stemmer also took a foul - her third. The Rocks made a couple of free throws to cut the lead to 34-29.
Hesse, who played one of her best games of the year, got those points back with another basket from underneath. Ashley Kopacko hit a three to cut Saline's lead to 36-32.
Saline went up 38-32 on a drive by Hadley Griffin. 
The Rocks replied with a three to make it 38-35. Then Morson scored to cut the lead to one at 38-37.
Roehm fed Hesse in the paint again to give Saline a 40-37 lead.
Then the Ford-Hesse connection came through again - with Ford passing to Hesse and Hesse putting up for two. Saline led 42-37.
The Rocks replied with a basket to cut the lead to three with 2:37 to play.
On Saline's next possession, the Hornets passed the ball around the perimeter to take 55 seconds off the clock. After a timeout, Saline started moving the ball again. This time, the Rocks keyed on a Hornet and forced a jump ball - which was awarded to the Rocks. Morson was then fouled and she went 2-for-2 from the line to make it 42-41.
The Hornets had two chances to extend their lead on one-and-ones but watched their shots bounce off the rim.
The Rocks got the ball and Kopacko hit another three. Salem led 44-42.
The Hornets got the ball back but lost control of it.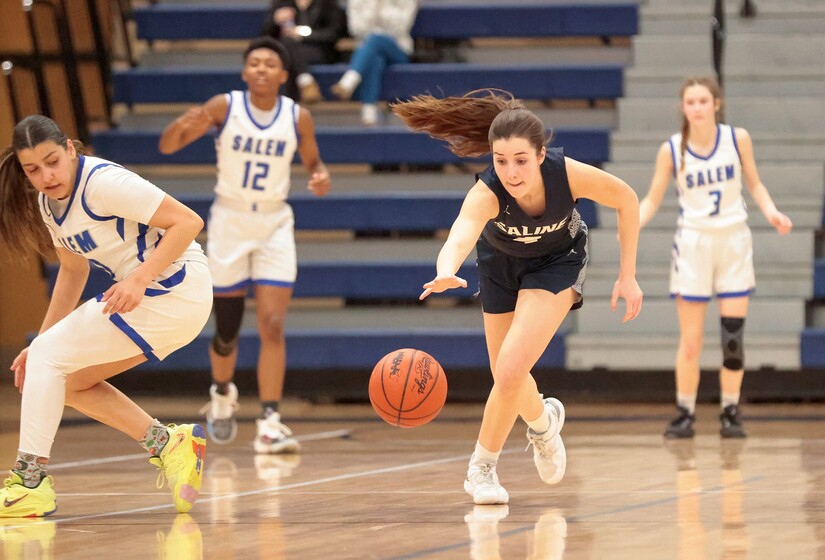 It looked like Kangas stole it back and was going to break away for a layup attempt - but the officials whistled her for a foul - her fifth, with 10.7 seconds left.
Shahd Bakkar hit both ends of a one-and-one to make it 46-42.
Saline battled until the buzzer sounded - Griffin launched a desperation three that didn't quite have the distance.
Here are the stats for the Hornets:
Anna Hesse 13 Points, 10 rebounds, 2 blocks
Taylor Kangas 10 points, 3 steals 2 blocks
Keira Roehm 9 Points, 5 rebounds, 7 assists
Kate Stemmer 3 points, 4 rebounds 3 steals 3 blocks, 2 assists
Beth Ann Ford 2 points, 8 rebounds, 3 assists
Kadyn Maida 3 points
Hadley Griffin 2 points
In the immediate aftermath of a heartbreaking loss, it was a challenge to reflect on the tremendous season the Hornets had. But this was a season in which Saline went 21-4, won a share of the SEC Red and won a district championship.
A hallmark of Roehm's season has been building the relationships that serve as the foundation of the team.
"That's been our slogan for years. It's all about the ships. If you build relationships, the other ships (championships) will follow," Roehm said. That's what this team did. They found it upon caring about each other, sharing it with each other, so we could get to those next ships - the SEC championship and a district championship."
This is the second team of Roehm's tenure to win the SEC Red and district championship in the same year. It's a rare feat for a Saline girls' basketball team.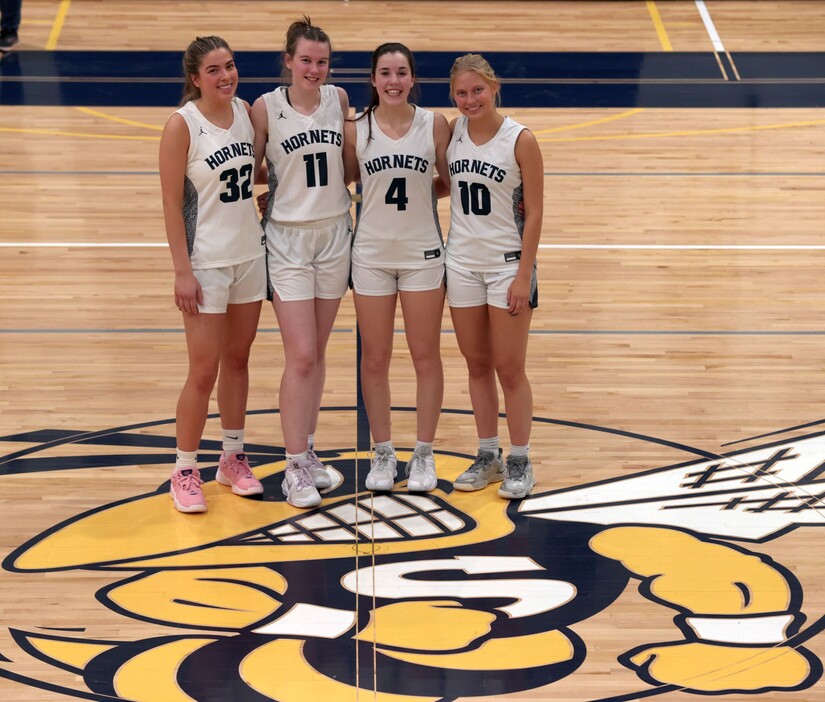 While Saline has talented underclass players, the seniors - Anna Hesse, Bethan Ann Ford, Taylor Kangas and Payton Maloney - were major contributors to the Hornets' success.
"They are an incredible group of strong, independent women that are about to go change the world," Roehm said. "They are something special. They are selfless. They are team-first. They are vocal. They are confident. They believe in themselves and they are willing to work to improve. The qualities they show extend far beyond basketball, they extend to life. If our future is full of leaders like those four, then we are in good shape."
Returning underclassmen like Kate Stemmer, Keira Roehm, Kadyn Maida and Hadley Griffin ensure the Hornets have a solid core coming back. But there will be questions - just like there were questions of this year's team.
"When you think back to where we were this season, there were lots of questions to answer. As much as Saline as been consistently good for the last few years, nobody expected us to be as great as we were. This was a great team. This was one of the best girls' basketball teams that's played in Saline - ever," Roehm said. "And they evolved into that. There were question marks in the summer and fall. They committed to each other and did extra work in the spring summer and fall. So player development is going to be key. The reason why Saline basketball has been consistently good is because girls get in and they do the work."
Roehm noted the junior varsity team was undefeated.
"I'm excited about the future. We're going to figure it out as long as we do it together," Roehm said.
Click here to see photo galleries of Saline Girls Basketball action.
More News from Saline