Superintendent Graden Explains the Principal Shuffle at Saline Schools
Image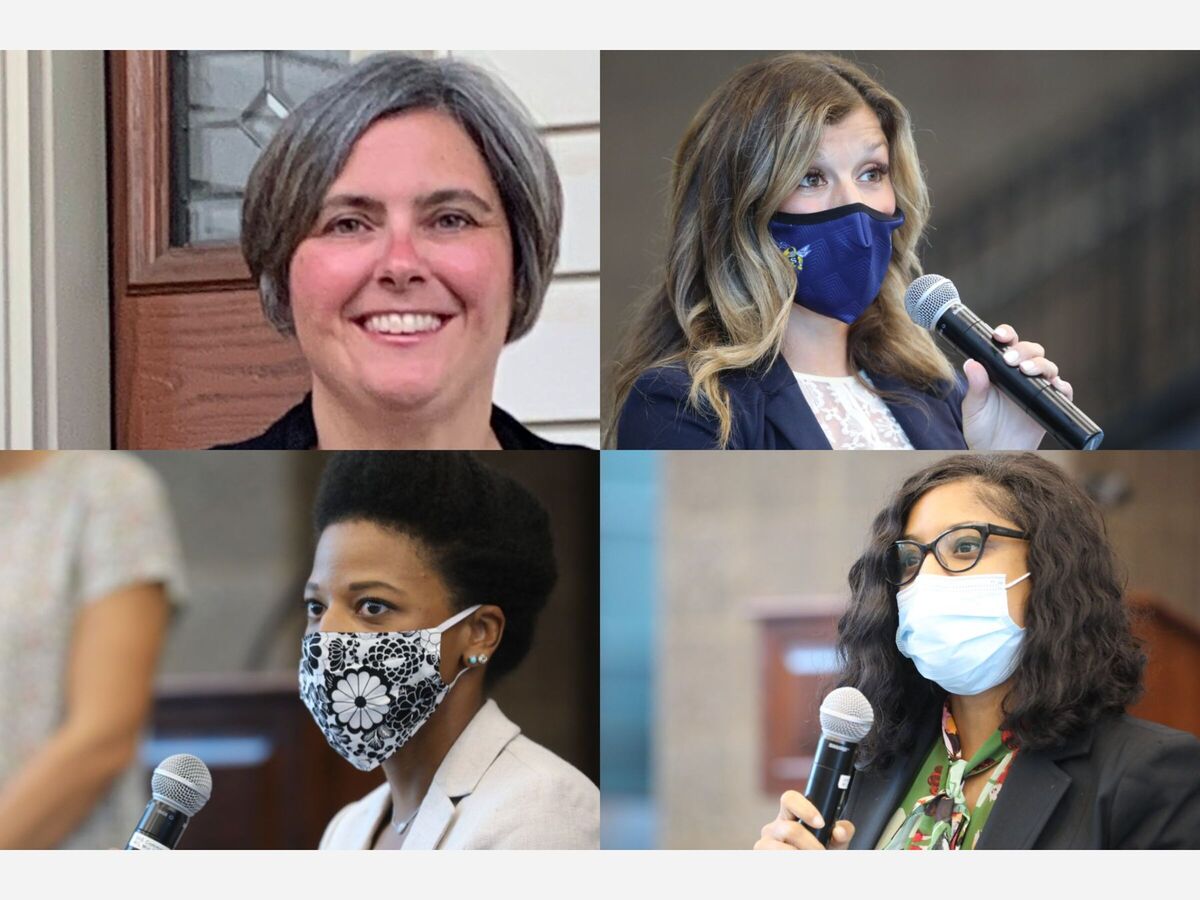 Saline Area Schools Superintendent Scot Graden announced new principals at three schools during the special Board of Education meeting.
The announcement caught many by surprise since eight candidates went through a very public interview process for two vacancies two weeks ago.
Laura Washington, former principal of Heritage Elementary School, has moved to the principal position at Saline Middle School.  Megan DeGrand, former dean of students at Heritage, is now the principal at Heritage. Kenyatta Hughes, former principal at Beacon Elementary in Harper Woods, is principal at Pleasant Ridge Elementary. Musetta Deneen, former assistant school leader at FlexTech High School in Brighton, is assistant principal at Heritage School.
Two weeks ago, the public joined Saline staff and administration in interviewing four candidate for the jobs at Saline Middle School and Pleasant Ridge Elementary School. DeGrand and Hughes interviewed for the post at Pleasant Ridge and were the two finalists for that post. Deneen and Andrew Zimmer were the two finalists for the middle school job. 
So what happened?
Superintendent Scot Graden explained Thursday.
"We started the process with 38 people for the two posts. We got down to the four final candidates, who were interviewed at our central office Friday," Graden said. "We were excited about all four candidates, so we got creative to hire or place as many as we could in leadership positions and we found sports for three of the four candidates."
That creativity left some parents confused and questioning a process that had been very transparent.
District parent Tiffanie Alexander questioned the process during public comment.
"I'm really confused because my understanding was that the candidates for the middle school were put up and the interview process was very public, very transparent, we had the opportunity for input and questions and I don't recall (Washington) being one of those candidates," Alexander said. "I don't understand how that happened, why we didn't have any input and why there wasn't any transparency there."
Graden, during a brief interview, however, said the process in Saline was a public and transparent as you'll find anywhere in the state. However, at the end of the day, the buck stops at the superintendent's position and Graden said he would not shy away from difficult decisions.
"At the end of the day, I make the decisions and I report to the board. My job is to be creative to build a team our community will be proud of," Graden said. "Over the years, I think we've done that. We've added very talented and skilled people to our leadership team."
Washington has been in the district for 18 years and spent the last four as principal at Heritage. She's returning to Saline Middle School, where she had been assistant principal and teacher.
DeGrand had been dean of students at Heritage for a year and had been a teacher at Houghton, Pleasant Ridge and Woodland Meadows elementary schools.
Hughes and Deneen are new to the district.
Hughes was principal at Beacon Elementary in Harper Woods, where she'd previously been a teacher. Deneen was a school leader at FlexTech High School in Brighton. Prior to that she taught Spanish at Skyline High School and also worked in Van Buren Public Schools.
At Graden's request, the Board of Education had debated limiting the principal search to internal candidates as a potential cost-cutting measure, or opening the search to all candidates to find the best candidates and potentially increase the diversity of the district's leadership staff. The board was split, but Graden and the district chose the external route.
Now the district, dragged into the national spotlight for racist incidents this winter and recently sued for harassment by its only African American male teacher, has two women of color in its leadership ranks. 
"This is a real step forward from a variety of perspectives," Graden said. "We've talked a lot about providing windows and mirrors for all of our students. We're making that effort in our staffing and in our curriculum. We've added two talented individuals who are exceptional leaders and we're excited to go forward."
Board of Education Trustee Jennifer Steben has been one of the leaders in calling for more diversity among the school district's staff and leadership ranks.
"Personally, I'm proud to support Scot's decision to look both externally and internally for top talent. While we continue to cultivate and develop leaders within the SAS family, it's also crucial to be on the lookout for qualified external candidates that allow us to diversify our experiences," Steben said. "It has been proven that diverse teams are better positioned for innovation and growth. I see these hirings as an important step in supporting the declaration of the DEI Coalition."
The vacancy at Pleasant Ridge Elementary School was created by the retirement of Betty Rosen Leacher. The middle school vacancy was created when Brad Bezeau was hired as superintendent of Manchester schools.