Karamba Kaba Is Standing Up Against Racism Today for Tomorrow's Kids
Image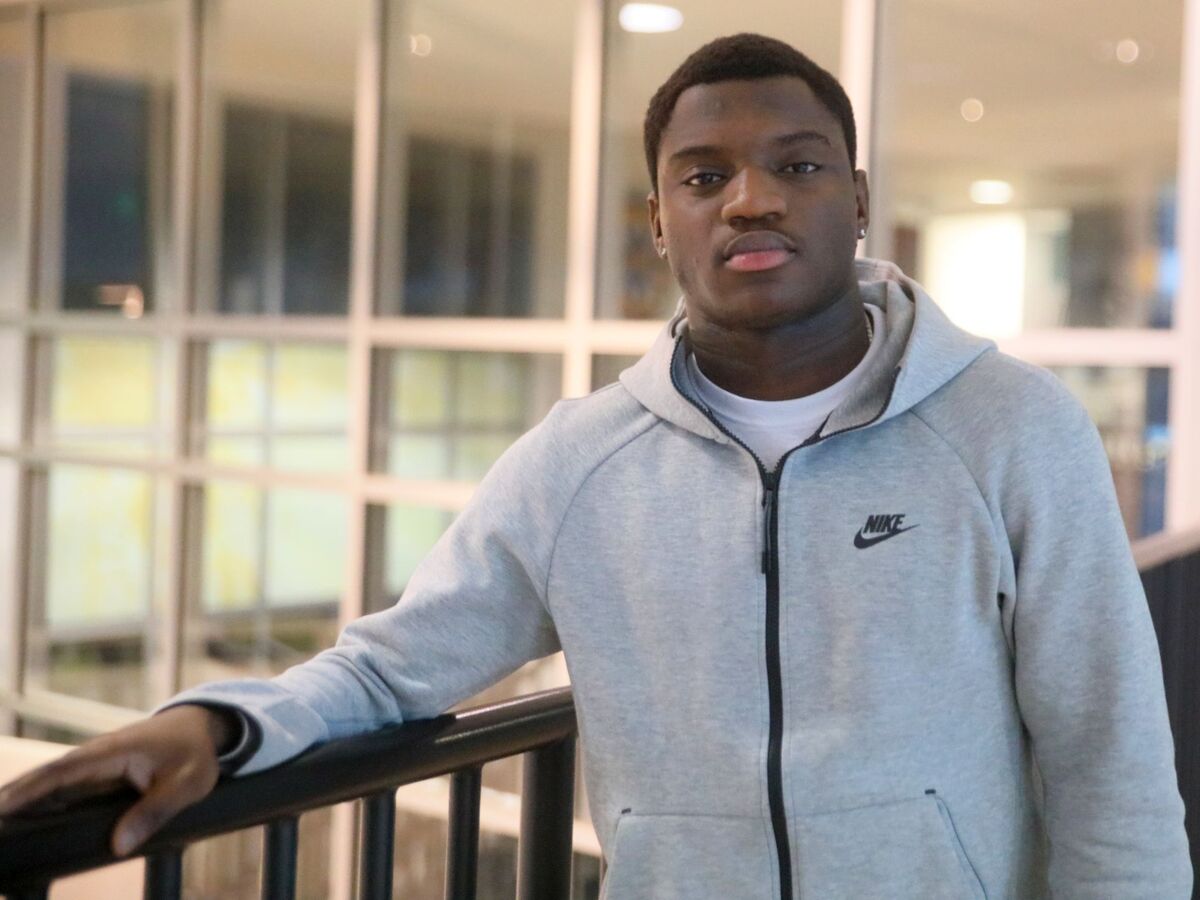 Karamba Kaba is speaking from the heart. 
It's a heart that was wounded Sunday when Kaba and other black students from Saline High School were invited by football teammates into a Snapchat group chat filled with racial slurs and taunts.
It's also a heart that's big. Despite the hurt and the shock, Kaba is willing to take more pain if it means making sure it won't happen to younger Saline students.
Over coffee at Brewed Awakenings Wednesday, under the protective eye of trusted teachers and a friend, Kaba spoke about his recent experience with racism at Saline High School. It was an experience that left him feeling betrayed. And, it was an experience that seemed to confirm the worst of what people warned him about Saline.
Kaba is new to Saline High School. He grew up between Ann Arbor and Ypsilanti, near Carpenter and Packard roads. He attended Huron High School before going to Pioneer. Last year, Kaba decided he wanted to be a Hornet.
No. He needed to be a Hornet.
Kaba's mother is from Guinea-Conakry in West Africa. She speaks Mandingo, French and Senegalese. She has learned more than enough English to get by working two jobs in support of her family, which includes Kaba and his younger sister. Kaba's father was not a big part of his life. But it was still a big blow to Kaba when his father was deported last year.
Kaba began to see himself as a breadwinner for his family. He saw football as a ticket to college. And he saw Joe Palka's model football program as the best way to gain the attention of recruiters. 
You don't have to look hard to see what Kaba saw. Josh Jackson. Tyrone Miller. MJ Griffin. These are just some of the players who found a way to become Hornets, experience the Saline football spotlight, and move on to NCAA Division 1 programs.
There were whispers about Saline. Kaba had family who worked at a factory here. His grandmother thought it would be better to stay at Pioneer, which has a more diverse student body.
But Kaba was determined to become a Hornet.
It wasn't easy. He filled out the paperwork. His uncle found him a place to live in the district. He began working out with the football team in the summer. Kaba became part of the Saline football family, befriending players like Noah Nelson, Alex Morrison and Larry Robinson.
The football season likely didn't go as planned for Kaba - although he said he's still in contact with some colleges. But he was a Hornet. He was part of the Saline football family. He was pushing towards college.
Even though he was a black student at school that was 95 percent white, his early experiences weren't that different than they were at Pioneer.
Until this weekend.
Early Sunday evening, Kaba was at a friend's house when he saw the Snapchat notification.
The title of the group chat was "Racist." It was filled with racial slurs and images and statements about the "rising south" and "white power."
Kaba didn't know what to think. He almost couldn't believe it. He doesn't ever recall being called "the N word" by a white person before.
"I was just disgusted that my own teammates said that. These guys I am supposed to call brothers or my family," Kaba said.
He took a video of the chat and sent it out on social media. It blew up.
A couple days later, Kaba had been featured denouncing the racism and calling on school board leaders for action on a Detroit television news station. He was pictured by The Ann Arbor News speaking at a podium at a Board of Education meeting. He's received support from teammates, students, teachers, administrators and more.
While he emphasized he's still got the backs of his teammates, the confidence he had in his Saline football family is shaken.
"They treated me like family but I didn't know the family stuff was fake," Kaba said.
The incident smashed Kaba right between the eyes. 
"You guys don't know how it is. When we were growing up, our parents teach us how we are supposed to talk, and how we are supposed to approach white people," Kaba said.
And so the whispers he heard about Saline weren't quiet to him anymore.  They won't be, as long as Kaba's here.
"Saline has racist kids. You try and hide it. You try to bury it and pretend there's not racism," Kaba said. "I'm going to do whatever is in my power. I'm going to talk until I graduate and, hopefully, someone takes the torch. Hopefully, nobody has to go through with what I went through."
He's demanding action. He wants more than talk. He said he won't put up with "sugar-coated" chats with administrators.
He's doing it for his younger black teammates - some of whom came to Saline for the same reasons Kaba came here. He's doing it for the kids in elementary school and the kids who haven't come here yet.
"I'm going to stand up for any kid. I want them to look at me and say 'Kaba stood up for me, and now I can stand up for someone the way Kaba stood up for me,'" Kaba said.