TRACK&FIELD: Saline Opens SEC Season With Victories at Skyline
Image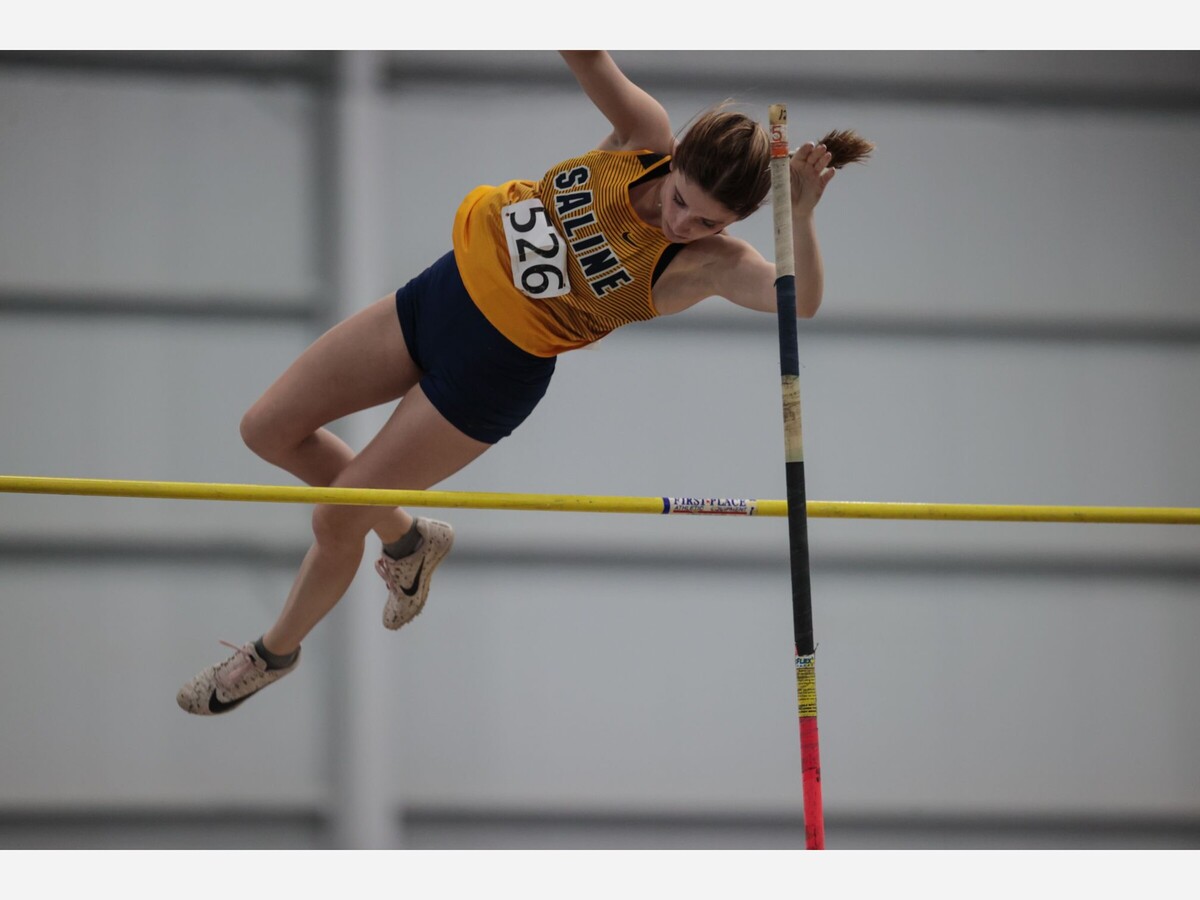 ANN ARBOR - Saline opened the SEC Red track and field season with wins for the boys' and girls' teams.
On the girls' side, Saline defeated Skyline, 106-31. On the boys' side, Saline won, 94-92.
GIRLS
On the girls' side, Saline dominated in the sprints, the relays and in the field
Jackie Kolano won the 100-meter dash and the pole vault. Mia Rogan won the 200 and 400 dash. Shyla Smith won both hurdles events. 
In the 100-meter dash, Kolando and Nicole Warren finished in 13:23 seconds - with Kolano being declared the winner. Saline took the top six spots with Evalyn Leddy, Lenna Griffin, Hannah Ross and Shyla Smith finishing strong for Saline. Mia Rogan won the 200 meters in 27.44. Grace Oberski was second and Mackenzie Sellenraad was third.
Rogan's second win came in the 400 - as she led another Saine 1-through-6 finish. Rogan won in 57.95. Sellenraad, Oberski, Ella Talladay, Bailey Burt and Addison Proudlock completed the 1-6 sweep for Saline.
Skyline's Carolina Vance won the 800 meters. Madison Rogan and Mia Rogan were second and third. In the 1600, Skyline's Natalie Kessler won. Corynn Gady was second and Lilian Schlack was fourth. Carolina Vance won the 3200. Nancy Gage was third, Laney Alig was fourth and Grace Roth was fifth. 
Freshman Shyla Smith won the 100 hurdles in 18.9. Saline swept  the top 7, with Lindsey Clarke, Kailyn Austin, Hannah Gritzmaker, Rachel-Bryan White, Jillian Hayes and Shelby Fordeck following Smith in. Smith won the 300 hurdles in 56.46. Hayes, Austin and Clarke finished second-fourth.
Kolano, Ledy, Charlotte Warren and Nicole Warren won the 800 relay in 1:50.99. Mia Rogan, Sellenraad, Oberski and Gady won the 1600 relay in 4:11.05. In the 3200 replay, Lillian Schlack, Gady, Grace Roth and Alig won in 10:15.85.
Ava Mitton led a 1-5 sweep in the shot put. Mitton threw 27-8.5. She was followed by Mallory Platzer, Izzy Belaire, Megan Socha and Clare Beazley. In the discus, Platzer threw 91-6 to win. Mitton, Beazley and Socha finished right behind her. 
Skyline's Alysia Townsend won the high jump (5'2). Kadyn Maida was second (5'0) and Tess Sanderson was third.
Kolano cleared 9 feet to win the pole vault.
Nicole Warren leaped 16-1 to win the long jump. Jenna Griffin was second and Grace Oberski was third.
BOYS
Ryan Kavanaugh won the 100-meter dash in 11.23 seconds. Saline took the top 12 spots in the race. Jaedyn Sifuna, Caid Fox, Tyler Parrish, Jose Adame, Anthony Beaulieu, Ayden Burton, Rafe Symonds, Joel Miklosovic, Caleb Washington, Jett Roles and Rokas Kazlauskas followed.
Leonardo Ignacio won the 200 meters in 23 seconds. Sifuna was third and Fox was fourth.
Skyline's Henry Shaieb won the 400 meters in 50.96. Wynter Burnett was second. Skyline's Christopher Van Lent won the 800. Stewart Berryhill was second. Skyline's Mason Jett won the 1600 meters. Truman Johnson was third. Skyline's Luke Suliman narrowly edged Samuel Jackson in the 3200 in 9:33.77.
Andrew Black won the 110 hurdles in 17.22 seconds. Nicholas Rouman was second and Kipras Kazlauskas was third. Black won the 300 hurdles in 44.06 seconds. Caleb Washington, Ryan Stein, Rouman, Kazlauskas and Noah Musson followed.
In the 400 relay, Malik Eisemann, Jaedyn Sifuna, Ryan Kavanaugh and Caid Fox won in 44.84. Tyler Parrish, Leonardo Ignacio, James Rush and Wynter Burnett won the 800 relay in 1:32.21.
Camden Pawlick led a 1-2-3 finish in the shot put, throwing 43-2. Jordan Marsh and Michael Reder were second and third. Pawlick won the discus with a throw of 119. Marsh was third.
Ignacio's second individual win was in the high jump. He cleared 5'6. Jack Day was second. 
Malik Eisenmann won the pole vault, clearing 11 feet.
Ignacio was second in the long jump, leaping 19'10. John Chikwe was fourth.
More News from Saline