SOFTBALL: Saline Dominates In District Tournament Victory
Image
The Saline varsity softball team did what a heavy favorite should do in a district tournament.
They hit. They played clean defense. They pitched well. And they cheered each other on the whole time.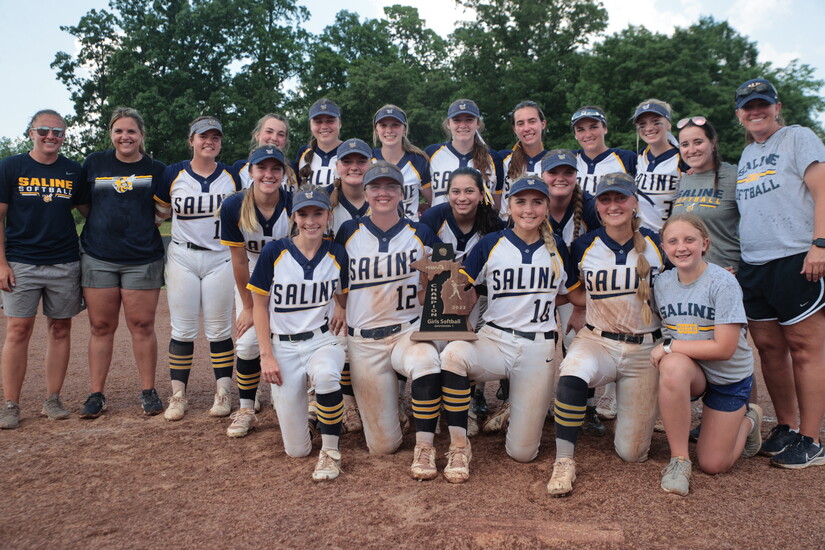 Saline, 34-6, and already the SEC Red champions, came into last week's district tournament as the obvious favorite. And they defeated Skyline, 15-0, in four innings, and Dexter, 12-0, in five innings.
Coach Laura Sawyer couldn't have been happier about how her team performed Saturday.
"It feels great. It's been a goal for them all year long, so it feels great to get out and get it," Sawyer said.
Saline didn't play down to the competition. They were sharp in the field and vocal on the bench.
"They had the full package today, so I'm excited to see what they have in store for us next weekend," Sawyer said.
Saline travels to Battle Creek Lakeview next week to play Woodhaven in the regional semifinal. The game begins at noon. The winner will play Mattawan or Portage Central.
Against Skyline, the Hornets scored 15 runs on 11 hits and six Skyline errors. Saline was flawless in the field. Starting pitcher Izzy Deveau allowed 1 hit, walked none and struck out five in the four-inning shutout. Leadoff hitter Sydney Hastings propelled the offense, going 3-for-3 with three runs, six RBI, a home run, and a double.
Emily Sweetland was 1-for-1 with a triple, RBI and run. Deveau was 1-for-2 with two RBI. Delaney Lee was 1-for-2 with an RBI and two runs. Kaleigh McClelland was 1-for-4 with an RBI and a double.
Saline immediately went to work on Dexter, scoring three in the first, four in the second and five in the third before allowing some of the depth players and JV callups to get important playoff experience.
Karli Door started and pitched two no-hit innings, walking two and striking out three. Freshman Abby Curtis pitched three innings, allowing no runs on two hits and two walks while striking out seven Dreadnaughts.
Once again, Hastings went 3-for-4 with two runs to set the table for the Hornets. McClelland went 2-for-3 with a triple, two runs and RBI. Dorr was 2-for-3. Clara Cherry went 2-for-2 with an RBI and two runs scored.
Coach Sawyer said the tournament as well as she could have hoped.
"It went as we wanted it to go. We had full team wins. We were able to get everybody in today which is always a good day," Sawyer said.
Saline has only faced one of the teams in its regional, splitting a doubleheader at Mattawan on April 29.
It was Mattawan that ended Saline's long run in the quarterfinals in 2012 when current coach Sawyer was a junior.
More News from Saline