Daughter Gives Uplifting Ode to Mother as She Retires from Saline Area Schools
Image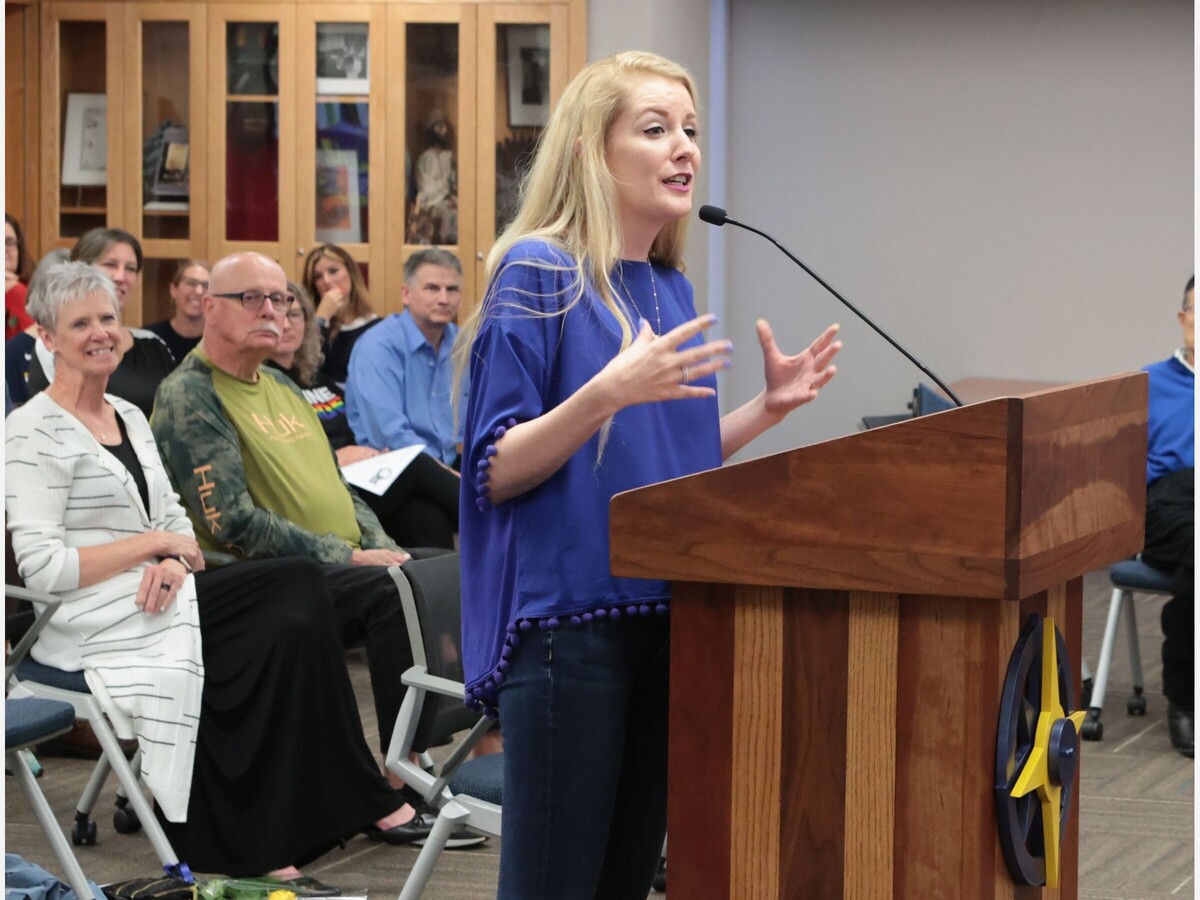 On a night when Saline Area Schools paid tribute to retiring teachers and staff at the Board of Education meeting, the most uplifting tribute came from a proud daughter.
13 district teachers and staff are retiring from the district as the school year concludes.
"As they leave, they're taking with them their years of experience, wisdom, connections to students, and more," said Curt Ellis, assistant superintendent for human resources for Saline schools. 
Five of those staff members - Jenny Dodige, Melissa Rappaport, Cindy Larsen, Scott Marvin and Sharron Hess, attended the board meeting and were presented with flowers and a plaque. Dodge, Rappaport, Larsen and Marvin are teachers. Hess is a bus driver.
Kelsey Larsen, Cindy's daughter, stole the show during public comment with her tribute to her mother. Larsen,  a 2005 Saline High School graduate, is now a professor of political science. With a room full of parents in attendance to debate a heated political issue, Larsen used her three minutes public comment allotment to praise her mother's dedication.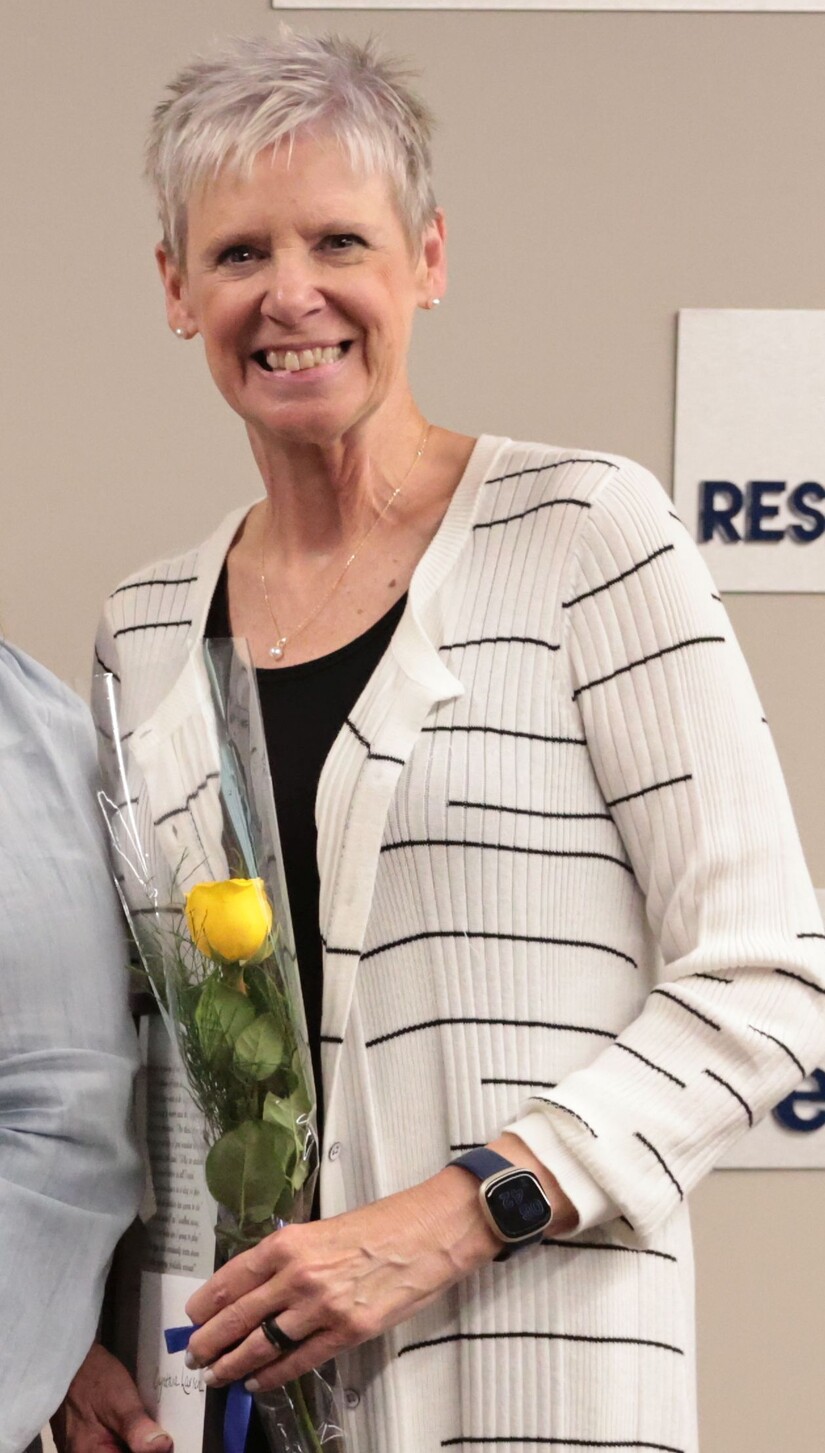 "My mom, like many of the folks were seeing here tonight, loves to speak up at meetings. She has this deeply absorbed idea that the famous art critic Jerry Saltz talks about, which is that you show respect to art by critically evaluating art," Larsen said, before offering a few tongue-in-cheek critiques of her mother's career.
Larsen said her mother was a "better Hornet" than her children.
"My sister was a genius, I tried to lead students and my brother was a sports star, but she always gets recognized more at the grocery store,'' Larsen said.
She said her mother was good at everything when it came to teaching.
"You need her to teach third grade for a while? Bring on the Lucy Caulkins curriculum. You need her to teach art via Zoom? Fire up the ring light, we're going to do some digital art together," Larsen said. "It's just really challenging to throw her off and it makes all of her children feel inadequate."
Larsen noted that her mother started teaching art as a student teacher in 1981 - more than 40 years ago.
"She doesn't seem to age!" Larsen said. 
As evidenced by her grasp of technology.
"Even through Friday, she could take kids seamlessly from a Youtube video to projecting their creations on the ELMO. She volunteered to direct and edit the Harvest students' morning announcements. I'm a Millennial and I'm handing my phone to my other to edit my photos," Larsen said. "It's frankly embarrassing."
Lastly, Larsen said, her mother puts other people first. Teachers. Students. Colleagues.
"I'm really glad they got to know her as the amazing educator she is. I'm just upset that she was first. That she couldn't get what it feels like to have others take care of her the way she takes care of us," Larsen said.
And that's what she and her family plans to do now that Cindy is retiring.
"The Larsen family promises to take care of her from now on and give her half as much joy as the last 26 years of teaching Saline students has," Larsen said. "Thank you to her and all of the other amazing retirees tonight. We're so grateful for all of your efforts."
Larsen's tribute to her mother might feel familiar. She caused a stir in 2011 when she came to the defense of her mother and other district teachers when a cost-cutting school district announced plans to reassign 31 teachers. 
Listen to Larsen's full public comment here.
More News from Saline